This excerpt from Warren Sharp's '2022 Football Preview' book gets you prepared for the NFL season by delivering the smartest information & analysis in the fastest, most direct way possible.

Miami Dolphins: Team & Player Analysis for 2022:
One of the most brutal starts to a career befell the No. 5 overall pick in a draft due to things entirely out of his control.
Now, people are writing him off.
But think about this one year at a time from Tua Tagovailoa's perspective.
In 2019 he's a 21-year-old forecast to go No. 1 overall in the draft when he suffers a catastrophic hip injury.
In 2020, he was drafted No. 5 overall while still rehabbing his hip injury.  Then COVID occurred and shut down the nation.  He was forced to rehab during COVID and learn an offense in virtual meetings from a 67-year-old retired OC who was designing the offense for his old buddy Ryan Fitzpatrick.
There was no way that Tua could get any reps as QB1 considering the team was trying (with limited practice time) to get Fitzpatrick ready for the season. Flores then told Gailey the team would be starting Tua coming out of the bye in Week 8, and Gailey couldn't believe it, saying: "I was in total shock. We didn't even have a preseason. It was a totally new offense (for Tua)."
Sure enough, Gailey didn't make many changes in the offense when Tagovailoa became the starter. They just ran Gailey's offense that was designed for Fitzpatrick.
It should have come as no surprise his rookie season was a struggle.
Heading into 2021, Tagovailoa finally had a healthy offseason and could take all of the QB1 snaps in camp. But he had no clue who his offensive coordinator was going to be, even two weeks before the season. The coordinators changed up playcalling duties during the season, throwing the quarterback off even further.
Tagovailoa suffered rib fractures at the beginning of Week 2, missing most of that game and the next three games (the Dolphins went 0-4 in those four games), only to return for two losses by three points or fewer before fracturing the middle finger on his throwing hand in a Week 8 loss to the Bills.
His No. 1 receiver missed seven games.
Look at Tua's playcallers:
2019 – Chad O'Shea (first time OC)
2020 – Chan Gailey (retired after 2016 at age 64, returned for just the 2020 season at age 67)
2021 – co-coordinators George Godsey & Eric Studesville (never officially revealed who did what)
Talk about a motley crew of playcallers.
In 2019, the offense was terrible under Fitzpatrick and O'Shea. It was bottom-10 and O'Shea was fired after one year.
In 2020, Gailey came back solely due to his relationship with Ryan Fitzpatrick, having called plays for him previously. However, there was no preseason due to COVID, and Gailey called it his most difficult season ever calling plays in the NFL.
In 2021, no one knew who was going to call plays for the Dolphins even a week before the start of the season. Flores wasn't providing the direction, and eventually it was decided that Studesville would call plays to start the year. The offense floundered, so at some point Godsey took over playcalling.
Moving through these four different offensive coordinators in a three-year span is going to cause problems. It lacks a clear plan, shows little confidence in the picked playcallers, and makes life harder on a young quarterback.
If that wasn't bad enough way to start a career, we haven't even discussed the players surrounding him.
Tua's Lack of Receiver Separation
Over the last two years, his only two in the NFL, his receivers had the worst separation in the NFL.
As a result of having no receivers who could separate (save for Waddle) and having the least separation in the NFL for a second straight year, Tagovailoa once again was ranked way too high in Aggressiveness.
Aggressiveness is a Next Gen Stat which tracks the rate of passing attempts a quarterback makes that are into tight coverage, where there is a defender within 1 yard or less of the receiver at the time of completion or incompletion.
In 2021, Tua ranked first in the NFL, with nearly 20% of his passes thrown into tight windows.
That came after a 2020 season when he ranked sixth, with 20.3% being thrown into tight windows.
This isn't a "Tua can't read defenses" stat. In 2020, Fitzpatrick (who started the season) ranked second with 20.7% and in 2021 when Tagovailoa missed time, Jacoby Brissett ranked third with 18.7%.
In the Dolphins' case, this is just another way to look at the separation stat.
These tight window throws increase interception rates while also decreasing odds for yards after the catch (which we'll discuss shortly).
This offseason, by adding Tyreek Hill, the Dolphins have created more separation for all of their receivers. In 2021, Hill averaged 3.6 yards of separation (14th of 127 receivers). In 2020, it was 3.4 yards (23rd of 132 receivers). In 2019, it was 3.2 yards (22nd of 125 receivers). Now he'll be on the field instead of Parker.
The Dolphins didn't stop there. They also added Cedrick Wilson, who averaged 3.5 yards of separation last year, which ranked 20th of 127 receivers.
Based on last year's stats, Miami now has receivers with separation that ranked:
14th (Tyreek Hill)
20th (Cedrick Wilson)
35th (Jaylen Waddle)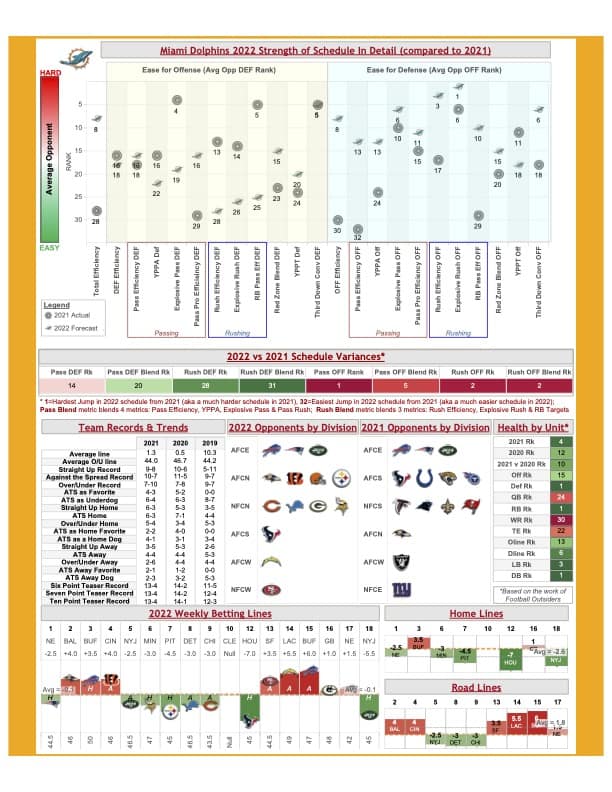 Tua's Lack of Pass Protection in 2021
In 2021, the Dolphins had the NFL's worst line for a quarterback. They ranked dead last in ESPN's Pass Block Win Rate and dead last in Pro Football Focus grades.
In 2020, it wasn't much better.
While quarterbacks do play a role in pressure rates, in 2021 the Dolphins were pressured on 33% of early down passes in the first three quarters of games. These are pro-QB situations, when the quarterback is not in a pass-heavy mode and when defenses don't know if a run or pass will be called.
Yet in those situations, Miami had pressure at the fifth-highest rate of any team in the NFL.
Last year, Tua threw 33% of his passes in under two seconds (fifth-highest rate in the NFL) and 61% of his passes in under 2.5 seconds (fifth-highest rate in the NFL).
As a result, the Dolphins in the offseason made some massive improvements in their line by adding Connor Williams and Terron Armstead this offseason. Armstead has been one of the best left tackles in the NFL and once again graded out fourth among all tackles in pass protection in 2021 at PFF. He allowed just one sack and a 4.8% pressure rate.
Getting rid of the football quickly isn't necessarily a bad thing. But to get big plays, sometimes the quarterback needs to hold the ball to let plays develop. When Tagovailoa held the ball for 3.5+ seconds, look at his splits:
Pressured: -0.68 EPA/att, 24% success, 74% accuracy, 6.8 YPA, 42% completions (37 att)
Not pressured: 0.59 EPA/att, 75% success, 83% accuracy, 10.9 YPA, 75% completions (12 att)
The problem was Tagovailoa was pressured on 76% of these dropbacks, fourth-most in the NFL. Brissett was first, to continue to reinforce it was the offensive line, not the quarterback, might have been the biggest hindrance on the downfield aspect of the offense.
How about a little context? People will likely say "oh these numbers don't mean anything – no team wants its quarterback holding onto the ball for 3.5+ seconds so this would rarely happen."
Let's compare the Dolphins' quarterbacks with the last two Super Bowl champion quarterbacks, their attempts, and where they rank in pressure rate on these dropbacks in 2021 (out of 42 quarterbacks):
Jacoby Brissett (MIA) 80% pressure rate (first) on 59 dropbacks
Tua Tagovailoa (MIA) 76% pressure rate (fourth) on 67 dropbacks
Matthew Stafford (LAR) 43% pressure rate (41st) on 119 dropbacks
Tom Brady (TB) 41% pressure rate (42nd) on 59 dropbacks
Stafford had nearly the same number of dropbacks of 3.5+ seconds as both Miami quarterbacks combined. Yet despite the volume difference, look at where he and Brady rank in pressure rate on these dropbacks.
What happens for the Dolphins if that pressure rate is greatly reduced in 2022?  Tua ranked second in success rate when throwing without pressure on dropbacks with 3.5+ seconds. He ranked fifth in completion rate and 14th and 17th (above average) in YPA and EPA/att, respectively.
Where did the 49ers rank last year? When Jimmy Garoppolo wasn't pressured on 3.5+ second dropbacks, the 49ers offense ranked first in EPA/att, third in success rate, and fifth in YPA.
The 49ers' offense is not one that looked to have the quarterback hold onto the ball for a long time. But they had great designs when those plays were called. I expect something similar for the Dolphins in 2022.
I predict the 2022 Dolphins will see less than a 33% pressure rate on early down passes (fifth-highest) like the 2021 Dolphins did.
The Dolphins in the offseason made some massive improvements in their line by adding Connor Williams and Terron Armstead this offseason. Armstead has been one of the best left tackles in the NFL and once again graded out fourth among all tackles in pass protection in 2021 at PFF. He allowed just one sack and a 4.8% pressure rate.
Tua's Lack of a Run Game in 2021
Last year, thanks in part to the terrible offensive line, the run game was abysmal.
The Dolphins ranked 30th in rushing efficiency last year.
On early down runs in the first three quarters, they ranked 30th in rushing success, 31st in yards per rush, 28th in first downs per rush and 25th in EPA/rush. They ranked 26th in yards before contact per rush (more of an O-line stat) but their backs still ranked 29th in yards after contact per rush.
On running back runs only, on all downs, all game long, the Miami Dolphins ranked:
32nd in yards after contact per rush
31st in success rate and first downs per rush
30th in YPC
29th in EPA/att
Tua's Lack of YAC (Yards after Catch)
Where did the Dolphins rank in YAC/reception last year?
1. San Francisco – 6.6 yds/reception
31. Miami – 4.3 yds/reception
Those rankings stay the same if we expand for the last three years combined.
Take a look at this unreal stat:
Since 2019 Jimmy Garoppolo ranks first in the NFL in yards/att (8.4)…
But…
42nd out of 43 qualified quarterbacks in air yards/att.
How is this possible?
His YAC/completion is 6.8, by far best in the NFL
In fact, for four straight years, the 49ers rank first in yards after the catch per reception.
The coach who, along with Kyle Shanahan, helped build that offense? None other than Mike McDaniel, the Dolphins' new offensive architect.
How will Tua Tagovailoa play in 2022?
Unfortunately, Tua has gotten much of the blame for offensive struggles, and while some of it was fair, most of it was absolutely unfair.
Despite EVERYTHING that's gone wrong around him, despite the ribs and finger not being healed for most of the season, Tua's numbers were excellent in his first full season as an NFL starter.
On deep passes in 2021, Tua ranked:
First in EPA/att
First in success rate & comp %
First in YPA
These were tremendous strides from 2020.
Tagovailoa also saw big improvements in nearly every stable QB metric, including:
– passing without pressure (for example, an increase from 0.08 EPA/att in 2020 to 0.21 in 2021)
– passing on standard drops
– passing from the pocket
– first down passes in the first three quarters
– passing when planted
– layup throws
Where he was worse in 2021 was on less stable quarterback metrics, such as passing when pressured, when outside the pocket, when being blitzed, and when moving.
In terms of accuracy, this is where Tua was at his best and even better than 2020. He ranked eighth in overall accuracy last year. He ranked first in accuracy on throws of 1-10 air yards.
When he wasn't pressured, he ranked sixth in accuracy.
For the 2022 NFL season:
We have better receivers, better linemen, and better, more consistent coaching.
We're predicting more receiver separation and more YAC.
We've got a quarterback who likely is better than what most have been giving him credit for after his one full season as a starter.
I'm excited to see what this team looks like in 2022.

For the complete Miami Dolphins chapter, including a dozen more visuals & info-graphics, defensive breakdown, and detailed Fantasy football implication — plus the other 31 team chapters — pick up a copy of Warren Sharp's '2022 Football Preview'