With Round 1 of the 2022 NFL Draft in the books, Brendan Donahue, Ryan McCrystal, and Dan Pizzuta give their thoughts on what happened on Thursday night, including the best moves, biggest surprise, and what they're looking forward to on Day 2.
What was the best move of Round 1?
Brendan Donahue: Ravens getting a first-round pick for Marquise Brown when the Titans only got a first-round pick and a third for Pro Bowl receiver A.J. Brown. The Ravens were then able to flip that pick (23 overall) to the Bills for the 25th pick to acquire C Tyler Linderbaum along with additional draft capital. Linderbaum, who was the overall highest-graded player in college football in 2021 per PFF, fills a huge hole at center for the Ravens and will be a starter on Day 1.
Ryan McCrystal: The Marquise Brown trade was an obvious win for the Ravens. But to throw something different out there, I also loved the Vikings picking up No. 32 (Lewis Cine), No. 34, and No. 66 from Detroit in exchange for No. 12 (Jameson Williams) and No. 46.
We assumed new Vikings GM Kwesi Adofo-Mensah would excel at playing the game of the draft and he's already proving his value there. Minnesota was likely considering Kyle Hamilton at No. 12, and ended up with a similar player at No. 32, plus some extra assets.
Dan Pizzuta: It's hard not to say the Eagles acquiring A.J. Brown, especially given what the cost was in Arizona's trade for Marquise Brown. Brown was sixth in yards per route run among receivers with at least a 20% target share last season. That gives Philadelphia significantly more proven production than if they had taken another rookie receiver.
Handing out a big extension — the Eagles will reportedly give him four years and $100 million ($25 AAV) with $57 million guaranteed — obviously adds more than what a rookie pick would cost, but Philadelphia now has Brown to pair with DeVonta Smith for Jalen Hurts.
This adds another level to giving Hurts a chance to cement himself as the long-term starter. The Eagles still have two first-round picks next year. Hurts's second-round rookie deal also gives the Eagles some breathing room for these other bigger contracts — they had $15.5 million in cap room entering the night.
Philadelphia gave up a little too much to trade up from 15 to 13 so they could pick Jordan Davis but he's also a fun fit for that defense that opens up how they can structure the line. Philadelphia is also a team smart enough to have those extra picks they can use them to move around the board a bit and not significantly lose out on capital.
Rich Hribar: It is hard not to echo the Ravens string of moves being stellar tonight on the surface, as well as the Eagles acquiring A.J. Brown, not dipping into the waters of another rookie receiver selection. Philadelphia was also able to keep all of their 2023 capital, which is massive.
I will also say, despite liking the Ravens return, I do like the trade of Hollywood Brown for the Cardinals as well. It was clear that they were in love with Jameson Williams and had a clear deficiency in their offense vertically.
Despite losing out on Williams, this was a strong pivot. Brown carries cap hits of $2.1 million and $13.4 million (fifth-year option) over the next two years and is a vertical and complete upgrade over Christian Kirk.
Since entering the league, Kyler Murray has completed 41.5% (34/82) of his passes of 30-plus air yards, highest rate in the league (league is 30.3%).
His EPA per dropback on those throws (0.91) is second behind Justin Herbert.
Christian Kirk accounted for 30 of those targets, with the next highest player (DeAndre Hopkins) coming in at 12.
Brown is second in the NFL in those targets (43) since entering the league the same season behind Tyreek Hill (45). But Brown has secured just NINE of those targets (20.9%) with 14 of those targets deemed inaccurate due to the quarterback, the most in the NFL over that span per TruMedia.
What was the biggest surprise?
BD: For me, it was Jermaine Johnson falling all the way to 26th overall and still landing with the Jets. Just this week, they were rumored to be considering him at 10 and even at four! It seemed like his age and some attitude issues that were rumored worked against him as he was a borderline top 10 player on most boards.
RM: Cole Strange landing in the first round. Strange was the No. 78 player on my big board. Bill Belichick always thinks he's the smartest man in the room, and while he usually is on Sundays in the fall, we have years of evidence that he is just an ordinary GM on draft day.
Strange is a good athlete for an interior lineman and may prove to be a quality starter in New England, but he was going to be available on Friday if Belichick traded out again and passed on him. This selection was extremely poor value.
DP: We knew the quarterback situation would be weird given the lack of enthusiasm around this class but even in that context, it was surprising. Only one quarterback was selected, not until the 20th pick, and it was Kenny Pickett. There's really not much in Pickett's profile that suggests he should have been the first quarterback taken or a first-round pick in general. The entire position has its flaws but Pickett being the only player to be selected on  Day 1 was a shock.
RH: I was surprised the Lions were the team that aggressively moved up the board to select Jameson Williams. Even more interesting that it was with a division rival. After the Eagles traded up with the Giants to select DeVonta Smith a year ago, we have another move that will be measured in the rivalry for the next few seasons. Detroit also did so without really giving up much value, although there is objective debate depending on which value chart you subscribe to.
At the end of the day, Williams is one of the wideouts here that carries massive upside if he hits while also carrying tangible tactical on-field value even in a floor outcome since he is the best vertical playmaker in this draft class. 28.3% of his targets were on throws over 20 yards downfield (fifth in this class) while no receiver in this class has more yards (544) and touchdowns (seven) on throws 30-plus yards in the air this season. All of that went into Williams sporting 3.51 yards per route run (fifth in this class).
Who were the winners and/or losers of Round 1
BD: Has to be the Jets, not only for the aforementioned Johnson but also for landing the consensus best corner in the draft on most boards, Sauce Gardner, and the best wide receiver in the draft in Garrett Wilson. I know Jets fans are usually disappointed with whatever the Jets do in the draft, but they have to be ecstatic with this haul in the first round.
RM: The Packers had a strange day. They failed to add any talent on offense and added two players with significant questions on defense. Quay Walker is a hard-hitting linebacker but may only be an early-down defender due to his poor anticipation skills and coverage ability. One scout told Bob McGinn of golongtd.com: "I think his instincts suck… not a green dot." And then there's 24-year-old Devonte Wyatt, who has a domestic violence arrest on his record (charges were eventually dropped). Those were two unnecessarily risky picks.
DP: At some points in this offseason, Kayvon Thibodeaux and Evan Neal were in consideration for the first overall pick. The Giants got both players fifth and seventh overall.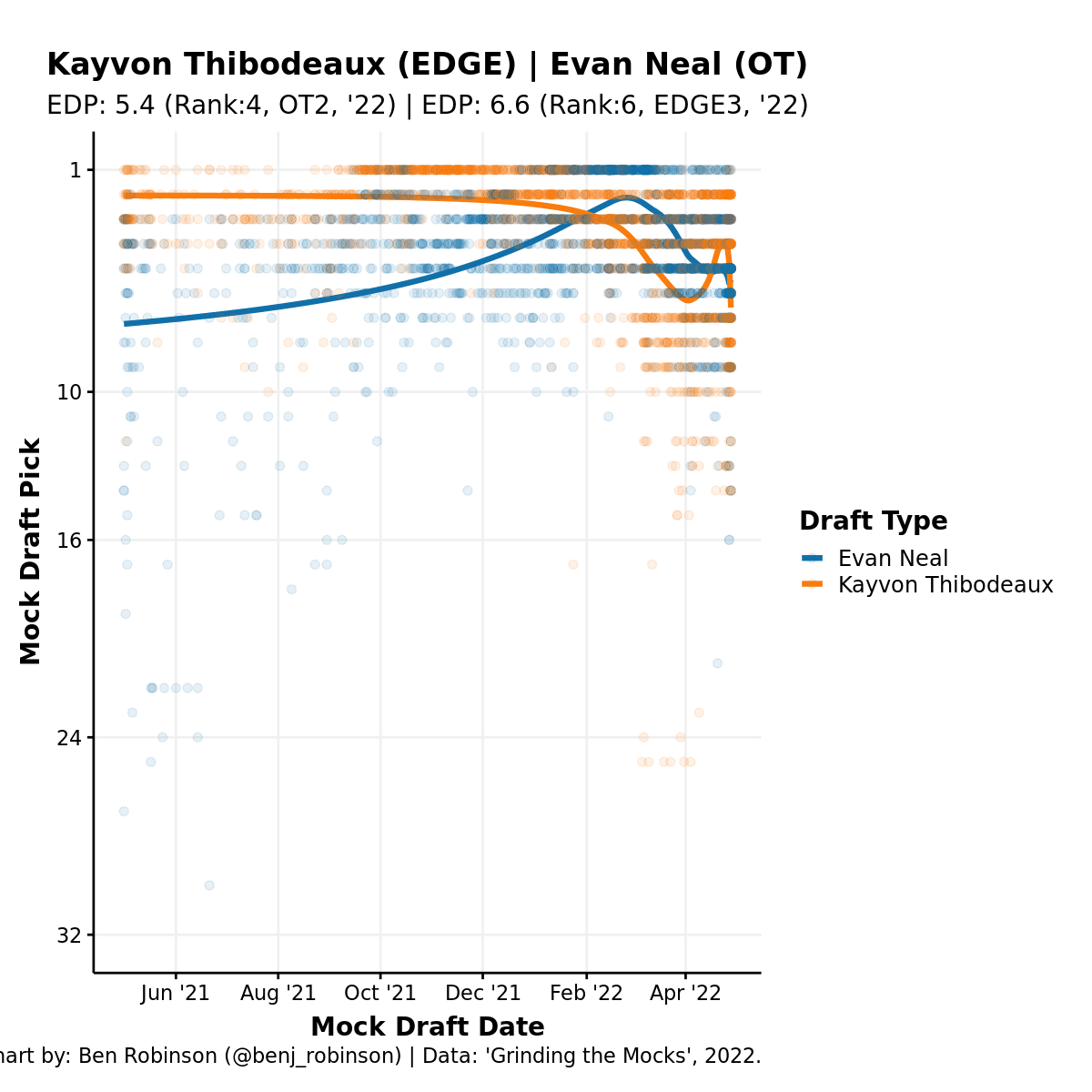 With both cornerbacks going third and fourth overall, the Giants could have panicked because that appeared to be one of the biggest needs on the roster, especially if they still want to trade James Bradberry. But jumping on Thibodeaux, who is arguably the best pass rusher in the draft (I would argue that and he was No. 1 on Ryan's big board), and being ok letting the Panthers pick a tackle ahead of them because they had the top three rated similarly is a good process the Giants haven't had in a draft in years. 
On the other side, we can certainly debate the Jaguars' first overall pick, but trading back up into the later part of the first round for a linebacker is a more concerning look into their process. Jacksonville has been no stranger to putting resources into linebacker. They haven't been particularly successful at it, but they continue to do it. Just this offseason, they signed Foye Oluokun with $28 million guaranteed. They'll also be paying a combined $14.737 million in dead money for Joe Schobert and Myles Jack to not be on the roster. For context, Lavonte David has the fourth-highest cap hit among linebackers in 2022 at $14.785 million.
RH: Hard not to love what the two teams from New York did in Round 1. The Jets landed three players that were in the top-10 in many circles while the board worked out perfectly for the Giants to land arguably the best player in the draft in Thibodeaux while also securing one of the top offensive tackles.
Since both of those teams had multiple picks and both were already mentioned, I will take the opposite angle and once again question why Mickey Loomis is the George Bluth Sr. of the NFL, always operating as if there's money in the banana stand.
No knock on Chris Olave the player, but once again the Saints seemingly never make a draft pick without sacrificing more capital. After already making a questionable deal with the Eagles to gain a first round pick in this class, the Saints gave up picks 98 and 120 to move up five spots. New Orleans has now traded up 24 times in the past 16 drafts per ESPN while not trading down since 2007. 
At the end of all of their moves, the Saints ended up trading away picks 16, 18, 98, 101, 120, and 237 in this 2022 draft, as well their 2023 1st Rounder and a 2024 second round pick in exchange for picks 11, 19, and 194 in this draft.
What was your favorite team/player fit?
BD: After a lot of speculation that the Lions were gonna surprise everyone and go Kayvon Thibodeaux with the second overall pick, the Lions RAN their card up to the podium to announce Aidan Hutchinson. It always seemed like Hutchinson was the perfect player/personality fit with Dan Campbell in Detroit and it turned out, they thought so too.
RM: I was slightly surprised by the pick, because history told us they may not invest heavily in the position, but the Jets' selection of Sauce Gardner is a home run. Richard Sherman had a late-career resurgence with Robert Saleh in San Francisco, and Gardner is the perfect fit in that same role.
DP: Kaiir Elam to the Bills. Buffalo had a solid No. 1 with Tre'Davious White and a good slot in Taron Johnson, but after Levi Wallace left in free agency, that defense desperately needed another outside corner. Elam is a physical corner (sometimes a little too physical) and he holds up so well in coverage. He was second in yards allowed per coverage snap in this class behind Sauce Gardner. Elam can slide in as a starter with some insulation thanks to all the other talent in that secondary. 
Honorable mention to Kyle Hamilton (BAL) and Jameson Williams (DET)
RH: They all will not work out, but this was a rich offensive line draft on the surface and all of the prospects landed in immediate situations of need, with one questionable decision at the very end of the night by the Patriots, who always are doing their own thing in the first round.
But Ikem Ekwonu, Evan Neal, Charles Cross, Kenyon Green, Zion Johnson, Trevor Penning, Tyler Smith, and Tyler Linderbaum all landed in spots where they are immediately needed to make an impact.
What are you most looking forward to on Day 2?
BD: Looking forward to seeing if the New England Patriots will be able to get G Cole Strange. Oh wait, they already took him on Day 1 even though he had a third-round grade from most analysts. So let's see if they can still add one of these corners that are still on the board after passing on Trent McDuffie at 21 and giving him to the Kansas City Chiefs which will certainly be monitored by Patriots fans in the future.
RM: I'm excited to see what Atlanta does on Day 2. I'm not a huge fan of the selection of Drake London – wide receiver is a strange investment for a roster with so many other holes – but they have four draft picks on Day 2. If they find great value at positions of need with those selections, the London pick may look okay in hindsight.
DP: Where do the quarterbacks go? With guys like Malik Willis and Desmond Ridder, there's now less pressure both on the player and the team for them to come in and have them be "the guy." This is now a spot where each of them could be a nice value and worth throwing into a training camp competition. Seattle is coming up at picks 40 and 41. Atlanta is right behind at 43. There didn't seem to be good value in the middle round for a quarterback because we expected these two to be gone by now, but the risk-reward — especially for a player like Willis — completely changes with them available in the second round.
RH: Definitely curious to see where the quarterback shake out on Friday. Seattle, Atlanta, and Detroit all could still make their swing on a passer with high upside and contractual leverage if successful (lucky). Even though the league openly told us they were down on this draft class, I was still surprised that Malik Willis did not squeeze into Thursday.
Being the resident fantasy gamer, I also want to know where the top backs Breece Hall and Kenneth Walker end up.
Give one Player-Team Connection You'd Like To See On Day 2
RM: Baylor safety Jalen Pitre would be a great fit in Washington. He's smaller than Landon Collins, but I'd trust him to fit into that role based on his performance in a similar position in Dave Aranda's defense at Baylor. Ron Rivera needs another guy who can fly around the field and make plays against the run, and that's Pitre's greatest strength
DP: Georgia LB Channing Tindall to the Ravens. Baltimore's linebackers have been lacking and Tindall would give them a versatile and athletic playmaker in the second level. Tindall can cover but his best traits are his blitzing ability (31% blitz rate) and tackling (position-best 5% broken + missed tackle rate).
RH: Completely a pipe dream, but it would be great if the football deities could somehow swing a trade of D.K. Metcalf to the Packers on Friday.