The Dallas Cowboys have been chosen to star in the HBO docuseries Hard Knocks for the upcoming 2021 NFL season, with the 1st episode airing on Tuesday, August 10 at 10pm ET.
At over 400 pages, Warren Sharp's new book 2021 Football Preview features dedicated chapters for all 32 NFL teams, fantasy football predictions, Vegas odds with forecasted wins plus hundreds of visuals & infographics breaking down the upcoming 2021 NFL season.
You're in luck — we're sharing Warren's team chapter for the Dallas Cowboys in it's entirety, absolutely free below, to get you prepared for the upcoming Hard Knocks series by delivering the smartest information & analysis in the fastest, most direct way possible.
Warren's book is now available for pre-order with early-bird discounted pricing, and will be released the week of July 12th.

What do we take from the 2020 trainwreck that was the Cowboys? I'm going to buck the trend and say that there's actually some things we can learn about this team, their philosophy, and things that may help us anticipate what is to come in 2021. 
Offensively, it doesn't get much more brutal than what we saw in Dallas last season. Their franchise quarterback was lost in the fifth game. Their top tight end who was expected to make a significant impact in the receiving game was lost in the season opener. Their offensive line dropped like flies all season long. RT La'El Collins was hurt in training camp and missed the entire season, LT Tyron Smith played in just two games and RG Zack Martin missed six games.
When Dak Prescott went down, Dallas turned to Andy Dalton. He was believed to be a top-3 backup in the NFL before the season. But he was absolutely horrible. He averaged 5.0 YPA and -0.02 EPA/att in his first start against the Cardinals in Week 5 on Monday Night Football, and the Cowboys were blown out 38-10. The very next week, Dalton averaged 3.9 YPA and -0.51 EPA/att in another loss, this time 25-3 against Washington. Dalton sustained a concussion in the game on a late hit.

His replacement the next week was the great JMU product Ben DiNucci. DiNucci averaged 4.5 YPA and -0.45 EPA/att in a primetime 23-9 loss against the Eagles.
The Cowboys then decided to give Garrett Gilbert a spin. He averaged just 6.4 YPA with -0.17 EPA/att and lost 24-19 to the Steelers.
Dallas, sitting at 2-7, crawled into their Week 10 bye to lick their wounds.
Two things beyond others stood out: how was this passing offense allowed to be so terrible – even considering the QB rotation, and secondly, where was Ezekiel Elliott?
The passing game averaged below 4.5 net YPA in three straight games (Arizona, Washington and Philadelphia), two of which were Dalton games . Only two other teams the last two years have gone three straight games with below 4.5 net YPA:
Washington Football Team in 2019 (

coaching staff subsequently fired

)

New York Jets in 2020 (coaching staff subsequently fired)
There's legitimately no excuse to be that terrible for that many weeks without addressing the issues. It typically is a microcosm of something larger involving coaching in addition to just players themselves.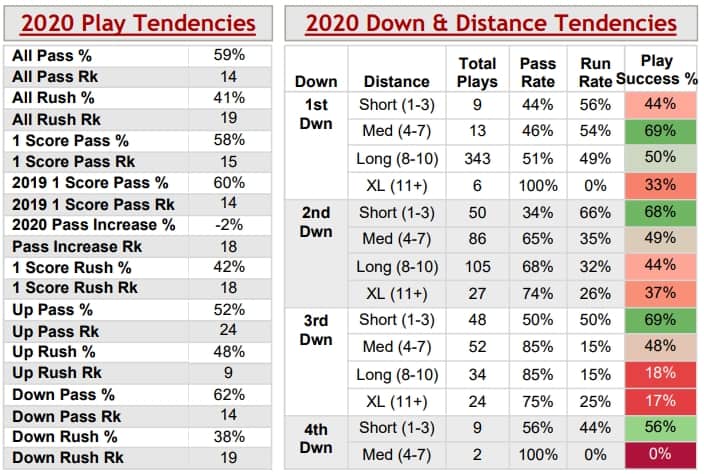 What was this coaching staff doing with Andy Dalton? They had more than a full week to prepare for his first start due to it being on Monday night. Of Dalton's 57 dropbacks, only four used play-action. Of the 57 dropbacks, 56 came with three or more wide receivers on the field. 52 were in 11 personnel. 
With 3+ WRs on the field, they were 75% pass. With less than 3 WRs, they were 90% run.
There was simply no disguise. The offense moved from a shotgun-based offense 80% of the time with Prescott to 85% shotgun with Dalton.
Plays from under center were runs 76% of the time and plays from shotgun were passes 75% of the time.
Some offensive coordinators may take the approach when passing with a weaker offensive line to spread the field with 3+ WRs and get it out of the quarterback's hands quickly before the pressure can get to him. Other coordinators may add a tight end or back to help the offensive line in pass protection.
Regardless of what the desired approach is, if it's not working, it must be changed… and quickly.
It was clear the offensive line wasn't able to handle the protection with 3+ WRs on the field and yet nothing changed. Andy Dalton was a sitting duck.
The next game against Washington, Dalton was pressured on an insane 44% of his dropbacks in 3+ WR sets.
On his final play of the day, the Cowboys were in 11 personnel, backed up at their own 3-yard line. Dallas didn't have the tight end inline, instead, had him split out in a trips formation to Dalton's left. Washington brought only four rushers, so the lone back didn't chip and instead, ran to the line of scrimmage looking for a pass.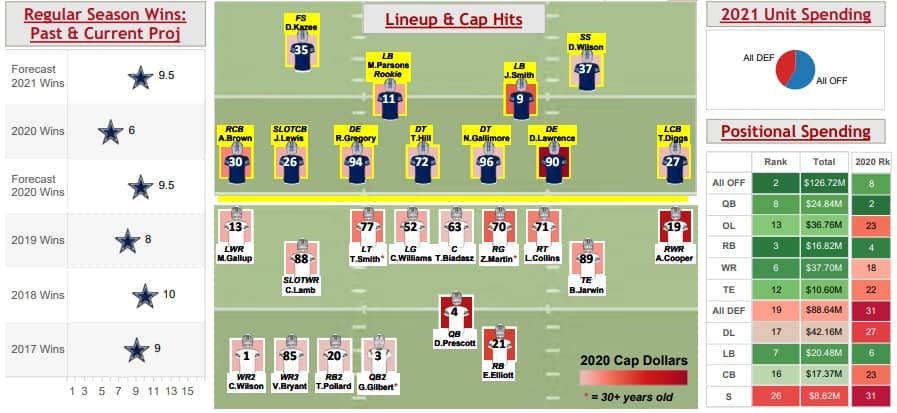 Dalton, from the gun, dropped back into his end zone and by the time he reached the back of his drop, the pocket collapsed. He stepped up, scrambled for a 6-yard gain on the third-and-10, and was concussed by a cheap shot from a Washington defender. 
After Andy Dalton returned from his concussion, the offense improved and the team won four of its last seven games. But the offense was far from optimized.
For example, Dalton's splits from shotgun were significantly worse than from under center, yet they still used roughly 80% shotgun snaps. The team was still far too predictable with play calls based on alignment (70% run from under center, 80% pass from shotgun). Even early downs in the first three quarters (removing predictable pass situations), the Cowboys were 79% pass from shotgun (NFL avg = 66% pass) and 68% run from under center (NFL avg = 63% run). Dalton was more efficient when passing from under center and sacked far less often. 
Dalton was far more efficient on early down passes when using play-action, but the team rarely used it. From his Week 10 return onward:
With play-action: 22% usage, 9.0 YPA, 64% success, +0.22 EPA/att

Without play-action: 78% usage, 7.0 YPA, 52% success, +0.04 EPA/att
And keep in mind, the NFL average play-action usage on early downs last year was 33%. The Cowboys' 22% usage ranked third-lowest in the NFL, despite the massive spike in efficiency it delivered.
The bottom line: after Prescott's injury it was a tough situation for Dalton as well as the offensive line… but it was not a situation that was made any easier by preparation, planning or adjustments.
The other question: where was Zeke?
There are many arguments that the pro-running back crowd likes to make in support of having a blue chip, highly-drafted back: His production will be special. He can support below average quarterback play. He'll generate yards beyond what his line is blocking. He's so much better than the next guy on deck.
In one season, Zeke undermined all of those arguments. Not that they weren't already debunked by countless other highly-drafted running backs over the years. But I challenge any pro-RB individual to defend their stance after witnessing what happened in Dallas last year.
But first, a quick trip down memory lane where I looked at the last 20 first round running backs drafted, which spanned 2009-2020.
Of the last 20 1st-round running backs drafted:
Most (15 of 20) haven't even led their team in YPC as the primary starter.

Half (10 of 20) haven't even gained above average yards per carry.
Their teams won fewer games the following three years than the year prior to drafting the RB.
Their teams made fewer trips to the playoffs than they did prior to drafting the RB.
With that understood, let's examine Zeke. When the team needed him most, he didn't perform. But why?  What made Zeke great in the past but not this year?
For starters, let's examine the quarterback splits:  with and without Prescott in 2020.
With Dak: 4.1 YPC, 56% success, +0.00 EPA/att

Without Dak: 3.9 YPA, 48% success, -0.12 EPA/att
Let's also look at where runs typically have the most value, which are those in the red zone:
With Dak: 3.0 YPC, 71% success, +0.27 EPA/att

Without Dak: 1.8 YPC, 37% success, -0.10 EPA/att
It's almost as if a great running back can't magically support below-average quarterback play. It's also almost as if the presence of a good passing game helps rushing efficiency.
The offensive line was problematic for several games while Dak was still healthy, and yet Zeke's drop off didn't come because of the line, it came because Prescott got hurt. That said, the offensive line certainly was a large part of Zeke's struggles later in the season.
The offensive line ranked top-10 in run blocking in three of Zeke's prior four seasons and has been one of the very best in the NFL for years. But in 2020, it dropped to 29th. And although still healthy, Zeke saw his production fall off immensely.
It's almost as if the offensive line is responsible for most of a running back's production. It's almost as if having a great offensive line is more important than having a great running back.
We've discredited every pro-RB argument there is, except for one:  "He'll be so much better than the next guy on deck." Surely, with all the other excuses RB-truthers would make for Zeke, there's no chance Tony Pollard could upstage Zeke. After all, Pollard is playing with the same terrible quarterbacks and behind the same terrible offensive line. Pollard is a fourth-rounder, Zeke was drafted fourth overall.
And yet, Pollard's EPA/att was -0.02 (on 80 att) after Dak's injury compared to Zeke's -0.12 (on 137 att). On the season overall, Pollard gained 0.13 yards above expectation, nearly double Zeke's 0.07.
Against standard seven-man boxes after Dak's injury, the splits weren't close:
Elliott: 3.3 YPC, 46% success, -0.18 EPA/att

Pollard: 4.9 YPC, 52% success, +0.04 EPA/att
Against light boxes, Pollard was gaining +0.14 EPA/att compared to Zeke's -0.09 EPA/att. The only place Zeke was better was, unsurprisingly, against stacked boxes (although Zeke was still averaging -0.07 EPA/att).
At this point, we could ask the question of how great is Zeke? In 2019, his highest touchdown season since his rookie year, he finished 18th in player tracking metric Rushing Yards Over Expectation, per NFL Next Gen Stats. In 2018, his best season as a pro since that rookie year, he ranked 15th. Zeke also has 21 fumbles in his five year career, seven more than the next highest running back in that time, including 15 in his last three years.
No one would have expected the Cowboys to make the playoffs without Prescott. But seven wins was enough to win the NFC East. What better way to show that elite running backs matter than by putting the team on his back, supporting below average quarterback play and a banged up offensive line?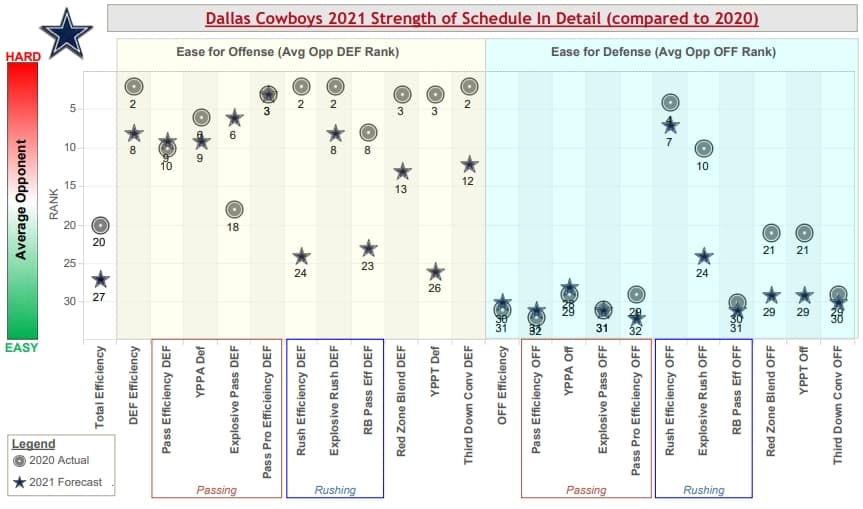 But in his 10 games after Prescott's injury, Elliott exceeded the NFL average in YPC (4.4 yards) just twice. One of which was vs the No. 27 run defense of the Vikings and the other, a Week 16 win over the Eagles, which saw him gain 4.1 YPC on 18 runs and 31 yards on a 19th run to up his average from 4.1 YPC to 5.5 YPC.
If Elliott needs elite quarterback performance to have success as well as an elite offensive line, he's absolutely not worth $90 million and especially not worth $14 million cap hits — which is what he'll hit the Cowboys cap for in each of the next three years and in five of the next six — particularly when a second-year player drafted in the fourth-round is outproducing him.
Here's a sobering thought: running back Ezekiel Elliott's total cap hit the next two years is higher than Tom Brady's. Elliott's cap hit this year is higher than the hits for both Patrick Mahomes and Tom Brady…the quarterbacks that won the last three Super Bowls.
At the end of the day, I was left with two thoughts that I think can be taken away from the Cowboys offense in 2020 despite the injuries: I walked away more disappointed in their coaching (from a playcalling, adjustments, and game planning perspective) and more convinced paying Ezekiel Elliott won't be worth it and was a mistake.
Both of these things spill over into 2021. But the good news is, Prescott is back and the Cowboys' offensive line should be much better than it was in 2020. Let's keep in mind, however, that the Dallas offensive line continuity wasn't even 10th-worst in the NFL last year. Although they did suffer the second-most games lost due to injury, they did have stretches with the same starters. While some teams went only two consecutive games with the same line, the Cowboys went five games (something that 16 teams can't claim to have done).
One thing that never fell off in 2020 and is here to stay in 2021 is the stud receiving corps. Amari Cooper, Michael Gallup, and CeeDee Lamb played all 16 games last year and return to do the same this year.
Dallas is also hoping the removal of one-and-done defensive coordinator Mike Nolan in exchange for former Falcons head coach Dan Quinn makes a difference. We shall see if that helps, but it certainly can't hurt.
Here are Dan Quinn's defensive ranks in Atlanta based on EDSR (Early Down Success Rate):
2015: 31
2016: 27
2017: 30
2018: 29
2019: 32 (before firing himself from calling plays)
A completely new set of players, with substantial investment on the defensive side of the ball, has the potential to help Quinn. The Cowboys invested their first six draft picks from 2021 into their defense, and their four highest paid players signed in this year's free agent class were all defenders. Dallas knows they won't win the NFC East with just offense and a terrible defense, and they've set out to improve on it in 2021 via personnel and coaching.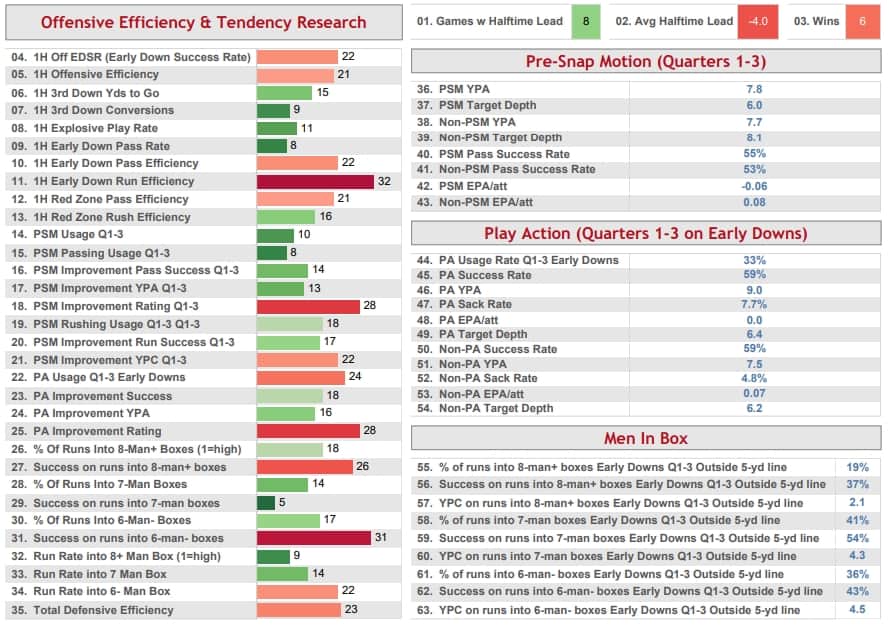 Your outlook for the 2021 Cowboys depends on what area you want to focus on most. This offense should be just as impressive as they were to start the season last year with Dak, but they're unlikely to be a fully optimized unit. I haven't loved most of what I've seen from Kellen Moore but I certainly don't see him as an extreme liability or a bottom-third offensive coordinator. Additionally, where did that supercharged offense get them with Prescott in 2020? They went 2-3 with him as the starter. One win came against the 4-12 Falcons by one point, which required Dallas to outscore Atlanta 30-10 in the second half including an insane onsides kick blunder by Atlanta. The second was a 3-point win over the 6-10 Giants. At the end of the day, they still have to be consistent. 
In Prescott's starts, 93% of the Cowboys' drives began when the game was tied or they were trailing, fourth-most in the NFL behind only the Jets, Jaguars and Washington. That's not in the games he missed, that's when Dak played!
This defense cannot be worse prepared or coached than they were for most of last season, but there's no assurance the players and new coaches they're adding will help boost the defense meaningfully.
The schedule bodes well for the Cowboys. I forecast them to play the sixth-easiest schedule, predominantly due to the fact that they face a considerable number of bad offenses outside their own subpar division.  This could help their defense significantly (although they played bad offenses in 2019 as well). The largest shift for them comes from run defenses. Last year, Elliott and company faced the NFL's second-toughest schedule of run defenses. I predict they will face the ninth-easiest schedule of run defenses in 2020. The 2021 Cowboys need to improve in a lot of different areas but there is a reasonable path forward for this team to finally meet expectations.
Dallas Cowboys 2020 Passing Recap & 2021 Outlook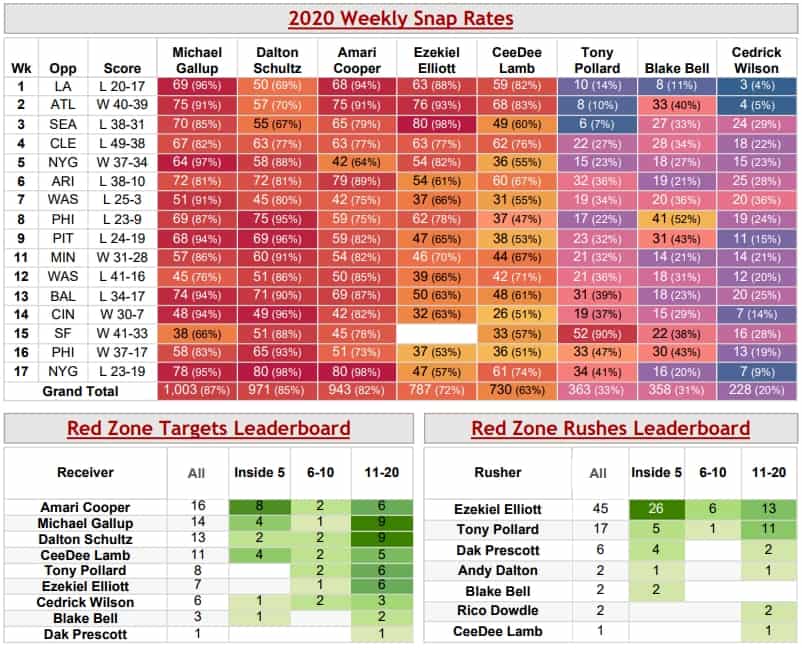 Through five games with Dak Prescott last year, Dallas had scored a touchdown on 32.8% of its offensive drives (10th in the league) while averaging 32.6 points per game. After Prescott was injured, the Cowboys scored a touchdown on 16.9% of their drives (31st) and averaged 21.1 points per game (24th).
From a passing stance, prior to Prescott's injury, he was leading the league in dropbacks per game (48.0) while Dallas had a 55% success rate through the air in Prescott's starts compared to a 45% success rate afterward. After playing 2020 on the franchise tag, Dallas and Prescott came to a four-year agreement this offseason to end the questions on his future with the team.
Dallas suffered the second-most adjusted games missed across their offensive line in 2020 at 46.4 per Football Outsiders and will enter 2021 healthy there as well.
2020 Receiving Recap & 2021 Outlook
Following the theme so far, Dallas receivers had a tale of two seasons based on the availability of Dak Prescott. Through five weeks, the Cowboys were fifth in success rate targeting wide receivers (64%) and 14th targeting tight ends (56%) while sixth in yards per target to wideouts (9.9 yards) and 11th to tight ends (7.9 yards).
For the remainder of the season, Dallas was 27th in yards per target (7.1 yards) to wideouts and 23rd to tight ends (6.6 yards). Dallas arguably has the best WR1-WR3 depth charts in the league in Amari Cooper, CeeDee Lamb, and Michael Gallup. They will also be getting Blake Jarwin back off of missing all but 25 snaps a year ago. Jarwin has turned in 8.8 yards per target and 11.6 yards per grab over his early-career sample. 
2020 Rushing Recap & 2021 Outlook
Dallas ended the 2020 season 12th in rushing EPA, but 20th in success rate (49%) on the ground in 2020. Ezekiel Elliott averaged a career-low 4.4 yards per touch in 2020 and carried a 47% success rate, but backup Tony Pollard also felt the sting of the deteriorating offensive elements a year ago as his 41% success rate on the ground was the fifth-lowest in the league among all backs with 50-plus attempts.
Dallas played last season basically down both starting offensive tackles as Tyron Smith played in just two games due to a neck injury while La'El Collins missed the entire season dealing with hip and groin injuries in training camp.
With both tackles out, All-Pro right guard Zach Martin also missed six games himself in 2020. With the offensive line healthy entering the season and Prescott back under center, the Dallas running game should be expected to rebound in 2021.
Fantasy Football Impact for the 2021 Dallas Cowboys
Buy any dip with Ezekiel Elliott
Elliott averaged a career-low 4.4 yards per touch, but was still a workhorse, averaging 19.7 touches per game, which was eighth among all running backs in 2020.
Impacted by the injury of Dak Prescott, Elliott had six touchdowns and 22.3 PPR points per game in the five games with Prescott active compared to just two touchdowns and 11.2 points per game after Prescott was lost for the season. 
On top of losing Prescott, Elliott played behind a bludgeoned offensive line. Dallas played last season down both starting offensive tackles as Tyron Smith played in just two games due to a neck injury while La'El Collins missed the entire season dealing with hip and groin injuries in training camp. With both tackles out, All-Pro right guard Zach Martin also missed six games. All in all, Dallas suffered the second-most adjusted games missed across their offensive line in 2020 at 46.4 per Football Outsiders.
Dallas is still committed to Elliott as he carries $36.9 million and $23.2 million dead cap hits over the next two seasons. As a workhorse back, Elliott is one of just three backs (Alvin Kamara and Austin Ekeler) with at least 50 receptions the past two seasons. With Prescott back and the offensive line healthy, Elliott should remain a pick in the front half of the first round of drafts and a potential bargain anywhere afterwards.
Are There Value Plays In The Dallas Offense?
Everyone loves the top of the Dallas offense as Elliott, Amari Cooper, and CeeDee Lamb will all be selected among the top-50 players in the majority of leagues this season. If you want a piece of the Dallas passing game, that is the capital required.
But because of the quarterback position carrying variance per draft, you may be able to catch a discount on Dak Prescott still. 
After being the QB3 in points per game in 2019 (21.1 points), Prescott was pacing the position a year ago at 26.9 points per game through five games prior to missing the remainder of the season with a gruesome ankle injury. Prescott was averaging a career-high 5.5 rushing points per game, so we will have to wait on the impact of the injury for his rushing performance.
After Prescott you will have a large gap to other Dallas selections, but both Michael Gallup and Blake Jarwin offer potential for their costs.
After 66-1,107-6 in 2019, Gallup took a step back in 2020, catching 59-of-105 targets for 843 yards and five touchdowns. Gallup did close the season on a positive note, with seven or more targets in six of his final nine games and a touchdown in three of his final five games. Gallup has bounce back potential with an unaccounted value spike should either Cooper or Lamb miss any time during the season. 
Jarwin made it just 25 snaps into the season before suffering an ACL injury after signing a contract extension. His replacement, Dalton Schultz, then went on to rank ninth among all tight ends in targets (89), but was largely a replacement level producer on those looks with 6.9 yards per target and 9.8 yards per catch.
Jarwin has turned in 8.8 yards per target and 11.6 yards per grab over his early-career sample. Jarwin needs to prove his health, but that is factored into his ADP which is lower than where it was as a popular target at this time a year ago.
Defensive Projections for the 2021 Dallas Cowboys
The Dallas defense was so troublesome in 2020, the team used eight of 11 2021 draft picks on that side of the ball.
Injuries decimated the Cowboys' interior before it really got going last season. Gerald McCoy never got on the field, Trysten Hill tore his ACL, and Donrari Poe only lasted half a season. With a lack of pass rush in the interior, the Cowboys also matched that with not being able to stop the run. Dallas ranked 31st in Run Stop Win Rate, according to ESPN. 
Demarcus Lawrence was again one of the better pass rushers in the league, ranked 10th in ESPN's Pass Rush Win Rate. But as a team, the Cowboys only ranked 28th. Aldon Smith returned from his four-year suspension to start all 16 games for 14 quarterback hits and five sacks, but the 31-year-old was not re-signed.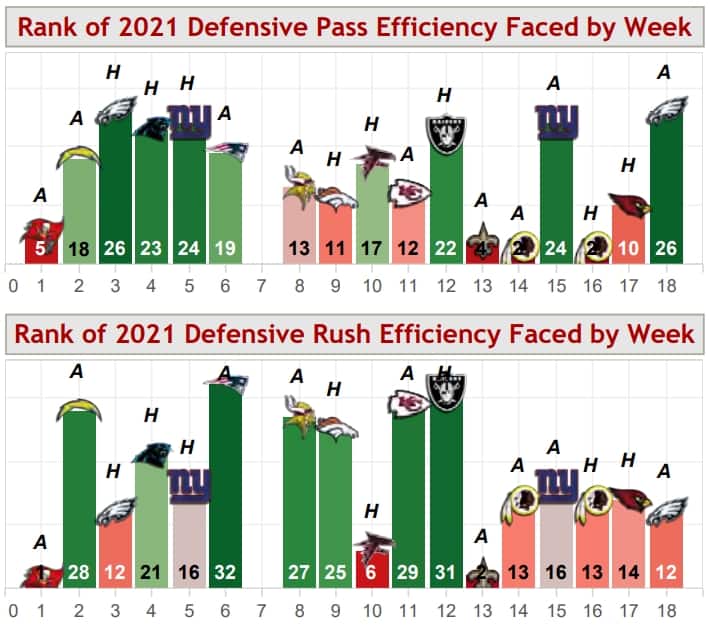 Randy Gregory was after only playing 25% of the defensive snaps. Among 124 edge rushers with at least 150 pass rushes, Gregory ranked 11th in pressure rate. Lawrence ranked 13th.
Leighton Vander Esch only played 10 games in 2020 after nine games played in 2019. Even when on the field, lingering injury issues slowed him down a bit and he hasn't been able to match the promise of his rookie season over the past two years.
Jaylon Smith has been able to stay healthy with all 16 games played over the past two seasons but there have been some inconsistencies in his game, especially when Vander Esch is not also on the field. 
With coverage and health questions in the middle of the defense, the Cowboys signed Keanu Neal, who was expected to play linebacker. But then, Dallas drafted Micah Parsons in the first round.
Under Dan Quinn, Last year's Falcons played 75% of their defensive snaps in nickel, the fourth-highest rate in the league, with no snaps in dime or lighter personnel. 
Among 148 cornerbacks with at least 100 coverage snaps in 2020, Trevon Diggs ranked 127th in adjusted yards allowed per coverage snap, which adjusts for touchdowns and interceptions.
Diggs was also one of the most targeted corners when he was on the field, ranked 138th in targets per coverage snap among that same group. There were a number of rookies in the same area as Diggs in both targets and adjusted yards allowed. To Diggs's credit, he had the best completion percentage allowed of that group at 55.4%.
At safety, Xavier Woods played nearly 90% of the Dallas defensive snaps but after some poor play in 2020, he was allowed to leave in free agency. Donovan Wilson played well as he split his time between playing deep and in the box. After him, there are some questions, especially given Quinn's history in Cover 3.
Wilson might not be a great single-high fit consistently. Damonte Kazee has played that role for Quinn, but is coming off a torn Achilles in Week 4. 
The league could be moving to more two-high looks but Quinn's background leans toward a more traditional use of a single-high deep safety and that type of player isn't currently on the roster.
Dallas Cowboys Personnel Rankings by Unit
If the Cowboys turn things around in 2021, they'll need to win some shootouts. Every offensive unit ranks in our top 10, but both defensive units rank in the bottom 10. 
If the supporting cast is healthy, Dak Prescott should lead an elite offense in Dallas. The Cowboys are the only team with every offensive unit ranked in the top 10. 
The backfield took a step backward in 2020, but still ranks ninth overall. Ezekiel Elliott averaged a career-low 1.4 yards before contact per attempt, but much of that can likely be attributed to the injury-plagued offensive line. 
The receiving corps returns 97% of its targets from 2020, as well as starting tight end Blake Jarwin who suffered a season-ending injury in Week 1. With elite depth and experience in the offense, it was an easy choice to rank this among the top units一they appeared in the top five on every ballot. 
Ranking the offensive line was somewhat difficult due to last year's injuries but, when healthy, there's little doubt this unit belongs among the best. Even with last year's injuries, Cowboys quarterbacks were pressured on just 32.6% of dropbacks (ranked 13th). 
The Cowboys' front seven was among the worst in every aspect of the game, especially versus the run. Even when stacking the box with 7+ defenders, opponents picked up 4.7 yards per carry (ranked 30th). Five draft picks spent on the front seven should help, but it won't be a quick fix. 
Rookie Kelvin Joseph might help a struggling secondary, but the unit will remain in the bottom tier as long as Trevon Diggs is a liability. Diggs allowed 1.6 yards per coverage snap, ranked 80th out of 82 qualified cornerbacks. 
If head coach Mike McCarthy grew as a coach from his year away from football it was hard to tell during his first season in Dallas. Although, it's fair to wonder how things may have been different with a healthy roster. Among coaches with at least three years experience, only Jon Gruden ranks lower than McCarthy. 
Rookie Player Impact for the 2021 Dallas Cowboys
It's widely believed the Cowboys hoped to land a cornerback in the first round (either Patrick Surtain II or Jaycee Horn) but were forced to adjust when neither were on the board. As a result, they may not get as much production from this draft class as originally planned. 
LB Micah Parsons (first round) could see immediate playing time, but the extent of his role may depend on the health of Leighton Vander Esch, who has missed 13 games over the last two seasons. 
Parsons played defensive end in high school and only played two years at Penn State (he opted out in 2020), and is understandably still raw in his coverage ability. During his final college season, Parsons blitzed on 20.5% of snaps and he's clearly more comfortable in that role. 
If Vander Esch is healthy, we may see Parsons used more frequently in sub-packages as a pass-rusher, while he develops the rest of his game. 
Parsons may also have competition for playing time from LB Jabril Cox (fourth round) who excels in coverage. Cox allowed 0.2 yards per coverage snap last season at LSU after transferring from North Dakota State, and had almost as many passses defensed and interceptions (eight) as completions allowed (12). 
Due to the Cowboys' depleted secondary CB Kelvin Joseph (second round) may take on a starting role, but immediate expectations for the developmental prospect should be held in check. 
On throws at least seven yards downfield, Joseph allowed a deserved catch rate (the rate at which DBs allow catches on catchable targets, accounting for drops) of 81.8%, among the worst rates in the SEC. 
Surprisingly, the rookie with the most obvious path to playing time might be DT Quinton Bohanna (sixth round) at nose tackle. 
Last year Dallas primarily used Dontari Poe (released in October) and Antwuan Woods (released after the draft) when lining up with a true nose tackle on the defensive line. 
New defensive coordinator Dan Quinn relied on Tyeler Davison for that role with the Atlanta Falcons last season, with Davison playing 402 snaps in either a zero or one-tech position (nose tackle). So it's safe to assume someone will need to step up to fill that spot in Dallas.
DT Osa Odighizuwa (third round) weighed in at just 282 pounds at his pro day, so he's ill-suited for nose tackle. However, The 6'4", 327-pound Bohanna is the nose tackle prototype and played 429 snaps as the zero or one-tech in Kentucky's defense in 2020. 
DE Chauncey Golston (third round) could factor into the pass-rush mix, potentially helping to replace Aldon Smith and Tyrone Crawford. Golston generated a 16% pressure rate versus three and five-step dropbacks, ranking seventh in the Big Ten.
CB Nahshon Wright (third round) was a surprising name to hear called on Day 2, but has the ideal profile of a cornerback in Quinn's defense. With his size (6'4"), Quinn will hope to develop him into a physical outside corner. 
While Dallas was probably disappointed to miss out on Surtain and Horn, they were smart to trade down from their original spot and acquire some extra picks. There are some decisions to quibble with一primarily whether any off-ball linebacker has value worthy of a top-12 pick一but the sheer quantity of potential starters helps balance out the risks in this draft class. 
Projected Win totals for the 2021 Dallas Cowboys
Why the Cowboys WILL exceed their win total of 9.5 games:
Prior to Dak Prescott's season-ending injury, the Dallas offense ranked second in the NFL in success rate on offense but only 17th on an EPA per play basis. This is mainly due to the fact that the Cowboys turned the ball over 11 times in five games, the most in the NFL. They fumbled on offense eight teams, the second most in the NFL, but only were able to recover one of those fumbles. The offense should continue its excellent play as long as they can avoid those lost fumbles.

The NFC East is expected to be the worst division in the NFL, as it was last year, and overall the Cowboys are expected to face the seventh-easiest schedule in the NFL based on win totals.

The Cowboys had bad injury luck and ranked fifth in adjusted games lost by Football Outsiders. Not only did they lose Prescott but they ranked second in the most adjusted games lost due to injury on the offensive line. LT Tyron Smith, RT La'el Collins and RG Zack Martin only played a combined 12 games after only missing a combined four games in 2019.
Why the Cowboys will NOT exceed their win total of 9.5 games:
The defense was poor last season, ranking 25th in EPA per play allowed, against the single easiest schedule of opposing offenses in the NFL. They will need to rely on first round rookie LB Micah Parsons and second round pick CB Kelvin Joseph to play important snaps and help solve the defensive issues. That is a tall task and there is no reason they won't struggle again.

The Cowboys are slated to face six quarterbacks that ranked in the top 10 last season in EPA per play. That is tied for the most in the NFL.

While Dallas is thrilled to have Prescott back in the lineup this season, it remains to be seen that he will be 100% following such a devastating leg injury. 
What are you waiting for?
Find out why pro bettors, linemakers and pro-DFS players view Warren Sharp's NFL season preview book as indispensable. It's a must have if you want to bet on the 2021 Pro Football season.