The Eagles seemed lost at the end of the 2020 season.
Just three years removed from their lone Super Bowl championship, Howie Roseman sat in his box and watched Nate Sudfeld command the offense while Carson Wentz sat on the bench in street clothes, a healthy scratch for the first time in his career.
The eventual season-ending loss to the then-Washington Football Team pushed the Eagles up to the sixth pick in the 2021 NFL Draft, a spot they would relinquish to the Miami Dolphins in exchange for the 12th pick and a 2022 first-rounder.
But that wasn't the biggest move Roseman pulled off that offseason. That was trading Wentz to the Indianapolis Colts for a 2022 conditional first-round pick and a 2021 third-rounder.
Just two months after dropping their final game of 2020 by resting starters and ruffling feathers in the process, the Eagles had two extra first-round picks for their troubles.
One offseason later and the dealing hasn't stopped as Roseman has turned those two trades into a bevy of future assets and picks: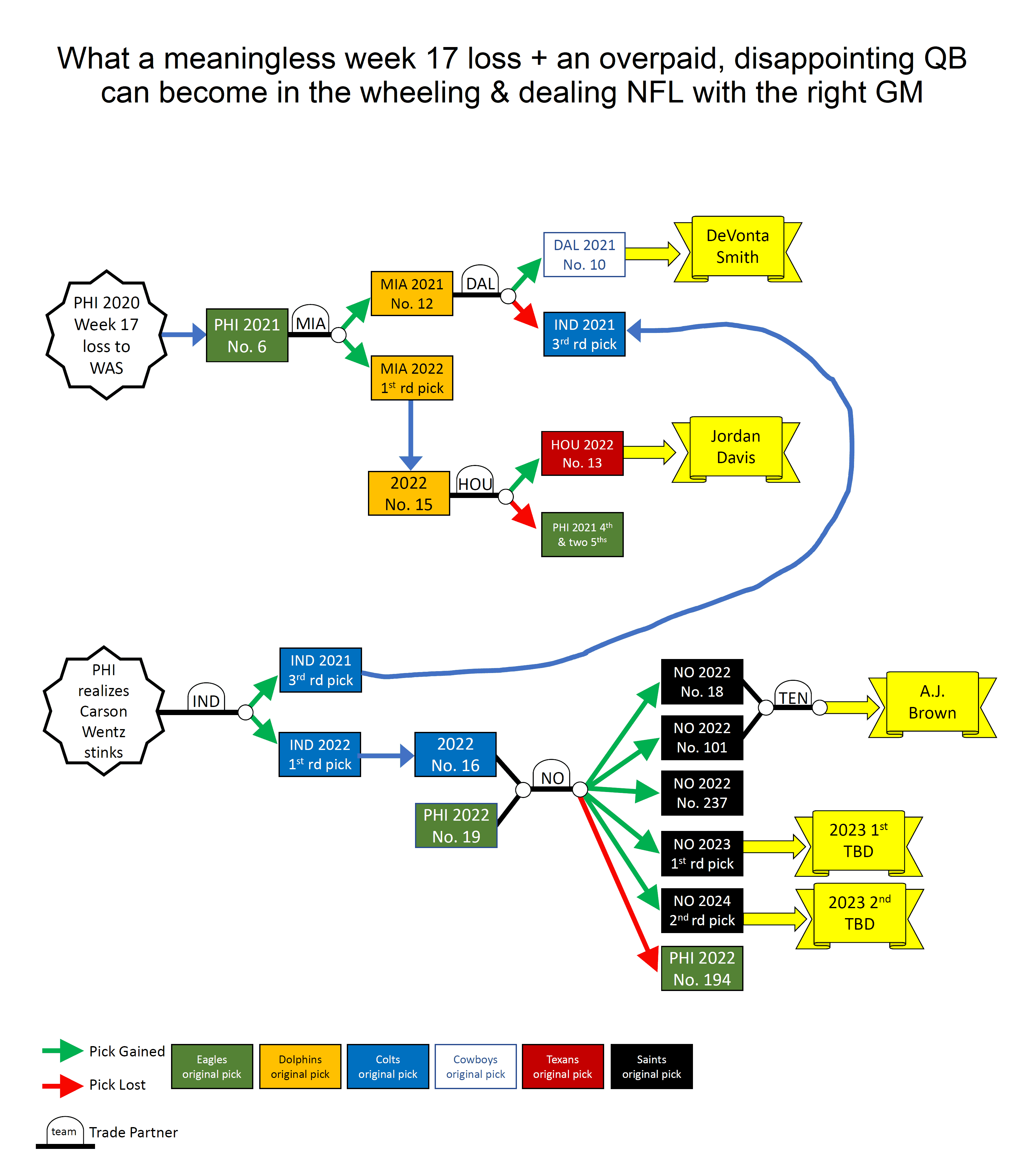 Roseman packaged the Dolphins' 2021 first-round pick and the Colts' third-round pick to move up two spots and select DeVonta Smith with the 10th pick of last year's draft. The former Heisman winner set a franchise record for receiving yards as a rookie, catching 64 passes for 914 yards and five touchdowns.
Following a 9-8 season and a playoff berth, Roseman swapped the 16th and 19th picks in last month's draft for the Saints' 18th pick and a 2023 first-rounder, arming the Eagles with two first-round picks in next year's draft.
Roseman used his extra Day 3 picks to move up a few spots last Thursday night and draft Jordan Davis to man the middle of the Eagles' defensive line and later used the two 2022 picks he acquired from the Saints to trade for A.J. Brown.
To recap; he took a top-10 pick plus an overpaid quarterback and turned them into a pair of starting wide receivers, a 340-pound defensive tackle, an extra first-round pick in 2023, and second-round pick in 2024.
Philadelphia still has a number of questions across their roster, including a defense featuring an ultra-thin secondary and Jalen Hurts, who enters his second season as a starter following an up-and-down 2021.
But with multiple early-round picks on the board for next season, the Eagles are in a prime position to make another big swing should things not go to plan during the 2022 season.