When you have a great QB, you lean on him. You trust him. You use him. You allow him to carry your offense.
Studying first down passing in the first half of games shows us quarterbacks performing within an offensive design, rather than out of necessity, as they do on third downs or in the second half of games (either in desperation or maintenance). 
There is one quarterback in this year's NFL draft class who was particularly brilliant in these first-down situations. He didn't just stand out in this year's class, however. He stands out among years and years of quarterback play.
There have been 313 quarterbacks since the 2014 season who threw at least 75 pass attempts on first down in the first half.
On these first-down passes…
The leader in YPA? Joe Burrow, with 13.9 YPA
The leader in completion rate? Joe Burrow, with an 82.1% completion rate
The leader in touchdowns thrown? Joe Burrow, with 18 touchdowns.
Burrow also delivered a 12.9% TD rate (#9 of 313) with a minuscule 0.7% INT rate.
How did Burrow's performance on these throws compare to all first-round QBs drafted in the first round since 2015?
It is clear how far Joe Burrow stands out from the crowd of other first-round draft picks: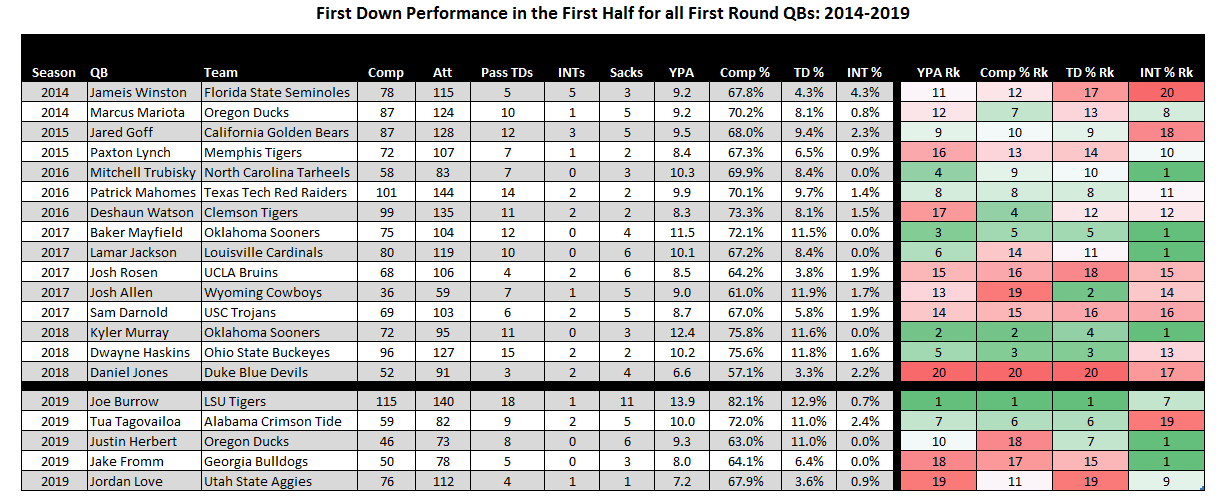 Quarterbacks worthy of being drafted in the first round typically are revered in high school and in college. They typically are given the reins to the offense and the team wins or loses based on his performance. 
So it is always interesting to analyze how often a college quarterback's coach puts the ball in his hands and calls a pass play on first down in the first half of games. 
Prior to being drafted, some quarterbacks were asked to manage the offense on first down, whereas others were asked to give the offense it's life.
Of all quarterbacks drafted in the first round since 2015, there were only two quarterbacks asked to pass on over 60% of first downs in the first half: Patrick Mahomes and Joe Burrow.
This year's class features several quarterbacks not from the run-oriented Oklahoma offenses (see Kyler Murray and Baker Mayfield the last couple of years) whose play callers took the ball out of their hands rather than entrusted them: Jake Fromm and Justin Herbert.
Both passed the ball on less than 44% of first downs in the first half.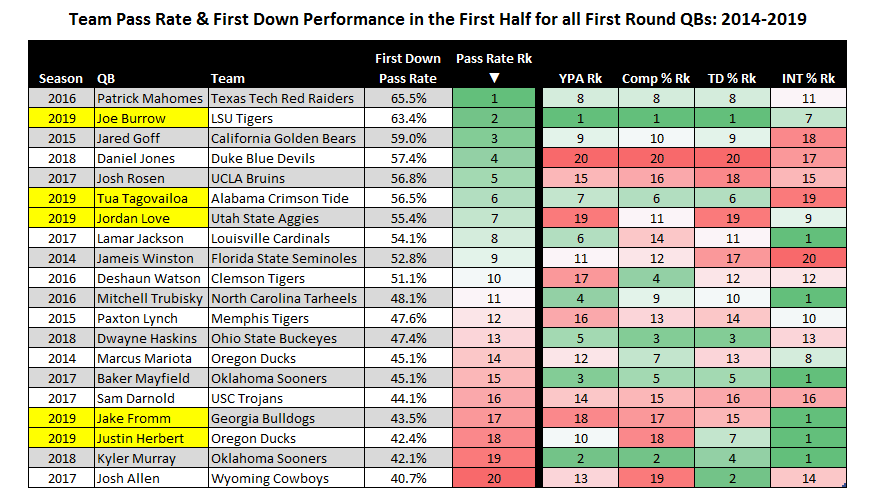 Once again, it's Joe Burrow's performance that stands out. Not only was he required to pass at a high rate, his efficiency was off the charts compared to the other quarterbacks who passed most often (Mahomes, Burrow, Jared Goff, Daniel Jones, and Josh Rosen).
Looking back at all college quarterbacks since 2014, only 15 total operated in offenses where they passed the ball over 60% of the time on first half first downs.
Most of those pass-heavy offenses used those first downs to deliver highly efficient, shorter passes. Excluding Joe Burrow, the other 14 quarterbacks completed 67.6% of passes and those passes averaged 7.4 YPA. Not one of those quarterbacks averaged 10.0 YPA or more. And on average, they recorded 7 TDs and 2 INTs.
But then, there is Burrow.
Burrow averaged 13.9 YPA to their 7.4 YPA.

Burrow averaged 82.1% completions to their 67.6%.

Burrow recorded a 18:1 TD:INT ratio to their 7:2
Not a single college quarterback even came close to delivering the production, explosiveness, and efficiency that Joe Burrow did in an offense that was placed on his shoulders, from the onset of the game on first half first downs.
As Patrick Mahomes proved time and time again as he led the Chiefs to a Super Bowl, being accustomed to passing helps a quarterback because you never know when, late in a game, you will be trailing by double digits and NEED to drop back frequently. He came back from double-digit deficits and won every single playoff game, including the Super Bowl. 
Mahomes was the No. 1 most entrusted, pass-heavy first-round quarterback in years. Burrow was No. 2.
But while Mahomes's 65.5% pass rate on first half first downs was ahead of Burrow's 63.4%, not Mahomes nor any other college quarterback in a pass-first offense came close to matching Burrow's performance on those first half first downs.
We know early down and first down passing is more stable than third down performance. As such, it's useful to study how these quarterbacks performed on first downs. And it also is useful to let the offensive coaches tell us via their play calling just how much confidence they have in their quarterback. 
In both cases, Joe Burrow stands out. Not just from this 2020 draft class. And not just from all the draft classes since 2015. But he stands out, way out, from all of the first-round draft picks since 2015.
There is no doubt an element of Joe Brady's influence on play calling was a factor in Burrow's production, as did Burrow's receiving talent. 
There aren't many quarterbacks you can say this about confidently, but based on what he did in college, it's clear: Joe Burrow proved he's capable of carrying the offense. Of being entrusted to take the ball on first down at the start of a game and dropping back… time and time again. Of being leaned on. 
In such important, early-game situations, Burrow was aggressive and explosive (first in YPA in the nation for years with the most TDs) while being highly efficient (first completion rate) and avoiding turnovers (low INT rate).
It's a one-of-a-kind combination.
Not enough analysis is placed on situational production in college. Pulling the curtain back on first down play calling in the first half of games, we can see a play caller's trust in his quarterback as well as that quarterback's production within the design of his offense. 
Burrow had his offensive coordinator's complete trust and delivered above and beyond anything we've seen in recent memory.