It is March, so that means 2017 NFL Free Agency is around the corner.  The "Legal Tampering Period" starts tomorrow, on March 7th.  This is when teams are allowed to negotiate with "certified agents" of players about to become free agents, the news cycle will be filled with deals in-the-works, rumors of handshake deals and other player-team marriages.
Then on March 9th free agents are officially allowed to sign with teams.  You can guarantee the news will be rife with immediate hot takes and articles on "free agency winners". The vast majority of takes will be extremely superficial.  "Which team improved the most?" and most likely, it will be the team that spent the most to sign the best splash players.  It's predictable, it's inevitable, but there is just one problem:
It's wrong.
"Winning" by overspending in free agency means losing on the football field.  There is an extremely strong negative correlation between spending on free agents and winning football games.  This is not theory or speculation.  It is fact.
Everyone will clamor for the one team it worked for, though.  People will argue the Denver Broncos, forgetting the fact that the team had one of the NFL's greatest quarterbacks of all time.  Ironically, they won the Super Bowl when he was playing poorly at the end of his career, but he brought much more to the field than just a throwing arm.
But come March 9th, you won't find such commentary from the mainstream media or the fans of the teams locking up the best available players. You can "win" free agency by utilizing it intelligently – signing undervalued pieces, grabbing a few bad fits from prior teams, and letting your own players walk rather than overpaying them.  That is how you "win" free agency.  But it is not sexy.  It's not headline material.
But it wins games.  You win in the NFL by having a great General Manager who builds primarily through the draft and employs a coaching staff who develop talent and understand efficient winning in today's NFL & how to exploit edges.
That generally starts with a solid quarterback, and most frequently one that is hitting the salary cap for less than he's worth to enable you to build out a deeper roster (no team has won a Super Bowl in the salary cap era with a QB taking up more than 13% of their cap, and the avg the last 17 years is just 6.7%).
So back to that nasty negative correlation between spending in free agency and winning.  Below is total spending the last 3 years vs wins.  This analysis looked QUITE similar when I ran it for the 3 year period from 2013-2015 last offseason.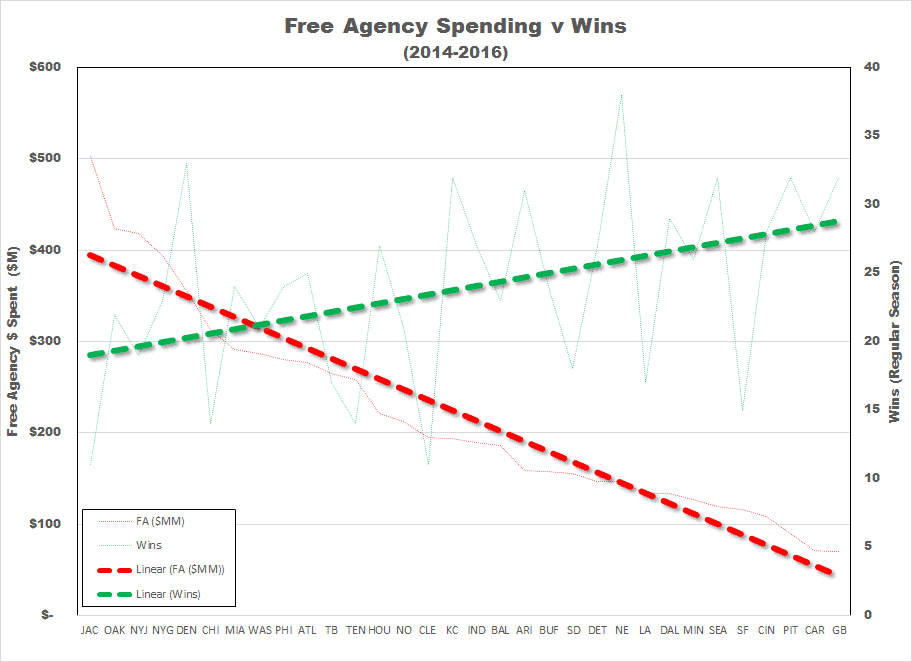 It really does not get any more clear than that.  The teams who chose to fix themselves overnight with big spending sprees in free agency the last few years have failed.  The teams who took the more long term, patient approach have been rewarded.
To nail the point, take a look at the chart's extremes.  You will see that of the eight teams which spent the least in free agency, seven produced winning records.  While of the eight teams which spent the most, only one produced a winning record.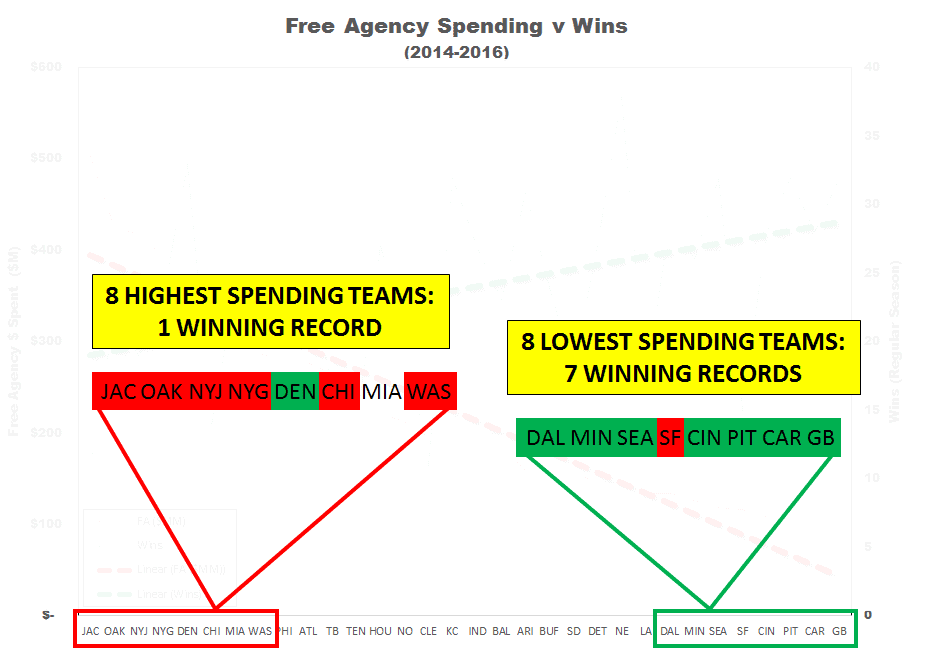 What should also be of note with these eight teams spending the least:  NONE of these teams won by trying to snag a quarterback through free agency.  They ALL drafted a quarterback and took the long road of dealing with his growth and developing him over time.  We're talking about teams like:
Green Bay (Aaron Rodgers)
Carolina (Cam Newton)
Pittsburgh (Ben Roethlisberger)
Cincinnati (Andy Dalton)
Seattle (Russell Wilson)
Minnesota (Teddy Bridgewater) and
Dallas (Tony Romo / Dak Prescott).
The NFL is a process, and those that understand it best can exploit the many clueless franchises out there.  But it's not just historically bad, losing teams that get caught poorly managing their team and over spending in free agency.
Every year, a winning team from the prior season believes they are on the cusp of something special, and over spends with poor results:
After winning 10 games in 2012, the Vikings spent over $100M in free agency in 2013, signing 5 players on day one including FB Jerome Felton, LB Erin Henderson, RT Phillip Loadholt, C Joe Berger and SS Jamarca Sanford. They added QB Matt Cassel and WR Greg Jennings in short order, and proceeded to win only 5 games in 2013 and fired their head coach.
After winning 11 games in 2013, the Saints spent over $95M in free agency in 2014, headlined by big deals in the secondary, including FS Jarius Byrd and FS Malcom Jenkings, along with multi-year deals for CB Champ Bailey and RT Zach Strief. The Saints won just 7 games each of the last two seasons.
After winning 10 games in 2014, the Eagles spent over $122M in free agency in 2015, bringing in big name, big contract players from around the NFL including CB Byron Maxwell, RB DeMarco Murray, RB Ryan Mathews and FS Walter Thurmond. As we know, the Eagles struggled tremendously, winning just 7 games last year. Like the Vikings above, this catastrophe led to firing their head coach, and in 2016, the futures market predicts another losing season.
After winning 9 games for the second straight season in 2015, the Texans spent $140M in free agency in 2016, highlighted by day 1 signings of QB Brock Osweiler and RB Lamar Miller to beef up their offense.  Despite playing in the NFL's easiest division and facing the 2nd easiest schedule of opposing defenses in the NFL, the Texans offenses was one of the worst in the NFL.  Playing in such a poor division against an easy schedule, they were able to make the playoffs but stood no real shot against good offenses, and were blown out by the Patriots.  Now the Texans find themselves with Osweiler hitting the cap for $19M in 2017 more than Ben Roethlisberger and Russell Wilson, and equal to Drew Brees.
Many teams fall victim to the allure of the "quick fix" of free agency, or the prospect that they can add the "missing piece" which would get them from a 10 win team to a Super Bowl team.
To break it down further, I mapped out the teams as data points against free agency dollars and wins the last 3 years, and included the averages for free agency dollars (just over $200M) and wins (a 24-24 cumulative record). Once again, the red trendline indicates the negative correlation between spending in free agency and winning games.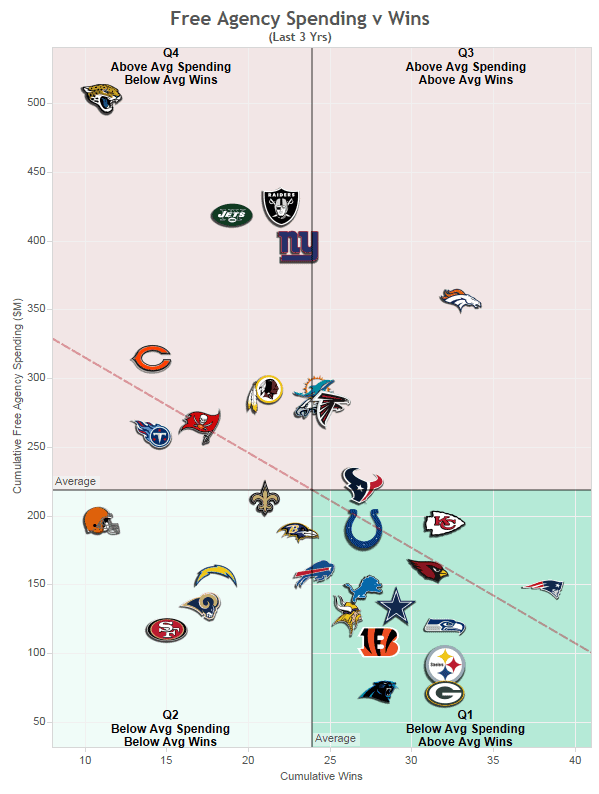 It's interesting to note the 2 quadrants that do not hold many teams. The Broncos were the only team to both spend and produce well above average, in quadrant 3 (Q3).  A lot of that had to do with Peyton Manning and without him, even with a great defense, we saw how the Broncos struggled in 2016.  Similarly, Q2 is less inhabited.
This is because many teams that don't win get desperate and end up spending a lot in free agency.  The 3 teams that were squarely in this quadrant in last year's model were the Rams, Chargers and Texans.  Two of the three are still here, and I mentioned the Texans spent a lot last year to improve their offense (which ultimately did not happen).  Some of the most mismanaged, unintelligent teams reside in Q4.
Meanwhile, some of the best franchises in the NFL, with the best front offices, reside in Q1. And for these teams, the record is a result of the way the franchise runs and the philosophy they employ from a team building perspective. Chief among them include the Patriots, Packers, Seahawks and Steelers, mainstays from last year's model run.
For a handful of the best, which I'll discuss in future articles as part of this NFL offseason series, they build themselves correctly, through the draft. And when their best players make it to free agency, most of them are lost, with teams from Q4 eagerly snapping them up and overpaying them, while the teams from Q1 take their comp picks for the players & reload in the draft.
Looking at the 50 most expensive forays by NFL teams into free agency the last 3 years, only 2 of the 50 moved teams from losing records to winning records for the next two seasons, and only 1 of the 50 saw a team win increase to a double digit-win team in each of the next two seasons. So while occasionally over spending in free agency can work, it's far more likely to fail miserably.
While all of the above is true, there is a caveat for 2017.  And that is the salary cap is rising yet another $12M, from $155M in 2016 to now $167M in 2017.  Thus, after literally zero salary cap increase from 2009 ($123M) to 2013 ($123M) the cap has increased $44M over the last 4 years.  Teams will spend more in free agency because they can.
So I absolutely won't be surprised to see plenty of players get massively overpaid in a few days.  The average spending certainly will continue to increase.  But as it always is, it's the teams which make the most intelligent decisions with their team over the next two months, between free agency and the draft, which will ultimately put themselves in the best position to win not just in 2017, but beyond.
Many NFL front offices of losing teams get scared for their jobs, and view the safest path a free agency spending spree.  If the well known, well paid new players don't help turn around the franchise, perhaps they can be the scapegoats.  The reality is a more measured approach of focusing on drafting and developing talent, coupled with a few intelligent moves is what can turn a franchise around and save a coach's job.
The "quick fix" of free agency is a myth.  Very few losing teams actually "fix" themselves in free agency.  If they see a one-season win increase, it most likely is the result of an easier schedule due to their poor record the prior year.  It is never wise to overpay players, and often overpaid players lose an edge they had when they were underpaid.
The best teams refuse to overpay players, and that strict discipline allows them to continue to reload year in and year out.  We will know in a few days how ridiculous some of these new contracts will be.  But when passing out "grades", keep in mind burdening a team in 2017 and beyond with a massively overpaid contract is not "winning", and remember that free agency spending and winning games is negatively correlated, and has been for some time now.
******
Note that as another free agency "winner" apart from the Broncos, some may want to point to the 2016 Giants.  The Giants spent a massive $214M in free agency last year, primarily building on the defensive side of the ball.  The Giants went from a $50.6M cap hit on defense in 2015 (7th least) to $71.6M in 2016 (9th most).  Their defense certainly got better, but as we saw by looking at the way 2016 played out, offenses ruled the day.
The Giants had a major problem that their all-star defense couldn't solve: pressuring the opposing QB.  They ranked 23rd in adjusted sack rate and 28th in Pro Football Focus' pressure rate, and additionally, allowed opposing QBs the longest time in the pocket before pressure of any team in the NFL.  This allowed a huge rate of big pass plays against their defense, which ultimately cost them against the Packers.
On offense, the team had to compensate for the salary allotted to the defense. They moved from spending $23M in cap to their offensive line in 2015 (12th most) to just $13M in 2016 (2nd least).  Combined with just a $3M cap hit to their TEs (3rd least), the Giants had the NFL's cheapest pass protection in the NFL last year.  They compensated by getting the ball out quickly, which helped Eli's sack numbers, but it prevented their ability to hit big plays in the pass game (unless Odell Beckham Jr. was taking a slant to the house).
On passes 15+ yards in the air, with deeper drops, more time in the pocket and weaker protection, Eli Manning was a disaster:  his 58.5 rating was 4th worst in the NFL and he completed just 34 out of 111 attempts.  For context, these numbers were worse than Carson Wentz, Ryan Fitzpatrick, Case Keenum and Colin Kaepernick, among many others.
Now, the Giants must deal with a cap hit on the defensive side of the ball of a MASSIVE $94M, the most in the NFL.  When most of the NFL's very best teams, like the Patriots, Steelers, Cowboys, Packers and Falcons are spending substantially more on offense than defense, the Giants are on the total opposite side of the scales.  Given all the rules which benefit offenses, it is hard to win in 2017 without a strong offense.
Whether the 2017 Giants can get far more out of their offense than they did in 2016 will likely determine whether they can win with such a massive cap hit allocated by their defense.