In 2019, the Bills passed the ball on early downs in the game's first three quarters at a below-average 54% rate (#18).
The 2019 Bills scored points on only 30% of drives (#26) and averaged just 1.64 points/drive (#24).
In 2020, the Bills changed philosophy and passed the ball on first down at the NFL's highest rate.
Buffalo's 2020 drives scored points at a 49% rate (#2 highest) and punted only 24% of the time (#1 lowest).
McDermott in 2021 on the pass-heavy offense: "That has not been my message from Day 1, I can promise you that. If you were in the team meetings in training camp, you would know what style of offense I want. That identity needs to embody toughness."
A tiger cannot change his stripes.
Ultimately, neither can Sean McDermott.
The 2020 Bills came so close to winning it all. Their offense was nearly unstoppable. It didn't resemble anything Buffalo had seen in decades. And it was the first time they made it to the AFC Title game since 1993.
But instead of running it back with minor tweaks, McDermott said in his post-season press conference that he wanted to "start over" and do so by "running the ball better."
The direction of the Bills has been a downward spiral ever since that fateful day.
Want to know why that 2020 season seems so different and magical than what the Bills have seen since, particularly in recent years?
Because that was the only year McDermott truly took a step back from the offense and let someone else give it a spin with full impunity.
As I'll detail below, that was OC Brian Daboll's ticket to ride anything at the park. Super Bowl or bust. But if it busts, regardless of whether it got *this close* to a Super Bowl, the fun is over. Back to basics.
And since that AFC Championship loss, the blame from the top has gone everywhere:
First, it was Daboll. He left after 2021.
Then it was defensive coordinator Leslie Frazier. He left after 2022.
Now it is Ken Dorsey, who was fired at the midpoint of this 2023 season.
Ironically, Dorsey's firing came after a home loss to the Broncos that was both predictable and ultimately the fault of the head coach.
---
I say predictable because I expected the Bills would struggle. I bet the Broncos +7.5 and Under 47 total points. My already solid betting season was made even more profitable by the final result.
As I wrote in my game prediction, I expected the Broncos would get out to a lead because of their superior game scripting and solid starts coupled with the fact that McDermott's defense has been terrible on opening drives and early in games (#29 defense on opening drive yards allowed, #31 defense in points allowed the first two drives of games).
I predicted an early lead would allow the Broncos to keep the ball on the ground and out of Russell Wilson's hands, which was essential. And it would also open up play action, and McDermott's defense has been the #3 worst defense vs. play action.
Sure enough, the Broncos got out to the early lead I expected, were able to run the ball all game long, and Wilson took advantage of play action. He went 7-of-8 with play action, and both of his touchdown passes came off of play action.

---
The result didn't surprise me.
But several things about the game did surprise me.
What surprised me most was head coach and defensive playcaller McDermott calling for an all-out blitz on third and 10 when the Broncos were on the 45-yard line, well out of field goal range.
That was purely asinine coaching.
The second-most surprising occurrence was the Bills having 12 men on the field on a play that would have won the game for them.
That was ridiculously poor coaching.
There were plenty of fingers to point in this game. The Bills once again were too sloppy with the ball. They fumbled the ball. They should have caught balls that resulted in interceptions. They threw bad passes which were intercepted.
But what if I told you the Bills offense had a 52% success rate just one game after the Chiefs offense had a 35% success rate vs. this improved Broncos defense?
What if I told you the Bills offense averaged 7.1 yards/play just one game after the Chiefs offense averaged 4.8 yards/play vs. the Broncos?
What if I told you the Bills offense averaged 2.0 points/drive just one game after the Chiefs offense averaged 0.8 points/drive vs. the Broncos?
What if I told you the Bills offense ran the ball (as coach McDermott loves to see) on 50% of offensive plays just one game after the Chiefs ran it on only 28% of offensive plays vs. the Broncos?
Both teams lost to the Broncos.
But McDermott fired his offensive coordinator after the loss.
Perhaps the Chiefs should have thought to fire Andy Reid as well because clearly delivering an offensive performance so much worse than the Bills just delivered would necessitate firing the offensive playcaller.
The conundrum of the Bills 2023 offense is one not easily solved.
But apparently, it is bad enough to get the playcaller fired.
On a per-play basis, the Bills offense ranks:
#1 in success rate (48%)
#2 in third down conversion rate (49%)
#3 in early down success rate (47%)
#3 in EPA/play (+0.09)
#4 in rate of downs converted into a new first down (77%)
#4 in points/minute of possession (0.85)
As compared to 2022, these 2023 stats are either better or, at worst, comparable.
That said, this offense has trended worse over the last half of the season to date.
Since Week 5, the Bills are scoring points on only 31% of drives, which ranks #27.
But this is largely due to two key factors:
#1 – their defense has given them the worst average starting field position of any team (their own 24.3-yard line)
#2 – they are turning the ball over on 21% of their drives, the worst rate in the NFL
Does this excuse the offense?
No, it does not.
Does it mean a primary problem with the Bills is their offensive playcalling and their OC should be fired?
No, it does not.
Inception
In fact, I submit to you a different culprit entirely.
It is my belief the Bills offensive issues are the result of a slowly metastasizing belief that there is one true way to win games… and it's not the way the Bills are best suited to play them.
This belief has crippled the Bills offense and, in turn, the entire team.
I will guide you through this belief growing throughout the years.
From inception after the 2020 season to its annual spread.
It has corrupted portions of this team entirely.
But for one second, I want to share a thought exercise.
If you approach this exercise sincerely, I think it might be quite illustrative of the issues the Bills are working through right now.
Jump a few years into the past and put yourself into Josh Allen's shoes while he was a kid out of Wyoming and before he was paid franchise QB money.
You have a breakout year in 2020 that no one thought you were capable of.
Immediately at the conclusion of the season, your head coach comes out and tells the press and your team internally, in an indirect manner, that he wants to take the ball out of your hands more often and place it in the hands of your running backs.
It is a core focus in training camp.
Rather than enhancing the offense to build around you as a passer, he wants to clip your wings. He encourages if not outright demands your OC calls more handoffs to RBs such as Devin Singletary, Zack Moss, and Matt Breida.
Then for the entire 2021 season, you have to hear your head coach scream at your OC almost any time you make a mistake when dropping back to pass because a run play should have been called instead.
Then you are told by your head coach you need to stop running the ball as much because it is going to impact your availability. So, on designed pass plays, instead of passing to open players or tucking and running when run lanes present themselves, you are getting programmed to throw the ball into tighter coverages to avoid taking a sack because it is no longer acceptable for you to scramble as often.
As the games and years go by, the playmaker that was once inside of you is slowly being coached out of you. You start to play scared. You are scared to run the ball because if you get hurt, it is, "I told you so."
As a result, you are encouraged to pass more regardless of what the picture looks like post-snap, but scared to throw interceptions because both you and your OC will be condemned.
You are the best player on the team, and if you play poorly, your team almost assuredly loses the game. But you no longer have the internal confidence, and you certainly can feel that you no longer have the confidence from your head coach.
You are being coached by an old-school, defensive-minded HC who wants to take the ball out of your hands, doesn't want you to be dynamic for fear of injury when it is in your hands, and above all, wants to ensure you never, ever throw an interception or you will face the wrath.
That's no way to play free and exceptional football. And from a "human" perspective, it must feel pretty shitty.
In no way am I excusing mistakes made by Allen, because he certainly needs to improve.
Though it is worth pointing out at this juncture that this season, Allen has the lowest turnover-worthy play rate of his career, per Pro Football Focus.
But that hasn't stopped the Bills from getting unlucky tips, bounces, and ultimately, turnovers to go against them.
This isn't a journey into the psyche of Josh Allen.
It's a journey to understand the reason why the Bills are less the Buffalo Bills and more the McDermott Bills.
To understand where the McDermott Bills are in mid-November of 2023, we must go back to what happened to close out the 2019 season.
---
Don't miss out on the biggest value we have! Leveraging Warren Sharp's 17-year track record of winning NFL recommendations, our all-access package includes NFL betting, College Football betting, Player Props, and our in-season Fantasy Football products. This package also includes Warren's NFL computer totals, which have gone 60-20 (75%) over the last two years and are 62.3% accurate lifetime. Weekly and monthly packages are also available! Click here to learn more!
---
The Bills' 2019 Season
The 2019 Bills were off a 10-6 record in Allen's second season, but the team looked substantially different than what we have come to think of the Bills.
The Bills were a run-first team with a terrible offense. Their offense ranked #22 in EPA/play (-0.06) and #22 in yards/play (5.2).
Allen ranked #39 of 42 QBs in completion rate (58.8%), #30 in success rate (41.1%), and #27 in EPA/dropback (-0.04). Allen threw only 20 touchdowns (#21) but also just 9 interceptions, so his TD:INT rate ranked #18.
What helped this team to the playoffs despite a near bottom-10 offense was their defense, which ranked #4 in EPA/play allowed (-0.09) and #4 in yards/play allowed (4.8).
Offensively, the 2019 Bills scored points on only 30% of drives (#26) and averaged just 1.64 points/drive (#24).
Defensively, the 2019 Bills were the exact opposite. They allowed scoring drives on just 23% of drives (#2) and allowed just 1.3 points/drive (#2).
So, after the January loss in the Wild Card game to the Houston Texans, McDermott's final press conference of the season included a note of what he wanted from the offense in the future:
"We've got to score more points, and I think everybody knows that I know that," McDermott said. "We have to find answers to do that. That's part of our offseason."
And he said they planned to approach the offseason with a "tremendous amount of urgency" to improve.
A defensive-minded coach by nature, McDermott cut his teeth under Jim Johnson in Philadelphia, working up the ranks until he became full time DC in 2009. He then was defensive coordinator for defensive-minded Ron Rivera in Carolina starting in 2011 before being hired as the head coach of the Buffalo Bills in 2017.
McDermott wanted the 2020 Bills to score more points but wasn't exactly eager to abandon all the conservative principles that he grew up on and believed helped win games. Many times, McDermott uttered the mantra: "You've got to play a certain way in this league."
However, after that press conference, forces inside and outside the building helped convince McDermott to take a deep breath and give a chance to playing something other than a conservative, run-first offense.
The Bills' 2020 Season
These forces ultimately won out. For one season, McDermott would give a more aggressive approach to offense a chance. It wasn't exactly what he wanted, but when other options were not working, he would give it a try – on a short leash.
That offseason, the team went out and acquired Stefon Diggs in a trade with the Minnesota Vikings.
Additionally, Allen refined his techniques with Jordan Palmer and worked more on his deep ball.
Both were important factors in the way the offense flourished.
But what would take this offense to the next level (and ironically, cause even more problems in the future) was McDermott entrusting offensive coordinator Brian Daboll to call the offense exactly how Daboll wanted. To be as aggressive as Daboll wanted with a concerted effort to score more points in a modernized approach in order to compete with the likes of the team that just won the Super Bowl, the pass-heavy Patrick Mahomes-led Kansas City Chiefs.
And the biggest philosophical difference that McDermott would need to accept, like it or not, was the Bills were going to become a pass-first team.
In 2019, the Bills passed the ball on early downs in the game's first three quarters at a below-average 54% rate (#18).
Their final game of the 2019 season, the most important game, was the Wild Card game in Houston. The Bills passed the ball on only 47% of early downs in the first three quarters.
The NFL average was a 55% pass rate. The 47% rate for the Bills in that Wild Card game was the equivalent of the #31 team in the NFL.
Where did the Bills offense go in 2020?
After a 47% early down pass rate to close the book on the 2019 season, they opened the book of the 2020 season in Week 1 with a 67% pass rate on early downs in the first half against their division rival Jets.
Buffalo scored 14 first quarter points.
The Bills hadn't scored more than 10 points in any first quarter in any game in 2019. They went pass-heavy and did it in the very first game of 2020.
And they never looked back.
In 2020, Buffalo's offense passed the ball on 65% of early downs in the first three quarters.
Up from 54% in 2019.
They went from a below-average passing team on early downs to the #2 most pass-heavy team in the NFL.
And on first downs only? They were the #1 most pass-heavy team in the NFL.
The NFL average was 50.6% pass on first downs in the first three quarters in 2020. Buffalo was 65% pass (#1).
Sean McDermott wanted the team to score more points.
Brian Daboll's philosophical change to the offense allowed the 2020 Bills to score 501 points, #2 most of any team.
Buffalo's 2020 drives scored points at a 49% rate (#2 highest) and punted only 24% of the time (#1 lowest).
As importantly, they ranked #2 in the rate at which a set of downs converted into another first down or touchdown (80%).
For comparison, they ranked #25 in this metric in 2019 (68%).
And it was because they were aggressive on first down, with the NFL's #1 highest pass rate.
The approach helped Josh Allen immensely. Go figure that passing the ball on a down when the defense might expect a run would be beneficial. As would avoiding obvious passing situations on third and long.
Allen's own work over the offseason and the addition of Diggs cannot go underrated, and those factors coupled with the massive improvement in offensive philosophy vaulted Allen to top-5 QB status.
Allen finished the 2020 season ranking:
#1 in passing success rate (54%)
#3 in EPA/dropback (+0.19)
#5 in completion rate (69.2%)
Threw 37 touchdowns (#5 most) with only 10 interceptions (the NFL's #7 best TD:INT ratio)
The Bills won in the Wild Card Round.
The Bills won in the Divisional Round.
But the Bills fell short to the defending Super Bowl Champion Chiefs in the Conference Championship Round.
It should be noted that the Bills led 9-0 in the AFC Championship Game before allowing 3 TDs. They were trailing 21-9 with a 4th & goal from the KC four-yard line, and McDermott opted to kick a 20-yard FG to trail 21-12 at halftime.
In the third quarter, he opted to kick a FG on 4th & 3 at the KC eight-yard-line to cut a 12-point deficit to 9 points.
That wasn't on Brian Daboll. That wasn't on Josh Allen. Those were Sean McDermott's decisions.
Despite falling short, there was a lot to be proud of for the 2020 Bills.
The team finished with 13 wins for the first time since 1991.
They won their first division title and playoff game since 1995.
They made their first AFC Championship Game since 1993.
After the season, Allen received incredible praise.
Daboll received incredible praise. In fact, Daboll received the AP NFL Assistant Coach of the Year Award.
But Sean McDermott's name was not nearly praised as much.
The Bills 2020 defense fell off. They ranked #16 in EPA/play after ranking #4 in 2019. They ranked #15 in yards/play allowed after ranking #4 in 2019.
Was there an element of animosity about the team making the deep playoff run and all the praise going to Daboll and Allen?
In his post-season press conference after the 2019 season, McDermott talked about scoring more points and doing so with great urgency.
But his post-season press conference after the 2020 season was decidedly different.
"You have to start over. Yes, we can carry a lot of things forward, but every year you have to start over. You have to rebuild the football team. You have to grow as an individual. You have to take it upon yourself, just because we had success, to ask yourself the hard questions. I can start off saying we've got to be able to run the football better."
Start over? Ask yourself hard questions?
What are we talking about here? If McDermott doesn't kick FGs and actually coaches to win in key 4th downs, the Bills might make the Super Bowl.
Now he's talking about a hard reboot?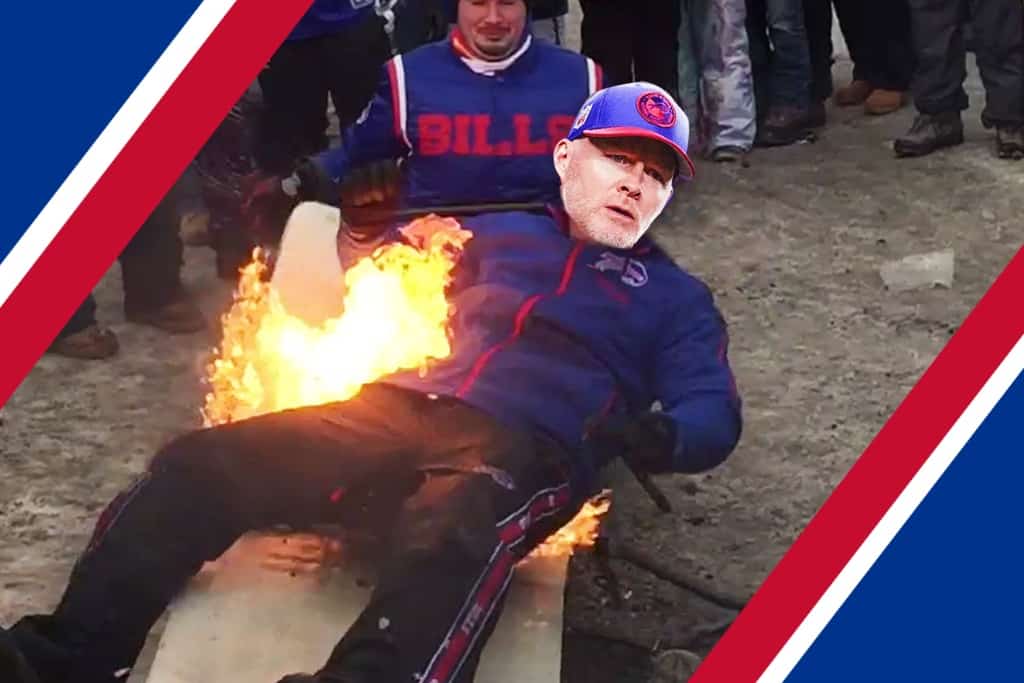 And then there was the moment of inception.
The seed that had always been buried inside of him began to sprout again.
Did you see it?
The very first thing he mentioned about where he wanted to start.
The run game.
Not the defense, which was significantly worse in 2020.
Not building on what worked offensively in 2020.
Not on developing his young QB who is still developing off his first year of it truly being "his" offense and hoping to enhance the weapons around him while he's still on his rookie deal.
But starting over.
And starting that process with the run game.
This reminds me of the famous Maya Angelou quote: "When someone shows you who they are, believe them the first time."
We should have known at that moment what we were in for with the Bills.
Everything was downhill from that moment of inception.
Slowly at first.
Unrecognizable on the surface initially.
Not impacting the team's ability to overcome such toxic priorities so long as an OC would push back (like Daboll surely would, as the 2021 season would show).
The run game didn't get the Bills to the AFC Championship Game.
But that's what McDermott wanted to start over with in 2021.
That single sentence set the tone for things to follow in 2021, 2022, and 2023.
You just didn't know it because you simply heard what he said.
When in reality, you should have listened.
I did.
I prickled about these comments during the summer of 2021.
I was assured by Bills Mafia that this wasn't a bad thing at all.
They told me: "McDermott didn't say he wanted to run the ball more, just that he wanted to run it better."
But I can assure you, he did want to run the ball both better AND more.
His making a point to start over. His asking himself the hard questions.
He was taking control back from Daboll in a way that not just the defense, but now the offense, would reflect his vision for how you win football games.
The whole "we tried it your way for a season, now it's my turn again" approach.
Because these are the McDermott Bills.
The Bills' 2021 Season
On the surface, the 2021 season statistically was quite similar to the 2020 season.
Buffalo passed the ball at a top-5 rate once again.
Buffalo was a top-5 scoring offense once again.
Buffalo went back to the playoffs.
Buffalo almost beat the Chiefs in the playoffs, but fell 13 seconds short.
Then lost a coinflip in overtime.
And the season was over.
The high points seemed similar to 2020.
But if you paid close attention along the way, behind the scenes, 2021 was very different than 2020.
In 2021, McDermott did not sit back idly and allow Daboll to have 100% creative control over the offense.
It started gradually.
But then it built to a head.
First the veiled comments.
Then the barbs.
Then it was over.
Buffalo started the season 5-2 and traveled down to Jacksonville to face the 1-6 Jaguars. Buffalo was a 14.5-point road favorite. They lost while scoring only six points.
Buffalo's defense held the Jaguars offense to just nine points. Josh Allen was sacked four times and threw two interceptions.
Buffalo had more first downs and nearly 100 more yards than the Jaguars, but the Bills were forced into 15 third downs and converted just six of them. In a game that was tied 6-6 at halftime, Buffalo's second-half drives consisted of:
Interception
Interception
Punt
Fumble
Turnover on downs
Buffalo's running backs couldn't do anything. Collectively, Devin Singletary and Zack Moss ran the ball nine times for 22 yards at 2.4 YPC.
McDermott didn't mince words about the running game:
"I thought we'd be further along [with the run game]. I thought that we would have progressed in that area. It is something that we need to do and do better if we want to be the team that we're trying to become."
He expounded: "I don't think it's just been the last couple of games. Start with the first game [this season against Pittsburgh]. Look at that film. Go back to last year at the end of the season in particular. So yeah, that's where we're at."
And then there was the all too familiar refrain that you've come to hear all too often the last two years, whether it was from McDermott himself or his edict to his offensive coordinators or quarterback Josh Allen: complementary football.
"Complementary football, you stay on one side of the ball, the run, stopping the run helps to stop the pass. It just all fits together and has to work together. You've got to play a certain way in this league. And that's how we have to play."
The Bills destroyed the Jets 45-17 the very next week, on the road, with Allen throwing for 366 yards and going 21-of-28.
But the following week, the Bills hosted the Indianapolis Colts in the wind and the rain.
They lost badly, 41-15.
After the game, McDermott once again went in publicly on the Bills' lack of a run game:
"Where the game got to midway through the third was the difference of margin was wide there. So we weren't able to run it as much as we wanted to. I thought the run game was giving us some yards in some situations there."
"We do need to find some level of consistency from game to game. I think it's a little bit of everything. You talk about scheme, you talk about fundamentals, you talk about attitude and mentality."
When he says "scheme," he means Daboll's offense. When he says "fundamentals," he means running the ball. When he talks about "attitude and mentality," he means not backing up to pass the ball but coming forward to run the ball.
The next week, the Bills bounced back and crushed the Saints 31-6 on Thanksgiving on the road. Once again, Allen went an efficient 23-of-28 for 260 yards and 4 TDs but did throw 2 interceptions in the blowout win.
What followed was the wind tunnel game and the hurricane-like commentary in the post-game presser.
It was the worst weather conditions we've seen in years, featuring snow flurries and winds at 27-35 MPH with gusts up to 50+ MPH.
Once again, the Bills couldn't get much accomplished with their running backs on the ground. Singletary, Moss, and Brieda combined to run the ball 19 times for 60 yards (3.2 YPC), and Buffalo lost 14-10.
After the game, McDermott spoke up again, not just about the run game, but took some shots directly at offensive coordinator Daboll:
"Well, I didn't think, honestly, we took advantage of opportunities tonight. I really didn't. The ball is at the 40-yard line. We're 1-for-4 in the red zone. We've got to figure that part of it out."
McDermott again went in on the physicality he's looking for from the offense: "That has not been my message from Day 1, I can promise you that. If you were in the team meetings in training camp, you would know what style of offense I want. That identity needs to embody toughness."
When asked if he was outcoached by Bill Belichick, McDermott got red-faced and with burning eyes said:
"It's not Bill," McDermott said, his eyes burning. "Let's not give more credit than we need to give credit to Bill Belichick in this one. Whether it was Bill or anyone else, they beat us."
He was *this close* to saying Daboll's name.
Three different losses.
And McDermott progressively taking stronger and stronger and stronger shots at Daboll and the offense.
And at the end of the day, McDermott outlined it perfectly:
"If you were in the team meetings in training camp, you would know what style of offense I want."
Emphasis on "what I want."