Success in the National Football League remains as dependent on the quarterback position as ever. However, as teams frantically search for a franchise quarterback capable of hoisting a Lombardi Trophy for their franchise, a couple of trends have emerged over the last 18 Super Bowls.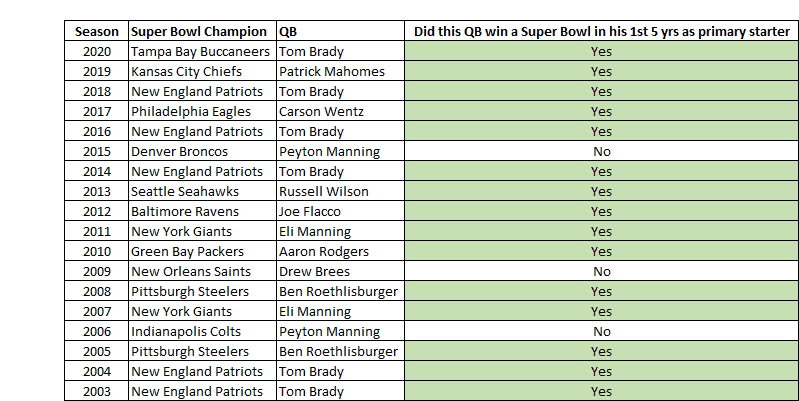 Starting with the New England Patriots' win over the Carolina Panthers in Super Bowl 38, every Super Bowl-winning quarterback hoisted their first trophy within five years of being named a starting quarterback in the NFL, save for two: Peyton Manning and Drew Brees.
Tom Brady's win in 2003 was his second Super Bowl win, a feat he's replicated a record five more times since. After Brady and the Pats repeated in 2004, Ben Roethlisberger hoisted his first Lombardi in 2005, just his second year in the league.
It took Manning nine years to win his first Super Bowl, but he had already proven to be a franchise quarterback prior to the 2006 season, winning two MVP awards and being named first-team All-Pro in the three seasons leading up to Super Bowl 41. It took Peyton's little brother, Eli Manning, just four years to win the Super Bowl, knocking off the undefeated Patriots the very next year.
After Roethlisberger won his second title in 2008, Brees, the true outlier in this group, won in 2009. Not only did Brees win in his eighth year as a starter, but he is the only quarterback on this list to win his first title for a team that did not draft him. Brady and Manning have each won titles for other teams, however, they were champions in New England and Indianapolis before moving on to Tampa Bay and Denver, respectively.
Aaron Rodgers won the title in 2010, his third year as a starter, and Joe Flacco needed all five years of his rookie contract to finally get the job done in 2012. It only took Russell Wilson and Patrick Mahomes two years as starters to win their first championships.
Even Nick Foles, who won Super Bowl 52 for the Eagles, won the title just four years after originally being named the Eagles starter in 2013. Never mind he spent the interim playing for the Rams and Chiefs before returning to the Eagles in 2017 as a backup to Carson Wentz.
Since the introduction of the revised rookie wage scale in 2011, four of the six championship quarterbacks have been on their rookie contract, or in the case of Foles, a backup behind a second-year quarterback. Tom Brady's decision to take less money during his time in New England certainly aided him in winning four titles and Manning, who was cooked by 2015, stands out as the only high-priced veteran to win a Lombardi in the last decade.
The Seahawks fielded a dominant defense to back up Wilson, and teams like the Chiefs and Eagles were able to add high-priced free agents at other positions while their quarterbacks were underpaid.
Being able to field a team with a quarterback making well below their market value is the biggest advantage an NFL team can have today, but which franchises are currently set up for future success with their quarterback situations?
As of today, eight teams are projected to have a starting quarterback still on their rookie contract: the Cardinals, Ravens, Bills, Browns, Chargers, Dolphins, Giants, and Eagles. The Bengals are also in that mix as Joe Burrow works his way back from a knee injury and the Jets could decide to roll the dice on Sam Darnold, three years after drafting him in the first round.
If we add in the teams who have a starting quarterback with a championship on their resume (Packers, Chiefs, Steelers, Seahawks, and Buccaneers), that still leaves over half the league with issues at the most important position.
The Saints seem poised to try another reclamation project with Jameis Winston and the Panthers are desperate to move off of Teddy Bridgewater and the Rams just traded for a 12-year veteran, Matthew Stafford, who is 0-3 in his playoff career.
Obviously, dominoes will fall as the offseason progresses. The Jaguars are expected to take Trevor Lawrence with the top pick in the draft and although the Texans remain steadfast in their belief Deshaun Watson is coming back, Watson will be entering his fifth season on a team that just went 4-12, despite his stellar play and whether you question the legitimacy of Wentz's ring or not, his trade to the Indianapolis Colts sets up a interesting dynamic in the AFC South.
The NFL has always been a league centered around quarterbacks, but teams are finally learning that in an era where it has never been easier to have instant success with a quarterback, forcing a fanbase to suffer through years of mediocrity isn't the way to succeed.