Tom Brady and the New England Patriots agreed to a contract extension on Sunday.
Brady remains the greatest value in sports, ranking outside the top 10 in quarterback cap hit for eight of his 19 seasons.
The Patriots haven't won a Super Bowl when Brady is among the top 10 earners at his position.

Despite being just days removed from his 42nd birthday, Tom Brady received a contract extension from the Patriots that ties him to New England through the 2021 season. As a result of the new deal, the Patriots save $5.5 million in cap space for 2019.
And here's the kicker to Tom Brady's two-year contract extension with New England: it creates an additional $5.5 million of cap space for the Patriots this year, per source. Both sides win.

— Adam Schefter (@AdamSchefter) August 4, 2019
Warren predicted in March that it was time for Brady to sign another deal.  After all, Brady's cap hit was scheduled to be $27 million, which would have been the fifth-highest quarterback of the year.  That would have been out of character for the way the Patriots have been "working" the cap as it relates to Brady's contract since 2014.
There is absolutely no player in any professional sport to ever be as great a deal for as long as Tom Brady.
No player in any sport has ever been as great a deal for as long as Tom Brady.

Biggest steal in pro sports history

Notice when the Patriots won Super Bowls?

• never won a SB unless Brady was outside a top-10 QB-cap hit and

• never made the SB if Brady had a top-5 QB-cap hit pic.twitter.com/yR3UcxJXHS

— Warren Sharp (@SharpFootball) August 5, 2019
But studying the above chart, there are some interesting takeaways:
The Patriots never won a Super Bowl unless Tom Brady was outside the top-10 in quarterback hit rankings.  
Additionally, the Patriots never even made it to the Super Bowl when Tom Brady carried a top-5 quarterback cap hit.
Over the course of his 19-year career, Brady has built a case to be considered perhaps the greatest player in the history of his position. Yet, he hasn't always been paid that way. Only twice has he been the highest-paid quarterback in the NFL. Brady has only gone longer than three years without some time of adjustment to his contract once in his career. Those constant extensions have served as ways to get new money flowing while keeping cap hits from ballooning each season.
Brady won his first Super Bowl playing on his rookie deal before signing his first contract extension in 2002. Brady carried cap hits of only $3.1 million and $5 million during the Pats' next two Super Bowl runs.
However, once Brady started taking deals that reflected his true value, the Patriots dynasty began to dip. Brady carried a cap hit that ranked within the top 10 of quarterbacks in eight of the next nine seasons, but New England failed to win the Super Bowl during that span, capturing the AFC title twice.
The line between winning and losing in the NFL is an extremely fine one.  The Patriots won their first three Super Bowls by exactly one field goal in every game.  Having Brady hitting the cap for an average of just $2.9 million in those three years was exceedingly instrumental in their ability to build out a complete roster to compete.
The Patriots were still a juggernaut from 2005-2013, however, the story was MUCH different.
During that nine-year period, the Patriots went only 9-8 in the playoffs.  Though a great team, it's hard to win games. Especially when you're paying your quarterback top-10 money, as the Patriots did in 8 of those 9 years.
Tom Brady's contract during this period was fairly typical for the NFL's best player.  He worked through a lengthy 2005 deal, which kept him in the top-10 of NFL cap hits (top-5 for most years).  
In 2010, a year after marrying Gisele Bundchen (which many blame as the reason Brady doesn't need money, because of her wealth) Brady still signed a lucrative deal which landed him with the NFL's highest cap hit for a quarterback. This 2010 contract was worth $72 million and made Brady the NFL's highest-paid player overall. So much for not needing the money.
However, something interesting happened in 2013.  Immediately after the 2013 season ended (in February), Tom Brady signed a new contract extension.
But later in 2013, Tom Brady founded TB12 and built the TB12 Sports Therapy Center in Patriot Place, the facility near Gilette Stadium.  
Since the center opened, the Patriots have paid TB12 "to provide treatment services and nutritional advice to multiple Patriots players."
Brady's 2013 contract was signed before the Patriots paid TB12.  
In every year since, the Patriots became much more competitive.  
Since the Patriots began paying TB12, Brady signed new deals almost annually (something no other player in the NFL does).  Since the Patriots began paying TB12, Brady never again ranked top-10 (let alone top-5) in quarterback cap hit.  
Over the last five years, the Patriots have used the savings on Brady's salary cap to build out the edges of their roster.  By having the NFL's best quarterback at a cap hit outside the top-10, they won three Super Bowls in the last five years.
The above table looks much more different when inserting the founding of TB12 after he signed his 2013 deal with the Patriots.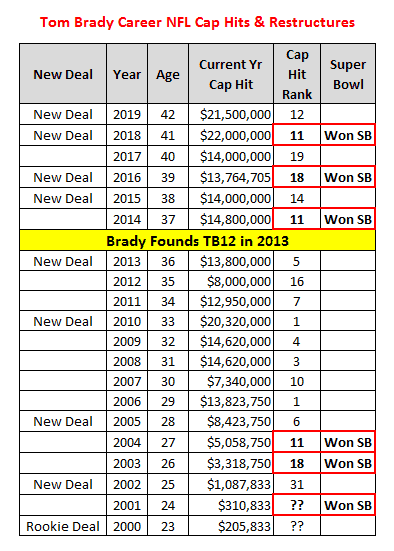 The Patriots have gone 12-2 in the postseason since 2014 (they were 9-8 in the prior 9 years).  The Patriots have gone 74-20 (79%) the last 5 years (they were 119-42, 74%, in the prior 9 years).
Brady was scheduled to have a $27 million cap hit this season, which would have been a top-5 cap hit for a quarterback this season. With a drop of $5.5 million, Brady's cap hit would be just $21.5 million in 2019, which would be the 12th-highest for quarterbacks this year.
Even at his advanced age, Brady hasn't shown any signs of slowing down just yet. He's only two years removed from winning his third MVP.
Entering his 20th season as the Patriots quarterback, Brady ranks in the top-five all-time in a number of categories including completions, passing yards, passing touchdowns, and quarterback rating. 
As valuable as Brady has been for the Patriots on the field over the last two decades, his contract may be one of the most valuable keys for the Patriots' consistent success.