Now that free agency, the NFL Draft, and the schedule release have all passed, we have our initial layout in place in team depth charts and strength of schedule. With that, we want to take a look at some players across the fantasy landscape that are either polarizing, over or undervalued, or just interesting topics of discussion and walk through some of the pros and cons of where those players are regarded in fantasy circles. The first player we will start off with Kenyan Drake. 
Week 1 Age: 26.6
Contract: Signed through 2020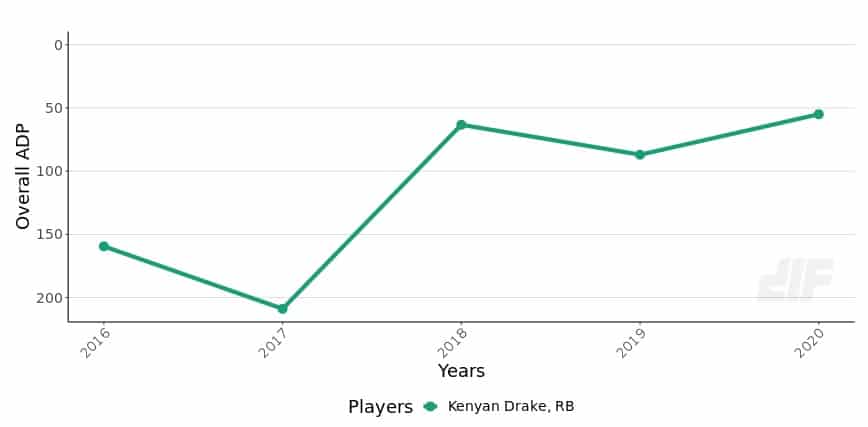 Using the Dynasty ADP tool available at Dynasty League Football, Drake is now holding the highest cost of his NFL career. After a late-season production surge and revival post-trade to the Arizona Cardinals, there is a good reason for his rise. Drake has now increased his touches and yards from scrimmage in each of his first four NFL seasons from the year prior and is coming off back-to-back seasons with over 1,000 yards from scrimmage and eight touchdowns. Drake averaged 18.9 touches for 101.8 yards from scrimmage per game over his eight games after joining Arizona while playing 79.3% of the offensive snaps.
From a weekly perspective, Drake was the RB21 or higher in six of his eight games with the Cardinals with three top-five scoring weeks over that span. His two highest-scoring weeks of the season also came in Week 15 (39.6) and Week 16 (33.4) which carries significant weight with fantasy owners.
A former four-star recruit that went Alabama, Drake was the third running back selected in the 2016 NFL draft after Ezekiel Elliott and his collegiate teammate, Derrick Henry. The pedigree, potential, and NFL investment have always been there for Drake, but the usage and production has not followed him. His 220 touches a year ago were the most times he has touched the ball in a season since high school. 
All we have ever wanted is for a team to actually commit to Drake for a full season. We have yet to see it happen, but we are one step closer at least for 2020 after Arizona did not spend significant draft capital on a running back in the draft. In the 34 career games in which Drake has played 50% of his team snaps, he has averaged 14.5 PPR points per game. That mark would have been good for a sturdy RB18 a year ago. In the 30 career games in which he has reached double-digit touches, he has averaged 16.1 points per game, a mark that would have been on the scoring line of RB11 a year ago in points per game. 
While we have had teams commit to Drake in spells of a season, we also have an eight-year running sample dating back to Alabama in which multiple coaching staffs have been reluctant to let him operate as their feature back over a full season. This is not the first potential tease we have had with Drake as evidence from his 2018 spike in ADP above.
To close the 2017 season, Miami was forced to lean on Drake as their lead back after the Dolphins traded Jay Ajayi midseason. Over the final five weeks that season, Drake averaged 21.6 touches for 118.8 yards from scrimmage per game (17.7 PPR points per game) and we thought we would be off to the races on him. The following season, he had nearly a 50/50 split with 35-year-old Shang Tsung of the league in Frank Gore. Even rid of Adam Gase and having an entirely new staff in Miami for 2019, he still was stuck sharing time with Kalen Ballage prior to being traded to the Cardinals, who were hurting at the position with injuries to David Johnson and Chase Edmonds.
And that will be the question going into 2020. Will the Cardinals give him that full-season usage we have chased before? Edmonds himself was surging prior to sustaining a late-season hamstring injury and averaged 5.7 yards per touch in this same offense a year ago. But when he was healthy enough to play again at the end of the season, the staff did not let him on the field with Drake at all. Edmonds played just 15 offensive snaps over the final four games of 2019. Preservation of health could not have been a complete driving force there as Edmonds still played 81 special teams snaps (56%) over that same span.
That said, Drake did leave a lot of meat on the bone in the receiving department. He averaged 0.89 yards per route run with Arizona, which ranked 35th out of 39 qualifiers at running back per Pro Football Focus. Teammates David Johnson (1.59 yards per route) and Edmonds (1.04) were better in that area. 
The team did not spend high capital on a back in the draft, but did add Eno Benjamin to the roster. Benjamin averaged the most receptions per game (2.3) over his collegiate career for all running backs invited to the combine this season. Drake has a season in 2018 in which he ranked 13th in yards per route run among backs (1.42), but also was 51-of-55 qualifiers in the same area in 2017 (0.91). I do not view Edmonds or Benjamin as potential thorns to Drake running the ball, but either can stand to threaten receiving opportunities. 
All things considered, I believe Drake is in a similar bucket of backs such as Miles Sanders and Austin Ekeler who have some risk as we inherently don't expect them to reach 300 touches this upcoming season, but possess the per-week upside to flirt with RB1 potential over the course of the season and have the spike-week capability to swing weeks in the favor of their fantasy teams.
From a dynasty perspective, there is something to be said for moving Drake right now as a sound process that is not going to break you frequently. On more rosters than not, that is the side of this I lie on. It is not often you can move a running back that has been a committee back for his entire career, is near the age apex for the position, and has no long-term contractual leverage for the highest point of cost of his career to date.
To be fair, there have been rumors of a potential contract extension, we just have not seen that develop. With Drake being nearly 27 years old and in between first and second NFL contracts, the range of outcomes is vast right now. He can prove he is worth a significant second deal or fades away as a career fantasy committee back pending his 2020 outcome should that extension not come prior to the season. 
With that short-term outcome driving everything, what it comes down to, is what Drake's 2020 potential means for your roster? 
Right now per DLF, Drake is going off the board right after Jerry Jeudy in startup ADP, who is the average 1.07 pick in rookie drafts post-NFL Draft. I am in a startup drafting now after the draft in which Drake was selected between the 1.09 and 1.10 draft picks available in that startup. That is far too high despite being on the positive end of things for Drake in 2020.
So you have a strike zone of a late-first round rookie pick value that is consistent. In dynasty, every player has potential to be both a buy and sell at the same time. You just have to find the proper context in your league on which he is valued per owner. Startup ADP and cost is not going to be an exact market for you with team context being a driving force in established leagues, but here are the buy and sell point suggestions using that as guideline pending which side you fall on. 
2020 Rookie Pick Value: Late First (1.08-1.10)
RB Value Targets: Austin Ekeler, Leonard Fournette, Aaron Jones
WR Value Targets: D.J. Chark, Keenan Allen, Stefon Diggs, Robert Woods
TE Value Targets: Mark Andrews, Evan Engram