Both the Rams and Texans continued their overhaul of offensive player movement as the two teams agreed on a trade Thursday night. 
Texans acquire WR Brandin Cooks and a 2022 fourth-round pick from the Rams for the 57th pick in this month's draft.

— John McClain (@McClain_on_NFL) April 9, 2020

2019 was a season to forget for Cooks as he posted career lows in receptions (42) and touchdowns (two) while having his fewest amount of receiving yards (583) since his rookie season in 2014 when he only played in 10 games. 
Cooks ranked 41st among NFL wideouts in routes run (452), but saw his opportunities evaporate, checking in at 57th at the position in targets (72). With his reduced opportunity, inefficiency followed as he ranked 62nd at the position in yards per team passing attempt (0.92) and 70th among qualifiers at Pro Football Focus in yards per route run (1.29). Using our Success Rate Over Average Tool at Sharp Football Stats, Cooks turned in an overall negative 2019 campaign.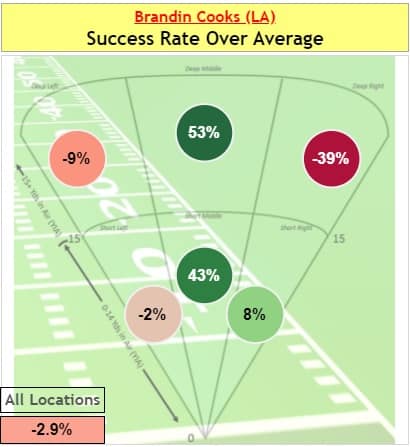 Cooks still managed to have success in the middle of the field, but his output was a far cry from what we saw him do in the Rams offense in his first season with the team in 2018.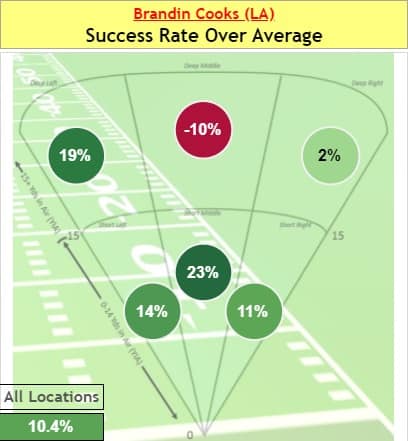 Not only did Cooks have his role in the offense reduced from 7.3 targets per game in 2018 down to 5.1 per game a year ago, looking at both charts he was just nuked by the ineffectiveness Jared Goff had downfield. After Cooks caught 18-of-35 targets for 513 yards and two touchdowns on throws further than 15-yards downfield in 2018, Cooks and Goff connected on just 7-of-25 such targets this past season for 254 yards and zero scores.
Willingness and effectiveness throwing the deep ball is a major strength for Deshaun Watson, especially compared to Goff. Comparing both passers using the completion rate per depth of throw for these quarterbacks the past two seasons, Cooks is getting an upgrade in that downfield passing department.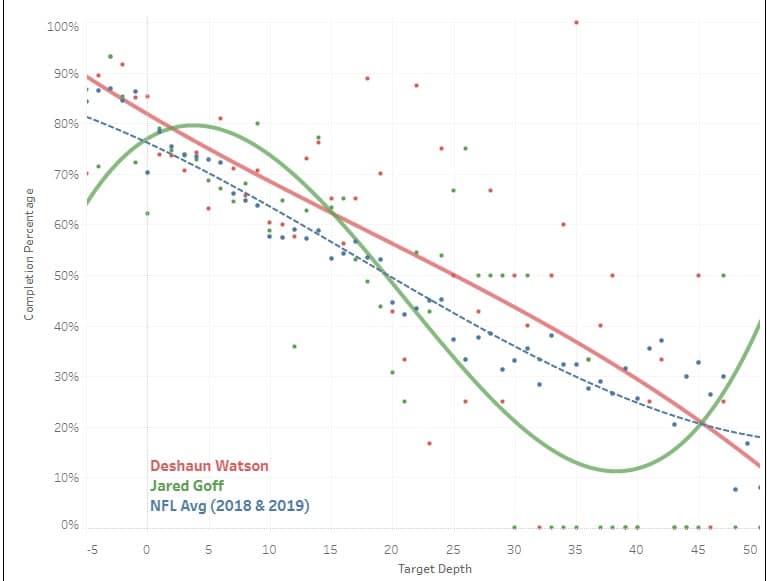 Cooks is no stranger to changing teams, with Houston now being his fourth team played for in five seasons. Prior to last season, he had reeled off five consecutive 1,000-yard receiving seasons, so there will be a question on if last season was just a blip on the radar for his career and can he bounceback to the strong WR2 we had known for the start of his career.
Turning just 27-years old this September, the light is still on for Cooks, but he will be working alongside other vertical threats in Will Fuller (14.7-yard average depth of target) and Kenny Stills (10.9 aDOT) along with incoming slot receiver Randall Cobb as the Texans look to replace the production lost by trading away DeAndre Hopkins. Even David Johnson and Duke Johnson should press to accrue a poriton of those vacated opportunities. 
That's quite a hodgepodge of passing game playmakers and sorting out the target distribution is no easy task. We also have availability concerns for Fuller (22 career games missed) and Cooks himself now having five registered concussions with the league lingering in the background. The easiest path here is to pursue Watson himself, but both Fuller and Cooks are volatile WR3 options with spike-week potential.
On the Rams side of the equation, the departure of Cooks, as well as the release of Todd Gurley, adds stability to the late-season role Tyler Higbee had in the passing game. The big question of his end of season usage was if the Rams would get back to using their running backs and third wide receiver once again in the passing attack. We have a strong signal now that is not the case with the moves they've made prior to the draft.
Last season, the Rams used 11 personnel (1 RB-1 TE-3 WRs) on 76% of their plays Weeks 1-12 and 12 personnel (1-RB-2 TE-2WR) just 17% of the time during those weeks. Over the final five weeks of the season, the Rams then ran 12 personnel on 40% of their offensive snaps and 11 personnel on just 59% of plays. It was a small sample and the Rams did face the 10th-easiest opposing passing efficiency over that span, but the team averaged 29.0 points per game and scoring a touchdown on 31.5% of their possessions after averaging 22.6 points per game and scoring a touchdown on 19.7% of their possessions prior. 
Higbee himself accounted for 43 receptions for 522 yards and two touchdowns over that span, including a four-game stretch in which he became the first tight end in league history to have at least seven receptions and 100 receiving yards in four consecutive games played. He closed the year as the highest scoring fantasy tight end over that five-week span with 23.2 more PPR fantasy points scored than the next highest tight end. 
Sean McVay has recently publicly stated that he wants to use Gerald Everett more in the passing game as well. Given the increase of two-TE usage down the stretch, that can continue, but Everett is in the final year of his contract with the team while the Rams have already extended Higbee through the 2023 season should he fulfill the entirety of his contract. Everett gets a slight bump, but by all accounts, this makes Higbee a top secondary tier option now at the position. 
This also does give fourth-year receiver Josh Reynolds a path to acquire more targets. The Rams reduced their usage and target rate of their third wideout, but still used three wideouts on over half of their plays during that end of the season run. With Cooks taking his 72 targets out of the picture, Reynolds should be a bet to flirt with doubling his 43 total targets from a year in 2020, but is still only just a flyer or late-round bench option that is more insurance for if Cooper Kupp or Robert Woods misses time.