For the Cleveland Browns, a 41-16 win over the Cincinnati Bengals wasn't just important in setting the tone after a wild off-field week for the franchise, it was huge for a team that needed to stay close in the playoff race. The 5-4 Browns are still just the ninth seed in the AFC but now currently hold a tiebreaker over the Bengals with a head-to-head win find themselves in a cluster of teams with five wins.
After a very public divorce from Odell Beckham, the Browns were left to prove what they could do on offense and as a potential playoff team in the AFC through the second half of the season.
Cleveland's win was a full-team effort and it helped showcase a defense that has flashed and could continue to develop when fully healthy. The first score of the game came on a Denzel Ward  pick-6. The Bengals' first drive went 75 yards in 11 plays and gave them a third-and-goal from the 3-yard line.
Cincinnati tried to use a quick whip route outside to Ja'Marr Chase, a route that has been increasingly popular near the goal line this season, but Ward was all over it. The corner jumped the break and returned the ball 99 yards for the score.
The Browns were able to terrorize Joe Burrow throughout the game. Per rbsdm.com, Burrow finished the game with -0.38 EPA per dropback. Cleveland came at Cincinnati from all over and totaled 12 quarterback hits on Burrow throughout the game. Perhaps more impressive is that those 12 hits were split between eight defenders. Only Myles Garrett and slot corner Troy Hill (three each) had multiple hits. Through Week 8, Hill had rushed the passer 12 times per Sports Info Solutions, the 11th-most among cornerbacks, but had just two pressures and no hits. Two of Hill's three hits in the game resulted in sacks.
Cincinnati couldn't get much going down the field, either. Burrow was 0-for-6 on throws that traveled more than 20 air yards. That contributed to a huge difference between Burrow's average depth of target (9.3, fourth-highest of the week) and his average depth of completion (4.2, 11th-lowest).
On offense, the Browns were able to push the ball downfield and Baker Mayfield went 3-for-4 on throws of over 20 air yards. The biggest of which was a 60-yard touchdown to Donovan Peoples-Jones in the second quarter.
The touchdown showed why some of the splits with and without Beckham can be misleading, but also why the Browns can still be able to find their identity on offense without him. Over the past two seasons, when Beckham wasn't on the field, the Browns used more tight ends and more play-action — two parts of the offense that help Mayfield. (It should be noted that when Beckham was on the field with multiple tight ends, the EPA per play splits were nearly identical.)
Cleveland Browns With and Without Odell Beckham, 2021
| Metric | On Field | Off Field | Difference |
| --- | --- | --- | --- |
| Dropbacks | 171 | 110 | 61 |
| Attempts | 149 | 89 | 60 |
| Comp% | 62.4% | 73% | -10.6 |
| Catchable% | 82.9% | 85.1% | -2.2 |
| ADoT | 9.1 | 7.2 | 1.9 |
| Yds/Att | 7.3 | 9.1 | -1.8 |
| Yds/Dropback | 6.3 | 7.1 | -0.8 |
| TD% | 2.0% | 4.5% | -2.5 |
| INT% | 0.7% | 2.2% | -1.5 |
*data provided by Sports Info Solutions
Cleveland's use of more tight ends has been crucial in a way to help Mayfield. Without Beckham on the field, Mayfield's aDOT dropped nearly two yards. That increases the completion probability and the Browns have worked wonders creating yards after the catch within the scheme on those plays. 
This season the Browns have gone heavy into their tight end packages with 13 personnel. No team uses more 13 personnel than the Browns, who used it on 21% of their snaps heading into the week. On the touchdown to Peoples-Jones, Cleveland had three tight ends on the field. Off of play-action, the Browns got both deep safeties in Quarters to bit on a crossing route from David Njoku (85), which left Eli Apple (20) with no help on Peoples-Jones.
Cleveland has the ability to go deep or use the power run game from that heavy tight end look. In the third quarter, the Browns came out on a second-and-10 on their own 30-yard line in 13 personnel with rookie Anthony Schwartz as the lone receiver. Schwartz and Hunter Bryant were split out to the left. Before the snap, Austin Hooper motioned from right to left, which brought safety Jessie Bates with him. That pulled Bates right into a spot where a pulling Wyatt Teller could spear the safety out of the play to spring a 70-yard touchdown run from Nick Chubb.
The Browns combined a little bit of everything into their offensive passing plays on Sunday. Mayfield's aDOT was 11.9 and his average depth of completion was 10.7. He pressed some tight windows (19% of throws, per Next Gen Stats), so with those combined, Mayfield had the lowest expected completion percentage in the league in Week 9 (52.6%). Per Next Gen Stats, his 14% completion percentage over expectation was the second-highest of the week.
Some of Mayfield's best passing plays came from empty, a place where he was pushing the ball down the field but to mixed results. Through Week Week 8, Mayfield had the eighth-most dropbacks from empty, per SIS. 18 of Mayfield's 45 attempts went 10 or more yards past the line of scrimmage and while he completed 66.7% there was a disconnect in the accuracy of those throws. SIS charted 82.4% of them as "catchable" (third among 13 players with at least 10 such attempts) but just 58.8% considered "on-target" (eighth among that group).
Against the Bengals, Mayfield had and took some opportunities to hit tight windows on both shallow and deep routes. On a third-and-5 at the start of the third quarter, the Browns came out in empty from 11 personnel. Demetric Felton (22) and Austin Hooper were on the right side. Before the snap, Felton motioned into a stack with Hooper that helped shade his release to the outside before he broke back in for a target between two linebackers that eventually went for 22 yards.
On a third-and-9 in the fourth quarter, the Browns motioned into empty from 12 personnel. With man coverage in a single-high look, Mayfield fired a strike down the left side between the corner and oncoming safety for a 26-yard pass to Peoples-Jones that helped set up an 18-yard touchdown to David Njoku later in the drive.
Throughout the game, Mayfield appeared more decisive and deliberate with his passes. The end results were fantastic with 10.4 yards per attempt, an 82.7 QBR, and 0.52 EPA per dropback, but only 46% of Mayfield's dropbacks resulted in positive EPA. That was a rate lower than Burrow's (52%) in this game.
While Mayfield shouldn't be considered completely fixed after this game, what the Browns proved is they have multiple ways to win, even within one game. There were pieces here that many believed could be the foundation of a winning team and many of them showed up against the Bengals. 
Where Should Odell Beckham Go?
Though all the ceremony of the goodbye has been completed, the Browns are expected to officially release Beckham on Monday. That means he would officially be placed on waivers through Tuesday with 4pm on Tuesday as the deadline to put in a claim.
As part of the release agreement, the Browns eliminated the final two years of Beckham's contract, which leaves just $7.25 million of 2021 salary left on the deal. With those two years voided, it also means a claiming team would not be in a position for a comp pick if Beckham were to leave after the season in free agency.
Leaving Beckham with a $7 million salary for the remainder of 2021 makes it unlikely the receiver will be claimed. It's not that Beckham for $7 million is too much for teams, but opening up $7 million in November is not the easiest thing for many teams in the league. Per Over The Cap, only 10 teams have at least $7.25 million in cap space and that includes Cleveland. The other teams are Jacksonville, Philadelphia, Denver, Seattle, Carolina, Washington, Pittsburgh, the Chargers, and Cincinnati.
It's also fair to wonder what Beckham has left. He might not be 2015 Becham, but he can still get open. There was just never developed chemistry with Mayfield that made both parties look worse on the field. Among 73 wide receivers with at least 25 targets through Week 8, Beckham's catchable target percentage ranked 58th.
Possible Claims
Only two teams make sense to put in a claim. For a team like Jacksonville, the thought may be "why not," especially for a team lacking receiver talent with a No. 1 overall pick at quarterback but it would be a huge risk to bring Beckham in for seven or so games with no guarantee of anything beyond that.
Seattle could make a claim, but at 3-5, the playoffs might not be in the cards for the Seahawks this season. Though this could be a spot where bringing in Beckham for just a half-season to not only sell him on the culture of the franchise but also for the franchise to sell Russell Wilson on the effort they're willing to make to improve.
The Seahawks have run 65% of their plays from 11 personnel in 2021. A three-receiver set of Beckham, DK Metcalf, and Tyler Lockett could be nearly uncoverable. There was a report Sunday night that Beckham might prefer Seattle as his destination.
The Chargers could also make sense to pair with Keenan Allen and Mike Williams. Justin Herbert averaged 9.4 yards per attempt with a 93.1 on Sunday, but there have still been ups and downs in the passing offense. The early down and late down splits have still been an issue and the early third down success has faded a bit throughout the season.
What the Chargers have really been missing is a speed element in the offense. Allen is still one of the best slot receivers in the league but Williams has bounced between being the deep threat he was early in his career and the Michael Thomas clone the Chargers made him at the start of 2021. But even Williams as a deep threat consists more of contested catches than creating separation on his own.
Teams to Watch
Since it's more likely that Beckham will pass through waivers, he'll get to choose his next team for the first time in his career. If he's hoping to join a contender, those contenders should hope he wasn't sitting around watching the games in Week 9.
The San Francisco 49ers are always rumored around Beckham since they were a team that was in on the receiver when he was traded from the New York Giants and reportedly had a better offer than the Browns on the table. But the 49ers are now 3-5 after a 31-17 loss to a Colt McCoy-led Arizona Cardinals team.
Another rumored team is the New Orleans Saints, who just lost 27-25 to the Atlanta Falcons. The Saints are still 5-3, but will have Trevor Siemian at quarterback for the rest of the season. Siemian played fairly well for much of the game against the Falcons and was often let down by his receivers, but unless Beckham really wants to return to Louisiana, where he went to college, and work with Sean Payton, it's hard to imagine him attaching himself to the unknown quarterback play. The Saints feel more like a potential 2022 destination when more is settled around the roster.
There are three teams, all in the AFC, that could make a ton of sense for Beckham in 2021.
New England Patriots
The Patriots spent a ton of money in the offseason to improve the offensive skill talent on the roster. Those moves have been hit-or-miss. Hunter Henry has emerged as the top tight end on the roster while Jonnu Smith hasn't completely clicked in the offense. Kendrick Bourne has been a useful role player and Nelson Agholor has been fine, but the team's leading receiver is still Jakobi Meyers.
That's left the Patriots, and Mac Jones, without many options for consistent explosive plays. New England has upped their explosive play ranking to eighth in the league but those have also needed to be manufactured without many deep shots connecting. Adding Beckham, a player Bill Belichick has always been intrigued by, makes everyone else's role on the offense easier. 
New England also doesn't really have a receiver who wins on his own. For as improved as the receiving corps is over the low bar of last season, there's still something missing. Beckham's ability to win on the outside would add to the Patriots' offense that has been very reliant on short passes over the middle to wide recievers throughout the 2021 season.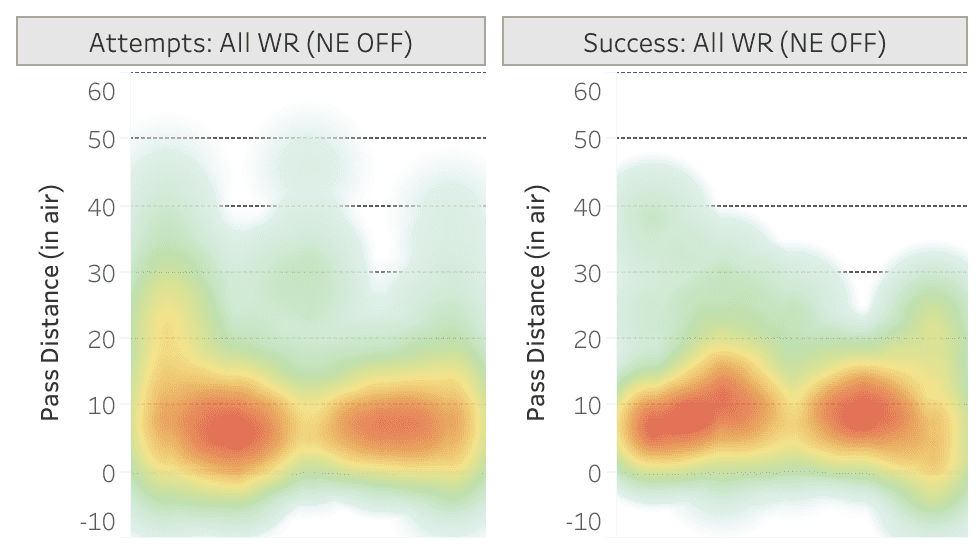 The Patriots have never been a team to shy away from personalties and Belichick even mentioned they've brought in players such as Aqib Talib midseason.
With their 24-6 win over the Carolina Panthers and Buffalo's 9-6 loss to Jacksonville, the Patriots only sit a half-game back in the AFC East and they face a run of potential AFC playoff teams over this next stretch with games against the Browns (!), Titans, and Bills in three of their next four games.
Baltimore Ravens
The Ravens are a team that has shown they can win in different ways this season. After spreading to throw early in the year, Baltimore's 34-31 overtime win over Minnesota was more of a throwback to the 2019 and 2020 Ravens. Lamar Jackson had 120 yards on the ground against the Vikings, mostly from scrambles.
Baltimore has found the right roles for Marquise Brown and Mark Andrews, but the problem is defenses know those roles, too. This has become a problem on third downs, especially third and long. Andrews is the go-to in those situations but he's often doubled over the middle of the field. Brown just isn't a receiver who wins in those types of situations. Through Week 8, Baltimore ranked sixth in DVOA on third and short, 15th on third and medium, and 32nd on third and long.
Sammy Watkins and Rashard Bateman were brought in to help in this area but both have struggled through injuries. Bateman has started to progress as he's gotten on the field, but an addition of Beckham doesn't have to slow that down. When the Ravens were passing the ball to great success early in the season, they were doing it more out of 11 personnel than they had in previous seasons. Imagine an 11 personnel look that includes Beckham, Brown, Bateman, and Andrews.
The Ravens don't often isolate receivers but Mark Andrews ran 44 such routes through Week 8. He was targeted 10 times with nine receptions for 156 yards, per SIS. Baltimore could steal some Kansas City 3×1 looks with Beckham, Brown, and Bateman on one side with Andrews on the other. Not only would that be tough to defend for passing, it would leave so much room in the middle of the field for Jackson runs.
Regardless of the alignment, Jackson has also been one of the best passers outside the numbers this season, where Beckham has often been targeted, and a place where Mayfield has struggled. Among 32 quarterbacks with at least 20 attempts of at least 10 air yards outside the numbers, Jackson ranks first in on-target rate.
Kansas City Chiefs
The loss of Sammy Watkins has been a big one of the Chiefs, not so much in his production but in how defenses had to respect another threat at receiver. It's not just that defenses are playing two-high against the Chiefs and limiting explosive pass plays — they've been doing that for a while. Kansas City doesn't have a consistent counter to use, especially with Travis Kelce getting mugged over the middle.
Mecole Hardman is still more gadget player than true No. 2 receiver and Josh Gordon hasn't made his way into a significant portion of the offense. There has not been a threat real enough for defenses to take any resources away from Kelce or Tyreek Hill.
At this point, Patrick Mahomes has been quick to accept the reality that deep throws won't be open and he's continually checking the ball down in the hope to dink and dunk his way down the field. That worked over the first few weeks when the Chiefs led the league in yards per drive, but that approach hasn't worked in the latest stretch of games.
In a 13-7 win over the Green Bay Packers in Week 9, Mahomes threw for just 4.5 yards per attempt. He tried to take shots down the field with an average depth of target of 8.9 but his average depth of completion came just 3.0 yards past the line of scrimmage.
Beckham wouldn't immediately solve all of the Chiefs' offensive problems but defenses wouldn't be able to focus on just the two main receivers. That could open up Kelce over the middle more often (the way Kansas City killed two high looks in 2020) and it could leave more one-on-one coverage for Hill. And if neither of those change, Beckham could find himself open often which is an element the Chiefs just don't have right now when looking for other options in the passing game. 

Even if Beckham isn't the game-changing star receiver he once was, he can change enough offenses to make a significant difference leading into the playoffs. Even 75% of peak Beckham is a great receiver and not a type of player who is often available at the start of November. As he's likely to pass through waivers on Tuesday, we might not get any information until Wednesday at the earliest.