Week 8 was a fun week of football that gave us an offensive explosion that we hadn't really seen this year. That led to a ton of big plays and a bunch of touchdowns. We also still got some fun defensive performances, which gave us a little bit of everything.
All stats listed are provided by TruMedia unless noted otherwise.
1. The Eagles Keep Evolving
As Jalen Hurts continued to develop as a passer this season, there were two things that were missing from a complete game. Hurts was one of the most impacted passers against the blitz, relative to his normal performance — Hurts averaged -0.09 EPA per dropback when blitzed, 22nd among quarterbacks. Deep passing was also non-existent after so much of Philadelphia's offense was about throwing deep outside the numbers during Hurts's first year and a half as a starter. Through Week 7, just 7.1% of Hurts's throws traveled at least 20 air yards, which ranked 32nd.
During Philadelphia's, 35-13 win over the Pittsburgh Steelers, Hurts and the Eagles had little trouble showing they could win in those areas. The Steelers blitzed Hurts on 59.4% of his dropbacks in the game. On those plays, Hurts went 12-of-19 of 163 yards and three touchdowns. Perhaps just as notable as the actual performance is how it happened with an 11.53-yard average depth of target.
21% of Hurts's throws against the blitz went 20 or more air yards. Through Week 7, that rate was 9.4%. Hurts was able to push the ball deeper while getting the ball out quicker.
Jalen Hurts vs Blitz, 2022
data provided by TruMedia
| Weeks | EPA/DB | At/Behind | Short % | Intermediate % | Deep % | Time To Throw |
| --- | --- | --- | --- | --- | --- | --- |
| 1-6 | -0.09 | 30.5% | 54.2% | 11.9% | 3.4% | 2.57 |
| 8 | 0.57 | 10.5% | 57.9% | 10.5% | 21.1% | 2.42 |
Overall, 17.9% of his throws were deep, his second-highest rate of the season, after the past two weeks were at 2.8% and 0%.
The Eagles clearly had a plan for the blitz and to push the ball deep coming out of their bye and the Steelers presented every opportunity to test that early. Pittsburgh blitzed Hurts on nine of his 10 first quarter dropbacks. Early on, Hurts was able to get the ball out quickly to beat the extra rusher and then with nine and a half minutes left, Hurts unleashed a deep ball for A.J. Brown.
Philadelphia came out in pistol with Brown and DeVonta Smith stacked to the right. Pittsburgh's alignment in single-high forced safety Terrell Edmunds (34) to come up to the line and eventually carry Brown. Hurts bought himself enough time in the pocket (3.4 seconds) before he targeted Brown down the field. Minkah Fitzpatrick (39) playing as the deep single-high safety got over to the route and he thought he could have had a pick, but Brown was able to haul the pass in for a 39-yard touchdown.
Early in the second quarter, the Eagles had a third-and-8 from the Steelers 27-yard line. With a third and long, the Steelers loaded up to send a blitz. Through Week 7, the Steelers only blitzed on 21.4% of third downs, which ranked 24th, but against the Eagles, they blitzed on 57.4% of third downs and a 42% rate of blitzing six or more. Pittsburgh sent six on this third down and instead of buying time as he did on the first touchdown, Hurts released the ball in two seconds as Brown got down the field on the outside against Ahkello Whitherspoon.
Brown's third touchdown later in the second quarter on a first-and-10 from the Steelers' 29-yard line went back that same well, but this time with a 3×1 look against a four-man rush. Hurts pump-faked a bubble screen to the inside receiver on the trips side which helped buy some time for Brown to again get down the field against Witherspoon and Fitzpatrick.
Unlocking this deep passing game outside the numbers, especially with Brown, could bring a whole added element to a Philadelphia offense that was already clicking. Through Week 7, just 9.4% of Brown's targets were deep. Against the Steelers, it was four of 11 (36.4%).
There was another long Brown player in the fourth quarter that added a wrinkle to what he has done so well in his career — win over the intermediate middle of the field. The Eagles came out in empty from 12 personnel on a first-and-10 from their own 46-yard line. Philadelphia had a bunch to the right with the two tight ends and Zach Pascal with Brown and Smith to the left. Against Pittsburgh's zone coverage, Smith's quick out from inside pulled in both the corner and linebacker to that side. That left a wide-open middle of the field for Brown, who caught and ran for a gain of 43 yards.
Hurts is currently fourth in EPA per dropback on the season and second in yards per attempt. If there was a switch flipped to make up for places where there were some struggles, this could turn into one of the most consistently dangerous offenses in the league through the rest of the season.
2. The Dolphins Create Space
Few offenses know what they are and have taken advantage of the players better than the Miami Dolphins this season — at least when everyone is healthy. With Tua Tagovailoa on the field, Miami's 0.15 EPA per play is second only to the Kansas City Chiefs. The Dolphins' 6.55 yards per play is second to the Buffalo Bills. This is a highly effective offense.
Tagovailoa currently leads the league in yards per attempt at 9.02. Tyreek Hill leads the league in receiving yards with 961, which is the highest total for a receiving through Week 8 since the merger.
Most Receiving Yards Through Week 8 In A Season Since Merger
data per Stathead
| Season | Player | Team | Yds | End of Season |
| --- | --- | --- | --- | --- |
| 2022 | Tyreek Hill | MIA | 961 | ? |
| 2018 | Adam Thielen | MIN | 925 | 1373 |
| 2021 | Cooper Kupp | LAR | 924 | 1947 |
| 2011 | Steve Smith Sr. | CAR | 918 | 1394 |
| 1989 | Henry Ellard | RAM | 901 | 1382 |
Some of those end-of-season numbers fizzled out but Hill will have more games and he's currently above the pace Cooper Kupp set last season.
Part of what has made this Miami offense so good is the trust that everyone can do their job and that things will work. Take Hill's 36-yard catch near the end of the first quarter in Miami's 31-27 win over the Detroit Lions.
Miami had a third-and-13 on their own 41-yard line with the Lions up 14-0. Detroit gave a clear Cover-0 look with seven defenders on the line and four deep against the Dolphins' 2×2 look. When the pressure came, Tagovaioloa got the ball out in 1.6 seconds for a pass that traveled 32 yards in the air as Hill blew past A.J. Parker. The ball was technically underthrown relative to where Hill was, but the speed that got him open gave some margin for error on the thrown, especially given how quickly it was released.
On third downs this season with 10 or more yards to go, Tagovailoa has gone 13-of-17 (76.5%) with a 13.12-yard aDOT. He's third in EPA per dropback on those plays behind Patrick Mahomes and Josh Allen. 
There might not be a team better right now at manipulating all the space on the field and wasting defenders to create openings. On a 42-yard pass to Hill at the start of the second quarter, the Dolphins came out in 21 personnel with Hill and Jaylen Waddle to the right. Waddle initially opened out wide but motioned into the slot, which was done to occupy the deep safety. As Hill turned to the middle of the field, he had tons of open space to wait for the ball.
Miami creates so much open space, even in condensed areas of the field. Waddle had a 5-yard touchdown catch late in the first quarter off a crosser from a bunch when the closest defender was 2.5 yards away when the ball was released and 3.8 yards away at the time of the catch. The Dolphins also gave a different look on the play with 11 personnel but with Hill in the backfield and Raheem Mostert in the bunch.
Waddle's second touchdown, early in the second quarter, was another masterclass in opening up space. The Dolphins came out in 11 personnel with Alec Ingold as the lone back on third-and-6. Before the snap, Hill motioned from the outside left to the middle of a trips side, which put Waddle as the No. 3 inside. At the snap, the safety to that side jumped on Hill's crosser while Waddle was able to run a slot fade with no deep defender. He easily got behind the defense for a 29-yard score.
The place the Dolphins have worked space the best this season has been in the intermediate area. Over the season, no quarterback has thrown more passes between 11-19 air yards than Tagovailoa. Against the Lions, 36.1% of his throws were in that range and he went 10-of-13. The Dolphins go an excellent job of using play-action to pull in linebackers and free up that space. Tagovailoa used play-action on 61.5% of the intermediate attempts in this game. 
Part of this is the open space created, but it's not something Teddy Bridgewater or Skylar Thompson was able to take advantage of when they were on the field.
Miami Dolphins Intermediate Throws
data provided by TruMedia
| Player | EPA/DB | Intermediate % | Time to Throw | TD/INT |
| --- | --- | --- | --- | --- |
| Tua Tagovailoa | 0.90 | 26.9% | 2.42 | 4/0 |
| Teddy Bridgewater | -0.12 | 30% | 2.85 | 0/3 |
| Skylar Thompson | -0.18 | 8.7% | 2.38 | 0/1 |
At 5-3, the Dolphins currently have a 75% chance to make the playoffs, per FiveThirtyEight. 
3. The McCaffrey Offense has been unleashed
Christian McCaffrey had a passing, rushing, and receiving touchdown in San Francisco's 31-14 win over the Los Angeles Rams. McCaffrey got a few plays in his debut but the full plan with a week of practice was unveiled in Week 8.
McCaffrey was on the field for 42 of San Francisco's 52 plays (80.9%). On those plays, McCaffrey got 18 rushes, nine targets, and a pass attempt, making him directly involved in the play on two-thirds of his snaps. 
The touchdown throw showed part of everything McCaffrey could bring to the offense. San Francisco came out in 21 personnel with McCaffrey and Jeff Wilson in the backfield. McCaffrey motioned out before the snap and took the swing pass from Jimmy Garoppolo. The defense was so threatened by McCaffrey in space, Troy Hill sprinted in to take on McCaffrey, which left Brandon Aiyuk wide open for the 34-yard touchdown.
On that drive, McCaffrey's gravity helped open up George Kittle for a pass. McCaffrey had an angle route out of the backfield and linebacker Ernest Jones tried to jump on it, which left a void for Kittle to gain 23 yards. The touchdown was two plays later.
McCaffrey's touchdown reception in the third quarter started as he motioned out to put the 49ers in empty. McCaffrey was originally just holding behind the line of scrimmage, but as Garoppolo started to scramble, McCaffrey turned upfield and into the end zone.
The gravity of McCaffrey also played a role in Kittle's 7-yard touchdown in the third quarter. McCaffrey ran out to the flat to the same side as a Garoppolo boot while Kittle ran a crosser from the opposite side. Safety Taylor Rapp (24) was stuck peeking on McCaffrey's route and didn't get the initial depth to cover Kittle, who was open in the end zone for the score.
As a rusher, McCaffrey was mostly fine. He had some highlight runs but the same rate of his runs went for 10 or more yards as stopped at or behind the line (16.7%). His -0.02 EPA per rush was about what the 49ers had been putting up before the trade. But McCaffrey allowed the 49ers to run more from shotgun (76% of McCaffrey's runs), which still allows the 49ers to run their whole run menu because McCaffrey can do that and keeps the defense guessing at the play, especially the way the 49ers can mix and match personnel packages.
Without Deebo Samuel and Kyle Juszczyk, the 49ers used 12 personnel on 57.% of their plays. They also used 21 personnel on 17.3% of plays, which featured McCaffrey and Wilson on the field together. Those plays, which included the McCaffrey touchdown pass, averaged 0.78 EPA per play.
The 49ers have a bye in Week 9, which should allow the offense to get healthy. Then they return with Samuel and Juszczyk to an offense that has already added new looks and wrinkles. This is the type of variety and success San Francisco imagined when the team made the McCaffrey trade and the early results are already positive.
4. The Cowboys Look Different, For The Better
The Cowboys might finally understand who they are as an offense. Dak Prescott tied with Tua Tagovailoa for the week's lead in EPA per dropback at 0.52. Dallas used play-action on 44.4% of Prescott's dropbacks, which continues the high rate after 52% last week.
Prescott continued to kill with play-action (0.57 EPA per dropback) and against the blitz (0.29) as the passing offense has meshed the individual brilliance of Prescott with the necessitated easy buttons of the Cooper Rush offense.
This offense continues to add some new elements, including a jet motion wheel to CeeDee Lamb for a 21-yard touchdown in the first quarter. We've seen Tyreek Hill on these types of routes. Lamb used the motion to set rookie safety Jaquan Brisker (9) wide, then cut the route back in for an open score.
Dallas even when out there with some of their decisions and new idea.s That Lamb touchdown was set up by a drive that almost exclusively used 03 personnel — no running backs and three tight ends. Six plays went 48 yards and averaged 0.43 EPA per play. Lamb was in the backfield on a number of them, which ended with a 1-yard run.
The highlight, though, was Tony Pollard who ran free with Ezekiel Elliott out for the week. Pollard had 131 yards on 14 carries with three touchdowns. 28.6% of Pollard's runs gained 10 or more yards while just 14.3% were stopped at or behind the line.
Over the full season, Pollard is ninth among 46 backs with at least 50 carries in the rate of runs to gain 10 or more yards. He's 11th among that group in rushing success rate. Elliott ranks 31st and 17th, respectively.
It's been clear for a while that Pollard has more dynamic ability in the run game over Elliott, but Elliott still gets the majority of the work. Even after the game, Jerry Jones was quoted as saying, "We're going to go as Zeke goes," when the back returns.
This puts the Cowboys in a tough spot. The offense is clearly better with Pollard in the backfield and even if Dallas did figure that out, they'd be running up the price tag for an impending free agent, in the final year of his rookie contract that only gives him a cap hit of $1.1 million this season while Elliott counts for $18.2 million. 
5. Are The Vikings Good?
We can ask this about almost any team. It's an overworked joke at this point in the season. But what are the Vikings? They're currently 6-1 with a 96% chance to play the playoffs and 93% chance to win the NFC North, according to FiveThirtyEight. They're not necessarily fluky, either. They're tied with the 49ers for the sixth-best point differential in the league.
But when you watch the Vikings, it's odd. With the previous era of the Vikings, you could watch the offense and be uninspired, but the numbers would at least look good at the end of the day. That's not even the case this season. Kirk Cousins is currently 20th in EPA per dropback (-0.03), his worst rate through Week 8 as a starter in the NFL.
Kirk Cousins Through Week 8, 2014-2022
data provided by TruMedia
| Season | EPA/DB | Dropbacks | aDOT | YPA |
| --- | --- | --- | --- | --- |
| 2014 | 0.09 | 212 | 8.39 | 8.38 |
| 2015 | 0.05 | 277 | 7.8 | 6.48 |
| 2016 | 0.15 | 333 | 8.24 | 7.64 |
| 2017 | 0.11 | 264 | 7.05 | 8.02 |
| 2018 | 0.05 | 373 | 6.83 | 7.39 |
| 2019 | 0.24 | 237 | 8.16 | 9.29 |
| 2020 | 0.11 | 209 | 9.07 | 8.65 |
| 2021 | 0.13 | 288 | 6.69 | 7.13 |
| 2022 | -0.03 | 282 | 6.09 | 6.57 |
Cousins was a zero in Week 8, which is below average given quarterbacks averaged 0.04 EPA per dropback this week. Part of the problem is the lack of explosive plays happening in the passing game. 77.3% of Cousins's passes this season have come within 10 yards of the line of scrimmage, the third-highest rate in the league. That rate was 75% against the Cardinals.
This is an offense that has Justin Jefferson and Adam Thielen and their current aDOTs rank 83rd and 71st, respectively, among 104 receivers with at least 100 routes run. 
The defense has also been fine. This is a secondary that has gone all-in on Fangio principles with the highest rate of Cover-6 in the league but the pass defense has been below average for most of the season with a run defense that's been pretty good. That was also the case against the Cardinals. 
All over, the Vikings have some talent and it's being used well enough to win games though the actual product does not always feel inspiring. That might not matter for quite a bit in Year 1 of a new coaching staff and a clear pathway to the playoffs but at some point, this team has to figure out exactly what it is and what it should be good at to sustain these wins throughout the remainder of the season.
6. Seahawks Defense Made A Stand
As we've talked about the Seahawks this season, it's mostly been about the flashes on offense while the defense worked through figuring things out with young talent. It might not be there just yet, but a 27-13 win over the New York Giants showed the potential that keeps growing.
Seattle was the first team that was really able to shut down the Giants' running game this season, but from Saquon Barkley and Daniel Jones. 30% of Barkley's runs were stopped at or behind the line after that rate was just 16.8% through the first seven weeks of the season.
Jones just scrambled three times for 14 yards. The Seahawks did an excellent job at defending any boots from the Giants. Early in the game, there was always a linebacker ready to charge a boot and make Jones throw, instead of allowing him the opening space he's taken advantage of to start the season.
Forcing Jones to stay in the pocket allowed the defense to create pressure. Seattle had a pressure rate of 43.6%, the seventh-highest of the week, while they blitzed just 12.8% of the time. Jones was awful under pressure, he took five sacks and averaged -0.63 EPA per dropback. So much of the Giants' success this season has revolved around keeping him out of those situations but the Seahawks worked their way into forcing the issue.
There was also nowhere to go when the Giants did throw. Jones mostly avoided the left side of the field where Tariq Woolen, who is quite good, lines up and the quality of the receiver stood out with nowhere else to go. 32.3% of Jones's pass attempts were into tight coverage of a yard or separation or fewer, according to Next Gen Stats. That was the highest rate in the league. Seattle had six passes defensed because of it — three from Michael Jackson alone. 
7. The Saints show some life
The Saints are in a strange place. They're fully committed to their strategy and roster even when both are suboptimal at this point. But in a 24-0 win over the Raiders, the Saints showed what they had hoped they would be.
New Orleans's defense has not been able to create pressure this season. Through Week 7, they were 32nd at just 21.2%. In Week 8, the Saints were at 37.2%, which was 11th-best and significantly better than what they had done. They also got Derek Carr to collapse under pressure. Carr averaged -0.82 EPA per dropback when he was pressured. Carr took three sacks, completed 44% of his passes, and averaged 1.4 yards per attempt under pressure.
The New Orleans secondary also held up and limited Davante Adams to one catch for three yards on five targets.
This offense has also been better with Andy Dalton — Thursday night pick-6 party notwithstanding. Dalton's 0.33 EPA per dropback was the fifth-highest of the week and he's seventh on the season.
New Orleans has just a 22% chance to make the playoffs per FiveThirtyEight but given their situation, they have no other choice but to keep pushing. They lead the NFC South in point differential at -1 and they're just a game behind the division-leading Atlanta Falcons, at 4-4. 
8. Chart of the Day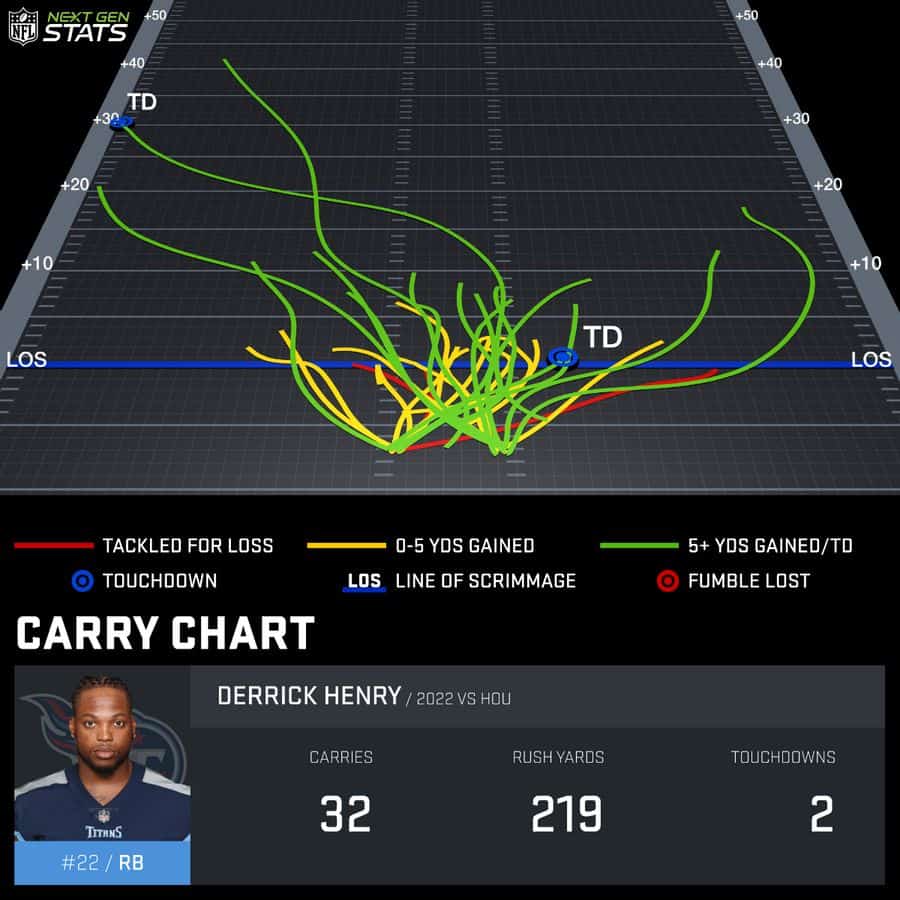 With Malik Willis getting his first start at quarterback, the Tennessee Titans didn't want to throw the ball all that often. They didn't have to because the run never stopped working. Derrick Henry ran 32 times for 219 yards with a 53% success rate. Henry and Jonathan Taylor are the only two backs to have a game with at least 30 rushes and a success rate over 50% this season… both came against the Texans.
9. Play of the day
In the history of 1st & 10, we've never had a player repeat as play of the day in back-to-back weeks, let alone a player-to-player combo. Last week's P.J. Walker to D.J. Moore throw was more of an honorary achievement award, but the throw Walker unleashed against the Falcons that could have won the game was unreal.
According to Next Gen Stats, this throw traveled 67.6 yards in the air, the longest for a completion in the NGS era, which goes back to 2016.
A quick reminder that Walker had one completion beyond the line of scrimmage two weeks ago. 
10. Check-in on the Year 2 quarterbacks
It hasn't been a great year for the 2021 quarterback class. Development is never linear but some development would be nice. The 2021 class went 1-4 in Week 8 and that one win was only because two of them played each other. Flaws remain in all the prospects but there has yet to be a Year 2 breakout we might have hope for from at least one of them. It's arguable the closest is the recent play from Justin Fields, the quarterback the most people were ready to write off from the group.
Even as Fields has progressed and the designed run game has opened up things both for the offense and Fields individually, he's still taking so many sacks. In this three-game run where the offense has looked good, Fields still has a 15.5% sack rate. For the season, it's 16.3%.
Trevor Lawrence still has flashes but makes too many mistakes too often. He's also hampered by an offense that can't get vertical. His red zone interceptions have been bad and he hasn't been able to take advantage of when the field shrinks. No quarterback had worse EPA per dropback than Lawrence in Week 8 (-0.41).
Lawrence is still 14th in EPA per dropback and there's enough there, but it's fair to wonder if it's going to click together and if there's a firm ceiling that will prevent him from consistently being a top-level quarterback.
Zach Wilson and Mac Jones had a bad throw contest in the meeting between the Patriots and Jets. Jones has regressed this season, which puts more doubt on an already low ceiling. Jones has to be perfrect pre- and post-snap with his physical limitations and he was close last season. But there are numerous mistakes this year that he can't get away with. He's averaged -0.11 EPA per dropback this season.
Wilson continues to make easy things look difficult. He's consistently bailing from pockets and has trouble throwing the ball away. Even some of his attempted throwaways turn into dangerous passes, as was the case for one of his three interceptions against New England.
There are also no quarterbacks worse than Jones and Wilson under pressure this season, -0.84 and -0.89 EPA per dropback, respectively.
Wilson actually has the fourth-highest EPA per dropback from a clean pocket this season when he allows the offense to work for him but he so often fights against it and his mistakes turn his play into a net negative.
Davis Mills wasn't a big name as a third-round pick but he showed just enough for the Texans to give him another year as the starter. The only quarterbacks with worse EPA per dropback than Mills this season are Mitchell Trubisky and Baker Mayfield, neither of which currently has the starting job. Mills is going to ride this out because Houston doesn't have another option, but the Texans know they do not have the quarterback of the future of the roster.