In another wild week of NFL action, we saw two of the biggest winners not play. The New England Patriots defeated the Atlanta Falcons on Thursday and finished Sunday as the leader in the AFC East and the holder of the NFL's best point differential. During a bye and after two disappointing weeks, Matthew Stafford jumped back into the lead for EPA per dropback on the season.
There's plenty to get into across the games that were played on Sunday.
1. So Now Are The Chiefs back?
Here we are again. After a bounce-back win over the Las Vegas Raiders last week, the Kansas City Chiefs easily handled the Dallas Cowboys, 19-9. Independent of the coverage the Raiders ran, Kansas City appeared to be back in a play-calling groove and that continued into the early drives against Dallas. In both cases, the defense sitting in single-high helped.
Coming into the game, Dallas had the seventh-highest rate of single-high both pre-snap and post-snap, per Sports Info Solutions. The Cowboys mixed up some coverages, but were caught in single-high early in the game.
On Kansas City's first drive of the game, they got a 33-yard run from Tyreek Hill on an end-around. It was his longest run of the season and the third time the Chiefs tried to get Hill involved on a run on the first drive of the game. Those previous two runs combined for 15 yards. 
That drive ended with a Travis Kelce wildcat touchdown run from the 4-yard line. 
On the final play of the first quarter, a first-and-10 from midfield, the Chiefs sent Hill in motion to a trips side with Kelce and Byron Pringle. The motion caused Dallas to shift the defense before the snap. Hill's motion brought carried Jourdan Lewis (26) across the formation and a quick out off the motion also brought in Trevon Diggs (7) on that side of the field. That left Pringle wide open on a corner route against a single-high safety. The play went for 37 yards and set up a Patrick Mahomes-Clyde Edwards-Helaire option touchdown to cap off the drive.
Those early scores were enough because the Dallas defense eventually adjusted and held the Kansas City offense. The Chiefs scored on their first three possessions and Mahomes averaged 0.31 EPA per dropback on those drives, per TruMedia. From the fourth possession on, Mahomes averaged -0.36 EPA per dropback. He finished the game with negative EPA (-0.16 per dropback) and a QBR below 50 (45.8). 
But that didn't really matter because the Kansas City defense was able to completely shut down the Dallas offense. Coming into the game. Prescott was leading all quarterbacks in EPA per dropback. After Week 11, Prescott is now sixth. Only Tim Boyle (-0.70) had a lower EPA per dropback than Prescott (-0.40) on Sunday.
Prescott was blitzed on a quarter of his dropbacks and even though he completed 8-of-12 passes against extra rushers, those only went for 4.92 yards per attempt and 50% of those throws went behind the line of scrimmage. The Chiefs rallied to the ball, whether it was against the blitz or not. Dallas tried to use the screen game and quick passing game to beat the Kansas City pass rush and make up for an offensive line that missing pieces, like left tackle Tyron Smith.
It wasn't just the tackle play. The Chiefs got pressure all across the line and Chris Jones made a massive impact inside. Jones finished with three quarterback hits, 3.5 sacks, and a pass defensed. Per TruMedia/PFF, Jones had eight pressures on the day, which led all defenders in Week 11. Seven of those came on a four-man rush. All five sacks of Prescott in the game came on a four-man rush.
The Chiefs were able to load the line to give the impression of an extra rusher, but Kansas City backed those players into coverage. Against an empty set on a third-and-13 in the fourth quarter, the Chiefs showed man coverage across the board with a single-high safety (out of frame).
Linebacker Ben Neimann lined up over the center before the snap but dropped back post-snap. As the center checked to see if the linebacker would rush, he then turned to his right to help double Jarran Reed (90). At the same time, Jones pushed past the guard and into Prescott for the sack.
With a lack of edge rush, the Chiefs tried Jones outside early in the season but have moved him back inside more often. That's been a help for both Jones and the defense since he's been a better rusher from the interior this season.
Chris Jones Pressure Rates By Alignment through Week 10, 2021 (per Sports Info Solutions)
| Alignment | Pressure Rate |
| --- | --- |
| Edge | 10% |
| Interior | 15.8% |
With pressure coming, Prescott was pushed to force passes into tight windows. WIthout Amari Cooper and losing CeeDee Lamb to a concussion during the game, those plays didn't work out well. Prescott threw 20.9% of his throws into tight windows, per Next Gen Stats. Kansas City had nine passes defensed, including three each for L'Jarius Sneed and Charvarious Ward.
At 7-4, the Chiefs still lead the AFC West with a 54% chance to win the division. They'll have their bye next week before three straight divisional games. This gets tricky for Dallas in a quick turnaround for a Thanksgiving Day game against the Raiders. Cooper will miss the game and it will be a quick turnaround for Lamb to clear concussion protocol to play. The Raiders are a team that can get pressure with four, so the Cowboys will need a better plan to adjust than what they had against the Chiefs on Sunday.
2. NFC North Shootout
The most exciting game of the week came in a 34-31 Minnesota Vikings win over the Green Bay Packers. These teams combined for nearly 900 of offense as Aaron Rodgers (0.66) and Kirk Cousins (0.58) were the top two quarterbacks in EPA per dropback this week.
This game was filled with big passing plays, thanks to both receivers being quite good and some blown coverages. The first play from scrimmage saw no Vikings pick up Davante Adams on a shallow crosser against a safety blitz from Harrison Smith (22) on Adams's side. The play went for 37 yards and set up a field goal.
On a third-and-6 on Minnesota's first drive, Justin Jefferson was left uncovered on a deep crosser that went for 43 yards and set up a field goal.
Jefferson kept up his incredible performance from last week with 169 yards and two touchdowns on eight catches and 10 targets. He was a big benefactor from a more aggressive Cousins, who threw 20% of his attempts at least 20 air yards against the Packers. That was nearly double his deep ball rate (10.7%) over the first 10 weeks of the season.
Minnesota worked to get some of those deep balls opened up. On the Vikings' second drive, they motioned Adam Thielen into a stacked alignment with Jefferson on the right side in 21 personnel. Both corners to that side stayed shallow with Thielen, which left Jefferson with only deep safety Adrian Amos (31) to beat. Jefferson gained 56 yards and was ruled down at the 1-yard line. Minnesota scored on the next play.
The Vikings got out to a 23-10 lead out of the half with a 9-yard touchdown to Jefferson that saw the receiver line up and come out of the backfield. Green Bay sent five rushers and no one covered Jefferson for an easy score.
But the Packers marched back and scored on three straight touchdown drives. The second gave the Packers a 24-23 lead then the Vikings drove back down for another score on a 23-yard Jefferson catch that Cousins got off with a late blitz and pressure in his face.
Then on the next play, Rodgers hit Marquez Valdes-Scantling for a 75-yard touchdown to retake the lead.
Cousins nearly threw an interception (one that was ruled a pick but overturned) on the first play from scrimmage on the following drive but settled down to lead a game-winning field goal drive as time expired.
Despite the loss, the Packers will be fine. Green Bay actually outgained Minnesota 8.6 yards per play to 6.2. Rodgers played arguably his best game of the season and clearly rebounded from a poor performance last week. He's talked about a toe issue that has bothered him but that didn't impact his play on Sunday. Green Bay still has a 90% chance to win the division and a 27% to win the No. 1 seed in the NFC, per FiveThirtyEight.
Things are more interesting for the Vikings, who are currently the sixth seed in a jumbled bottom of the NFC. FiveThirtyEight now gives the 5-5 Vikings a 59% chance to make the playoffs. Cousins is now quietly third among quarterbacks in EPA per dropback, per TruMedia, behind Matthew Stafford and Kyler Murray. This might not be the most consistent team, but the peaks are enough to make this team intriguing.
3. Jonathan Taylor Carries The Colts
Five touchdowns are enough to grab anyone's attention and Jonathan Taylor was an attention-grabber during the Indianapolis Colts' 41-15 beatdown of the Buffalo Bills. Taylor scored four times on the ground and one through the air, accounting for all touchdowns scored by Indianapolis in the game.
His best run of the day was one that didn't finish in the end zone — a 40-yard run midway through the third quarter that set up his fourth touchdown a play later.
Each of Taylor's five touchdowns was impressive, but what's been more impressive is how Taylor has been able to be a stabilizing rock for the Indianapolis offense. Taylor was good during the early part of the season, but has been incredible over the stretch that has been the Colts win five of their past six.
Part of that is certainly due to the offensive line. One of the biggest changes in Taylor's production from the 1-4 start to the 5-1 stretch is the yards before contact. Early in the season, Taylor was stopped at or behind the line of scrimmage on 21.9% of his carries. Since Week 7, that's dropped to 15%. That's allowed his rate of runs that gain 10 or more yards to more than double.
Jonathan Taylor Rushing Value, 2021
| Weeks | EPA/Att | Runs of 10+ | Stopped At/Behind Line | Yards Before Contact per Att | Yards After Contact per Att |
| --- | --- | --- | --- | --- | --- |
| 1-6 | 0.05 | 9.6% | 21.9% | 1.32 | 3.16 |
| 7-11 | 0.20 | 19.2% | 15% | 2.50 | 4.13 |
That 0.20 EPA per attempt is equal to a full season of Matthew Stafford, the current leader in EPA per dropback among quarterbacks. For the season, Taylor has been worth 0.15 EPA per attempt — well above the EPA per dropback figure of Carson Wentz (0.03).
That can be a good thing for the Colts and Wentz, a quarterback who has excelled in ideal situations and struggled without them this season. Wentz only needed to drop back 21 times in the game and he didn't have a single dropback in the fourth quarter.
It remains to be seen if the Colts can continue to rely on this volume and efficiency. Taylor now leads the league in carries (non-Derrick Henry division) and his 0.15 EPA per attempt is triple the next best running back with at least 100 attempts on the season (Austin Ekeler, 0.05).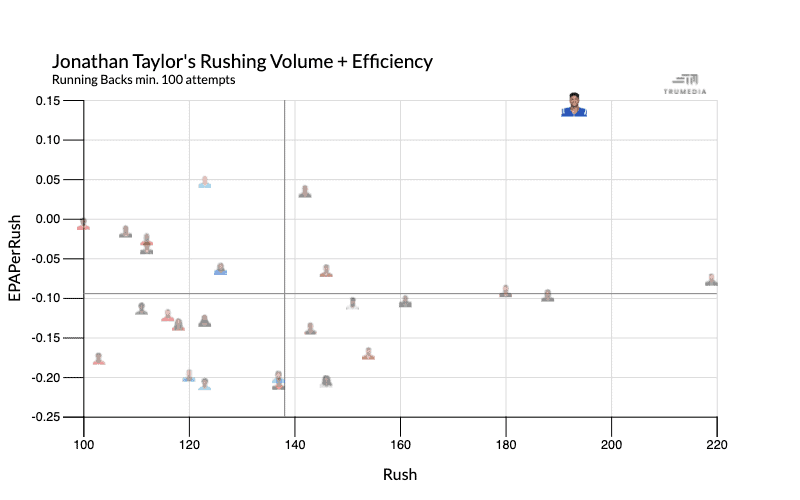 This isn't even that heavily influenced by the four rushing touchdowns in Week 11. Taylor was at 0.11 EPA per attempt from Weeks 1-10.
Right now, the Colts can rely on the ground game because it's more efficient and as explosive as the passing game could be. There are a ton of pieces that play into that, but Jonathan Taylor has proven to be one that keeps it moving.
4. The Chargers Hold On
Justin Herbert's 0.55 EPA per dropback was the fourth-best figure among quarterbacks in Week 11, per TruMedia. The Chargers still held the quarterback down in the offense — Herbert's average depth of target was just 5.34 — but there were enough big plays in the mix for 9.32 yards per attempt and a 41-37 win over the Pittsburgh Steelers on Sunday Night Football.
Herbert killed the intermediate area, throwing 22% of his passes between 11-19 air yards against the Steelers, above his 16.8% regular season rate. He went 6-of-9 for 132 yards and a touchdown, a 53-yarder to Mike Williams that gave the Chargers the lead with 2:09 remaining in the game. 
Keenan Allen was an easy target for 112 yards on nine receptions. Herbert found Allen all over the field with a number of impressive throws.
As an additional weapon, Herbert used his legs more than he has in any game throughout his career. Herbert ran nine times for 90 yards, including a 36-yard scramble. That's a dangerous tool at the Chargers' disposal if that's something that continues in the offense.
The 6-4 Chargers are still second in the AFC West with a 72% chance to make the playoffs, per FiveThirtyEight. The offense has clicked enough to keep a struggling defense afloat. The Chargers have tried to change some things up on that side of the ball, but the results haven't been there regardless of the strategy. 
As a flip to what has been the case in Pittsburgh for the past two seasons, Ben Roethlisberger had one of his best games but was let down by the defense. Roethlisberger averaged 0.12 EPA per dropback, his second-best mark of the season.
Roethlisberger has quietly gone more under center since the bye, using play-action to set up some throws and it's helped. He's had positive EPA in each of his last three starts.
Ben Roethlisberger Shift in Pittsburgh's Offense, 2021
| Weeks | EPA/DB | Shotgun % | Play-Action % |
| --- | --- | --- | --- |
| 1-6 | -0.09 | 81.5% | 17.9% |
| 8-11 | 0.08 | 64.3% | 19.4% |
Pittsburgh currently finds itself outside the playoff picture, but has two division games against Cincinnati and Baltimore upcoming.
5. Cam's Ruined Homecoming
The homecoming for Cam Newton appeared to be perfect, especially once the Panthers went up 7-0 on the opening drive, capped by a 10-yard touchdown pass to D.J. Moore. But Washington had other plans and an insane day from Taylor Heinicke spoiled the return with a 27-21 Washington victory.
Heinicke was third among quarterbacks in EPA per dropback and led in Completion Percentage Over Expectation (19.5%), per Next Gen Stats. Part of that was from completing a ridiculous number of tight window throws — 22.7% of Heinicke's pass attempts were into tight coverage.
Carolina got pressure on 40.7% of Heinicke's dropbacks per TruMedia/PFF but that wasn't enough to hold the quarterback down. Heinicke was unstoppable from a clean pocket. Without pressure, Heinicke completed 11-of-14 passes for 166 yards with three touchdowns. A key area was that Washington pushed the ball down the field. Only 7.1% of Heinicke's passes were at or behind the line of scrimmage when kept clean.
For the Panthers to be interesting late in the season, they just needed improved quarterback play to go along with a defense that had been one of the better units in the league. That was flipped on Sunday as the defense was shredded and the quarterback play was quite good.
Newton finished 10th in EPA per dropback and was first in EPA per dropback on early downs (0.50), where he was 18-of-20. Most passes were short but that's going to be the case when Christian McCaffrey is on the field.
Even in Newton's first start, the offense was more opened up. The Moore touchdown was on a motion/RPO/glance play offensive coordinator Joe Brady used with Joe Burrow at LSU. Carolina also scored on a jet motion running back seam play to McCaffrey that just wasn't in the offense earlier in the season.
Both teams should come away impressed by their offenses. Washington was able to win with their defensive line, but Newton has the ability to overcome a deficiency there (and that's a clear one for the Panthers). If Carolina can continue to play better defense, there is hope for a late-season run even as their playoff odds dropped to 17%.
6. Houston Upsets Tennessee
The Tennessee Titans outgained the Houston Texans 5.3 yards per play to 3.1. Still, the Texans upset the Titans 22-13.
Tennessee hasn't been able to grasp what the offense should be since the loss of Derrick Henry. Ryan Tannehill used play-action on just 9.6% of his passes against the Texans and averaged 3.0 yards per attempt on those throws. Whether Henry matters for those plays isn't the question. Tennessee clearly believes he does and in a passing game that's built around in-breakers off play-action, it's hard to keep the offense moving.
That forced Tannehill to drop back and throw to a depleted receiving corps. Tannehill threw four interceptions while forcing the ball. Desmond King has been one of the league's worst cornerbacks this season by Adjusted Yards Allowed per coverage snap, but he looked like a superstar on his two interceptions that jumped all over what the Titans were trying to do.
Houston got itself into just enough of a positive game script to not have to worry about the Tennessee defensive front, the clear strength of that team.
For the Titans, this is part of the weakness, even as they still sit as the top seed in the AFC. This isn't a team built to play from behind and the roster is fragile enough as it is. Running back Dontrell Hilliard, who was just elevated off the practice squad, led the team with 10 targets. The Titans aren't going to throw four picks every game, but they're also not going to get gifted pick-6's like they were against the Colts and Rams.
7. Eagles Keep Running
The Philadelphia Eagles keep finding ways to win. Jalen Hurts didn't throw the ball particularly well in a 40-29 win over the New Orleans Saints — he averaged -0.04 EPA per dropback — but he ran 18 times for 69 yards and three touchdowns.
Philadelphia kept the ground game going against the league's best run defense. Miles Sanders returned for 94 yards on 16 carries. His overall value on those runs was tanked by a lost fumble, but three of his 16 carries (18.8%) went for 10 or more yards with no runs stopped at or behind the line.
Hurts was second in EPA per rush among players with at least 10 attempts, per TruMedia. It's a positive sign for an alternate way to move the ball if the passing game isn't working. But as we've seen over the past few weeks, the passing game can work quite well for this season.
FiveThirtyEight gives the Eagles a 38% chance to make the playoffs but the upcoming schedule could be incredibly favorable — with a game against the Jets and two each against the Giants and Washington before a season finale with Dallas. 
8. Chart of the Day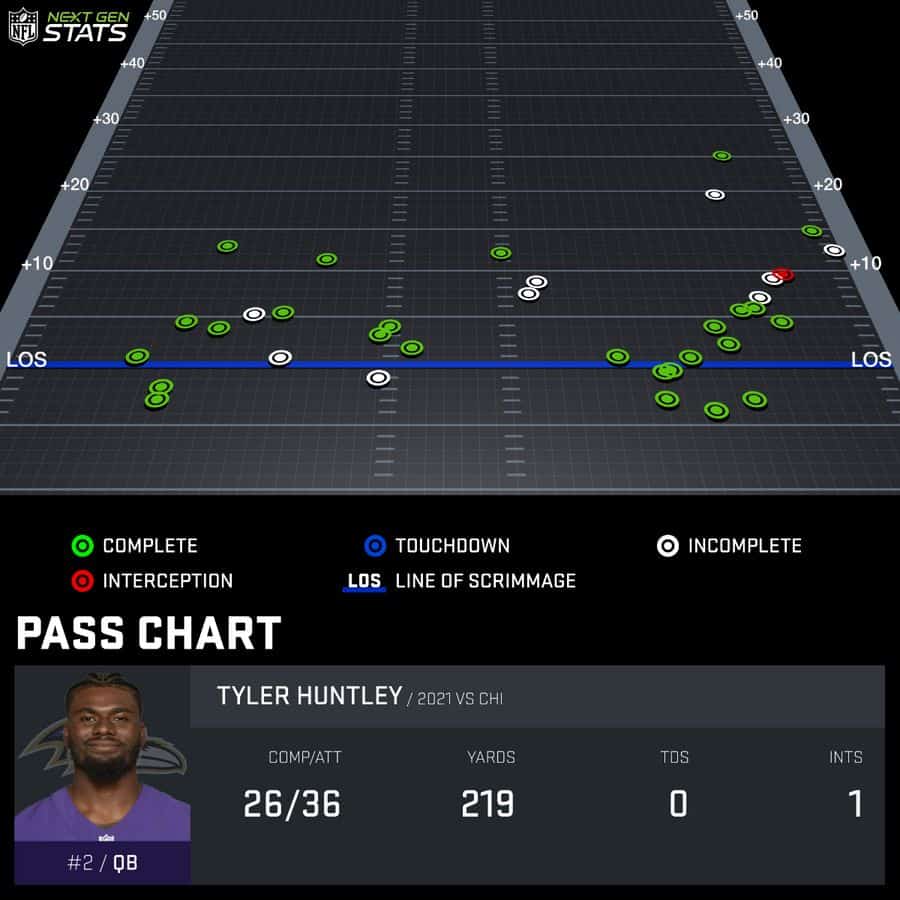 Tyler Huntley wasn't great in his starting debut, but he wasn't terrible for a quarterback who found out he was starting on Sunday morning. In Baltimore's 16-13 win over Chicago, the Bears blitzed Huntley on 68.2% of his dropbacks. That could have been disastrous, but Huntley survived. His most impressive throw was the 29-yard pass on a third-and-12 to Sammy Watkins against a six-man rush that set up the game-winning touchdown on the next play. 
9. Play of the day 
Kyle Shanahan was back in his bag. Deebo Samuel had seven carries for 79 yards, including this 25-yard touchdown in San Francisco's 30-10 win over Jacksonville.
10. I Know The End (Russ's Version)
After falling to the Colt McCoy-led Arizona Cardinals, 23-13 the Seattle Seahawks dropped to 3-7 on the season. They have a 4% chance to make the playoffs, per FiveThirtyEight. This is a team without a first-round pick, one sent to the Jets for Jamal Adams.
After the game, Pete Carroll was so frustrated he stopped taking questions from reporters and left the postgame podium early before he eventually returned later.
For the second-straight game, Russell Wilson didn't look right coming off his thumb injury. Again, Wilson had a high aDOT that didn't completely connect, though not as bad as Week 10. The offense has yet to click and that partly falls on the quarterback. Wilson explored trade destinations in the offseason and it's easy to imagine that could be revisited this offseason.
It might even be what's best for Seattle, a team built to win now that hasn't seen enough young pieces develop around the aging veterans. Outside of a soon-to-be 24-year-old DK Metcalf, it's hard to pinpoint a young building block on this roster. A Wilson trade could get back a haul that brings youth to the roster and kickstarts a rebuild.
This year's offense was supposed to blend Pete Carroll's philosophy with Wilson's desire to open the offense up. Instead of a compromise that benefits all, the offense has blended the worst of both situations. Wilson is currently 27th in EPA per dropback on the season. The players below him are Jacoby Brissett, Sam Darnold, Jared Goff, and four rookies.
Neither side wants it to end this way, but the 2022 Seattle Seahawks might not have a choice but to look wildly different than the current version.