Week 7 didn't give us the surprises of previous weeks, but it gave us a number of interesting games and more than enough to dive into and break down.
1. Trading Places
Just a few seasons ago, massive in-season trades weren't a realistic possibility. The trade deadline would come and go without any transaction of note. Even offseason movement wasn't that prevalent for players under contract. That is no longer the case — for the better — and trades have been a major part of teams trying to build championship contenders. On Sunday, we saw the impact of a number of these trades and how they set the stage for the future.
First, there was the biggest swing, the multiple first-round pick trade for a superstar. Most recently we saw this come from the Los Angeles Rams with their acquisition of Jalen Ramsey for two firsts and a fourth-round pick. Ramsey was inserted into the starting lineup after being on the roster for under a week and held up well enough against Julio Jones for most of the day. In a 37-10 blowout win for the Rams, Ramsey-Jones wasn't the biggest story.
That can be seen as a positive for Los Angeles because Ramsey should only get more comfortable in the defense with more playing time. The biggest question for the Rams throughout this season was some of the play of the offense and playing the Falcons defense is a big help for any struggling offense. Jared Goff had two touchdown passes and 0.38 Expected Points Added per drop back, per nflscrapR via Baldwin boxscore. Getting Goff back on track is as important to the Ramsey trade as Ramsey's play.
The Rams are going big on star players and they won't have the ability to add high-end talent at the top of the draft. But that might not be a devastating blow for the roster. Hitting on Day 2 and Day 3 picks will still be important in building depth and now the Rams have Jalen Ramsey on the outside, a player they wouldn't have gotten picking 28th or so in the first round. A team like the Rams was going to have to hit on those mid-round picks for depth regardless.
And while adding these types of star players like Ramsey makes it harder to build a roster now that Goff will be set to make over $30 million per season (and even if that extension looks like a mistake before it officially kicks in) at least the Rams know they can get to the Super Bowl with Goff at quarterback. Making the roster as good as possible around him isn't the worst way to go forward based on how the Rams are already constructed. 
We've also seen another version of that type of trade start to derail a team. While the Rams know they can win with Goff at quarterback, the Chicago Bears don't have that peace of mind with Mitchell Trubisky. Chicago made one of the all-in trade last season when they traded for Khalil Mack, and attempt to get a star player and capitalize on a window with a quarterback on a rookie contract.
Of course, the problem is the quarterback's contract doesn't matter if he can't produce on the field and that's where the Bears find themselves with Trubisky. Trubisky was third in QBR last season when Chicago went to the playoffs with the league's best defense but so much of that was behind unsustainable value as a runner. This year, Trubisky has been negative as a runner and his passing hasn't progressed. He currently ranks 28th in QBR.
Against the Saints on Sunday, Trubisky averaged 4.2 yards per attempt and minus-0.03 EPA per drop back. It was his first game back from a shoulder injury, but the performance wasn't much different from what he showed before the injury — or really most of last season.
Trubisky is on Year 3 and unless there's some massive development on the horizon, it's clear he's not the long-term answer. But the Bears will be without a first-round pick in 2020, which will limit the paths they can go should they choose to address the quarterback situation now. It could lead to another year of Trubisky and a full embrace of the sunk cost fallacy or a journey into the mid-tier veteran option that could net Andy Dalton, Nick Foles, or Ryan Fitzpatrick. None of those options are ideal.
On his own, Mack was worth the trade. He's been a beast on one of the league's best defenses. But there was a miss in self-scouting for the Bears to believe they had a bigger window than they did and the trade could be more damaging to the window with limited options to keep it open.
The best kind of trade that smart teams are starting to embrace is the mid-to-late-round pick for a veteran player. These are the Bill Belichick moves that bring in the talent of a player that would be nearly impossible to gain with the pick given up. The Baltimore Ravens got a version of that earlier this week with a precursor to the Ramsey trade. The Rams sent cornerback Marcus Peters to Baltimore in exchange for linebacker Kenny Young and a fifth-round pick. It's a low-risk move for an impending free agent that brought an immediate talent upgrade to an important position.
What makes trades like that even better is when there's a clear plan in place for the acquired player. Throughout his career, Peters has been a gambler at cornerback. He's just as likely to jump a route for an interception as he is to bite on a double move and allow a receiver to blow by him. But in his Ravens debut, Baltimore put him in a position to take advantage of the former and avoid the later.
On a 3rd and 6, Peters (24) was outside against Jaron Brown (18). At the snap, Peters dropped back to the first down marker but Moore was a check-down option and stayed behind the line of scrimmage. Peters was in a position to both defend against a throw to the sticks and break on a shorter throw. As soon as the ball was thrown, Peters jumped in front of the passes, picked it off, and ran it in for a touchdown.
The NFL's trade deadline is next Tuesday, October 29th. We might still see some major moves made with a ton of draft capital involved. But just as important will be the smaller trades with a team getting exactly what they need without giving up a lot. In all situations, the key for these teams is knowing their own roster and identifying the best way to build around it.
2. Aaron Rodgers Shows Off
Aaron Rodgers has been a popular topic in the football community. There have been a few pieces of evidence to suggest Rodgers's numbers haven't been among the league's best over the past few seasons. Then there are plenty of people who watch Aaron Rodgers, see him do Aaron Rodgers things, and believe he's still one of the best. The truth is probably somewhere in between.
It's undeniable Rogers hasn't been as effective as the league's top passers — or even a younger version of himself — over a multi-year stretch. But on any given day, Rodgers can still look like the best quarterback in football and Sunday, a 42-24 win over the Oakland Raiders, was one of those days.
Rodgers's raw stats were impressive he completed 25-of-31 passes for 429 yards (13.8 yards per attempt) and five touchdowns. He also added a score on the ground. His advanced metrics were just as impressive. He finished with a QBR of 95.3 (meaning a team wins over 95% of the time with a quarterback performance equal to Rodgers's) and he was worth nearly a full point in value every time he dropped back to pass — 0.99 EPA per play.
The banner day was against an Oakland defense that entered the week 26th against the pass by DVOA, but it wasn't just Rodgers taking advantage of a bad defense. There was certainly some of that — Rodgers only threw into a tight window on 6.5% of his attempt in Week 7, per Next Gen Stats, his lowest rate of the season — but he performed even better than would be expected by a quarterback in his situation. His expected completion percentage, which accounts for distance, nearest defenders, and area of the field, was 66.8% per Next Gen Stats. Rodgers completed 80.6% of his passes on the day, a 13.9% difference.
There might not be a better example of Rodgers's comfort than a two-play stretch that led to Green Bay's first touchdown. On 3rd and 6, the Packers motioned to empty and Rodgers had a ton of time after the snap. So many times, we've seen Rodgers break the pocket and try to look for something down the field. On this play, though, Rodgers stayed in the pocket, allowed Jimmy Graham to cross the field, and hit the tight end for a wide-open 29-yard gain.
On the next play, Rodgers fired a strike to Aaron Jones up the seam for a 21-yard touchdown.
Early in the season when the Green Bay offense was struggling, especially late in games, Rodgers's play wasn't always the reason. There was a disconnect between quarterback and play-caller. As the season has progressed, that disconnect has started to fade and that type of connection by the quarterback and head coach could be dangerous for the rest of the league. 
3. A Tale of fourth downs
The Seattle Seahawks vs Baltimore Ravens matchup gave us a meeting between two of the league's most exciting quarterbacks in Russell Wilson and Lamar Jackson. While the quarterbacks certainly had a say in the game's outcome, the biggest difference was the coaching and how much confidence those coaches had in their teams on key fourth downs and a three-drive sequence to end the third quarter and start the fourth swung the game.
Pete Carroll has been one of the league's most conservative coaches and that was in full effect against the Ravens. In the middle of the third quarter, the Seahawks faced a 4th and 3 from the Baltimore 35 with the score tied 13-13. Instead of keeping the offense on the field, one both built to run the ball and also has the MVP favorite at quarterback, Carroll elected to attempt a 53-yard field goal in the rain. It was no good and the Ravens took over.
Baltimore then drove down the field and faced a fourth down decision of their own, a 4th and 2 from the Seattle 8-yard line. John Harbaugh kept the offense on the field and they ran Jackson for what turned into an 8-yard touchdown and a 20-13 lead. It was a quarterback power run with the fullback in motion to both get an extra blocker to the play side and force the defense to flow further to the right.
Per EdjSports, the Ravens added 7.8% in win probability by lining up to go for it and added 11.8% by converting. These are the types of moves Harbaugh and the Ravens have made this season, though after the game he was quick to credit Jackson for pushing to go for it and offensive coordinator Greg Roman for the play design.
"If he wants to go for it, I want to go for it too!" pic.twitter.com/FHm1EMj1Sv

— Baltimore Ravens (@Ravens) October 21, 2019
The aggressiveness did not make its way to the other sideline. On the following drive, with just under 13 minutes remaining in the fourth quarter, Seattle faced a 4th and 4 from their own 44-yard line. Instead of keeping the offense on the field and attempting to convert in that no man's land near midfield, Carroll sent on the punt team. In an era when teams are getting more aggressive in these situations, the decision to punt here was one of the worst all year.
SEA decided to punt to BAL from the SEA 44 on 4th & 4 with 12:55 remaining in the 4th while losing 13 to 20.

With a Surrender Index of 7.3, this punt ranks at the 92nd percentile of cowardly punts of the 2019 season, and the 89th percentile of all punts since 2009.

— Surrender Index 90 (@surrender_idx90) October 20, 2019
The punt resulted in a touchback, though there was a holding penalty that sent the Ravens back to their own 10-yard line to start the drive. Still, Baltimore drove down the field to kick a field goal and take a two-score lead.
These edges in coaching decisions were the difference in the game. It's why the Ravens can win when Jackson is less than perfect in the passing game (he completed 9-of-20 passes for 143 yards, but rushed for 116 yards) and why Wilson has to be perfect for the Seahawks to win. 
4. The Play-Action King
Kirk Cousins isn't as good as his contract but he's not as bad as what those who believe he's a bottom tier NFL quarterback would suggest. The secret is getting Cousins into a place where his strengths are highlighted. At his best in Washington, on a staff with Jay Gruden, Kyle Shanahan, and Sean McVay, Cousins was able to use play-action to find open receivers down the field.
Minnesota's performance against the Detroit Lions in a 42-30 win might have been the closest they come to replicating that Cousins. Coming into the week, the Vikings were second in play-action rate (32%) but it still felt like there was more exploit. That happened against the Lions were Cousins went play-action heavy en route to 9.9 yards per attempt, four touchdowns, 0.81 EPA per play, a 58% first down rate, and a QBR of 87.1.
Overall, Cousins wasn't forced into doing much. He only threw 11.8% of his passes into tight coverage and he was still able to push the ball deep with an 11.1 average depth of target. Most of that damage was done off play-action. Cousins used play-action on 52.9% of his attempts. He was 13-of-18 for 209 yards using play-action, which included three of his four touchdowns and a 66-yard bomb to Stefon Diggs that completely caught the Lions off-guard and iced the game in the fourth quarter.
5. Colts Back On Top
Less than two months ago, Andrew Luck announced his retirement from the NFL. Now, seven weeks into the season, the Indianapolis Colts are in first place in the AFC South after a 30-23 win over the Houston Texans.
There's a lot to be impressed by with Indianapolis. It all starts with head coach Frank Reich, who should be an early favorite for Coach of the Year. Reich has built a system that has allowed Jacoby Brissett to step in and succeed, has been the right kind of aggressive with game management, and can scheme and play-call well enough to get mismatches like wide receivers on linebackers as he did Sunday against Houston. Brissett threw four touchdown passes against Houston — one an incredible effort from Eric Ebron — and has looked at least competent in each start so far.
The Colts have also been able to win in a variety of ways. There have been games the run game has taken over, there have been games with a dominant defense, and there have now been games won with the arm of Brissett.
Indianapolis might not be the long-term favorite in the division — they only have a half-game lead over the Texans — but they're still in first after seven weeks. For a team that was dropped to +550 to win the division immediately after Luck announced his retirement, it's hard to be anything but impressed by what the Colts have done this season.
6. Saints Keep Rolling
A number of teams have been forced to play extended periods of time with backup quarterbacks but none have been more successful than the New Orleans Saints. Making up for the loss of Drew Brees would be one thing, but the Saints have been able to get by with Teddy Bridgewater, who has gone from a quarterback who barely threw passes further than five yards to one who was 6-of-8 for 146 yards on throws at least 10 yards beyond the line of scrimmage in a 35-26 win over the Bears.
Bridgewater's play against Chicago was impressive in a number of ways. As much as defensive regression was predicted for the Bears, they still entered the week fifth in defensive DVOA (which is regression from the first-by-a-mile ranking last season). He was also without Alvin Kamara and Jared Cook for this game. But Bridgewater was able to rely heavily on Michael Thomas and connect with Ted Ginn deep just enough to never have the game in doubt.
It's been an impressive run for the Saints, who are 5-0 without Brees, in what could have been a season-ending disaster. While other teams in the NFC South have battled injuries, incompetence, or both, New Orleans holds a 1.5-game lead over the Carolina Panthers and an inside track to the playoffs. 83% of teams that start 6-1 have made the playoffs since 1995. The Saints should only get healthier — though a late-game injury to Eli Apple looms large — and they could easily be one of the most dangerous teams down the stretch.
A concern for Brees the past few seasons has been his arm strength making it through an entire season. The Saints have both saved Brees some time on his arm and stayed in control of the division. That might be the biggest win-win in the league right now.
7. Did Dallas get its groove back?
A 37-10 win would suggest the Dallas Cowboys got their offensive groove back from the first few weeks of the season. But that might not be the case. There was some motion used early, though the best early play went to Tavon Austin, which felt like a compromise between Kellen Moore and Jason Garrett.
The points came, but a lot of the structure of the offense looked like the past three weeks more than the first three. Per the Baldwin boxscore, Dallas had more early down runs than pass attempts and they were technically better on the ground, though both produced negative EPA. The Cowboys averaged minus-0.01 EPA per play and a 23% success rate on 31 early down runs and minus-0.23 EPA per play and a 27% success rate on 22 early down pass plays. Some of that run-pass split came from game script, but the EPA per play on those early down passes is concerning.
Dallas's saving grace was averaging 1.04 EPA per play, a 69% success rate, and 62% first down rate on third and fourth downs. That sounds less like an offense clicking in structure and more like a quarterback putting a struggling offense on his back.
This year Dak Prescott has been good enough to do that, he's first in QBR, but it can't be a sustainable way to play offense (see Russell Wilson and the Seahawks). If Dallas can identify and fix some of the early down problems, they have a good chance at improving over the second half of the season. But if they take a 37-point performance as a sign that everything is clicking again, they could still be in trouble.
8. Play of the day
The Saints were so in control of their game against the Bears, they had a play with a handoff to the fullback with an option to the backup quarterback. It gained 23 yards on 3rd and 1. There's really not much else to say about it. It's glorious.
9. Chart of the day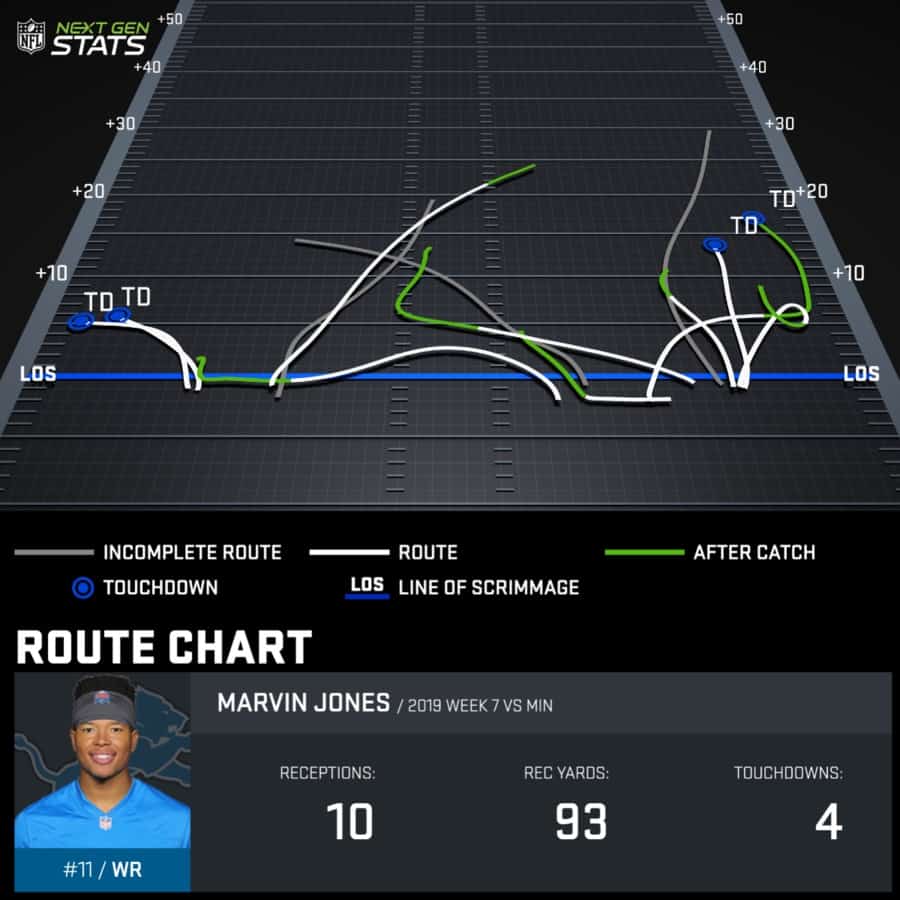 Marvin Jones is one of the most underrated receivers in the NFL. Everyone believes that, but it's still not in a "he's talked about as being underrated so much, he's now a little overrated" type way. We all just accept Jones is underrated and move on. Then he has a game like Sunday and everyone pays attention. Well, he's never had a game like Sunday. Actually, no one has ever had a game like Jones had on Sunday.
Jones hauled in four touchdown passes but did not crack 100 yards receiving. Since the merger, there have been 92 instances with three touchdowns and fewer than 100 receiving yards. Jones is the first with four.
That's way more of a fun fact than anything meaningful about Jones's performance. Not reaching 100 yards doesn't do anything to diminish the performance. As you can see above, Jones won from all over the field. He was worth 1.06 EPA per play with a 77% success rate and a 62% first down rate. Those are outrageous numbers for a receiver no matter the yardage attached to it.
10. Appreciating Tre'Davious White
Last week, I wrote about secret defensive superstars who should have more attention paid to them. I left off players like Tre'Davious White, who are widely believed to be stars — at least by the football-obsessed people I have surrounded my online engagement with. But then I felt White's performance in Buffalo's 31-21 win over the Miami Dolphins warranted a mention to make sure we're all on the same page with how good White is and has been this season.
Coming into the week, White had allowed just 0.24 Adjusted Yards per coverage snap (Adjusted Yards weight yards with touchdowns and interceptions). That mark ranked second among 83 cornerbacks with at least 100 coverage snaps played on the season. The average among that group was 1.13 Adjusted Yards allowed per coverage snap.
With Miami leading 14-9 with five minutes left in the third quarter and the Dolphins at Buffalo's 12-yard line, White jumped in front of a Ryan Fitzpatrick throw intended for Isaiah Ford and intercepted the pass. Buffalo then went on a 12-play, 98-yard drive to take a lead they would not give back. 
Then in the middle of the fourth quarter, White punched the ball out on a pass to Preston Williams. The fumble set up the Bills inside the red zone when they only led by a field goal. They scored a touchdown three plays later. 
Tre'Davious White has been the best player on one of the league's best defenses and if he wasn't appreciated enough yet, that should change now.