The 2020 NFL Draft starts on Thursday, April 23. As a lead up to the draft, we'll be giving a team-by-team breakdown for positional needs. For each team, we'll give an overview of each team's current depth chart and how big of a need each position in the upcoming draft. Find all teams and the rest of our draft content in our NFL Draft Hub.
Be sure to follow our new Twitter account @SharpFBAnalysis for additional content like this, plus in-season NFL analytics, betting insights, fantasy football analysis, and game picks & props.
Cleveland Browns 2020 Draft Picks Overview
Round 1 (10)
Round 2 (41)
Round 3 (74)
Round 3 (97)
Round 4 (115)
Round 6 (187)
Round 7 (244)
Cleveland Browns Offense
by Rich Hribar
2019 Cleveland Browns Offensive Ranks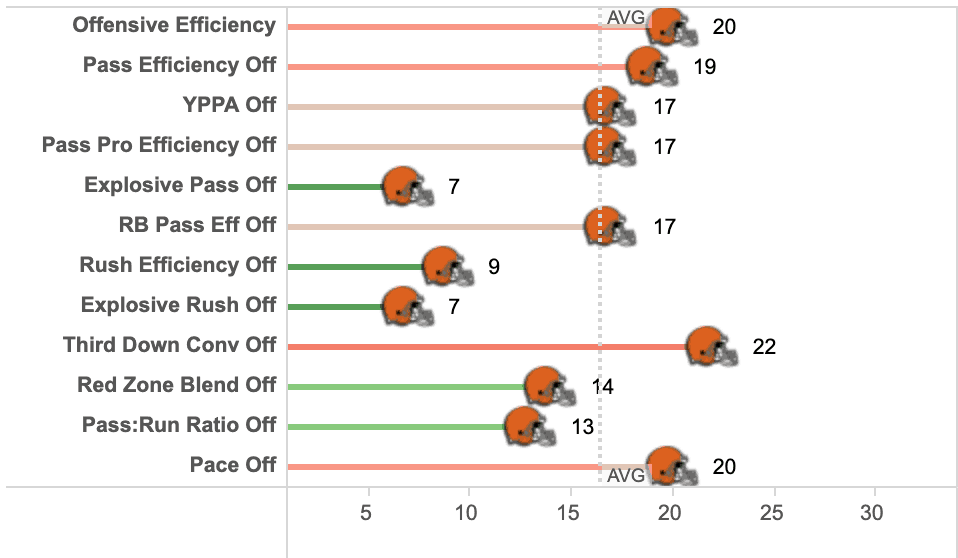 *denotes new addition
Quarterback
Baker Mayfield
Case Keenum*
Garrett Gilbert
Baker Mayfield took a step back last season with his completion rate (59.4%), touchdown rate (4.1%), and yards per pass attempt (7.2) all declining off his rookie rates while his interception rate went from 2.9% up to 3.9% in 2019.  Despite those decreases, he still enters his third season locked into the immediate future of the franchise. The team added veteran Case Keenum on a three-year contract behind Mayfield. 
Running back
Nick Chubb
Kareem Hunt
Dontrell Hilliard
D'Ernest Johnson
Johnny Stanton
In his second season and first full season as the lead back, Nick Chubb finished second in the NFL with 1,494 rushing yards in 2019 on his way to 1,772 yards from scrimmage. Kareem Hunt averaged 10.9 touches per game over his eight games eligible last season. Signing his restricted free agent tender this offseason, Hunt will be an unrestricted free agent after the season.
The Browns control the futures for their depth, with Dontrell Hillard a restricted free agent after this season and D'Ernest Johnson is under contract through 2021. Cleveland could throw a day three pick at the position with Hunt's deal expiring, but they have the comfort not to force anything at the position. 
Wide receiver
Odell Beckham
Jarvis Landry
Taywan Taylor*
KhaDarel Hodge*
Damion Ratley
J'Mon Moore*
D.J. Montgomery
JoJo Natson*
Both Jarvis Landry (1,174 yards) and Odell Beckham (1.035) reached 1,000 yards receiving last season, but those two did all of the lifting for the receiving corps. The pair combined to account for 85% of the receptions, 84% of the yards and 83% of the touchdowns posted by the Cleveland wide receiver position in 2019. Both Beckham (2023) and Landry (2022) are signed long term, though both carry low dead cap hits after this upcoming season. Landry is coming off postseason surgery on his left hip.
With Landry recovering from surgery and the lack of production their depth had a year ago, Cleveland added a gaggle of fringe options in Taylor, Moore, and Natson this offseason. Those signings shouldn't prevent them from adding another wideout in this class. 
Tight End
Austin Hooper*
David Njoku
Pharaoh Brown
Stephen Carlson
Cleveland signed Austin Hooper to a four-year contract immediately when free agency opened. While new Head Coach Kevin Stefanski used two tights on 47% of passing plays in Minnesota last season, Hooper's signing doesn't speak strongly for David Njoku remaining with the team beyond this season as he enters the final season of his rookie contract. Depth plays in Brown and Carlson are also in the final years of their contracts, with Brown a restricted free agent at the end of 2020.
Even with all of those contracts expiring after the season, the top of the position is set for the upcoming season and the Browns have the luxury to wait on addressing the future depth behind Hooper next season if they choose. 
Offensive Line
LT: Chris Hubbard
LG: Joel Bitonio/Malcolm Pridgeon/Colby Gossett
C: J.C. Tretter/Evan Brown
RG: Wyatt Teller/Drew Forbes/Willie Wright
RT: Jack Conklin*/Kendall Lamm
The Browns cleared out a few offensive line negatives form last season in Greg Robinson, Justin McCray, and Eric Kush while adding Jack Conklin on a three-year deal this offseason to lock in their right tackle. Paired with J.C. Tretter and Joel Bitonio (both signed through 2022) that gives the Browns three high-level starting options across their line.
What remains are two large holes at left tackle and right guard. Last season Chris Hubbard ranked 77-of-81 qualifying offensive tackles in Pro Football Focus grades, while as a part-time player Wyatt Teller graded out at 46-of-82 qualifying guards.
Cleveland Browns Defense
by Dan Pizzuta
2019 Cleveland Browns Defensive Ranks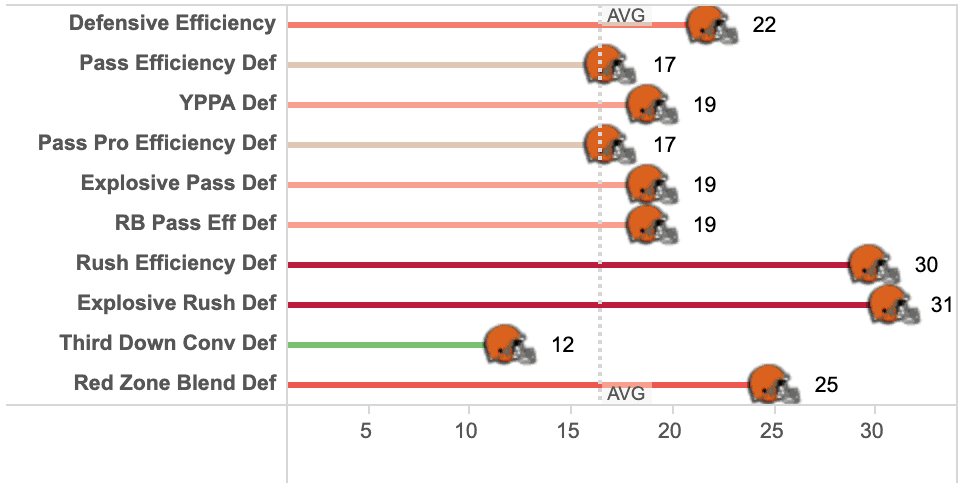 interior defensive line
Sheldon Richardson
Larry Ogunjobi
Andrew Billings*
Eli Ankou
Daniel Ekuale
Brandin Bryant
Sheldon Richardson was the prize of last offseason but didn't put up the pass rush production he had with the Vikings last season or near his peak with the Jets. Richardson was 24th among defensive tackles in pressure rate with at least 100 pass rush snaps last season and his quarterback hits dropped from 16 to six. But even with that, he was a plus run defender and even just good pass rush makes him an above-average interior defender.
The same can be said for Larry Ogunjobi and free agent signing Andrew Billings. Both have the ability to play the run well with the upside of pass rush disruption. Billings was a starter for the Bengals last season and will likely push Ogungobi for that spot with the Browns. That's a solid three-man rotation but a fourth could be added.
EDGE
Myles Garrett
Olivier Vernon
Adian Clayborn*
Chad Thomas
Porter Gustin
Last year Myles Garrett was one of the league's best edge rushers, fourth in Pass Rush Win Rate. Olivier Vernon remains a player who consistently puts up a high pressure rate without matching sack production and time missed due to injury. Adrian Clayborn gives the Browns a productive backup they didn't really have on the roster last season.
Despite Garrett's presence (and especially without him during his suspension) the Browns ranked just 18th as a team in Pass Rush Win Rate per ESPN and 12th in pressure rate per SIS. Cleveland could use another pass rusher and potentially an early one, especially given Vernon only has 2020 remaining on his contract.
Off-ball Linebacker
Mack Wilson
Sione Takitaki
BJ Goodson*
Willie Harvey
Trevon Young
Jermaine Grace
Tae Davis
Joe Schobert had a down year last season, but even with that his loss will be felt in this group. Mack Wilson stepped into a role as a fifth-round rookie but was often overmatched. B.J. Goodson struggled in the linebacker no-mans-land of Green Bay, but was an underrated player previously with the Giants. Sione Takitaki might have the most upside of this group but that's an incredibly low bar and he was on the field for just 10.4% of Cleveland's defensive snaps as a three-round rookie.
No team wants to reach for need, but hitting this position on Day 2 of the draft, especially targeting an off-ball linebacker who can cover might be a necessity.
Cornerback
Denzel Ward
Greedy Williams
Kevin Johnson*
Terrance Mitchell
Donnie Lewis Jr.
Robert Jackson
Donovan Olumba*
Tavierre Thomas
With Denzel Ward and Greedy Williams, the Browns have an impressive, young dup at outside corner. Ward was about average by Adjusted Yards allowed per coverage snap last season while Williams struggled a bit as a rookie. Still, there's plenty of potential for improvement in Year 2, something typically seen at the position.
Cleveland got an impressive add with Kevin Johnson, who worked well both outside and in the slot for the Bills last season (22nd of 145 corners with 100+ coverage snaps in AYa/CS. 
Safety
Karl Joesph*
Andrew Sendejo*
Sheldrick Redwine
JT Hassell
Montrel Meander
The Browns will have a completely new safety tandem this season. Karl Joseph has the ability to play a high-level single-high safety but has not yet managed to stay on the field for a full season. Andrew Sendejo mostly epitomizes the veteran journeyman defensive back. Sheldrick Redwine could find himself into more playing time after a promising rookie season and an athletic playmaker in the defensive backfield.
This is another position that could use some depth and maybe a starter by midseason.