The 2020 NFL regular season schedule has finally been released. We now know the Kansas City Chiefs will start their title defense at home on Thursday, September 10 against the Houston Texans in a rematch of the wild Divisional Round matchup from last season.
At least that's when the season is supposed to start. That is still up in the air and the NFL has a contingency plan in place involving the first four weeks of the season. Per the NFL, if the start of the season is delayed, early weeks could occur after Week 17 and the Super Bowl, currently scheduled for February 7, 2021 could be pushed back. Any week could potentially serve as the first week of the season.
As for those early games, every team will start will with two home games and two road games in the first four weeks. All Week 2 opponents also share the same bye. With those measures, the NFL has some wiggle room to chop off or reschedule games.
Now let's get to the 2020 schedule. While a lot of what will be talked about will focus on last season, remember that using last year's record is not the best way to predict a team's upcoming strength of schedule:
Tonight we'll hear a lot of strength of schedule talk.

They calculate it based on 2019 win rates.

Please know:

🗣️ 2019 wins will NOT help to predict actual 2020 strength of schedule

🗣️ a tough sked based on 2019 wins will NOT result in fewer 2020 winshttps://t.co/srlxIFu4D3

— Warren Sharp (@SharpFootball) May 7, 2020
Instead, for a better look at future projection, we can use 2020 Vegas win totals. That gives us a better indication of what teams could look like in 2020 than their 2019 wins would. Using that metric, we can see the Indianapolis Colts have the easiest projected schedule while the Atlanta Falcons have the hardest.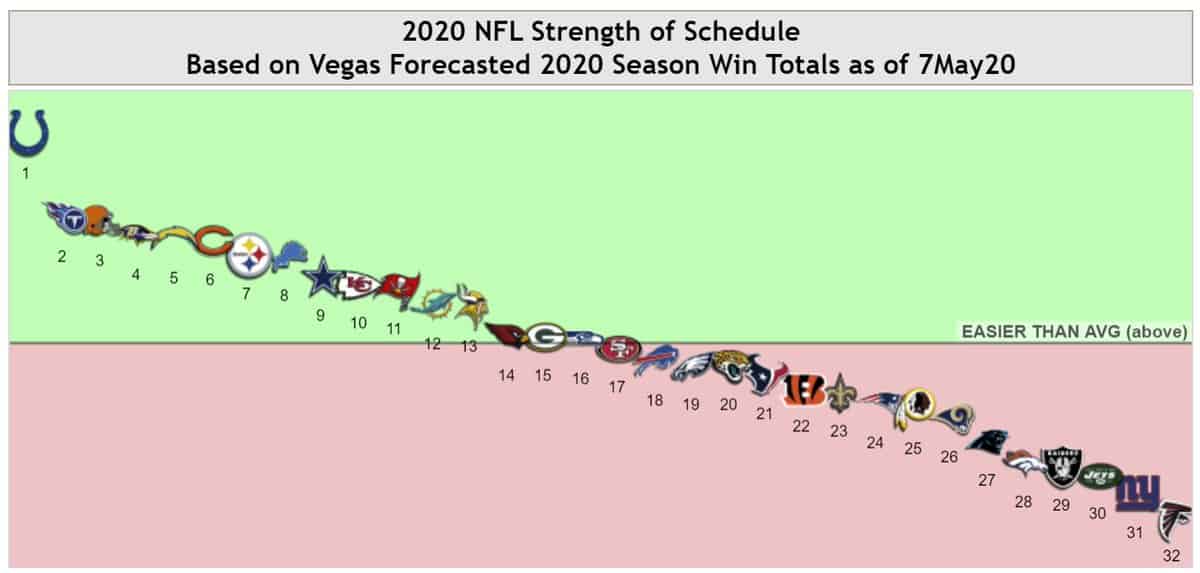 On the link below, you can play around with different factors on what teams will be facing this season from offensive and defensive efficiency to more specific stats such as explosive play rate and pace.
https://www.sharpfootballstats.com/2020-strength-of-schedule.html
We'll have more on strength of schedule on this site and on our Twitter account @SharpFBAnalysis.
As far as the full schedule, we have it here in a convenient chart listing all games and bye weeks with primetime games highlighted. Feel free to save this image and reference it throughout the season. There will be Saturday games late in the season, but those will be flexed at a later date. There is also one Friday afternoon game with the Minnesota Vikings and New Orleans Saints playing at 4:30 EST on Christmas Day.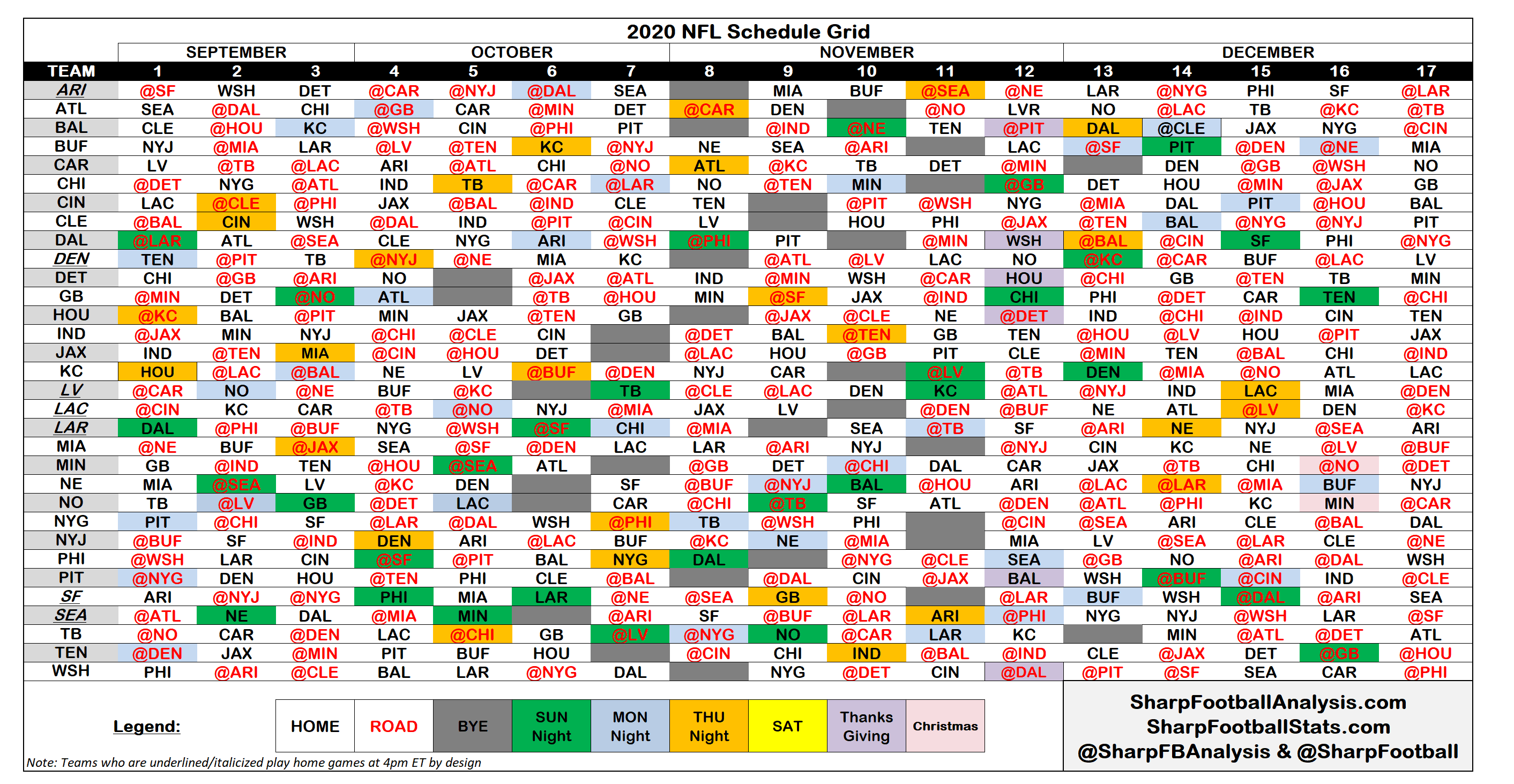 Schedule Notes
NFL Week 1 Season Opener: Thursday, Sept. 10: @HoustonTexans at @Chiefs

Patrick Mahomes selected No. 10 overall and Deshaun Watson No. 12 in the 2017 NFL draft.

🎇The three times these teams have played since then, they have combined to score 76, 55 and 82 points.

— Sharp Football Analysis (@SharpFBAnalysis) May 7, 2020
NFL Regular Season Week 1: @Browns at @Ravens

Baltimore has a 9-3 record in season openers under John Harbaugh, winning four in a row by a combined score of 139-20.

— Sharp Football Analysis (@SharpFBAnalysis) May 7, 2020
The @Chiefs divisional matchups in 2020:

WK2: @ LAC
WK5: LV
WK7: @ DEN
WK11: @ LV
WK13: @ DEN
WK17: LAC

Since hiring Andy Reid in 2013, Kansas City has the league's best record against Divisional opponents at 32-10, including a 27-3 record over the past five seasons.

— Sharp Football Analysis (@SharpFBAnalysis) May 8, 2020
Tom Brady is second in league history with 74,571 passing yards. In his first season with the @Buccaneers he has matchups with:

No. 1 Drew Brees (77,416) Wk 1 & Wk 9
No. 10 Matt Ryan (51,186) Wk15 & Wk17
No. 13 Aaron Rodgers (46, 946) Wk6
No. 18 Matt Stafford (43,040) Wk16

— Sharp Football Analysis (@SharpFBAnalysis) May 8, 2020