We've reached the halfway point of the 2022 NFL season and instead of going through midseason award winners, which would focus on a limited number of players since the favorite of most awards is fairly clear, let's expand the idea for a midseason All-Pro team.
These teams were picked with a mixture of stats and film. We're going with 11 personnel on offense and nickel on defense, so three receivers and three corners will be named with weight to a slot option in each. For the AP All-Pro voting, voters only vote for one player for each spot, but we'll name a full second team here.
Offense
Quarterback: Patrick Mahomes, Kansas City Chiefs

Second-team: Tua Tagovailoa. Miami Dolphins

There is really no getting around how good Patrick Mahomes has been this season. Without Tyreek Hill, Mahomes still ranks second in EPA per play among quarterbacks and the Kansas City offense is the best in the league by a wide margin. While the deep shots and overall explosive plays might not be there at the same rate, Mahomes has the third-highest rate of plays with EPA of 1 or more and he's completely taken out negative plays with the lowest rate of plays with -1 EPA or worse. 63% of Mahomes's completions have picked up a first down or touchdown, which is the highest rate in the league.
Running Back: Nick Chubb, Cleveland Browns
Second-team: Austin Ekeler, Los Angeles Chargers
Chubb has been the best runner in the league and one that has been able to combine volume with efficiency. He's second in rushing yards behind Derrick Henry but his rushes have been more valuable. Thanks in part to a league-leading 10 rushing touchdowns, Chubb has the most EPA on rushing attempts, per TruMeida. The gap between him and the No. 2 runner (Josh Jacobs) is bigger than the one between Jacobs and No. 8. Part of Chubb's production is aided by a good offensive line (we'll get there) as he has the fifth-highest average yards before contact among 22 running backs with at least 100 carries on the season. But he's also one of the league's hardest backs to take down with the fifth-highest broken + missed tackle rate among those backs, per Sports Info Solutions.
Wide Receivers: Tyreek Hill, Miami Dolphins | Stefon Diggs, Buffalo Bills | A.J. Brown, Philadelphia Eagles
Second team: Justin Jefferson, Minnesota Vikings | Cooper Kupp, Los Angeles Rams | Jaylen Waddle, Miami Dolphins
It doesn't take much to make the case for Hill here. He already has over 1,000 yards receiving yards while leading the league in yards per route run (3.82) and second in target share (32.3%). Hill has also been targeted on the highest rate of routes (34.6%) and that stays the same against both man and zone coverage. Hill is the centerpiece of the Miami passing game, which is one of the best in the league.
After Hill, there's a compelling case for the rest of the receivers in this group. Diggs is second in yards per route run (2.95) behind Hill and closes the gap on yards per route run on the outside (3.87 to 3.28). He has been the main constant in the Buffalo passing game while the secondary receiving options have not met expectations throughout the year. Diggs is only 18th in routes run as an isolated receiver, but ranks second in targets and receiving yards when lined up alone. 
Brown has been part of the complete transformation of the Eagles' passing offense this season. Brown is fifth in target share, third in yards per route run, and has the highest share of team air yards among receivers. He's won in all areas of the field. According to ESPN's advanced receiving metrics, Brown has the highest Open score for the 2022 season. He's also been able to create outside of that. Brown has averaged 8.0 yards after the catch per reception on intermediate throws between 11-19 air yards, nearly double the league average of 4.05.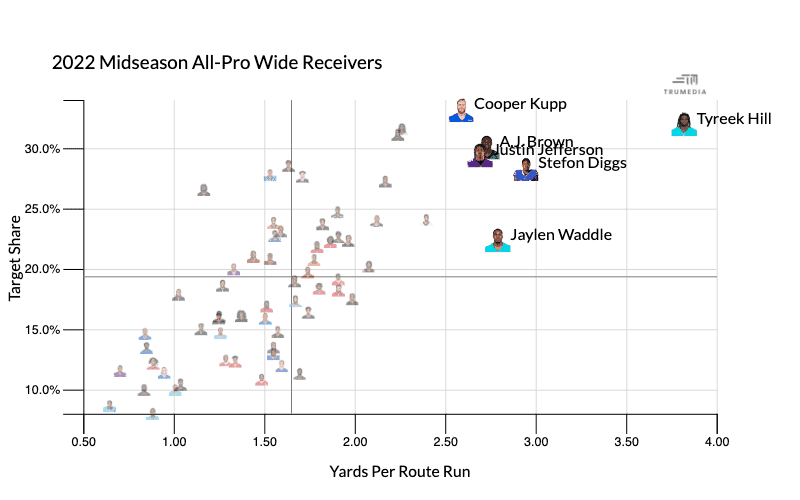 Tight End: Travis Kelce, Kansas City Chiefs
Second-team: Mark Andrews, Baltimore Ravens
Without Hill, Kelce has taken over as Kansas City's No. 1 receiver. Kelce leads all tight ends in targets, receptions, yards, and touchdowns. He has 10 receptions of 20 or more yards, which is two more than the next tight end (Dallas Goedert) and that is two more than the tight end in third. No tight end has lined up wide more often than Kelce (28.8%) and he's been tasked with running more routes again man coverage than any other tight end in the league.
Offensive Line

: LT Laremy Tunsil, Houston Texans | LG Joel Bitonio, Cleveland Browns | C Jason Kelce, Philadelphia Eagles | RG Kevin Zeitler, Baltimore Ravens | RT Tristan Wirfs, Tampa Bay Buccaneers
Second-team: LT Andrew Thomas, New York Giants | LG Joe Thuney, Kansas City Chiefs | C Creed Humphrey, Kansas City Chiefs | RG Wyatt Teller, Cleveland Browns | RT Lane Johnson, Philadelphia Eagles
Tunsil has been one of the few consistently good players on the Houston offense. He's second among left tackles in overall blown block rate, according to SIS, and he's seventh among all tackles in ESPN's pass block win rate. He's alone one of six left tackles without a blown block on a zone run. His run blocking has been more impressive given that Houston is one of the heavier gap run teams in the league.
Joel Bitonio is third among guards in pass block win rate and fifth among left guards in overall blown block rate.
So much of the Eagles' run game revolves around what Jason Kelce can do up the middle. His ability to move and reach the second levels at angles not available to other centers opens up so much, whether it's with running back or quarterback runs. Kelce is fifth in pass block win rate and second in run block win rate among centers.
Given the design of the Baltimore run game, no guards are asked to pull more often than those on the Ravens. Zeitler has been one of the best pulling guards over the past two seasons and he has a 0.7% blown block rate on 167 snaps when he pulls this season, per SIS. On top of that, Zeitler is seventh among guards in pass block win rate.
Tristan Wirfs has played the third-most snaps among right tackles. With that high volume of plays, he has the best blown blow rate at the position and is second among all tackles in pass block win rate. 
2022 Midseason All-Pro Team Offense
| Position | First-Team | Second-Team |
| --- | --- | --- |
| QB | Patrick Mahomes | Tua Tagovailoa |
| RB | Nick Chubb | Austin Ekeler |
| WR | Tyreek Hill | Justin Jefferson |
| WR | Stefon Diggs | Cooper Kupp |
| WR | A.J. Brown | Jaylen Waddle |
| TE | Travis Kelce | Mark Andrews |
| LT | Laremy Tunsil | Andrew Thomas |
| LG | Joel Bitonio | Joe Thuney |
| C | Jason Kelce | Creed Humphrey |
| RG | Kevin Zeitler | Wyatt Teller |
| RT | Tristan Wirfs | Lane Johnson |
Defense
EDGE: Micah Parsons, Dallas Cowboys | Myles Garrett, Cleveland Browns
Second-team: Nick Bosa, San Francisco 49ers | Za'Darius Smith, Minnesota Vikings
Few defensive players have been more impactful this season than Micah Parsons. Parsons now plays mostly on the edge and drops back to play off the ball occasionally, a switch from his role last season when he rushed the passer just over half of his pass snaps (53%). This year it's 83% and he's kept his pass rush production near the same rate. He's first in pass rush win rate, fifth in sacks, and eighth in quarterback hits. Only Myles Garrett is creating quick pressure at a higher rate…
Garrett leads all defenders in quarterback hits, pressures, and sacks within 2.5 seconds of the snap, per TruMedia. 5.5 of Garrett's sacks have come within 2.5 seconds of the snap. Only one other defender (Jeffery Simmons, 3.5) has more than two. Garrett hasn't gotten much help from the rest of his defensive line or the secondary. After Garrett's 11 overall quarterback hits, the next-highest Brown has three.
Interior Defensive Line: Quinnen Williams, New York Jets | Jeffery Simmons, Tennessee Titans
Second-team: Aaron Donald, Los Angeles Rams | Christian Wilkins, Miami Dolphins
The interior defensive line might be the deepest group here with not only the toughest decisions between the first and second team, but also between a number of players who could easily make the case for one of those four spots.
Quinnen Williams has been a monster this season. He's fourth among all defenders in quarterback hits (17), already a career-high, and tied for seventh in sacks. Among 53 players with at least 100 interior pass rush snaps, Williams has the highest pressure rate at 14.6%. Javon Hargrave of the Eagles is close behind at 14.5% but the next-highest defender is at 11.6%.
Simmons continues to turn into one of the league's best all-around interior defenders. He's fifth in pressure rate with 5.5 sacks. He has as many total pressures inside as Williams, but more pass rush snaps to bring the pressure rate down some. Simmons has also been a top run defender. He's fifth in run stop win rate and has six tackles for loss, the fifth-most among interior defenders.
Linebacker: Fred Warner, San Francisco 49ers | Bobby Wagner, Los Angeles Rams
Second-team: David Long, Tennessee Titans | Demario Davis, New Orleans Saints
No defense asks its linebackers to do more than San Francisco's and Warner takes the most responsibility there. Warner is fifth among linebackers in yards allowed per coverage snap and sixth in targets allowed per coverage snap, per SIS data. For most offenses, the short to intermediate middle of the field does not exist as a passing option because Warner is patrolling the area. He's also only been credited with one missed tackle on the season.
Bobby Wagner might be the only Rams offseason move that has worked out as planned and that might be selling Wagner's season short. He's been peak Bobby Wagner levels in coverage this season. He's first among linebackers in both yards and targets allowed per coverage snap. He has as many passes defensed as completions allowed (two).
Cornerback: Patrick Surtain, Denver Broncos | James Bradberry, Philadelphia Eagles | K'Wuan Williams, Denver Broncos
Second-team: Jamel Dean, Tampa Bay Buccaneers | Darius Slay, Philadelphia Eagles | Sauce Gardner, New York Jets
The Broncos are first in DVOA against opposing No. 1 receivers and Surtain is a huge reason why. Among outside corners, Surtain is fifth in adjusted yards allowed per coverage snap (which accounts for touchdowns and interceptions) and 15th in targets allowed per coverage snap among 62 corners with at least 100 snaps outside. Just 37.5% of targets against Surtain have been completed this season, which is the fifth-best rate among those corners.
Bradberry gets some help by being paired with Darius Slay, who also could have easily been on the first team. Both Eagles cornerbacks have gotten targeted at a high rate, mostly because Philadelphia opponents have to throw somewhere in the second half when trailing. But despite higher volume than typical top corners, Bradberry ranks third among outside corners in adjusted yards allowed per coverage snap and is third among all defenders in passes defensed. He's tied with Surtain for a 37.5% completion rate allowed.
Williams gets here as the league's best slot corner. He's been a big add for the middle of the Denver defense. He's fifth in adjusted yards allowed per coverage snap among slot corners and is easily the best among the few corners with at least 200 slot snaps.

Safety: Derwin James, Los Angeles Chargers | Talanoa Hufanga, San Francisco 49ers
Second-team: Malik Hooker, Dallas Cowboys | Antoine Winfield, Tampa Bay Buccaneers
The Chargers defense as a whole hasn't lived up to the hype but James certainly has this season. He's been everywhere. James has continued to line up all over the defense and he remains a player who can play deep but also line up and take on tight ends and even some receivers one-on-one at the line of scrimmage. His biggest impact this year might be the increased role he's had as a blitzer. When James is a pass rusher, the Chargers have a 52.6% pressure rate with five sacks on 19 plays, per TruMedia. James himself has three sacks and four quarterback hits.
Talanoa Hufanga is another safety all over the field and always in the right place at the right time. He has six passes defensed and five tackles for loss. Hufanga has turned into one of the most instinctual safeties in the league and that has routinely put him in positions to consistently make plays.
2022 Midseason All-Pro Team Defense
| Position | First-Team | Second-Team |
| --- | --- | --- |
| EDGE | Micah Parsons | Nick Bosa |
| EDGE | Myles Garrett | Za'Darius Smith |
| iDL | Quinnen Williams | Aaron Donald |
| iDL | Jeffery Simmons | Christian Wilkins |
| LB | Fred Warner | Demario Davis |
| LB | Bobby Wagner | David Long |
| CB | Patrick Surtain | Jamel Dean |
| CB | James Bradberry | Darius Slay |
| CB | K'Wuan Williams | Sauce Gardner |
| S | Derwin James | Malik Hooker |
| S | Talanoa Hufanga | Antoine Winfield |