This excerpt from Warren Sharp's '2022 Football Preview' book gets you prepared for the NFL season by delivering the smartest information & analysis in the fastest, most direct way possible.

Understanding 2021 Running Back Production for the Steelers
Last year, Steelers running backs on average were first contacted only 0.88 yards beyond the line of scrimmage. This ranked third-worst in the NFL.
Najee Harris personally averaged 0.93 yards before contact per rush.
Out of 43 running backs over the last two years with at least 200 rushes, Harris ranked 43rd. Dead last.
The Steelers' running backs also averaged only 3.7 YPC and a 33% success rate.
These ranked 29th and 28th in the NFL last year.
Getting back to 2021, only 18% of the Steelers' runs saw three or more yards before contact. This ranked 31st in the NFL. Pittsburgh gained first downs on 18.7% of run plays, which ranked 29th in the NFL.
Steelers: Light Boxes Faced in 2021
The Steelers faced 7+ man boxes at just a 52.9% rate. For context, the league average was 73.4%. Run-heavy teams like the 49ers and Titans ranked first and second at 88.2% and 83.9%, respectively.
The Steelers (30th in rate of 7+ man boxes) were down near teams like the Cardinals (31st), Chiefs (29th), Rams (28th), Seahawks (27th), Bucs (26th), and Bills (25th). Teams with veteran quarterbacks who pass at a pretty high rate. Defenses drop more defenders back against such teams. Teams would rather Patrick Mahomes, Josh Allen, Tom Brady, etc. hand the ball off.
Look where these teams ranked in yards before contact per rush:
KC: second in yds/before contact after 29th in 7+ man box %
SEA: third in yds/before contact after 27th in 7+ man box %
LAR: eighth in yds/before contact after 28th in 7+ man box %
ARI: 12th in yds/before contact after 31st in 7+ man box %
BUF: 10th in yds/before contact after 25th in 7+ man box %
TB: 16th in yds/before contact after 26th in 7+ man box %
Compare these to the Steelers:
PIT: 30th in yds/before contact after 30th in 7+ man box %
These two things don't go together. They're opposites. Teams that see loaded boxes often shouldn't get many yards before contact. Teams that see light boxes should see a lot of yards before contact.
Not the Steelers.
Steelers 2021 Pass Rate
For years with Randy Fichtner as offensive coordinator, the Steelers were one of the most pass-heavy offenses in the NFL. Their pass rate on early downs in the first three quarters, by year:
2018: first (65%)
2019: fifth (70%)* only 1.5 games -> Big Ben then injured
2020: sixth (61%)
When Matt Canada took over in 2021, I kept my ear to the ground and knew this team was going to return more to the run. As I wrote in my book last summer:
"The Steelers say they want to get back to the run in 2021. And when I say the 'Steelers,' I mean it. Owner Art Rooney, in March of this year, sent a stern message to the Steelers: 'We've got to be a lot better in running. We don't want to see the Pittsburgh Steelers being last in the league in rushing again ever. I think it's something our coaches are focused on and we'll be looking for ways to improve in the draft. It's something we've got to fix, and we are working on it.'
That message resonated when the new offensive coordinator made his first public comments in June at the start of mini-camp: 'Mr. Rooney sent out a very clear directive to Mr. [Kevin] Colbert, to coach [Mike] Tomlin and to me. We have to be able to run the ball. We have to run it.'"
And sure enough the Steelers were 14th in pass rate (55%) in 2021.
The Steelers dropped from a top-5 pass rate team under Fitchner to a team that passed the ball at a league-average rate on early downs in the first three quarters last year.
And that was with Roethlisberger. I expect with either Trubisky or pick No. 20 Kenny Pickett, the Steelers will be passing even less in 2022, and lean more into Rooney's comments.
Understanding 2021 Early Down Efficiency for the Steelers
Pittsburgh ranked 29th in EDSR last year after ranking 31st in 2020.
22.1% of the Steelers' plays were third downs last year after 22.6% were third downs in 2020.
Collectively, that ranks highest in the NFL. You don't want a lot of plays to be third downs as it means you were forced into them often. You want to bypass third downs.
The Steelers picked up first downs on early downs at just a 21.8% clip in 2021 after doing so at a 22.7% clip in 2020.
Collectively, that ranks lowest in the NFL. You want to convert first and second downs into first downs. If you don't, it means you were forced into third downs often.
By any of these three metrics (EDSR, third down play percentage, or first down percentage on early downs) the Steelers were the worst team in the NFL.
This means no team faces third downs like the Steelers. No one.
So it's not surprising that the Steelers, in the first half of games last year, ranked:
31st in points/drive
31st in touchdowns/drive
31st in scores/drive
31st in red zone trips/drive
As a result, they ranked second in most punts/drive.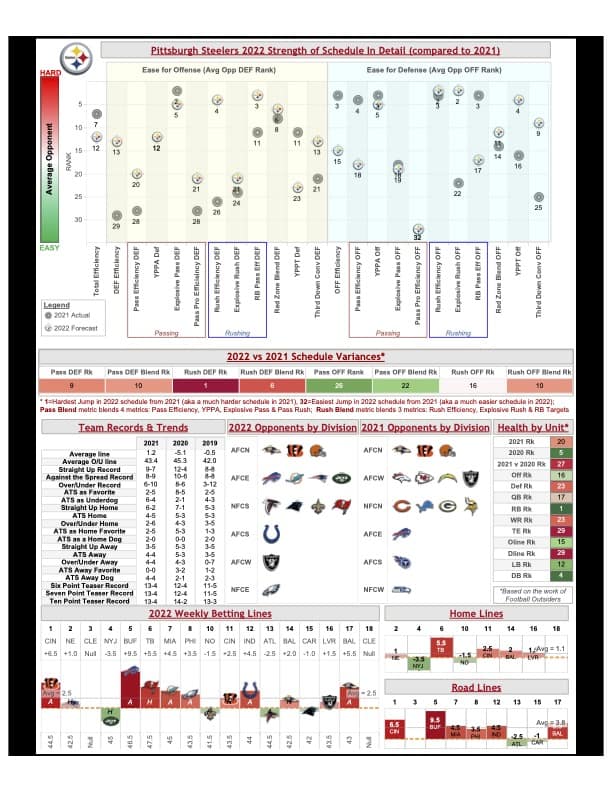 Steelers 2021 Schedule: How did it affect them?
Last year the run defenses Pittsburgh faced were easier than average. The Steelers still couldn't run the ball.
Not great.
Are Light Boxes Expected in 2022?
No.
If the Steelers are running more often (likely) and have a less experienced quarterback (guaranteed) defenses will not drop back to stop the pass nearly as much.  They will play the run much more often.  Which will lead to heavier boxes.  And the Steelers couldn't run the ball vs light boxes last year… so vs heavier boxes?
Is an easy schedule expected in 2022?
No.
This year I forecast the Steelers will play the NFL's third toughest schedule of run defenses.  And the Steelers couldn't run the ball vs an easier than average schedule last year… so vs a tougher schedule?
Is the offensive line expected to be better in 2022?
No.
And it has to do with players and coaching.  The players aren't measurably improved from last year.  Nor is the coaching.
Look at the Steelers' offensive line in run blocking grades per PFF:
2012: 28th
2013: 22nd
2014: 14th – hired Mike Munchak as O-line coach
2015: 11th
2016: Fourth
2017: Seventh
2018: 12th – last year for Mike Munchak in Pittsburgh
2019: 23rd
2020: 31st
2021: 26th
The peak of the Steelers offensive line success was during Munchak's tenure.  Since then?  It hasn't been pretty.  And the Steelers couldn't run the ball with their line and coaching last year… so if it hasn't made measurable improvements in either category?
The bottom line for the Steelers this upcoming season:
I don't believe in the Steelers' offensive line, which is the foundation for them being able to run the ball and protect an inexperienced quarterback. I believe the defenses faced by the Steelers this year will really throw cold water on the notion of a breakout from either quarterback or Harris. I believe the most expensive defense won't translate to the No. 1 overall defense because of the schedule of offenses they'll play this year. I believe while Tomlin has been great, he'll need to take some lumps with an inexperienced quarterback.
I don't envision a horrible season. But I don't envision a third straight trip to the playoffs, and I do believe the streak of 18 seasons without a losing record is broken in 2022.

For the complete Miami Dolphins chapter, including a dozen more visuals & info-graphics, defensive breakdown, and detailed Fantasy football implication — plus the other 31 team chapters — pick up a copy of Warren Sharp's '2022 Football Preview'