As a feature in the 2023 Sharp Football Preview Book, the Sharp Football Analysis team ranked positional units across the league for the 2023 season.
The ranking guidelines were up to the specific voter with the only requirement that the focus is on the upcoming season only, not the future outlook.
With a combination of numbers, film, and projections, the rankings were averaged for quarterbacks, running backs, wide receivers/tight ends, offensive line, defensive front seven, defensive secondary, and head coach.
Next up: 2023 NFL offensive line rankings.
Quarterbacks | Wide Receivers/Tight Ends | Running Backs | Offensive Line | Front 7 | Secondary | Head Coach
These insights are an excerpt from Warren Sharp's 500+ page book "2023 Football Preview" which is now available for download.
2023 NFL Offensive Line Rankings
| Rank | Team | Score |
| --- | --- | --- |
| 1 | Eagles | 97 |
| 2 | Lions | 95 |
| 3 | Ravens | 90 |
| 4 | Chiefs | 89 |
| 5 | Browns | 88 |
| 6 | Packers | 81 |
| 7 | Broncos | 75 |
| 8 | Cowboys | 74 |
| 9 | Falcons | 73 |
| 10 | Vikings | 73 |
| 11 | Panthers | 65 |
| 12 | Chargers | 58 |
| 13 | Bengals | 54 |
| 14 | Steelers | 54 |
| 15 | Raiders | 48 |
| 16 | Bears | 47 |
| 17 | 49ers | 47 |
| 18 | Colts | 45 |
| 19 | Texans | 44 |
| 20 | Saints | 43 |
| 21 | Bills | 39 |
| 22 | Patriots | 38 |
| 23 | Dolphins | 33 |
| 24 | Jets | 32 |
| 25 | Seahawks | 29 |
| 26 | Cardinals | 29 |
| 27 | Giants | 23 |
| 28 | Jaguars | 14 |
| 29 | Buccaneers | 11 |
| 30 | Commanders | 6 |
| 31 | Rams | 3 |
| 32 | Titans | 2 |
Score based on average ranks of positional unit (on a 100 point scale) for all 32 teams, from Sharp Football staff voters. If all voters had a team at #1, that score would be 100. Ties are broken by the highest vote on any ballot.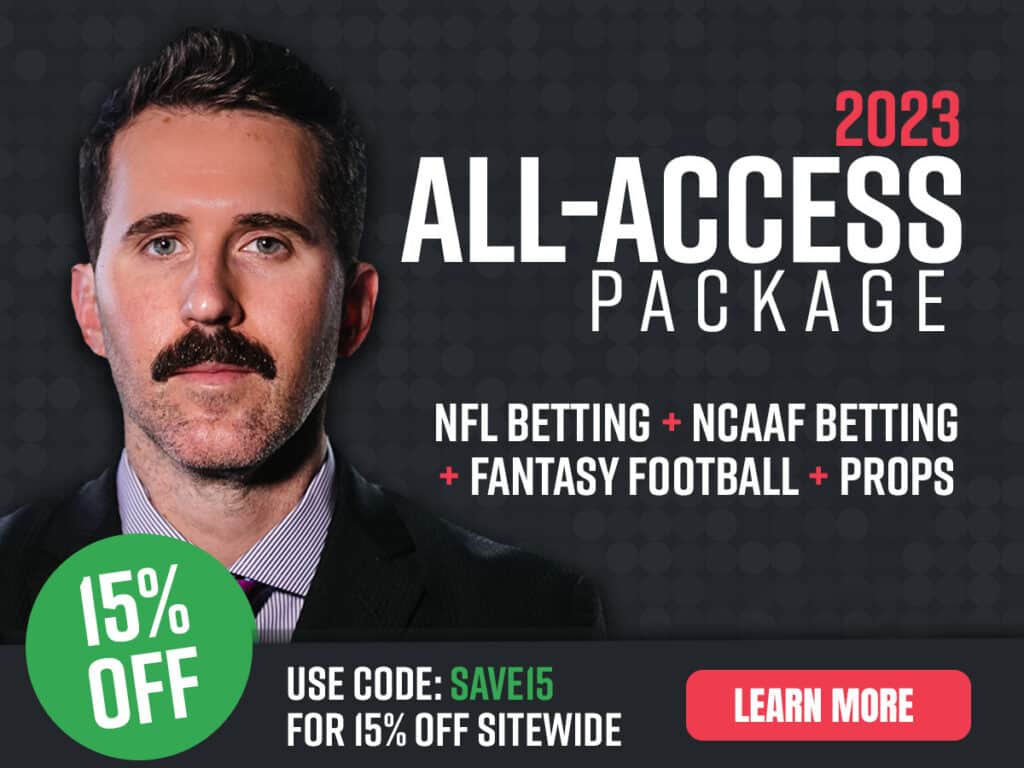 What team has the best offensive line in the NFL?
32. Tennessee Titans
In 2022, Titans left tackles allowed pressure at a league-worst 9.4% rate, more than two percentage points worse than any other team. Andre Dillard and rookie Peter Skoronski will compete for that job, but we're unlikely to see a significant upgrade for the unit.
31. Los Angeles Rams
The Rams' failure to upgrade at left tackle was one of the shocking non-moves of the offseason. Joe Notebloom allowed a 10% pressure rate last year, ranking 34th out of 35 qualified left tackles. On the other side, Rob Havenstein ranked 28th out of 36 right tackles and also returns. Good luck keeping Stafford healthy.
30. Washington Commanders
Washington's lack of skill position talent is only going to look worse behind a shaky offensive line. The unit allowed pressure in 2.5 seconds or fewer on 24.6% of snaps last year, ranked 25th. Last year, six of our eight worst offensive line units missed the playoffs.
29. Tampa Bay Buccaneers
The Bucs' offensive line dropped 24 spots in our rankings from a season ago and appeared in the bottom five on every ballot. Brady's uncanny ability to get the ball out quickly likely covered up a lot of warts for this unit, and even Brady couldn't entirely mask its decline. On a positive note, Tristan Wirfs, Luke Goedeke, and second-round pick Cody Mauch give the coaching staff three young building blocks to work around.
28. Jacksonville Jaguars
If a single unit holds back the Jaguars from taking another step forward, it will be the offensive line. Jacksonville lost right tackle Jawaan Taylor in free agency and made little effort to upgrade the line in the short term. First-round pick Anton Harrison may compete for that job, but he's probably not ready for a starting role and is more likely to be groomed as Cam Robinson's eventual replacement at left tackle.
27. New York Giants
New York's offensive line allowed pressure in 2.5 seconds or fewer at the league's fifth-highest rate last season. Rookie John Michael Schmitz is expected to win the starting job at center, but the rest of the unit returns intact. Evan Neal needs to make substantial strides in his second year for this group to exceed expectations.
26. Arizona Cardinals
D.J. Humphries remains a top-tier left tackle, and the addition of rookie Paris Johnson Jr. gives Arizona hope the offensive line could exceed expectations. Among 32 qualified left tackles, Humphries ranked eighth in pressure rate allowed.
25. Seattle Seahawks
Starting rookies (Charles Cross and Abraham Lucas) at both tackle positions was a big risk last year, but the unit held up fairly well. If Cross and Lucas can make significant strides in their second year, this group could exceed expectations. Cross was the weak link on the unit last year, ranking 30th out of 32 left tackles in pressure rate allowed.
24. New York Jets
The offensive line is the Jets' lowest-ranked unit, checking in at number 24. Given Rodgers advancing age, it's potentially a unit that could hold back an otherwise talented roster. Jets left tackles allowed pressure on 7.0% of dropbacks last year, which ranked 29th. Despite the issues, few changes were made and they're banking on 38-year-old Duane Brown bouncing back from a tough year.
23. Miami Dolphins
The Dolphins' offensive line appears to be the weak link, and it's Miami's only unit ranked in the bottom half of the league. The health of Terron Armstead will be critical to the unit. Armstead ranked fourth among left tackles with a 3.4% pressure rate allowed. When Armstead was out (he missed four games), Miami left tackles allowed an unimaginably pathetic 13.7% pressure rate.
22. New England Patriots
The Patriots' offensive line returns four of five starters from a season ago, adding Riley Reiff at right tackle. The line held its own in pass protection but struggled mightily against the run. Patriots ball carriers picked up at least three yards before contact on just 20% of carries, which ranked 29th.
21. Buffalo Bills
A year ago we were optimistic about Buffalo's offensive line, ranking the unit eighth overall, but their placement has fallen to 21st this year. Spencer Brown must improve his production for this unit to surpass expectations. Brown ranked 27th out of 32 right tackles in pressure rate allowed in 2022.
20. New Orleans Saints
Despite losing Terron Armstead, the Saints' offensive line fared relatively well last year, allowing pressure in 2.5 seconds or fewer at the league's sixth lowest rate. 2022 first-round pick Trevor Penning is expected to take over at left tackle this season, adding some uncertainty but also setting a higher ceiling for the unit.
19. Houston Texans
Houston's top-ranked unit is the offensive line, which received votes ranging from 16th to 20th. The biggest question mark on the unit is right tackle Tytus Howard, who failed to live up to expectations as a former first-round pick. Howard ranked 23rd out of 32 right tackles in pressure rate allowed a season ago.
18. Indianapolis Colts
Indy's offensive line entered last year ranked 10th but severely underperformed. Bernhard Raimann ranked 28th among left tackles in pressure rate allowed and must elevate his performance, especially once Richardson takes over at quarterback.
17. San Francisco 49ers
The offensive line is potentially an area of weakness for San Francisco, as the loss of Mike McGlinchey played a role in the unit dropping seven spots in our rankings. Colton McKivitz is expected to step into the right tackle role. Over the last two seasons, playoffs included, McKivitz has allowed a 7.5% pressure rate when lined up at left or right tackle. That rate would have ranked 62nd out of 67 qualified tackles last season.
16. Chicago Bears
The biggest jump for Chicago's units is the offensive line, which ranked dead last a year ago. They were second in pass block win rate in 2022 and added Darnell Wright with the 10th overall pick of April's draft. Former second-round pick Teven Jenkins was successful in his transition to guard, allowing just two sacks and 12 total pressures in 13 games.
15. Las Vegas Raiders
Kolton Miller has developed into a reliable left tackle, however, serious questions remain on the interior offensive line. Alex Bars and Dylan Parham ranked 63rd and 66th, respectively, out of 67 qualified guards in pressure rate allowed.
14. Pittsburgh Steelers
The offensive line was the unit with biggest jump for Pittsburgh, going from 30th all the way up to 14th this year. The addition of Broderick Jones in the first round of the draft gives them a plug-and-play left tackle, and Isaac Seumalo comes over from Philadelphia to solidify that side of the line. Last year, the Steelers were seventh in pass block win rate.
13. Cincinnati Bengals
The big move of the Bengals' offseason was adding Orlando Brown Jr. through free agency to start at left tackle. The former Chief allowed 10 sacks in two years with Kansas City. Former starter Jonah Williams allowed 13 in that spot for the Bengals last year alone.
---
Don't miss out on the biggest value we have! Leveraging Warren Sharp's 17-year track record of winning NFL recommendations, our all-access package includes NFL betting, College Football betting, Player Props, and our in-season Fantasy Football products. You can save 33% right now! This package also includes Warren's NFL computer totals, which have gone 60-20 (75%) over the last two years and is 62.3% lifetime. Weekly and monthly packages are also available! Click here to learn more!
---
12. Los Angeles Chargers
Rashawn Slater returns from a torn biceps which ended his season after just three games and derailed the Chargers' offensive line. The Chargers ranked 30th in pressure rate allowed in 2.5 seconds or fewer last season (26.7%). However, through Week 3, that rate sat at 27.1%, so it's unclear how much Slater can mask deficiencies elsewhere along the line.
11. Carolina Panthers
Votes for the Panthers' offensive line ranged from sixth to 17th. If Ickey Ekwonu takes the next step, perhaps the unit could reach the high end of that spectrum. As a rookie, Ekwonu allowed a 4.9% pressure rate 一 among 15 qualified rookie left tackles over the last three seasons, only Jedrick Wills and Rashawn Slater were better.
10. Minnesota Vikings
The Vikings return all five starters from 2022 to their offensive line. Their 17-spot jump is the largest year-over-year movement on the team. Right tackle Brian O'Neill was third among all tackles in pass block win rate, but Cousins was pressured on 36 percent of his dropbacks, fourth-most in the NFL.
9. Atlanta Falcons
It's hard to separate the talent from the scheme, but regardless of how you divvy up the credit, the Falcons' offensive line is among the most improved in the league since Arthur Smith came to town. Falcons running backs gained three or more yards before contact at the league's third-highest rate last season.
8. Dallas Cowboys
The Cowboys' offensive line cracked the top 10, but Tyron Smith must stay healthy for the unit to improve upon last year's performance. In 2022, Dallas allowed pressure in 2.5 seconds or fewer on 23% of dropbacks last year, which ranked 20th.
7. Denver Broncos
Denver's offensive line allowed pressure in 2.5 seconds or fewer at the league's seventh-highest rate last season. Fortunately, they attempted to address that issue with the additions of Mike McGlinchey and Ben Powers. A fully healthy Garett Bolles at left tackle 一 he played just five games last year 一 will help improve the unit as well.
6. Green Bay Packers
There's optimism regarding the Packers' offensive line with David Bakhtiari healthy for the first time since 2020. He played 11 games at left tackle, allowing zero sacks or quarterback hits. The Packers will return all five starters from last year's unit that ranked fifth in pass block win rate.
5. Cleveland Browns
After two straight years as our top offensive line, Cleveland tumbled to fifth this year. Despite the injuries to the right side of their line, the Browns finished third in pass block win rate and return all five starters from last year.
4. Kansas City Chiefs
Offensive line coach Andy Heck probably influenced our voting here because he's proven capable of quickly getting a rebuilt unit to gel. Donovan Smith and Jawaan Taylor will be taking over at the tackle positions, but we clearly don't expect a dropoff in production.
3. Baltimore Ravens
The Ravens finished sixth in pass block win rate and first in run block win rate a year ago and jumped from sixth to third in our rankings. They were wildly healthy at four of the five spots, getting over 1,000 snaps played by their starter everywhere but left tackle. Ronnie Stanley has been great when healthy but hasn't played a full season since 2019.
2. Detroit Lions
For the second-straight year, the Lions' offensive line is their highest-rated group. Halapoulivaati Vaitai will return after missing all of 2022 with a back injury. Taylor Decker and Penei Sewell were incredibly durable at both tackle spots and allowed just four and two sacks, respectively. Both ranked top five among all tackles with 1,000 snaps played.
1. Philadelphia Eagles
The Eagles boast our top-ranked offensive line, with votes ranging from first to fourth. The unit's run-game production was impressive. They generated three or more yards before contact for running backs at the league's eighth-highest rate. One concern, however, is their tendency for blown assignments in pass protection. Philly allowed pressure in 2.5 seconds or fewer at the league's second-highest rate.

Ranking each NFL Unit for 2023:
Quarterbacks | Wide Receivers/Tight Ends | Running Backs | Offensive Line | Front 7 | Secondary | Head Coach
For all of the team-by-team unit rankings and full team chapters, including a dozen more visuals & info-graphics, defensive breakdown, and detailed Fantasy football implications — plus all 32 team chapters — pick up a copy of Warren Sharp's new '2023 Football Preview' book