As a feature in the 2023 Sharp Football Preview Book, the Sharp Football Analysis team ranked positional units across the league for the 2023 season.
The ranking guidelines were up to the specific voter with the only requirement that the focus is on the upcoming season only, not the future outlook.
With a combination of numbers, film, and projections, the rankings were averaged for quarterbacks, running backs, wide receivers/tight ends, offensive line, defensive front seven, defensive secondary, and head coach.
Next up: 2023 NFL secondary rankings.
Quarterbacks | Wide Receivers/Tight Ends | Running Backs | Offensive Line | Front 7 | Secondary | Head Coach
These insights are an excerpt from Warren Sharp's 500+ page book "2023 Football Preview" which is now available for download.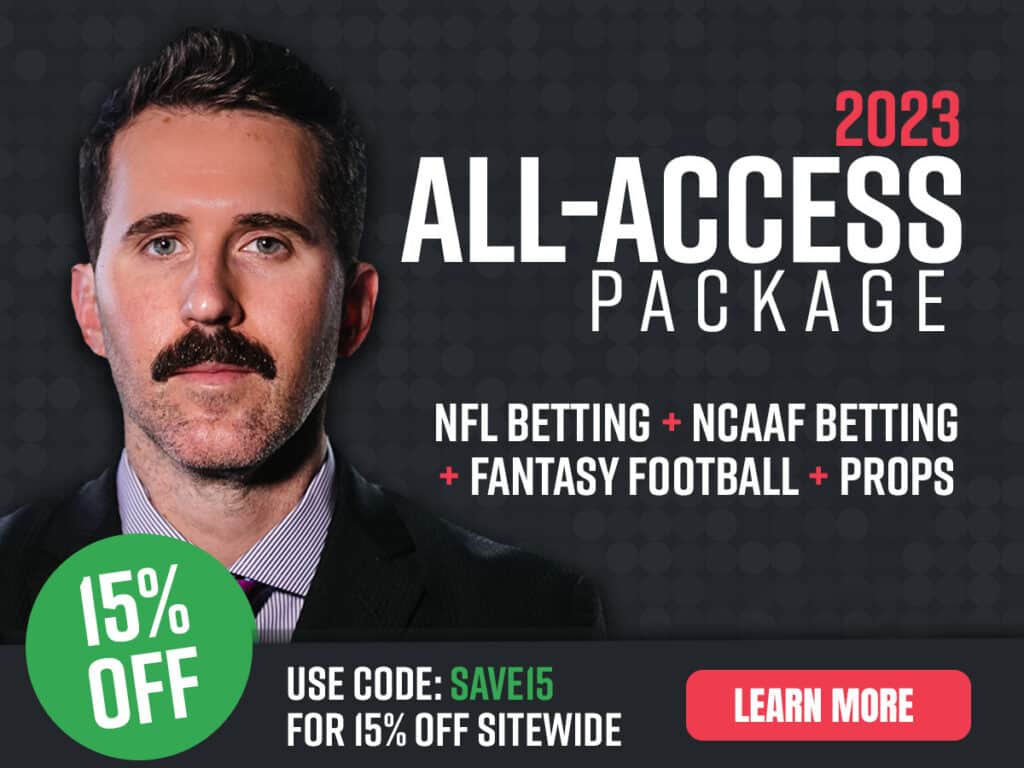 2023 NFL Secondary Rankings:
| Rank | Team |
| --- | --- |
| 1 | New York Jets |
| 2 | Dallas Cowboys |
| 3 | Buffalo Bills |
| 4 | Denver Broncos |
| 5 | New Orleans Saints |
| 6 | Philadelphia Eagles |
| 7 | Seattle Seahawks |
| 8 | Carolina Panthers |
| 9 | Baltimore Ravens |
| 10 | Los Angeles Chargers |
| 11 | Miami Dolphins |
| 12 | New England Patriots |
| 13 | San Francisco 49ers |
| 14 | Washington Commanders |
| 15 | Kansas City Chiefs |
| 16 | Tampa Bay Buccaneers |
| 17 | Cleveland Browns |
| 18 | Pittsburgh Steelers |
| 19 | Green Bay Packers |
| 20 | Cincinnati Bengals |
| 21 | Houston Texans |
| 22 | Tennessee Titans |
| 23 | Chicago Bears |
| 24 | Detroit Lions |
| 25 | Jacksonville Jaguars |
| 26 | Atlanta Falcons |
| 27 | New York Giants |
| 28 | Minnesota Vikings |
| 29 | Arizona Cardinals |
| 30 | Las Vegas Raiders |
| 31 | Indianapolis Colts |
| 32 | Los Angeles Rams |
Score based on average ranks of positional unit (on a 100 point scale) for all 32 teams, from Sharp Football staff voters. If all voters had a team at #1, that score would be 100. Ties are broken by the highest vote on any ballot. 
What team has the best secondary in the NFL?
32. Los Angeles Rams
The Rams' secondary lost Jalen Ramsey, Taylor Rapp, Nick Scott, and Troy Hill, who combined to play over 2,200 snaps in coverage last year. The unit is in full rebuilding mode.
31. Indianapolis Colts
The Colts' secondary is in such dire straits that rookie cornerback Julius Brents appears to be in line for a starting job. Based on route-adjusted data, Brents allowed a catch rate 8.2% above expected over his two seasons as a starter at Kansas State. Though his traits are exciting, he does not appear ready for a starting role in the NFL.
30. Las Vegas Raiders
The Raiders' secondary landed in the bottom four on every ballot. Las Vegas particularly struggled to defend the deep ball last year, allowing a 43% completion rate on throws 20 or more yards downfield, which ranked 26th. The team added cornerbacks Brandon Facyson, Duke Shelley, and David Long to shake up the unit, but those don't appear to be the substantial changes that were needed.
29. Arizona Cardinals
The Cardinals' secondary was surprisingly effective last year in large part due to safeties Budda Baker and Jalen Thompson, both of whom return. Arizona allowed just 11 completions at 20 or more yards downfield, the fewest in the league, with a 22.4% completion rate at that distance. If third-round pick Garrett Williams contributes immediately, perhaps this unit exceeds expectations.
28. Minnesota Vikings
Patrick Peterson left via free agency, and the Vikings added Byron Murphy from Arizona. This unit could hinge on the development of Andrew Booth, last year's second-round pick who played just six games in his rookie season before undergoing knee surgery. Minnesota also added cornerback Mekhi Blackmon in the third round of this year's draft.
27. New York Giants
The Giants' pass defense ranked near the middle of the pack in most categories last year, but the unit struggled when the front seven failed to get pressure. Without pressure, the Giants ranked 25th in EPA per pass attempt allowed. Few changes were made, though the addition of first-round pick Deonte Banks could potentially provide an upgrade.
26. Atlanta Falcons
Atlanta's secondary was developing nicely until A.J. Terrell took a surprising step backward in 2022. Terrell allowed a completion rate of 33% when targeted at least 10 yards downfield last year compared to 15.4% the previous season. Terrell and reclamation project Jeff Okudah give the unit a high ceiling, but their most recent performances are not promising.
25. Jacksonville Jaguars
The Jaguars surprisingly did little to address the secondary this offseason, and will need to count on another step forward from third-year cornerback Tyson Campbell. When the front seven failed to generate pressure, Jacksonville allowed 20 or more yards on 9.7% of pass attempts, the NFL's sixth-highest rate.
24. Detroit Lions
The secondary remains a concern for the Lions, but they did overhaul the position in the offseason. Emmanuel Moseley and Cameron Sutton were both added in free agency to start at cornerback. C.J. Gardner-Johnson signed a one-year deal after having a breakout season with the Eagles — it looks like his early training camp injury is minor — and safety Brian Branch was drafted in the second round.
23. Chicago Bears
Chicago's defensive backfield jumps seven spots this year with hopes of Kyler Gordon and Jaquan Brisker taking a step forward following solid rookie campaigns. The Bears added another cornerback in the second round this year in Tyrique Stevenson.
22. Tennessee Titans
Former first-round pick Caleb Farley is teetering on bust status, and Kristian Fulton's once-promising development took a step backward last year. There's enough young talent in the secondary to provide optimism, but they must start to show some consistency.
21. Houston Texans
There are high expectations for Houston's secondary based on 2022 draft picks Derek Stingley Jr. and Jalen Pitre. However, the unit struggled as a whole in 2022, and the only significant addition was safety Jimmie Ward. Houston allowed 20 or more yards on 10% of pass attempts last year, which ranked 26th.
20. Cincinnati Bengals
Starting safeties Vonn Bell and Jessie Bates both left via free agency. As a result, the Bengals finished 20th in our rankings after being a top-10 unit in 2022. They drafted cornerback DJ Turner II and safety Jordan Battle on the second day of the draft.
19. Green Bay Packers
Green Bay was a unanimous choice for the top secondary heading into last season, but they fell all the way to 19th after ranking in the bottom third of the NFL in net yards per pass attempt. While Rudy Ford, Jaire Alexander, and Rasul Douglas combined for 12 interceptions, Eric Stokes took a huge step backward after a stellar rookie campaign, allowing receptions on 81 percent of his targets.
18. Pittsburgh Steelers
The biggest drop for the Steelers was their secondary, as it ranked fourth a season ago. They did add Patrick Peterson and drafted Joey Porter Jr. in the second round. Both guys could be Week 1 starters.
17. Cleveland Browns
The biggest dropoff for the Browns came in their secondary, which finished ranked 17th after being a top-three unit for us in 2022. They will return Denzel Ward and Greg Newsome II at cornerback, but Grant Delpit will need a new running mate at safety with John Johnson still a free agent.
16. Tampa Bay Buccaneers
Carlton Davis, Jamel Dean, and Antoine Winfield Jr. anchor a solid secondary, but a lack of depth could hold the unit back. That trio combined to miss eight games last year, and the team also needs to replace Sean Murphy-Bunting. They will likely do so with Dee Delaney, who was inconsistent in a reserve role last season.
15. Kansas City Chiefs
Kansas City's secondary relied heavily on the front seven's ability to generate pressure. When the defense got pressure, the Chiefs allowed 20 or more yards on an NFL-best 1.1% of pass attempts, but they ranked 26th at 9.7% without pressure. They were relying heavily on rookie cornerbacks Trent McDuffie and Jaylen Watson last year, so perhaps the unit can exceed expectations if both continue to develop.
14. Washington Commanders
Votes for the Commanders' secondary ranged from ninth to 18th, which is likely explained by the uncertainty with two rookies (Quan Martin and Emmanuel Forbes) expected to play significant roles. The unit is anchored by Kamren Curl, who has developed into one of the game's top strong safeties.
13. San Francisco 49ers
San Francisco's secondary made strides last year and jumped nine spots in our rankings. In 2021, the 49ers ranked 23rd in the rate of allowing 20 or more yards through the air but improved to 11th in 2022. The unit returns mostly intact from a season ago, though third-round pick Ji'Ayir Brown is a ball hawk at safety who could force his way onto the field.
12. New England Patriots
The secondary is New England's highest-ranked unit among the player-based grades. Due to the degree to which they will rely on rookie Christian Gonzalez, however, it's a volatile unit. No one was scared of the Patriots' secondary in 2022 as opponents threw the ball 10 or more yards downfield 12.8 times per game, the league's second-highest rate.
11. Miami Dolphins
This unit ranked second before Jalen Ramsey suffered a meniscus injury that could sideline him into December. The Ramsey injury is a bigger concern after Xavien Howard took a step backward last year. Howard ranked 67th out of 82 qualified outside cornerbacks in EPA allowed per coverage snap. This secondary still has talent and should have Ramsey back for the playoff push, but there are suddenly much bigger questions in this unit.
10. Los Angeles Chargers
Led by Derwin James, there's plenty of talent in the Chargers' secondary. For the unit to elevate its play, Asante Samuel Jr. needs to take the next step in his third year. When targeted at least 10 yards downfield, Samuel allowed 18 receptions on 25 catchable targets (72%), which ranked 42nd out of 51 qualified cornerbacks.
9. Baltimore Ravens
Baltimore's secondary fell this year after being a top-five unit in 2022. Rock Ya-Sin was added to start opposite Marlon Humphrey with Marcus Peters leaving via free agency. Second-year safety Kyle Hamilton spent most of 2022 in the slot but might have to play a more traditional role opposite Marcus Williams after Chuck Clark was traded to the Jets.
8. Carolina Panthers
Carolina's secondary is its top-ranked unit. The addition of Vonn Bell will help, but the key to this unit reaching its ceiling is the health of Jaycee Horn, who has missed 18 of his first 34 career games. In over 400 snaps in coverage last year, Horn allowed just eight receptions at 10 or more yards downfield.
7. Seattle Seahawks
Seattle's most improved unit is the secondary, which jumped 18 spots in our rankings from last year. The emergence of Tariq Woolen was the primary factor in that change, though the addition of rookie Devon Witherspoon adds to the unit's potentially high ceiling this year.
6. Philadelphia Eagles
The secondary received votes ranging from fourth to 16th. Last year the unit fared well but relied on the pass rush for help. Philly ranked third in EPA per pass attempt allowed when the front seven generated pressure but 15th without pressure. Rookies Sydney Brown and Kelee Ringo could help elevate the unit if they can contribute immediately.
5. New Orleans Saints
The secondary is the Saints' only unit ranked in the top 10. Opponents gained 20 or more yards on just 6.3% of pass attempts against New Orleans last year, the lowest rate in the league. The entire starting secondary returns, so expectations should be high again.
4. Denver Broncos
Denver's top-rated unit is the secondary, anchored by Patrick Surtain II. The secondary held up even when the front seven failed to generate pressure, ranking fourth in yards per attempt allowed on non-pressured pass attempts.
3. Buffalo Bills
A strong case could be made for Buffalo owning the most talented secondary when healthy, but Tre'Davious White, Jordan Poyer, and Micah Hyde combined to miss 31 games last year. In 2021, the last time all three were on the field together, opposing quarterbacks completed 43% of their passes with one touchdown and eight interceptions.
2. Dallas Cowboys
The Cowboys' secondary received votes ranging from first to sixth. It's clearly a talented unit, but it needs to be less volatile to match those lofty expectations. Last year, Dallas ranked 19th in the rate of allowing 20 or more yards through the air. The addition of Stephon Gilmore could potentially be the stabilizing force the unit needed.
1. New York Jets
Anchored by superstar rookie Sauce Gardner, the Jets secondary emerged as one of the league's top units last year, and they've taken over the number-one spot in our rankings. When the front seven failed to generate pressure, the Jets secondary still only allowed 6.4 yards per attempt, the league's best rate.

Ranking each NFL Unit for 2023:
Quarterbacks | Wide Receivers/Tight Ends | Running Backs | Offensive Line | Front 7 | Secondary | Head Coach
For all of the team-by-team unit rankings and full team chapters, including a dozen more visuals & info-graphics, defensive breakdown, and detailed Fantasy football implications — plus all 32 team chapters — pick up a copy of Warren Sharp's new '2023 Football Preview' book