The NFL is at a tipping point of wide receiver value. We're not at a point where we're debating if wide receivers "matter" but with the cost of top-tier receiver contracts skyrocketing, better wide receivers coming into the league ready to play as rookies, and more receivers on the field in general, we've seen a line drawn between teams willing to pay a premium at the position and those that aren't.
This offseason, we've seen a flurry of wide receivers moved amid broken-down contract extension discussions. Davante Adams was traded to the Las Vegas Raiders. Tyreek Hill was traded to the Miami Dolphins. The most recent move was A.J. Brown getting traded to the Philadelphia Eagles during the first round of the 2022 NFL Draft.
By average annual value, three of the top four highest-paid wide receivers will be on a new team in 2022. (All three got to that point upon being acquired.) We're not yet at the end of the potential fallout of this market with extensions on the horizon for more members of the 2019 draft class.
There's a ton to take in for how we got to this point and where we might be going.
The top players caught up to the market
Knowing how we got here involves understanding how the market got to this point. The groundwork was laid seasons ago by a disgruntled receiver who wanted a new deal and was eventually traded. DeAndre Hopkins wanted a new contract from the Houston Texans, but with three years still left on his contract, the Texans and Bill O'Brien did not want to negotiate a new deal. Houston eventually sent Hopkins to the Arizona Cardinals for a second-round pick and David Johnson.
We remember the terms of that trade, but the lasting impact came with the contract extension the Cardinals eventually gave Hopkins — two years and $54.5 million tacked on to the end of his three-year contract. Practically, the Cardinals had Hopkins on the books for five years and $94.415 million, which averaged $18.8 million per year. That was right around the top of the receiver market in the $20 million per year range.
But in some circles in the NFL, the contract value is represented by the new money given out in extensions, so technically Hopkins's deal was worth $27.5 million per year because of the money tacked on with the two-year extension.
That was a number largely ignored and wasn't in the picture for most receiver contract negotiations. Amari Cooper signed his five-year/$100 million deal that set the top of the receiver market in March of 2020. Days before Hopkins signed his extension with the Cardinals, Keenan Allen signed a four-year/$80.1 million deal with the Los Angeles Chargers. 
After that, few receivers were worthy of entering that conversation. It wasn't until the extensions for D.J. Moore, Mike Williams, and Chris Godwin this past March did other receivers hit the $20 million per year mark.
The Hopkins number did linger over potential negotiations, though, Reports before the 2021 season suggested that Adams had wanted to top the $27.5 million from the Hopkins deal but the Packers did not view that figure as a realistic benchmark at the top of the market. No matter how inflated Hopkins's number might be, what mattered was it was out there.
Had Hopkins's number been closer to his actual average of around $19 million with the top of the receiver market near $20 million, it's fair to wonder if the negotiations between Adams and the Packers would have been smoother and a deal would have already been in place before the 2021 season.
Instead, what we got was the trade and new contract from the Raiders. Aided by two $40 million cap hits in 2025 and 2026, Adams's deal hit a $28 million average to top Hopkins.
Having that number out there then gave something for Tyreek Hill to push for in his contract negotiations. That resulted in Hill being traded to Miami with a four-year extension that averages $30 million per year to top the market. The contract is bumped up by a $50 million cap hit in 2026.
Neither Adams's nor Hill's final contract years are likely to be played out as they're currently structured — they'll either be extended again, restructured, or moved — but the acquiring team still needs to be comfortable having those numbers on the books regardless if those years will ever really be seen.
It should also be noted with the recent suspension for DeAndre Hopkins and him turning 30 years old in June, it's possible he won't even see the two years of his extension (starting in 2023) that caused all of this.
Now with the top of the market shifted, that's impacted the bottom of the first tier. Brown is the first domino to fall there. Reports had Tennessee offering just $16 million per year (incentives up to $20 million), which would have been right below where the previous top of the market but not a workable figure for Brown given where these deals are heading.
Upon completing the trade, the Eagles gave Brown $25 million per year over four years. That figure would have easily topped the market as recently as March. Now it's setting the baseline for tier 1B receivers. The difference, unlike Adams and Hill getting their third contracts, Brown is now on his second contract and will be 29 when this deal expires. 
Paying WR vs QB
What we're seeing now with these new contracts is that teams have been willing to pay for a top-tier quarterback or a top-tier receiver but rarely both at the same time. It's difficult to pay Hill $30 million per year and Patrick Mahomes $40 million per year. That's especially true with Travis Kelce on the roster. Without Hill, the Chiefs went cheaper across multiple receivers. 
By average annual value, just three of the top-10 receivers will be paired with top-10 quarterbacks in 2022. Six of the 10 will be paired with quarterbacks ranked 21st or lower.
Top 10 WR by Average Annual Value
data per Over The Cap
| Player | QB AAV Rank |
| --- | --- |
| Tyreek Hill | 26 |
| Davante Adams | 5 |
| DeAndre Hopkins | 21 |
| A.J. Brown | 59 |
| Stefon Diggs | 4 |
| D.J. Moore | 27 |
| Keenan Allen | 29 |
| Mike Williams | 29 |
| Amari Cooper | 2 |
| Chris Godwin | 15 |
This has created another opportunity for teams to take advantage of quarterbacks on rookie contracts. With Tyreek Hill, the Dolphins will pair him with Tua Tagovailoa on the third year of his rookie deal and potentially another rookie after that if things don't go as planned in 2022. The Eagles had room for A.J. Brown thanks to a second-round contract from Jalen Hurts.
It doesn't just have to extend to newly acquired receivers. The Chargers have the second-most 2022 cap space tied to wide receivers with two making over $20 million per year along with Justin Herbert's rookie deal.
There is no clear straight line between what a team is paying at quarterback and what they're willing to pay at receiver, but it does factor into how these teams view future roster flexibility.
Take the Titans as the most recent example. With Ryan Tannehill set for the highest 2022 cap hit in the league ($38.6 million) and a $36.6 million cap hit in 2023 to go along with a $15 million cap hit for Derrick Henry as well as some other near-top–of-the-market deals at other positions, Tennessee decided to retool at receiver.
It's fair to wonder, though, if the Titans knew they could eventually have a 2023 starter at quarterback on a third-round rookie deal if they would have upped their offer to Brown on an extension. Tennessee should not exclusively count on a third-round pick taking over as a starter but it's significantly more of a future contingency plan than the Titans previously had — Tannehill could be released after 2022 to free up $18.8 million in cap space.
In that vein, we could see which receiver contracts could become trickier. The presence of Trey Lance gives the San Francisco 49ers more flexibility to bump up a Deebo Samuel offer, even if he's a star receiver who has already requested a trade. Justin Jefferson is currently tied to Kirk Cousins, though the Vikings could be ready for another quarterback following this season. Terry McLaurin is stuck with Carson Wentz and the never-ending rotation of quarterbacks in Washington. After the Seattle Seahawks traded Russell Wilson, DK Metcalf became a possible trade chip too, though it appears he's willing to get a new deal while that quarterback situation remains up in the air.
Ja'Marr Chase likely isn't going anywhere in Cincinnati, but eventual contracts for him and Joe Burrow raise some intrigue around Tee Higgins, who will be eligible for an extension after this season. 
Counting on rookies
Part of the calculus in weighing the value of these veteran receiver contracts is how quickly and how many rookie receivers are impacting the league. We've already seen some of the teams that moved on from veterans go right into the draft to select a replacement. The Packers drafted Christian Watson. The Chiefs selected Skyy Moore. With the pick the Titans got in the A.J. Brown trade, they took Treylon Burks.
The best case scenario for this comes from the Vikings, who traded away Stefon Diggs and got their own star in Jefferson with the return.
That doesn't always happen, though, and relying on rookies to immediately step in may be expecting too much even as the production has increased recently for first-year receivers.
Below is a quick overview of some rookie receiver production, looking at how many rookies ran at least 100 routes, the average yards per route run, the number of receivers with at least 2.0 yards per route run, and the number of rookies with at least 100 targets.
Rookie Wide Receiver Production
Data from TruMedia
| Year | 100 routes | YPRR | 2+ YPRR | 100 targets |
| --- | --- | --- | --- | --- |
| 2013 | 21 | 1.34 | 1 | 1 |
| 2014 | 21 | 1.65 | 3 | 7 |
| 2015 | 20 | 1.23 | 1 | 1 |
| 2016 | 21 | 1.24 | 2 | 2 |
| 2017 | 19 | 1.32 | 3 | 0 |
| 2018 | 23 | 1.30 | 1 | 0 |
| 2019 | 21 | 1.57 | 4 | 1 |
| 2020 | 26 | 1.52 | 3 | 5 |
| 2021 | 14 | 1.57 | 2 | 4 |
We see there was a significant spike with the 2014 receiver class before going back to a bit of a lull through 2018. Then the 2019 class bumped up the average yards per route run, which has stayed relatively stable over the past three seasons. 
We're also now seeing more rookies hit that 100 target figure with nine over the past two seasons. The four who did so also posted above average efficiency in yards per route run — Chase (2.51), DeVonta Smith (1.77), Jaylen Waddle (1.75), and Amon-Ra St. Brown (1.74). The overall average among 154 receivers with at least 100 routes run last season was 1.53.
Teams will now be toeing the line with these rookies between asking them to produce and potentially lead the offense. While we're seeing more that have been effective immediately when on the field, still few have truly taken over in Year 1. Since that 2019 boom three rookies have truly stood out: Brown (2.67 YPRR, 19.6% target share), Jefferson (2.66, 25.8%), and Chase (2.51, 23.7%).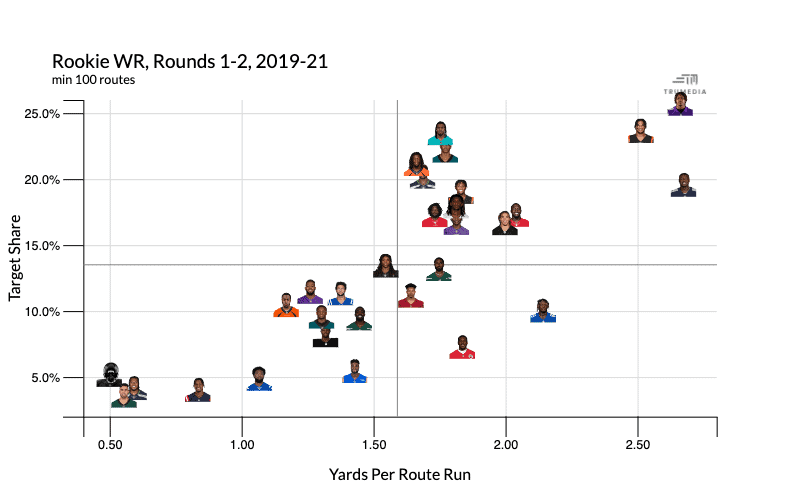 Many rookies this season will slide right into open target opportunity. Burks could very well be Tennessee's No. 1 option. Watson and Moore should also play significant roles replacing the traded stars on their new teams.
Of course, these aren't the only rookie receivers who will be starting in 2022 and we'll see a number of players get opportunity. The best in the class could easily be one that isn't immediately filling in for a departed star. That's what makes this upcoming season such an interesting test case in the relative one-for-one swaps we've seen.
If these rookies can step right in and fill enough of the void left by the veteran receivers, it could give proof of concept to the idea of moving on when the time is right. The bar for that is also quite high. The Packers and Chiefs tied for first in EPA per drive on offense in 2021.
Adams and Hill, specifically, were so instrumental in shaping the offensive scheme, but we've now seen both Green Bay and Kansas City willing to refigure the offense without them.
It's possible we're at a unique tipping point where the market jumped so high so quickly that teams weren't ready for that adjustment. By next offseason we could see more teams prepared to offer the top-tier receivers in the $25 million range — a figure that did not appear to be the upcoming norm when Mike Williams and Chirs Godwin signed $20 million per year extensions off the franchise tag earlier this offseason.
Because of that, the Amari Cooper trade from earlier this offseason already looks like a steal in value and the Godwin/Williams contracts could be outside the top-10 in AAV by this time next year.
But if we continue to see rookies step on the field and be productive, we could see even more teams willing to take the trade-off of gaining draft picks and cap space while getting younger at the position.
2022 has already been a wild offseason for the receiver position and the results of the regular season could be the biggest factor in determining if this will be an outlier in player movement or a sign of things to come.