One of the most interesting aspects of the NFL offseason is that it's the one time when teams can truly tell us what they think they are and where they need to go. Between free agency and the draft, we get a glimpse of how teams approach that balance. Over the next week, we'll look at a few teams and what their offseason plans signal.

Trading Tyreek Hill represented a big shift for the Kansas City Chiefs. Between Patrick Mahomes, Travis Kelce, and Hill, the Chiefs passing offense always seemed to have the best answer to whatever an opposing defense presented. With Hill gone and the additions of JuJu Smith-Schuster, Marquez Valdes-Scantling, and Skyy Moore, the Chiefs appear focused on having more answers.
That's been necessary as opposing defenses have bumped the rates of two-high to prevent explosive pass plays, the story of the past two seasons. Like the unassuming Detroit Lions helped craft a blueprint for the defense structure that would slow down the 2017 Los Angeles Rams, the eventual 4-12 Houston Texans laid the foundation for how defenses would defend the Chiefs in Week 1 of the 2020 season.
When we talk about two-high around the NFL, we're often talking about the pre-snap shells with the ability to rotate and disguise the coverages. With the Chiefs, we're talking about more actual two-high coverages. 
Here are the league average coverage rates across the NFL and what the Chiefs faced in 2021:
NFL Coverage Rates, 2021
Data per TruMedia/PFF
| Opponent | Cover 1 | Cover 3 | Cover 2 | 2man | Cover 4 | Cover 6 | Cover 0 |
| --- | --- | --- | --- | --- | --- | --- | --- |
| NFL Avg. | 22.5% | 34.2% | 11.4% | 1.3% | 11.5% | 8.2% | 4.1% |
| Chiefs | 20.9% | 27.3% | 10.4% | 2.6% | 16.4% | 10.8% | 1.9% |
The NFL still runs a majority of snaps in single-high coverages (1/3) but the Chiefs saw those coverages on less than half of their offensive snaps (48.2% combined). Kansas City also saw less straight-up Cover 2 as defenses used more Quarters and Cover 6 (quarter-quarter-half). The only team to see Quarters at a higher rate than the Chiefs last season was the Baltimore Ravens (18.2%).
Patrick Mahomes had more dropbacks than any other quarterback against two-high coverages last season and those coverages have impacted the way Mahomes plays. It's clear how the defenses have influenced the types of passes he was willing to throw last season.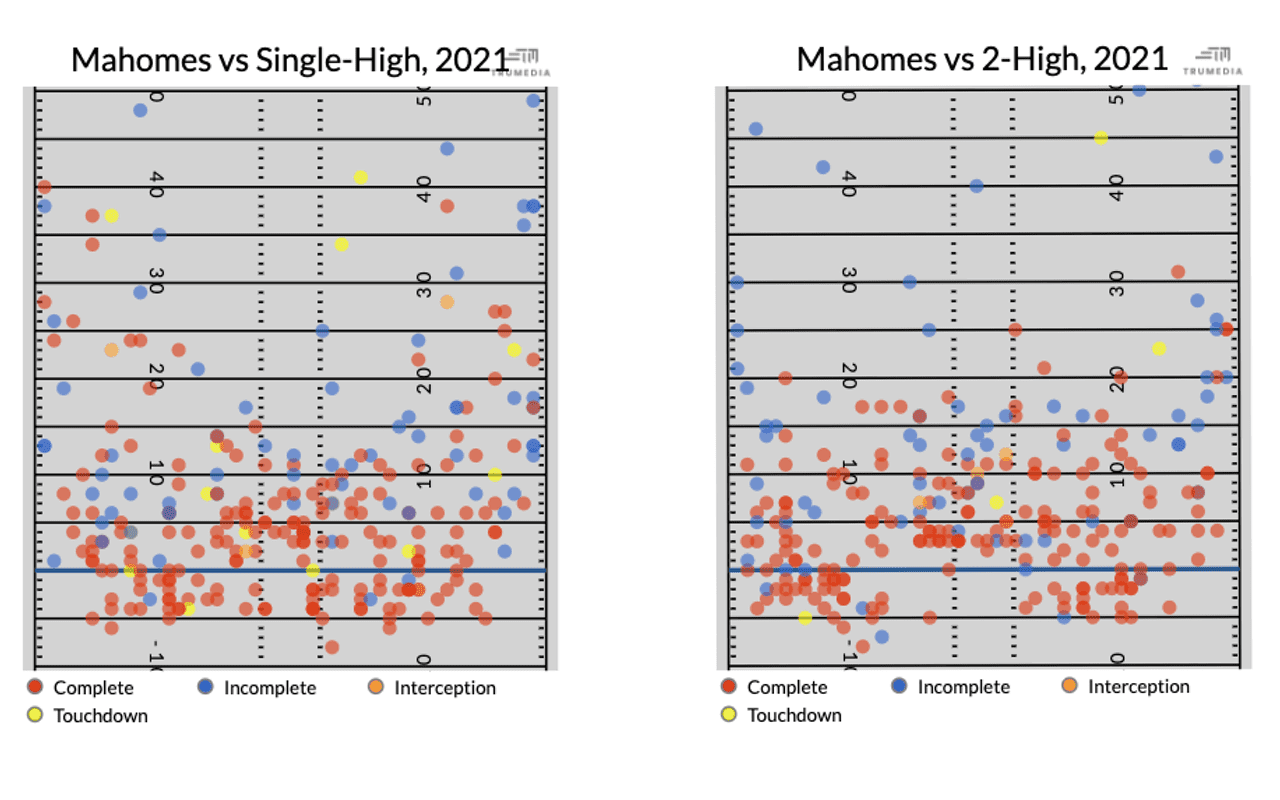 Given where the safeties line up, the overall location of those passes isn't exactly surprising. But those coverages had an impact on how often the Chiefs tried to push the ball down the field. Mahomes only threw deep on 10.2% of his pass attempts against two-high coverages. That ranked 20th among quarterbacks last season.
The deep pass was kind of taken away in general since Mahomes only ranked 14th in deep passing rate against single-high coverages in 2021. Kansas City was manufacturing more intermediate throws and the screen game was a big part of playing against those deep safeties. No quarterback threw a higher percentage of passes behind the line of scrimmage than Mahomes (27.3%) in 2021.
Mahomes's aDOT has dropped in each of his four seasons from 9.1 to 8.8 to 8.3 down to just 7.3 in 2021. With that, his EPA per dropback has also dropped from 0.34 to 0.26 to 0.24 to 0.15. It should be noted that passing efficiency as a whole dipped in 2021 and Mahomes still ranked tied for second in EPA per dropback among quarterbacks last season. The Chiefs, as a whole, still finished second in EPA per play and tied for first in EPA per drive. 
These measures by opposing defenses took Mahomes and the Chiefs from otherworldly to just really freaking good. But it was also clear there was some frustration that played out as the offense tried to adjust. Early in the season, the Chiefs had an absurd rate on turnovers with some truly strange plays, some of which stemmed from forcing things a little too much. Once those issues and bad bounces cleared up, the Chiefs rolled — even if it didn't look exactly like what we had seen from the earlier days of Mahomes's career.
Much of the effort from opposing defenses came from trying to stop — or at least slow down — the combination of Mahomes and Hill. From 2018-2019, Hill had the fifth-most receptions of 20 or more yards and the most receptions on throws of at least 20 air yards. Over the past two seasons, Hill has still been one of the league's best deep receivers but dropped to eighth in overall receptions of 20 or more yards and fifth in receptions on 20-plus air yard throws.
When these defenses started to pop up against Kansas City, the Chiefs would use Hill as the go-to option against single-high and Kelce as the go-to intermediate/underneath option against two-high. As both opposing defenses and the offense evolved, Hill became more involved in the short-intermediate game but Kelce got more attention and was played more physically off the line to disrupt timing.
This, in part, again limited the options of how the Chiefs could attack. With Kelce taken out of some plays and Hill running shallower routes, Hill became a go-to in that area with little to no deep threat.
Here is where the Chiefs' philosophy will shift for 2022. With the additions of Smith-Schuster, Valdes-Scantling, and Moore, Kansas City might lack the top-end true WR1 talent they had with Hill, but this will give the Chiefs the deepest wide receiver group they've had in the Mahomes era. With that grouping in 11 personnel, there can be four legitimate receiving options instead of just two. The Chiefs are hoping the quantity can make up for a loss in overall quality.
Valdes-Scantling has the ability to serve as the deep threat and Smith-Schuster can win underneath. Together they still might not add up to one Tyreek Hill, but it will allow the Chiefs to have both roles on the field more often and they'll have a combined $7.9 million cap hit in 2022, though for Valdes-Scantling, that goes up to $11 million and $14 million over the next two seasons but with no guaranteed salary.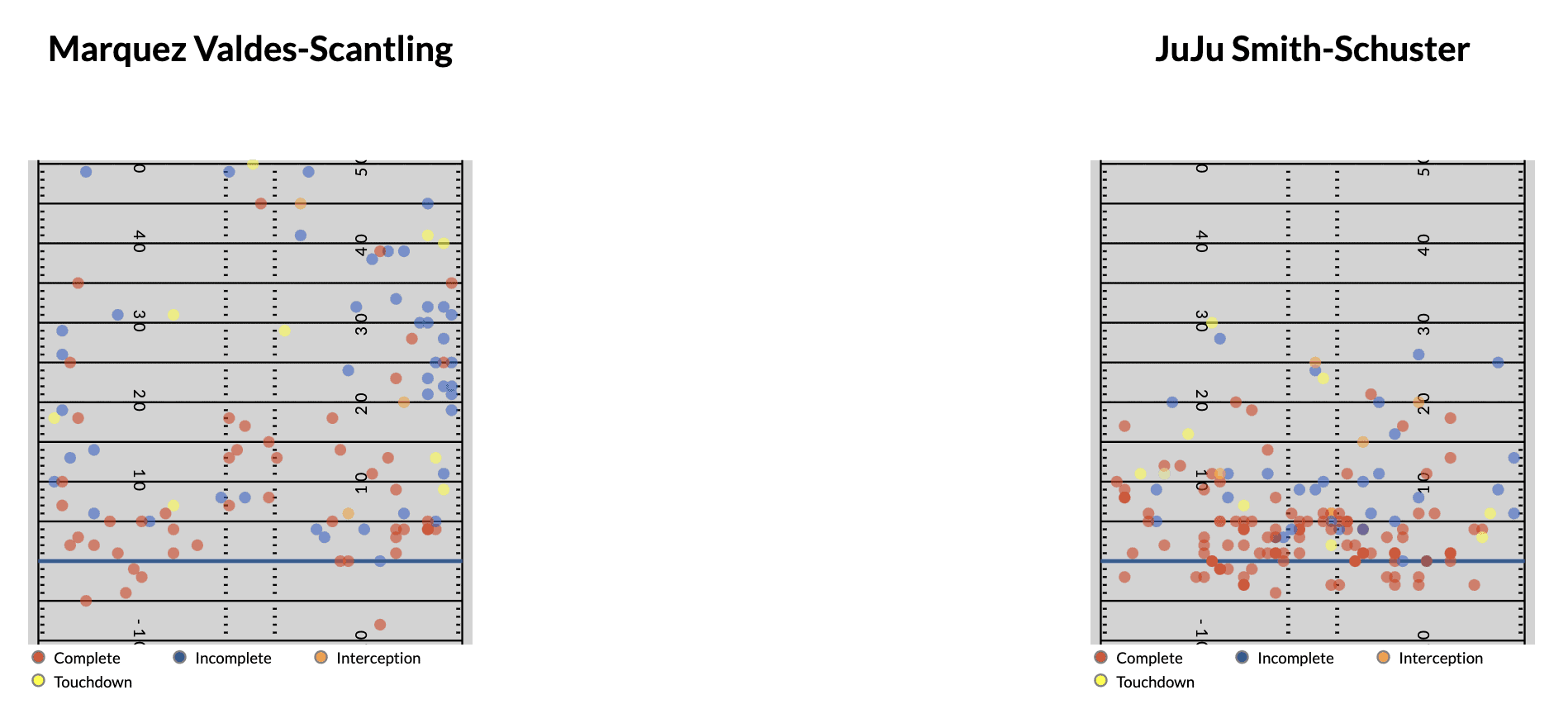 Over the past two seasons, Valdes-Scantling was targeted on 46.5% of his deep routes and his 47 targets of 20 or more air yards ranked 10th among receivers. The results were mixed with only 12 receptions on those targets, but earning those targets still presents Valdes-Scantling as a legitimate deep threat that defenses will need to account for when he's on the field.
As defenses still need to account for the deep pass, the Chiefs have multiple options to target underneath. Kelce, Smith-Schuster, and Moore can all provide plus ability in the short to intermediate area of the field. This is where Kansas City is really banking on the depth paying off, which would allow the offense to mesh Mahomes's Mahomes-ness with Andy Reid's background in a West Coast Offense.
Mahomes was forced to throw shorter passes against those two-high coverages over the past two seasons, but he also did so on early downs when he saw single-high. On first and second down against single-high coverages, Mahomes had an average depth of target of just 6.9, which ranked 26th among quarterbacks. It wasn't until third down when Mahomes let it rip with a 10.8-yard aDOT, which ranked seventh.
With the current offensive structure and personnel, the Chiefs could use spacing both horizontally and vertically to more proactively attack coverages, instead of reacting.
After Kansas City invested heavily in improving the offensive line last season, there was an idea that the Chiefs could run teams out of those two-high looks. That never fully came to fruition even though the team still ranked seventh in EPA per rush. Kansas City still had the third-highest pass rate on early downs and found success throwing.
It's possible the Chiefs could still use the run to pull the defense closer to the line of scrimmage, but they can now spread out the quick game to accomplish the same goal.
Last season, more than half of Mahomes's pass attempts came within 2.5 seconds of the snap. Like Mahomes's other attempts, those throws were shorter than they had been in his career.
Patrick Mahomes Attempts Under 2.5 seconds
Data per TruMedia
| Year | % of Att | aDOT | At/Behind LoS | Short% | Intermediate% | Deep% |
| --- | --- | --- | --- | --- | --- | --- |
| 2018 | 52.8% | 4.71 | 34.6% | 48.0% | 12.1% | 5.2% |
| 2019 | 49.6% | 5.33 | 31.3% | 50.8% | 12.9% | 5.0% |
| 2020 | 48.3% | 4.80 | 29.6% | 55.6% | 10.2% | 4.6% |
| 2021 | 53.5% | 3.33 | 38.4% | 50.0% | 8.0% | 3.7% |
This is an area where Skyy Moore could have an immediate impact. One of Moore's best traits as a prospect was his ability to win off the line. He has a quick first step that can step a defensive back up to fail. Nowhere was that more clear than with his production on slants. Per Sports Info Solutions, Moore led college football with 433 yards on slants in 2021. The next highest player (New England's Tyquan Thornton) was at 244. 
Even at a 5-foot-10, 195-pound frame, Moore has excellent body control over the middle of the field and was able to play through contact both before and after the catch. Moore also had the fourth-most routes as an isolated receiver, which could allow the Chiefs to mix and match their 3×1 sets.
None of that is replacing Tyreek Hill, but the Chiefs now have a wider collection of players to replicate multiple rows in the offense. Kansas City can quick pass teams to death if they stay in two-high and leave those short areas open. But the Chiefs also now have more deep threats to push the ball down the field if they catch the defense creeping up.
Without the star receiver on the roster, it's possible some defenses could feel more comfortable attempting to man up against Kansas City's receivers. Take the division rival Chargers. Against all other opponents, used Cover 1 at just a 17.6% rate but that jumped to 53.5% in their two games against the Chiefs, per TruMedia.
But with how many receivers the Chiefs can roll out, it would take a ton of confidence in multiple corners and someone to cover Kelce in order to hold down man that often. And that's the gamble now for how Kansas City has built this roster. They might not have the top solution to what defenses have used against them over the past two seasons, but the Chiefs have multiple options which could make the offense more dangerous and harder to slow down.