In the New York Giants' 31-24 win over the Minnesota Vikings in the Wild Card Round, Daniel Jones had arguably the best game of his career — a high point in what has been the best season of his four-year career.
During the regular season, Jones ranked 11th among quarterbacks in EPA per play, which includes designed rushing attempts (we'll get there), per TruMedia. In 2021, he was 22nd. In 2020, he was 28th. During his rookie season in 2019, he was 24th. Those three early bottom-third seasons forced the new regime — including general manager Joe Schoen and head coach Brian Daboll — to decline Jones's fifth-year option and use 2022 as a test run with the incumbent quarterback.
Everyone, it appears, aced this test. As the Giants now prepare for a Divisional Round matchup against the Philadelphia Eagles, what the franchise will do with Jones has become a more pressing topic. While it looked like the Giants could be searching for a new quarterback in 2023, the choices now could be between the franchise tag and a long-term deal for Jones.
Before jumping ahead to what Jones's 2022 season means for the future, let's step back and figure out how we got here.
After a bit of a rough start, even as the Giants were winning, Jones picked up his play through the middle of the season and sustained that level of play for the remainder of the season.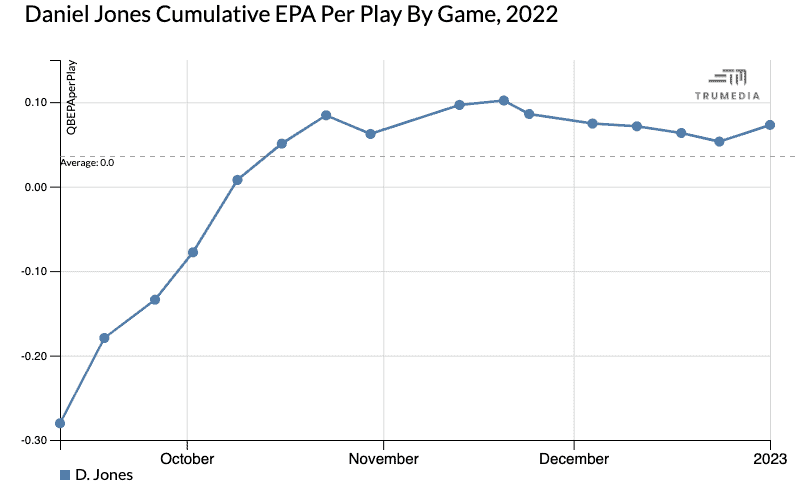 A key to Jones's success this season has been the disappearance of backbreaking mistakes and turnovers. Jones hasn't completely erased negative plays, but the types of mistakes have been different and more manageable. 17.3% of Jones's plays in 2022 produced -1 EPA or worse, considered a "bust" play. That was actually a higher rate than what Jones had in 2021, 17.0%. But only seven of those plays were from fumbles or interceptions, a career-low.
The best thing the Giants have done is keep Jones away from danger areas.
Jones threw some of the shortest passes in the league, on average, in 2022. With an average depth of target of 6.42 yards past the line of scrimmage, only Matt Ryan had a lower aDOT during the regular season. 75.6% of Jones's pass attempts were within 10 yards of the line of scrimmage, which ranked third-highest behind Ryan and Matthew Stafford.
Again, this isn't all that much different from past seasons. Jones had rates of 73.1% and 74.8% in 2021 and 2020. The biggest difference and why Jones had positive EPA on those attempts after three seasons of negative value had to do with the types of throws and spacing.
Early in Jones's career, no quarterback loved throwing a covered slant more than him. It was part of the quick game plan and Jones wouldn't process much after the snap. If the slant was the read, the slant was thrown. That often put the ball in danger.
One of the fixes there was to significantly cut down the rate of those throws in the offense. Jones only threw slants on 6.1% of his pass attempts, nearly halving his previous rates. That was the 18th-highest rate in the league among quarterbacks in 2022 after ranking third from 2020-2021.
As a replacement, the Giants upped the rate of shallow crossers. Only 5.7% of Jones's short throws were to crossers in 2021 and that jumped to 14.8% in 2022. Those crossers helped create so much space in the middle of the field — space Jones hadn't been able to take advantage of before.
According to Next Gen Stats, Jones had one of the highest rates of tight window throws (a yard or fewer of separation) on short pass attempts over the first three years of his career. The rate dropped each season of his career but was still the highest in both 2019 and 2021 and second in 2020. It's dropped to 10th this season.
Daniel Jones On Short Passes, 2019-2022
data per Next Gen Stats
| Season | Tight Window% | Rank |
| --- | --- | --- |
| 2019 | 17.8% | 1st |
| 2020 | 16.7% | 2nd |
| 2021 | 14.7% | 1st |
| 2022 | 10.3% | 10th |
There's more to the spacing than just crossers, but those routes have been key to opening up so much more for the offense. Overall, 16.5% of Jones's pass attempts in 2022 have been crossers, the second-highest rate behind Lamar Jackson. Throwing the shallow routes has also led to things opening up further down the field, as they did against Minnesota in the Wild Card game.
Jones went 4-of-5 on crossing routes for 1.02 EPA per play. Those completions were on three air yards for a gain of four, four air yards for a gain of 14, and then two at 18 air yards for gains of 22 and 47.
This year, Jones has the 10th-lowest rate of tight window throws, per Next Gen Stats. While so much of that stems from the spacing in the short game, Jones also isn't asked to force balls deep down the field, where windows are generally tighter. Just 5.9% of Jones's passes traveled 20 or more air yards this season, the second-lowest rate in the league.
Another reason Jones hasn't needed to force passes is that his legs have become part of the passing progression. That led to one of the highest scramble rates in the league, 9.9%, behind only Justin Fields. The Giants really leaned into Jones's athleticism and it became the most dangerous part of the offense. Jones had one more scrambles in the 2022 regular season (56) than he did in the previous two seasons combined (55).
This was a clear plan that got started early in the season. If a receiver wasn't open and there was room to run, Jones was encouraged to take off. This was especially true when the Giants ran bootlegs, which often created plenty of open space.
Jones had 148 dropbacks outside the pocket in 2022, the third-highest total of the regular season behind Fields (159) and Patrick Mahomes (163). He was one of just eight quarterbacks with positive EPA on plays outside of the pocket.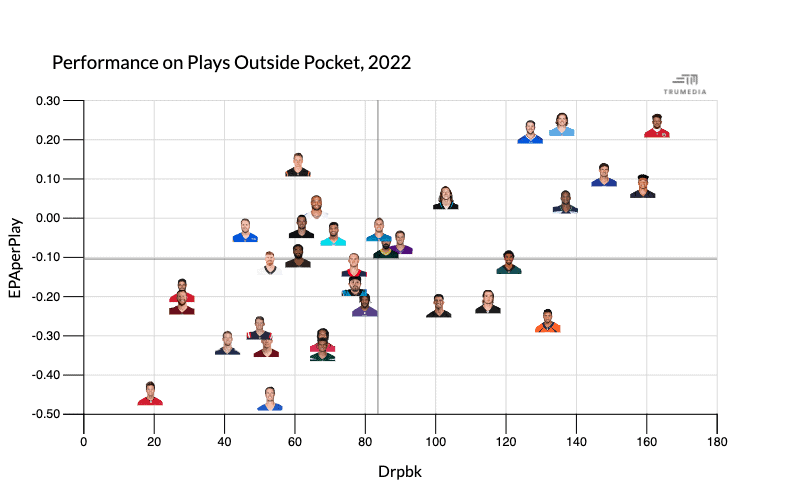 70% of those dropbacks for Jones came off play-action. Jones averaged 0.28 EPA per play and a league-high 77.8% completion rate on those snaps, though the aDOT on those throws was just 3.44. Jones also led the league with 23 scrambles on outside the pocket plays off play-action.
This was a smart move to get the quarterback in space and on the run. It also limited the time Jones spent in the pocket, another danger area earlier in his career. During the regular season.  Jones was in the pocket for just 73.7% of his dropbacks, the third-lowest rate in the league.
On plays inside the pocket, Jones was 20th among quarterbacks in EPA per play and had the seventh-highest sack rate (7.9%).
Daniel Jones, Inside vs Outside Pocket, 2022
data per TruMedia
| In Pocket | EPA/Play | aDOT | YPA | TD | INT | Sack% |
| --- | --- | --- | --- | --- | --- | --- |
| Yes | 0.03 | 6.74 | 7.17 | 8 (2.2%) | 5 (1.3%) | 7.9% |
| No | 0.11 | 5.24 | 5.39 | 7 (7.0%) | 0 | 9.9% |
Even while Jones took a fair number of sacks on plays outside of the pocket, the contact was rarely a surprise and Jones was often able to brace for it. His biggest flaw going back to his rookie season was feeling pressure inside the pocket. That occasionally led to some wondrous throws with pressure in his face but it also led to the hits that popped the ball out. His feel when he hangs in the pocket still hasn't completely been altered, as he took a sack just like this in the Week 16 meeting against the Vikings.
But Jones has also slowed down the process, in a good way, inside the pocket. There is less panic as the quarterback has taken a little more time to let things play out in front of him. Jones's time to throw from the pocket has gone from 2.45 and 2.40 seconds over the past two seasons to 2.53 in 2022. He's been more patient, knowing his legs can be an option when things break down — he scrambled more than any other quarterback not named Justin Fields from the pocket.
The place where this has made the biggest impact, and where Jones has arguably made his most impressive improvement, is against the blitz. After being one of the worst quarterbacks against the blitz over his first three seasons, Jones was seventh in EPA per play against the blitz in 2022 while he was blitzed at the eighth-highest rate in the league. Nearly half of his value — 44.2% of his total EPA — came from scrambles.
That's been a place where Jones has been able to read and react to pre- and post-snap looks. If Jones saw the blitz and recognized empty space, he was able to take off and run, like this 24-yard gain on a second-and-10 in the fourth quarter against the Jaguars in Week 7.
So, now where does this leave Jones and the Giants? As has been the case for most of the season, it's hard to imagine the offense completely bottoming out with this quarterback and coaching staff. The question for the future will be how much more production can be pulled out. 
The answer might not be as simple as adding more talent to the receiving corps. The Giants have worked around that and the lack of top-end receiving options — shorter passes and getting Jones out of the pocket — have been the biggest factors in Jones's improvement when many believe the quarterback's development has been in spite of the receiving talent.
Should the Giants eventually get a top receiver and want to run a more traditional dropback passing game, will that put Jones in a position to force more passes into tight windows and hang in the pocket, inviting pressure?
It's also possible the Giants keep getting this version of Jones, which has been proven to be a more than passable option. Jones's 2022 season compares well to Chiefs-era Alex Smith — down to how short of the sticks the quarterbacks threw on third down, a statistic Football Outsiders named "ALEX." If a worst-case scenario is Alex Smith, that's still a quarterback and offense a team can win with. 
Daniel Jones (2022) vs Alex Smith (2013-2017)
data per TruMedia
| Player | EPA/Play | aDOT | YPA | ALEX | Short | Intermediate | Deep |
| --- | --- | --- | --- | --- | --- | --- | --- |
| Daniel Jones (2022) | 0.10 | 6.38 | 6.92 | -1.2 | 50.7% | 18.1% | 5.7% |
| Alex Smith (2013-17) | 0.10 | 6.75 | 7.27 | -1.2 | 52.7% | 14.7% | 8.9% |
Before the Giants figure out the future at quarterback, they have a Divisional Round matchup with the Eagles. This is not a place anyone — the Giants included — imagined them being this season. The quarterback, his development, and the coaching that brought it out of him, have been a big reason why they're one of the final four teams in the NFC.