One superstar is leaving the Green Bay Packers, but it's not the one that has grabbed all of the attention over the past few months. Davante Adams has been traded to the Las Vegas Raiders to reunite with his college quarterback Derek Carr. With the trade completed, the Raiders will sign Adams to a record-setting contract worth $141.25 million over five years.
Raiders Impact
With the rest of the AFC West getting most of the attention, the Raiders have made some big moves to improve the roster for 2022 and beyond. The Chandler Jones signing and Yannick Ngakoue trade upgraded both edge and corner. Of course this splash brings one of the best wide receivers in the league to Las Vegas.
Last season, Adams thrived on both volume and efficiency. He was third among receivers in yards per route run and second in target share. Over the past four seasons, Adams leads all receivers in target share (27.6%) and is fifth in yards per route run.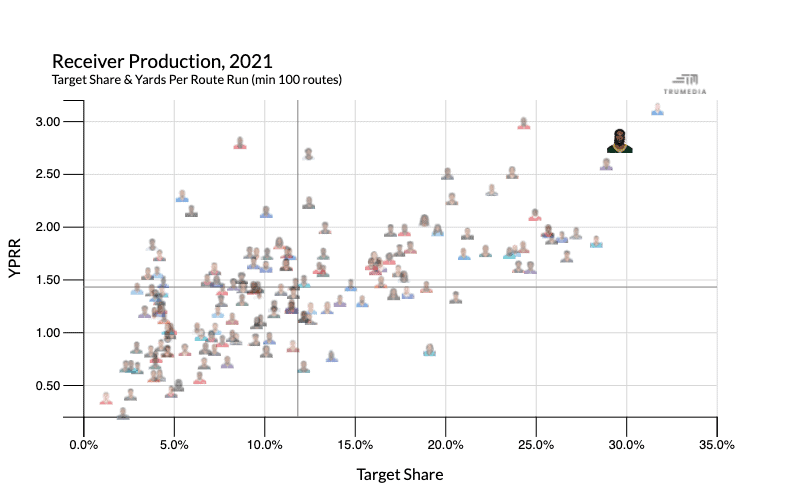 His ability to thrive as a true No. 1 receiver completely changes any offense he's a part of and his ability to win both outside and from the slot opens up so many options for what an offense can do with him.
Las Vegas didn't have many great options in the passing game last season. Hunter Renfrow led wide receivers with a 21.2% target share, but just a 6.47-yard average depth of target. Adams can win all over the field and clear out the middle for Renfrow and Darren Waller.
Adams is also one of the best red zone threats in the league. Over the past four seasons, he had 30.7% of the Packers' red zone targets, which easily leads all receivers in red zone target rate. The next highest player is at 25.7% His 1.61 yards per route run also rank first among receivers with at least 100 such routes. In 2021, the Raiders ranked 26th in points per red zone trip and 27th in touchdowns per red zone trip.
For Las Vegas, this is an immediate upgrade but there may be some-long term concerns as Adams will turn 30 years old in December and this contract is scheduled to take him through his age-35 season.
The Cost
The Raiders sent the first- and second-round picks in the deal — Nos. 22 and 53 — which comes close to the value of a mid-first-round pick on of the market-setting deal for Adams. That is a key point.
Adams is getting $28.5 million per year on the contract, which eclipses the $27.25 million set by DeAndre Hopkins from his 2020 extension. That figure was a number Adams reportedly wanted to top, but the Packers had been hesitant to go there.
What makes that Hopkins number so interesting at the top of the wide receiver market was that is came from the new money in a two-year extension ($54.5 million) that went on top of three years still in place on Hopkins's current deal. That allowed the Cardinals to spread out the signing bonus over more than just those two seasons and at the time it was signed, Hopkins was on the books for five total years and $94.415 million, $18.8 million per year.
The value of NFL contracts and extensions typically come from the new money involved, but with so many years still on Hopkins's contract, that number was pushing reality a bit. The next-highest receivers were only pushing $20 million per year.
With this contract, Adams now pushes the top of the receiver market, which will have a domino effect on the likes of Tyreek Hill, DK Metcalf, Justin Jefferson, A.J. Brown, Deebo Samuel, and Terry McLaurin. Given we just saw the other top-of-the-market deals at receiver top out at $20 million per year, we're in for a shift in the market for those who haven't been paid yet.
Las Vegas had around $36.5 million in cap space before the trade and extension. It wouldn't be surprising to see some of this money front-loaded while the Raiders have the space to include it, which would limit the downside on the backend deal as Adams pushes into his mid-to-late 30's. Adams could age well, but there's still a fairly sizable risk for the years this extension covers.
Where do the Packers go from here?
While Adams and the Packers could not agree on that market-setting figure over the past year, it has been reported that Green Bay was willing to match the contract but Adams wanted to play elsewhere, specifically Vegas. In that report, it was also said that Aaron Rodgers was aware of the Adams situation when he decided to come back and sign his massive three-year extension.
As much as the Packers relied on Adams in the passing game, it's also not difficult to fault them for getting what they could for a soon-to-be 30-year-old wide receiver who commanded record-setting money. Of course, part of that goes out the window because the Packers were willing to pay for that deal, but it's not a complete loss.
Green Bay does now need to overhaul the receiving corps after years of only added supplemental pieces. The Packers now have two picks in the back-half of the first round in a draft that has some good high-end receiving talent. If they wanted, the Packers could even double-dip.
Adam Schefter reported the Packers have been in the market for a veteran wide receiver, but it's unclear whether that would be through a trade or free agency. The list of free agent wide receivers doesn't spark a ton of confidence, though.
Julio Jones just got cut for injuries and inconsistency during his year in Tennessee. The Packers had interest in Odell Beckham when he was released by the Browns, but his ACL tear would put his timetable for a return around November at the earliest. Slot options such as Jarvis Landry, Cole Beasley, or Juju Smith-Schuster don't exactly fit what the Packers now need outside.
The Packers will open up $20 million in cap space with Adams's franchise tag off the books, which will give Green Bay about $21 million in total cap space per Over The Cap.
Rodgers is coming off back-to-back MVP seasons and could carry an offense built around RPOs and quick game throws but the ceiling of that would be incredibly limited — especially in the playoffs. Something will be done at receiver, and likely multiple things because it's going to take more than one player to make up for what Adams brought to that offense.