Haason Reddick is a good pass rusher. That might seem like an obvious statement for a player just named second-team All-Pro at edge following a regular season with 68 pressures, 26 quarterback hits, and 16 sacks. But it wasn't until recently that Reddick's full pass rush potential was unleashed.
As a senior at Temple, Reddick had 9.5 sacks and 22.5 tackles for loss. That tackle for loss figure was third in college football. Reddick was explosive — he tested in the 97th percentile for EDGEs in the 40-yard dash and 98th percentile in the broad jump — but he was also small for a defensive lineman. Reddick was in the second percentile for height and the first percentile for weight among edge rushers. 
The size was concerning for many in the NFL and despite winning on the edge in college, Reddick was asked to play off-ball linebacker at the Senior Bowl. His instincts and athleticism flashed and he was one of the standout players in Mobile, considered one of the biggest risers of the week.
That was enough to get Reddick drafted in the first round, 13th overall to the Arizona Cardinals, but his size placed him in a "tweener" role that kept him off the ball. As a rookie, Reddick rushed the passer on around 65% of his pass rush snaps but only played 42% of the overall defensive snaps. For his next two seasons, Reddick rushed the passer on less than 30% of his pass snaps, per TruMedia. After those three seasons, the Cardinals declined his fifth-year option, which made his 2020 season the final year of his rookie contract.
Reddick started 2020 with a little more run at edge but that role expanded further when Chandler Jones was injured in Week 5. The next week, Reddick had two sacks against the Dallas Cowboys on Monday Night Football and finished the year with 12.5 sacks, including a five-sack performance against the New York Giants in Week 15.
Yet, even that breakout season didn't completely get the league to buy in. As a free agent, Reddick signed a one-year deal with the Carolina Panthers to reunite with college coaches Matt Rhiule and Phil Snow. His contract was only worth up to $8 million. For the first time in his career, Reddick rushed the passer on over 80% of his pass snaps and he totaled 11 sacks on 18 quarterback hits.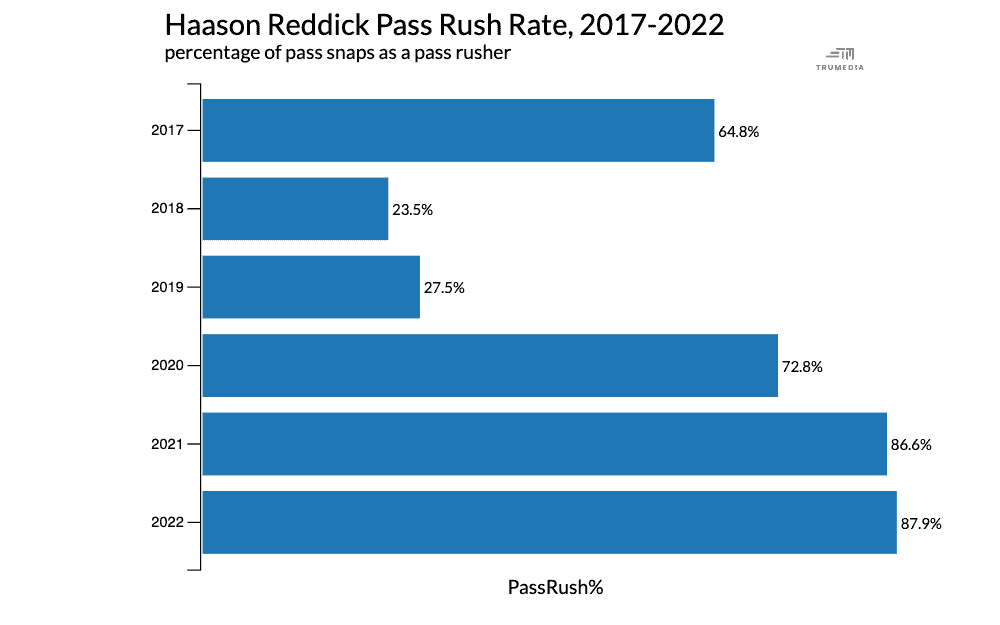 Back-to-back seasons with over 10 sacks got Reddick into the second tier of pass rushers but when he hit free agency again this past offseason, his three-year/$45 million deal with the Eagles was still a bargain compared to other deals given out over the past two seasons. Here are the top 10 non-extension contracts for edge rushers over the past two offseasons.
Top 10 Non-extension EDGE Contracts, 2021-2022
data per Over The Cap

| Player | Team | Year | Age | Years/Total Value | AAV | 3-Year Cash Flow |
| --- | --- | --- | --- | --- | --- | --- |
| Harold Landry | TEN | 2022 | 25 | 5/$87.5M | $17.5M | $52.5M |
| Bud Dupree | TEN | 2021 | 28 | 5/$82.5M | $16.5M | $51M |
| Shaq Barrett | TB | 2021 | 29 | 4/$68M | $17M | $51M |
| Chandler Jones | LVR | 2022 | 32 | 3/$51M | $17M | $51M |
| Emmanuel Ogbah | MIA | 2022 | 29 | 4/$65.4M | $16.4M | $48.5M |
| Leonard Floyd | LAR | 2021 | 29 | 4/$64M | $16M | $48M |
| Haason Reddick | PHI | 2022 | 28 | 3/$45M | $15M | $45M |
| Trey Hendrickson | CIN | 2021 | 27 | 4/$60M | $15M | $45M |
| Carl Lawson | NYJ | 2021 | 27 | 3/$45M | $15M | $45M |
| Matthew Judon | NE | 2021 | 29 | 4/$54.5M | $13.6M | $44M |
Reddick is an incredible pass rusher who has continued to develop and improve as an edge but it also shouldn't be overlooked for how impressive his performance has been. He's proven the size isn't an issue but there just aren't many players built like him who have been able to pull this off. Reddick is currently listed at 240 pounds on the Eagles' official website. There are only four players with at least 10 combined sacks over the past two seasons while listed at 240 pounds or lighter. All four are listed at 240 pounds, so do with the listed weight as you will.
Reddick did say he came into camp this year at 247 pounds, which would be up 10 pounds from his measured weight at the combine and seven pounds up from his listed weight. If we bump the list of 10-plus sacks over the past two seasons to under 150 pounds, we get eight players with Reddick on top.
10+ Sacks Under 250 Pounds, 2021-2022
data per TruMedia
| Player | Listed Weight | Sacks |
| --- | --- | --- |
| Haason Reddick | 240 | 27.0 |
| Micah Parsons | 245 | 26.5 |
| Alex Highsmith | 242 | 20.5 |
| Yannick Ngakoue | 246 | 19.5 |
| Leonard Floyd | 240 | 18.5 |
| Josh Uche | 245 | 14.5 |
| Azeez Ojulari | 240 | 13.5 |
| Arden Key | 240 | 11.0 |
That size has played more like an advantage than something to overcome as Reddick has found a more stable role as a pass rusher. With the Panthers last season and the Eagles this year, Reddick's ability and versatility helped change the structure of the defense.
According to Sports Info Solutions, the Eagles primarily used a 4-2-5 defensive structure last season, the first under the current coaching staff. Philadelphia used that alignment on 39% of defensive snaps, which was the ninth-highest rate in the league. The Eagles also used a 3-3-5 package 28% of the time, which was the seventh-highest rate among defenses.
With Reddick in the fold, the Eagles switched to a 3-3-5 defense for 55% of defensive snaps, including the playoffs, which is the highest rate in the league.
Labeling those linebackers can be tricky as Reddick technically is one. But that adds to the versatility of the defense. Two of those linebackers in the middle three can pass rushers, which serves as more of a 5-1 defensive front.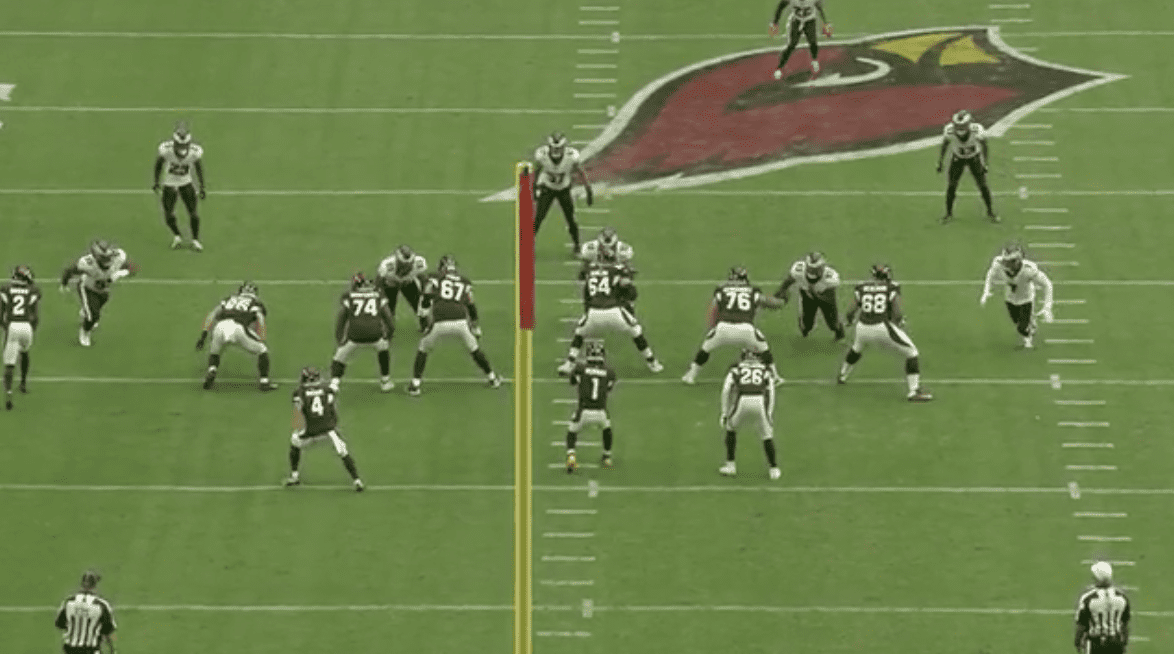 Even when the Eagles go with a four-man front, they can mess with some of the gaps and still keep their edge rushers wide.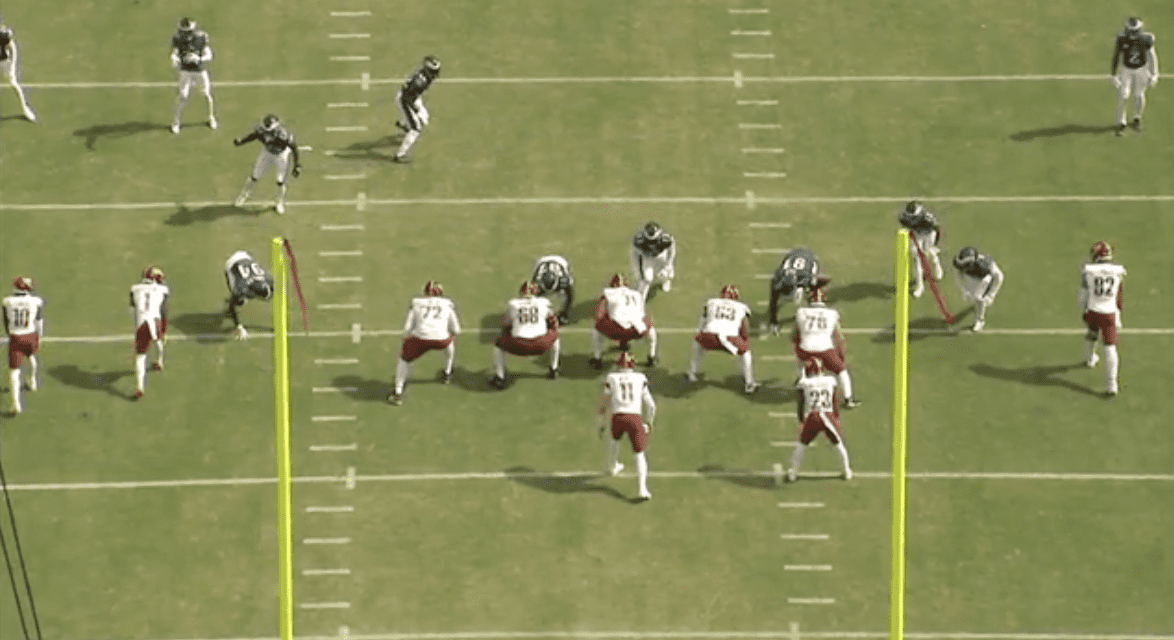 Lining up Reddick that wide gives him so much leverage when he's rushing in against opposing tackles, especially with his speed. The alignment also takes him further away from the quarterback and that speed is needed to close in a hurry. Reddick finished fourth this season in total pressures under 2.5 seconds, per TruMedia. For someone as quick and explosive as Reddick, this is an area of his game that has continually improved. Over the past three seasons, his pressure rate within 2.5 seconds has gone from 4.8% to 6.1% to 11.2%.
On a third-and-11 against the Tennessee Titans, Reddick turned the corner so quickly both he and the offensive tackle (rookie Nicholas Petit-Frere) were swiping at air because Reddick was already past the depth of Petiti-Frere's drop.
Reddick has that chop/swim move that when combined with his speed around the edge can completely get opposing tackles off balance.
That speed can also do damage when opposing offenses try to mix up the looks. On the hit that knocked Josh Johnson out of the NFC Championship Game, the 49ers tried to block Reddick with Jauan Jennings and George Kittle coming across the formation after the snap. Neither was able to get a hand on Reddick, who was untouched to the quarterback.
The Eagles have also used Reddick's speed as a looper on stunts in a five-man front. Instead of lining up wide, Reddick lines up over the tackle and stunts around to a free rushing lane. He had two sacks and a number of other pressures like this during the season.
There is also a power element to Reddick's game that has continued to develop and often goes overlooked. Reddick forced five fumbles this season and typically fast, surprising sacks are what can most easily lead to the ball coming out on hits but none of Reddick's forced fumbles were on those quick hits. Reddick was able to bull rush through offensive tackles and push them into the quarterback, as he did below against the Jacksonville Jaguars.
Against the New York Giants in the Divisional Round, Reddick had a mix of that speed and power. The Eagles sent him on a stunt from the edge in a five-man front. He didn't get a free rush lane but still was able to push through center Jon Feliciano to get to Daniel Jones.
His hand usage has also improved, which has allowed him to fight through blocks and keep pushing his way thoward the quarterback. Early in his career, Reddick might have gotten stopped by Tryon Smith on first contact, but the combination of speed and power allowed him to keep fighting and forced a fumble as Dak Prescott attempted a pass.
Add that hand usage to his acceleration and body control and he can change direction in an instant to chase down a quarterback.
Reddick is just a piece of a defense that led the league in sacks and third in EPA per dropback but his addition highlights so much of what the Eagles have done well as a franchise. He's an impact player, brought in for a relatively cheap price, and his role is tailored to fit his strengths.
If the Eagles are going to slow down Patrick Mahomes and the league's best offense in the Super Bowl, Reddick and the many ways he can win as a pass rusher, will be a significant part.