Jalen Hurts is coming off one of the best passing performances in his career, a 24-7 Week 2 win over the Minnesota Vikings on Monday Night Football. Hurts went 26-of-31 for 10.74 yards per attempt and 0.34 EPA per dropback, per TruMedia's expected points model.
By EPA per dropback, this game wasn't the best of Hurts's career as he had three games in 2021 above that figure. But the way in which Hurts controlled the game, managed the pocket, and produced within structure stood out more than any prior game.
Hurts entered the season at the top of a growing list of quarterbacks in a prove-it situation for his prospects as a long-term franchise quarterback. The Eagles have multiple high draft picks that could be used to move up for a quarterback if Hurts doesn't show the ability the consistently have at least near top-tier output at the position. Philadelphia also hasn't shorted Hurts on a supporting cast. With the addition of A.J. Brown on top of a plus group of receivers and a good offensive line, 2022 was set up to be a true evaluation of Hurts as a quarterback.
So far, through two games, Hurts has nailed the evaluation. He's currently fifth in EPA per dropback as the Eagles' offense is third in EPA per drive and tied for second in yards per play. Those two games have come against potentially weak NFC North defenses for the Lions and Vikings but the process in which Hurts has gotten to his production should spark optimism for the future and his continued development as a passer.
In 2020 and 2021, the Eagles' passing offense was based on deep throws outside the numbers. Hurts had the ability to make those throws, but they were also low-percentage propositions. As a rookie, Hurts completed just 52% of his passes. That improved to 61% in 2021 but that was still a rate well below the league average of over 65%. The Eagles hit on enough to be an above average passing offense by EPA per dropback, but the play-to-play consistency wasn't always there as the Eagles were just 19th in passing success rate.
This year, Hurts and the Eagles have significantly toned down those deep shots and have worked more through easy throws that have set up yards after the catch. After throwing 14.6% of his attempts 20 or more air yards in 2021, Hurts is down to only 4.8% in 2022. That rate will not stay that low all season — Daniel Jones and Tua Tagovailoa had the lowest rate over the full 2021 season at 7.5% — but for now, the Eagles are working the short area of the field while Hurts's other rates have stayed mostly the same.
Jalen Hurts Passing Depth, 2021-2022
data per TruMedia
| Season | aDOT | YPA | At/Behind LoS% | Short% (1-10) | Intermediate% (11-19) | Deep% (20+) |
| --- | --- | --- | --- | --- | --- | --- |
| 2021 | 8.99 | 7.28 | 21.8% | 43.1% | 20.6% | 14.6% |
| 2022 | 6.62 | 9.14 | 23.8% | 52.4% | 19.0% | 4.8% |
The biggest factor here isn't just that the shorter throws have increased, it's how they've come in rhythm, which has boosted the efficiency. Last season, Hurts averaged -0.08 EPA per dropback on throws between 1-10 air yards, which ranked 29th of 31 qualified quarterbacks. This year, Hurts has averaged 0.15, which ranks ninth.
This season, 63.9% of Hurts's throws to that area of the field have come within 2.5 seconds of the snap, compared to 54.8% in 2021. As we've seen with the rise of two-high defensive coverage shells around the league, a good and patient quick game can be one of the most dangerous weapons for an offense and almost a necessity to sustain drives. Against two-high coverages, 60% of Hurts's short throws have been within 2.5 seconds of the snap in 2022, compared to 47.8% in 2021.
Philadelphia can also give some different looks to take advantage of spacing on these short throws. Against the Vikings, the Eagles had a first-and-10 in the second quarter from their own 15-yard line. Philadelphia came out in empty. The Vikings' defensive look and personnel had D.J. Wonnum lined up across from DeVonta Smith. It was an easy completion that Smith then turned into a 19-yard gain.
The Eagles took advantage of the Vikings' zone defense and manipulated that spacing on the outside. Philadelphia got an easy 12 yards to A.J. Brown on the outside in the third quarter.
Philadelphia is also spreading the field out more for Hurts, which has created better spacing in the passing game. The Eagles have used 11 personnel on 77.9% of plays in 2022, which ranks seventh. That rate was 63.2% (12th) in 2021. The spacing has also helped the run game. Philadelphia has the fourth highest run rate when in 11 personnel (45.9%) and the sixth-highest EPA per rush (0.15). 
These types of quick throws aren't revolutionary but they weren't really part of the offense in previous seasons with Hurts. That can also bring us to throws in the middle of the field.
Hurts isn't throwing over the middle significantly more often — his 35.4% rate between the numbers still ranks 28th, above his 29.9% 2021 rate that ranked 31st — but the quality of those throws has increased. Take a look at where the middle of the field attempts came in 2021 and when they have been so far in 2022: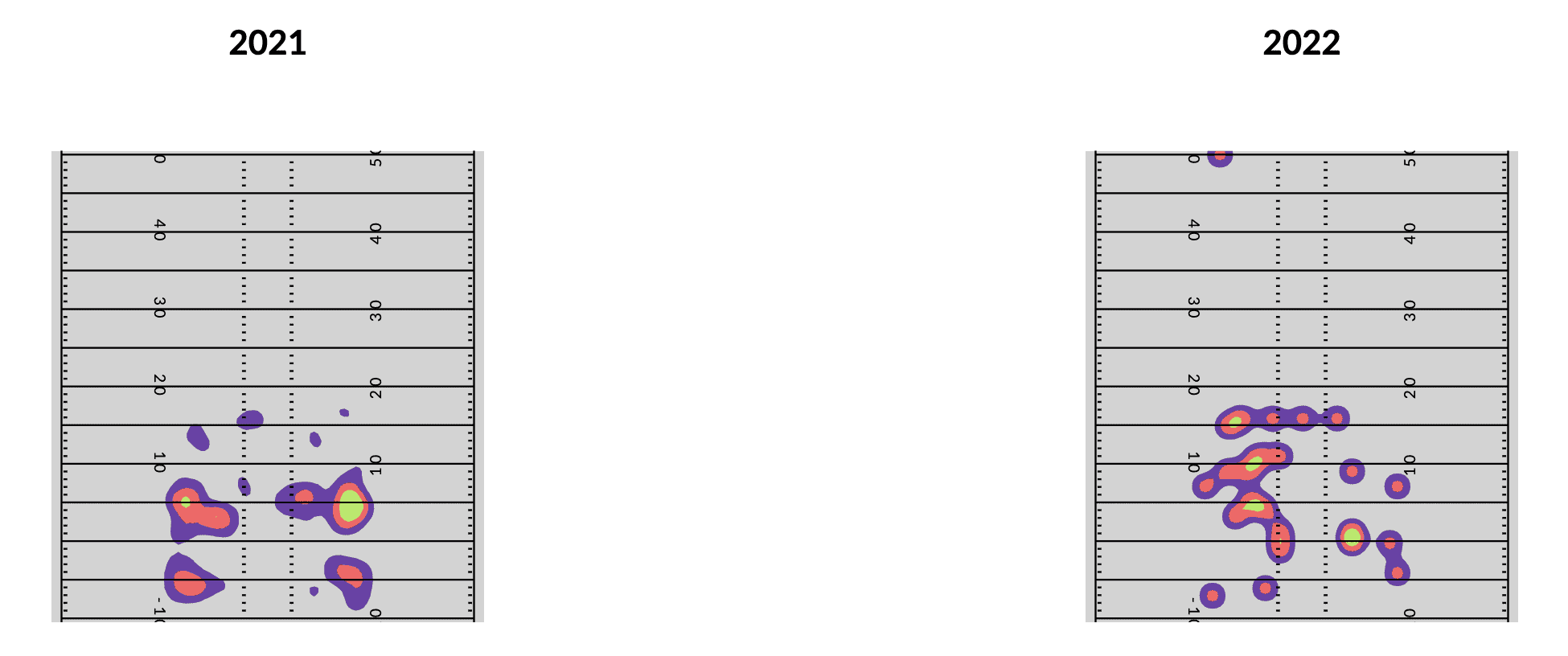 Last year, middle of the field targets barely occurred more than 10 yards past the line of scrimmage and he completed 49% of those passes. So far this season, Hurts has completed 6-of-7 passes of more than 10 air yards. Those six completions are already 43% of his 2021 completions to that part of the field.
As expected, the addition of A.J. Brown has played a big role in the increased efficiency on throws to the middle of the field. Brown has received 41.7% of the team's middle of the field targets with nine receptions for 121 yards.
Brown is one of the league's best middle of the field receiving and with the Tennessee Titans, that passing offense was built around his ability to win on in-breaking routes. The Philadelphia offense has not been built around that, but it's been an added element the team has taken advantage of over the first two games.
Against the Vikings, Brown had a 19-yard gain from settling a hitch just inside the numbers in a hole from Minnesota's zone.
In Week 1 against the Lions, Brown won inside with a post into space against a Detroit blitz.
That's another place where the middle of the field has come into play. Hurts has been more comfortable throwing hot to the middle of the field against the blitz through two games. Against five or more pass rushers in 2021, just a third of Hurts's pass attempts were between the numbers. This year, that rate is 53.3%. He's also made that process quicker with 60% of his dropbacks within 2.5 seconds of the snap against the blitz, compared to 47% in 2021. 
It's only been two games but we've already seen improvement in some of the places we were anticipating in 2022. The combination of short and middle of the field throws adds more elements that defenses need to account for when playing the Eagles. It also gives Philadelphia more options should one of them not work in a given game — this passing offense is no longer as one-dimensional as it had been in the past.
All of this also adds to what Hurts still does well. If there's going to be an open deep shot, he'll take it as evidenced by the deep touchdown to Quez Watkins on Monday night. Hurts also leads all quarterbacks in rushing attempts (28) and yards (147).
So far, the Eagles have been one of the best offenses in the league. The quarterback play has been a huge part of it. There is still a lot of season to go but the Eagles couldn't ask for a better showing from the quarterback over the first two weeks. The ways in which Hurts has expanded his game in 2022 should make the rest of his season an exciting one to watch.