Jalen Ramsey is one of the NFL's best outside cornerbacks. This year, he's one of the NFL's best slot cornerbacks. He's one of 28 players to have at least 100 coverage snaps lined up both outside and in the slot in 2021. Among that group, he's sixth in yards allowed per coverage snap on the outside and second from the slot, per charting from Sports Info Solutions.
With Troy Hill gone and with a shift to Raheem Morris as defensive coordinator, Ramsey has played more in the slot this season in the Rams' "Star" position. In all but two games this season, Ramsey has played more snaps in the slot than outside, per PFF. 
While most defenses use their best cornerback to shadow opposing No. 1 receivers, the Rams have moved Ramsey around to give him more freedom to make plays across the field. Occasionally when even top corners are left to the outside, they can be ignored by the opposing quarterback. Part of moving Ramsey around the defense has been, in part, to make him what Sean McVay has called as unavoidable for the QB as possible.
For Ramsey personally, that's been a massive success. Among 1117 cornerbacks with at least 100 coverage snaps on the season, Ramsey ranks second in Adjusted Yards Allowed per coverage snap, using the pro-football-reference formula that includes weights for touchdowns and interceptions. He's also still not getting targeted all that much — he's 17th in targets per coverage snap in that group. But even as quarterbacks are trying to avoid him, the Rams are making that tougher and he's consistently around the ball. His play should put him at the top of the Defensive Player of the Year conversation but per BetMGM, he's currently seventh in odds at +2500. 
Top-15 Cornerbacks By Adjusted Yards Allowed per Coverage Snap (min. 100 coverage snaps)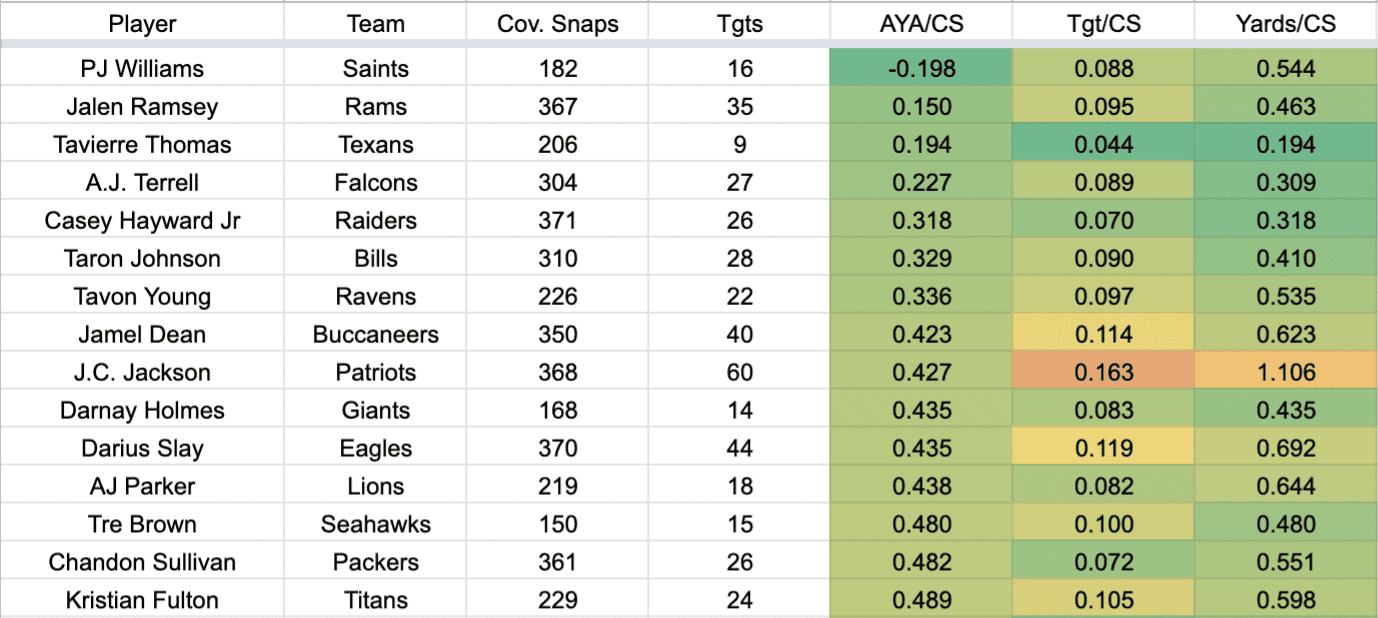 Through 10 games in 2021, Ramsey already has more passes defensed (10) than he did last season (nine). He's one interception shy (three) of his career-high (four). Putting him closer to the line of scrimmage has also helped him make plays elsewhere. He's been used as a pass rusher more often — he has six pressures on 16 pass rushes in 2021 after he had one pressure on 11 rushes in 2020 per SIS. 
His speed and balance have been assets playing downhill. Against the Tampa Bay Buccaneers, he sidestepped an attempted block from Leonard Fournette, which forced Tom Brady to throw the ball into the ground.
That's also translated to the open field. Against the New York Giants, Ramsey blew up a screen by juking an offensive lineman in a one-on-one situation.
With eight tackles for loss in 2021, Ramsey has matched his previous career total from 2016-2020.
Moving Ramsey around has also opened up possibilities on pre-snap looks, even when the corner will stay in coverage. Against the San Fransico 49ers in Week 10, Ramsey was lined up in the slot across from Brandon Aiyuk. Before the snap, he continually crept up toward the line. Typically that wouldn't mean much for an opposing offense but with Ramsey doing a little more, the thought of a rush is now a threat. Ramsey dropped back into coverage inside of Aiyuk and with a quick out from Aiyuk, Jimmy Garoppolo thought there would be enough leverage to fit the ball in. Instead, Ramsey was able to recover and jump in for a pass defensed.
The impact of Ramsey in the middle of the defense is pretty easy to see. Take a look at where wide receivers have been targeted across the NFL in 2021: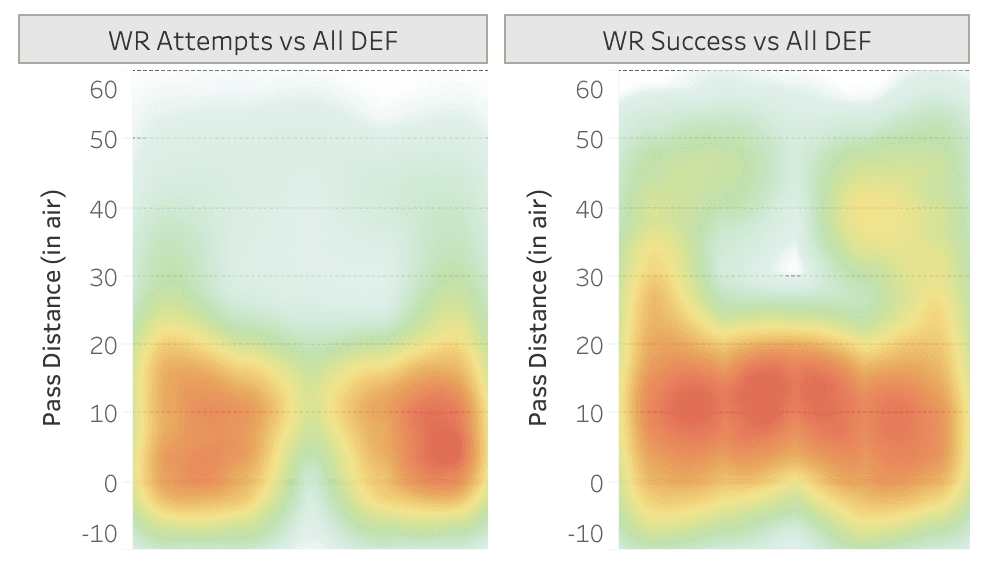 Now compare that to where wide receivers have been targeted and found success this season against the Rams: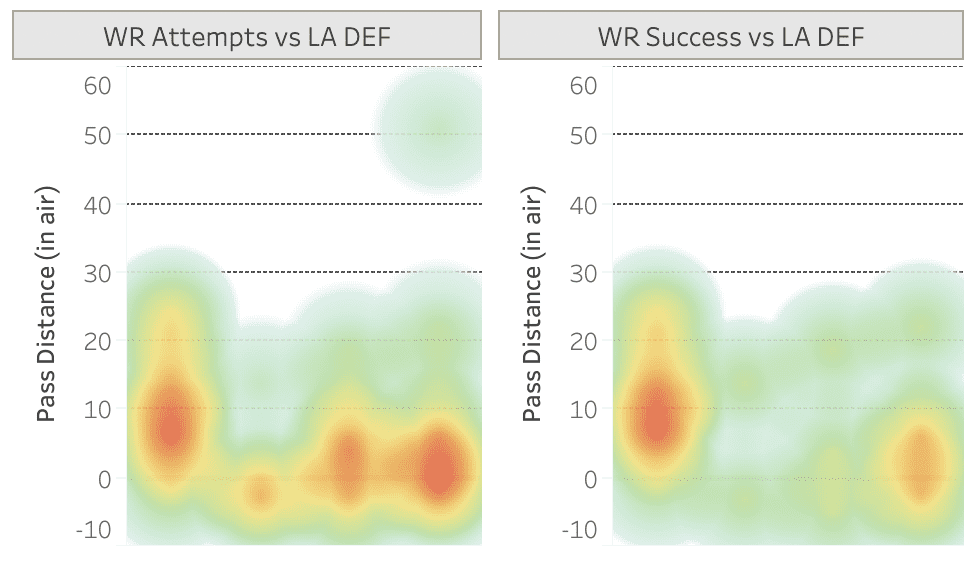 It's clear that Ramsey has excelled in this role, especially for a defense that doesn't use off-ball linebackers a whole lot (the Rams play 18% of their snaps in dime), but there are places where this hasn't quite served the Rams' defense as a whole. Without the top corner following the opposing top receivers, the Rams have dropped to 22nd in DVOA against No. 1 receivers, per Football Outsiders. Last year, they still only ranked 13th but that was with fairly low volume — 7.6 passes per game and 55.3 yards allowed per game, which ranked second. This year, the Rams have allowed the most passes per game (9.8) and yards per game (84.8) to opposing No. 1's.
Part of this stems from the shuffle the Rams have needed at outside corner around Ramsey. Ramsey has played 93% of the defensive snaps and the second corner Darious Williams has played 65% but also spent three weeks on injured reserve. Behind them has been a mix of David Long (52.1%), Robert Rochell (34.1%), and Donte Deayon (32.5%). 
Long, a 2019 third-round pick, is holding his own on the outside, but there have been struggles across the rest of the group on the outside in the non-Ramsey division. (The average Adjusted Yards per coverage snaps among corners this year is around 0.9.)
Rams Outside CB, 2021
| Player | Cov. Snaps | Tgts | AYA/CS | Tgt/CS | Yds | TDs | Ints |
| --- | --- | --- | --- | --- | --- | --- | --- |
| David Long Jr | 221 | 19 | 0.53 | 0.09 | 162 | 0 | 1 |
| Darious Williams | 141 | 24 | 1.32 | 0.17 | 166 | 1 | 0 |
| Jalen Ramsey | 127 | 16 | 0.20 | 0.13 | 95 | 1 | 2 |
| Robert Rochell | 123 | 18 | 1.14 | 0.15 | 165 | 1 | 1 |
| Dont'e Deayon | 74 | 12 | 1.46 | 0.16 | 88 | 1 | 0 |
This leaves the Rams potentially balancing the thought of having a good overall pass defense (they're still 10th in defensive DVOA against the pass) and being able to shut down an opposing top option. This matters with the Rams' upcoming schedule out of their bye. The Rams will face the Green Bay Packers, Arizona Cardinals, Seattle Seahawks, and Minnesota Vikings in four of their next five games. Those teams feature some decent No. 1 receivers.
We've already seen a glimpse of how the Rams treated these matchups earlier in the season. Los Angeles played Seattle in Week 5, one of the two games Ramsey played more outside than slot snaps. Per NFL Next Gen Stats, Ramsey lined up across from DK Metcalf on 44% of the receiver's routes. That resulted in just two targets but also two receptions, 44 yards, and a touchdown — the lone touchdown credited against Ramsey in coverage this season.
The week prior against the Cardinals, Ramsey played over 70% of his snaps in the slot instead of against DeAndre Hopkins. Hopkins had three targets against Ramsey but that resulted in just one catch for 18 yards and one pass defensed.
Against the Green Bay Packers in the NFC Championship Game last season, Ramsey had started to play more of this Star position but lined up across from Davante Adams on 53% of the receiver's routes. Those weren't exclusive to the outside, since the Packers also move Adams around.
Snaps against top opposing receivers also don't always mean man-to-man coverage. Think of a slant Adams had when lined up against Ramsey in that Conference Championship Game. Ramsey backed into zone right off the snap and was never really responsible for Adams's actual route once the receiver broke inside. The Rams play the second-highest rate of zone coverage in the NFL, per SIS.
Still, man-to-man or not, that leaves them with a weakness on the outside. Darious Williams could be a key to allowing Ramsey to play more on the outside, should the Rams want to go in that direction. Last season Williams had a breakout year as a great outside corner across from Ramsey but as the numbers above show, that hasn't been the case this season. Williams, though, is also one of those players with at least 100 coverage snaps both outside and in the slot. In the slot this season, he's allowed just 45 yards on 119 coverage snaps, per SIS, and that yards per coverage snap figure is the third-best from the slot — just behind Ramsey. That might not be where they go since Williams leads the team in outside coverage snaps in the two weeks since his return from IR.
Ramsey's Star role has added another layer to the game of an already great defensive back. But for the Rams to be the best version of themselves on defense, they'll have to figure out if that will be the best role for Ramsey given the rest of the defensive backs on the roster or if they'll need their star to return to one of the league's best shutdown outside corners.