This is not a post to tell you Justin Jefferson is good at football. This is also not a post to tell you where Jefferson ranks among NFL wide receivers. But we can get that out of the way. Since Jefferson stepped onto the field as a rookie he's been one of the best receivers in the NFL and it would be difficult to name five clearly better receivers currently in the league. This is a post to tell you Justin Jefferson might just get better.
In 2021, Jefferson was already fourth among wide receivers in yards per route run with 2.59 among 61 receivers with at least 400 routes. Yet there are expectations for improvement are there. Part of it stems from a new coaching staff under head coach Kevin O'Connell, who was the offensive coordinator with the Los Angeles Rams. Those expectations were further heightened by Jefferson himself when he recently told The Ringer NFL Show he sees a Cooper Kupp-like role in his immediate future.
"Pretty much where Cooper Kupp was at that's pretty much where I'm at. But my ability to move in different positions is gonna be more. I'm able to go in outside. You don't really see Cooper Kupp lining outside as many times as I would. Or me lining in the backfield, or me just lining up in different positions to get the ball."
Per TruMedia/PFF, Jefferson lined up outside on 74.9% of his snaps in 2021. Kupp, in comparison, lined up outside on 34.9% of his snaps. An increase in slot snaps, especially in this scheme, should only help Jefferson but he's right that his ability to win on the outside will add another element to that role.
Jefferson was more productive on the outside in 2021 (2.78 yards per route run to 2.18) and his performance there was a significant reason for his development last season. He was often asked to win on his own in isolation. Per Sports Info Solutions, Jefferson had the fourth-most routes as an isolated receiver (222) in 2021, which led to 38.3% of his targets. Kupp ran just 72 routes as an isolated receiver.
That skill to win out on his own allowed Jefferson to be arguably the most dangerous receiver on third down last season. Jefferson led receivers in yards per route run and team target share on third down. His 628 yards on third down also led the league with Kupp's 506 ranked second.
Kupp was a little better on early downs when the Rams' offense was more focused on getting the receiver into space.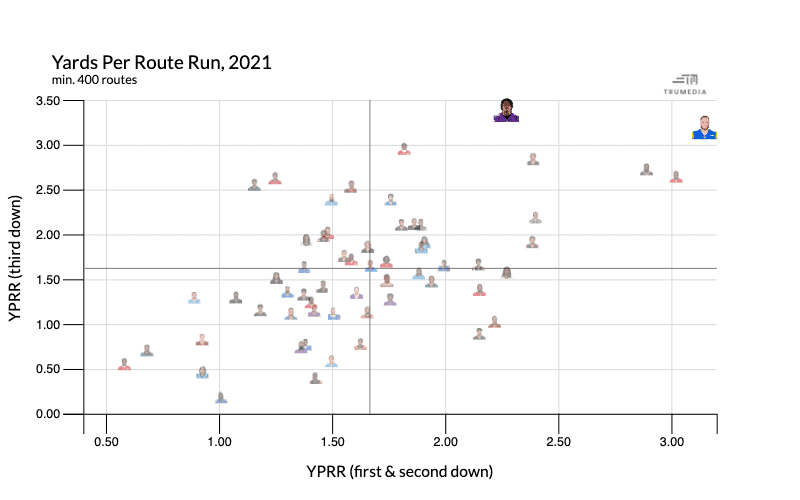 It's clear to see the actual differences in usage by where these players were targeted. Jefferson's average depth of target was 12.4 yards in 2021, compared to 8.59 for Kupp.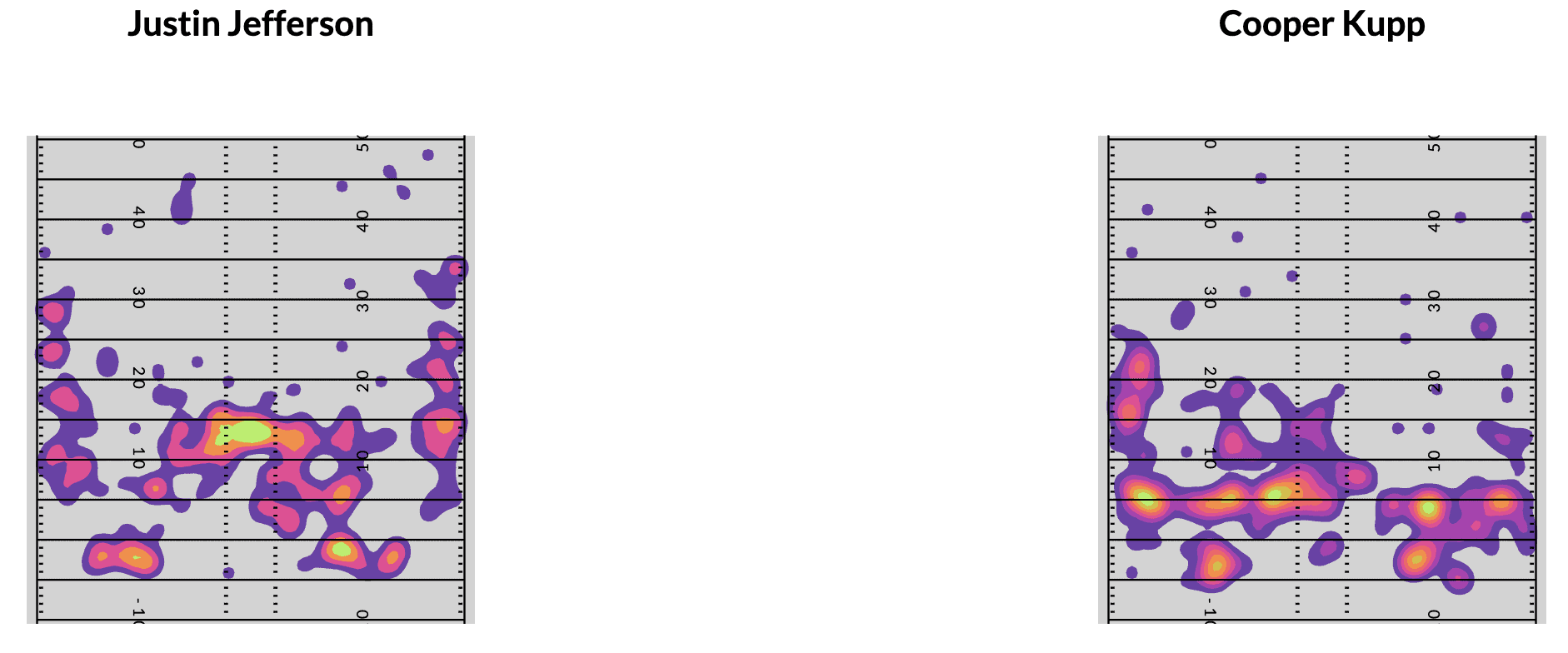 50.8% of Kupp's 2021 targets came from 1-10 yards beyond the line of scrimmage. Jefferson's rate was 30.5%. Jefferson might be the best intermediate receiver in the league — his 6.93 yards per route run between 11-19 air yards were over a yard better than the next receiver (Tee Higgins at 5.72) — but getting more easy completions over the middle could make Jefferson even more dangerous.
An increased slot role also won't be new to Jefferson. As a rookie, Jefferson had a similar slot/outside split but was more productive from the slot (2.99 yards per route run) and he was mostly a slot player in college, where he lined up 81% of the time during his final season at LSU. In that season, Jefferson had an 8.7-yard aDOT, which was one of the lowest among that year's draft class. 
Parts of that college role could be similar to what we see in 2022 with Jefferson in some tight splits and taking control as a blocker in the run game, which will also open up a number of play-action looks on early downs. We're not going to see those intermediate and deep routes completely go away and there are some changes that could immediately make an impact this coming season.
Crossing Over
The Minnesota and Los Angeles offenses both sent their star receivers on crossing routes often — Jefferson and Kupp tied for the third most crossing routes run during the 2021 regular season — but the way in which those crossers were designed could give some insight into how things can change for Jefferson in 2022.
Since Jefferson was so often isolated on the outside, most of his crossing routes came from that alignment. Jefferson led the league with 32 deep crossers as an isolated receiver, per SIS. That, obviously, was not Kupp's role in the Rams' offense. Instead, that was Van Jefferson, who was second in the league behind Jefferson with 24 such routes.
Overall 66.7% of Jefferson's targets on crossing routes came from the outside. 81% of Kupp's came from the slot. Per TruMedia, Kupp led the league with 80 crossing routes from the slot. The next highest was Zach Pascal with 69.
Let's take a quick look at how these routes differ. We'll start with Kupp and the Rams. In Week 17 against the Baltimore Ravens, the Rams had a first-and-10 from their own 40-yard line. The Rams came out in a trips look on the right side in 11 personnel (three receivers, one running back, and one tight end). Kupp was lined up on the hash as the No. 3 receiver (counting in from the outside). Before the snap, the Rams sent the outside receiver in motion across the formation. That motion was key to opening up the middle of the field for Kupp. Adding a receiver to the other side of the field drew the attention of the outside corner and safety to that side, which left Kupp able to run his crosser behind a linebacker and into a wide-open space for the reception.
Now let's take a look at a Jefferson crosser. In Week 14, the Vikings had a first-and-10 against the Pittsburgh Steelers on their own 22-yard line. Minnesota came out in 21 personnel (two backs) with a receiver on each side of the formation. Jefferson was out wide to the tight end side. Play-action helped open up the middle of the field and Jefferson sold his vertical stem enough to trip up the corner opposite him. On the other side, K.J Osborn ran right up the seam but with no other threat to the outside, slot corner Cameron Sutton (20) was aware enough to peel away from trailing Osborn and meet Jefferson as the receiver crossed the field. 
Jefferson still gained 22 yards on the play, but there would have been potential for more with better spacing. Just compare the point of reception between the two players. With a simple motion and route combination, the Rams schemed up a coverage advantage and an open area for a catch. The Vikings essentially ran a two-man route combination against four defensive backs.
Jefferson: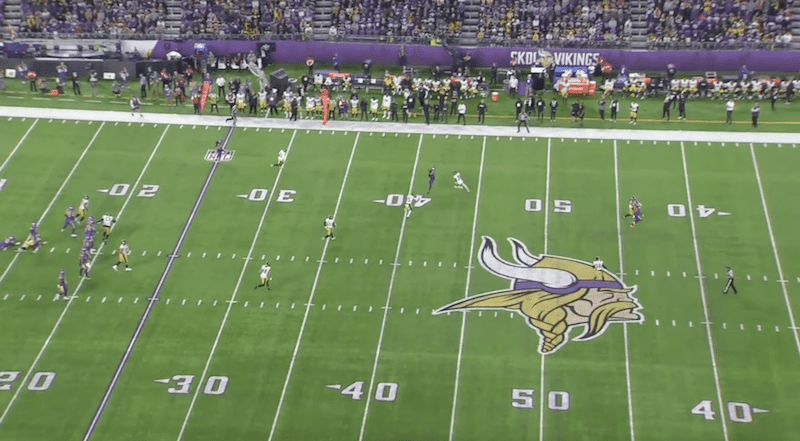 Kupp: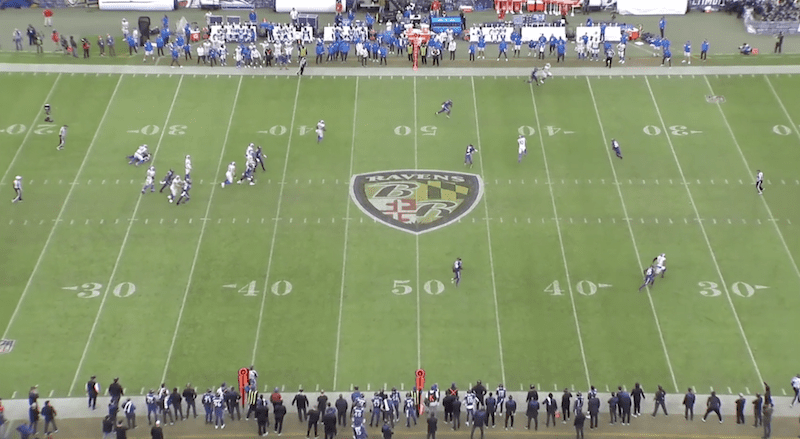 These are the subtle differences that can matter for making a superstar receiver even better. This is an area where the Vikings can improve under the new coaching staff. The Rams have leaned on 11 personnel throughout Sean McVay's tenure as head coach. Last season, the Rams used 11 personnel on a league-leading 86% of plays. The Vikings used 11 personnel on just 47% of plays. 
Because of some of the heavier personnel packages and the way the Vikings styled the run and play-action game, Minnesota had a bunch of plays with a limited number of receivers in routes. The Vikings were seventh in dropbacks with three or fewer receivers in a route last season. For additional context, the Jefferson play above is considered three players in route because the back eventually comes out after the play-fake, though it's effectively a two-man route down the field.
Last year the Rams had the third-fewest plays with three or fewer receivers in a route with just 29 such dropbacks. 95.5% of the Rams' dropbacks had four or more receivers in a route. That figure was just 89.9% for the Vikings.
Getting a mismatch in coverage is also a benefit for these types of looks. With Jefferson so often on the outside and with few other receiving threats, he was basically always lining up across from a cornerback. The Rams continually used their alignments and spacing to get Kupp across from a linebacker, despite the fact that Kupp was the most productive and targeted receiver in the league. Manipulating the spacing and coverage rules allowed that type of mismatch to happen often. There are already few corners that could stay with Jefferson in coverage consistently. The number of linebackers that could do so is significantly lower.
All of this could make Jefferson more explosive from the slot. Last season 26.6% of his receptions on the outside gained 20 or more yards. From the slot, it was just 20.7%. 27.4% of Kupp's slot receptions went for 20 or more yards and his 26 slot receptions of 20 or more yards easily led the league with the next highest at 13.
Taking attention away from Jefferson with more going on in the offense could open up more opportunities for the receiver. Add that to a player who has already proven he can be one of the most dominant outsider receivers in the game and the Vikings could be on the verge of unlocking something truly special. It might not be fair to expect Jefferson to replicate Kupp's raw totals from 2021, but given the talent and the added benefit from the scheme, it wouldn't be a surprise if he came close, either.