Given how resistant the NFL is to really shake things up, especially when it involves player contracts, the most likely outcome of the Lamar Jackson saga was the quarterback returning to the Baltimore Ravens on a traditional quarterback contract structure.
That's what we got hours before the opening round of the 2023 NFL Draft when it was reported Jackson and the Ravens agreed to a five-year deal worth $260 million with $185 guaranteed. 
As of this writing, we don't know the full structure, singing bonus, or cash flow, but the big numbers point to the biggest quarterback contract given out, topping those from the Jalen Hurts extension.
At $52 million per year, Jackson now has the highest average annual salary in the NFL. The $185 million in guarantees is second to Deshaun Watson's $230 million. 
Multi-year $30M+ AAV Extensions since 2020
Data per Over The Cap
Player
Year Signed
Length
Total
Value
AAV
Fully Guaranteed %
Total Guarantee %
Lamar Jackson
2023
5
$260,000,000
$52,000,000
TBD
71.12%
Jalen Hurts
2023
5
$255,000,000
$51,000,000
43.14%
70.31%
Aaron Rodgers
2022
5
$150,815,000
$50,271,667
67.24%
99.90%
Russell Wilson
2022
5
$245,000,000
$49,000,000
50.61%
67.35%
Kyler Murray
2022
5
$230,500,000
$46,100,000
44.82%
69.41%
Deshaun Watson
2022
5
$230,000,000
$46,000,000
100.00%
100.00%
Patrick Mahomes
2020
10
$450,000,000
$45,000,000
14.02%
31.33%
Josh Allen
2021
6
$258,000,000
$43,000,000
38.76%
58.14%
Matt Stafford
2022
4
$160,000,000
$40,000,000
39.38%
75.00%
Dak Prescott
2021
4
$160,000,000
$40,000,000
59.38%
78.75%
Daniel Jones
2023
4
$160,000,000
$40,000,000
50.63%
65.00%
Derek Carr
2023
4
$150,000,000
$37,500,000
40.00%
66.67%
Jared Goff
2019
4
$134,000,000
$33,500,000
42.57%
82.12%
Matt Ryan
2018
5
$150,000,000
$30,000,000
63.00%
66.67%
Ryan Tannehill
2020
4
$118,000,000
$29,500,000
52.54%
77.12%
Given how close the final numbers are, it's apparent that the Hurts deal set the final wheels in motion for the contract to get done.
Some will try to spin this as a loss for Jackson because he could not obtain a fully guaranteed contract, but it's difficult to see getting the largest overall contract in the NFL as a bad thing.
There was also a push for Jackson to hire an agent with a belief that his lack of one was hampering the negotiations. It's clear that even with an agent, Jackson was not going to get the full guaranteed contract.
It's also possible an agent would have pushed for a deal earlier in the offseason that could have been surpassed by Hurts's contract instead of using it as a base to build off.
It's also possible a contract of this structure could have been done last offseason and Jackson would have gotten more money than playing on the fifth-year option, but the $23 million he made in 2022 wasn't nothing.
With a five-year deal starting in 2023, Jackson will also be out of his deal before some of the other big contracts handed out to quarterbacks.
Josh Allen signed a six-year extension in 2021, and while he got money earlier, those new years don't start until this season. That means he's under contract through 2028, a year longer than Jackson.
Kyler Murray's five-year extension was tacked on to the final two years of his deal, meaning he's also under contract through 2028.
Jackson has the potential to cash in on his third contract first.
Everyone involved in these negotiations can win in this scenario. Jackson got a deal that makes him the highest-paid player in the NFL, and the Ravens get the result they always wanted — Jackson as their quarterback on a long-term deal.
For as long as these contract negotiations dragged out, the conclusion ends at an optimal time for Baltimore. The Hurts deal set the baseline for an acceptable contract and the deal is done before the next wave of quarterback contracts that will include Joe Burrow and Justin Herbert.
There will also be an immediate impact felt for the Ravens.
To this point, Baltimore had been going through the offseason with a $32.4 million cap charge on the books for Jackson's franchise tag, even though he hadn't signed it.
While we don't know the structure of the deal, it's guaranteed the cap hit in the first season will be lowered, which will give the Ravens some more cap space to work with.
In the moments after the trade, Baltimore has already been linked to veteran receivers DeAndre Hopkins and Courtland Sutton via trade.
Potentially add one of those receivers to a group that includes Odell Beckham, Rashod Bateman, and Mark Andrews, and the Ravens would easily have their most impressive group of skill position players in Jackson's career.
That leads us to projecting what the Baltimore offense could be over the next few seasons.
With Jackson on the field last season, the Ravens had the equivalent of the 10th-best offense in football per EPA per play, according to TruMedia. On plays with both Jackson and Bateman on the field, the Ravens were the equivalent of the second-best offense by EPA per play.
Baltimore finished the season 19th.
Few times throughout Jackson's Ravens career has the offense truly been at full strength. Part of that has been on Jackson missing games each season, but it also was the fault of thin skill position depth that was continually struck with injuries.
Here are the players who have run routes for the Ravens over the past three seasons, a stretch that Jackson averaged 0.08 EPA per play, 15th among quarterbacks.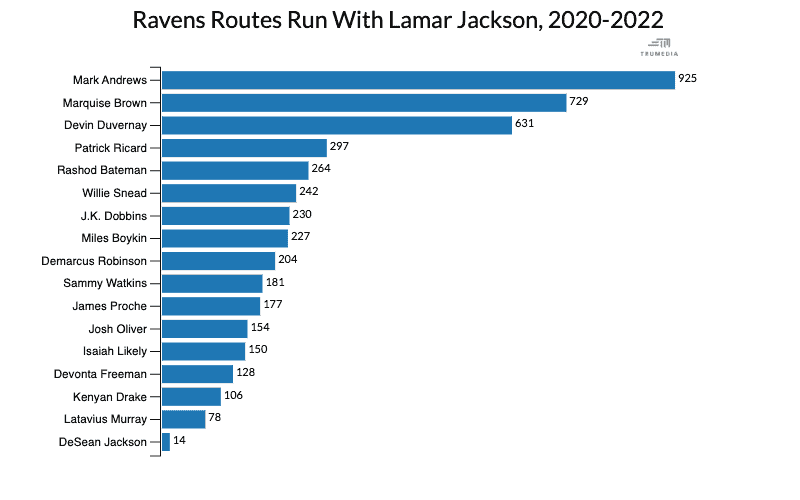 Often, Jackson was asked to lift an offense more than any other quarterback in the league. That was due to the roster design and an offense that failed to evolve in passing schemes after Jackson had his MVP season.
Jackson won't be returning to that same offensive structure.
New offensive coordinator Todd Monken should be able to fold in more modern ideas into the passing game while highlighting what the quarterback can do on the ground.
With the addition of Beckham — and the money given out in that deal — there has already been more of an effort to add to the supporting cast at the skill positions. The Ravens might not be done there.
The Baltimore Ravens are Lamar Jackson's team. The contract negotiations to keep it that way took a while but have finally come to a conclusion. With the deal done, it's just the beginning of what the Ravens can do around their former league MVP.