The New England Patriots and San Francisco 49ers have built the league's two best defenses. In an era where passing rules and offense has been the driving factor to team success, the league's two undefeated teams have been driven by their defenses. It's not just that these two teams have relied on good defense or even great defense. They've been otherworldly.
By defensive DVOA, which measures production against league average performances, the gap between the 49ers at No. 2 and the Carolina Panthers, the league's third-best defense, is bigger than the gap between the Panthers and Arizona Cardinals at 28. 
New England and San Francisco have both been among the league's best at producing sacks. The 49ers are first in the league in raw sack rate and the Patriots are third. But if those rates are adjusted for down and distance, both teams drop off a bit — the Patriots to fifth and the 49ers all the way down to 10th. These are teams that have been producing sacks when they should be, but that pass rush hasn't been the driving factor in the defenses' success, especially after looking deeper into the process stats that lead to those sacks.
By ESPN's Pass Rush Win Rate, which measures a pass rush "win" within 2.5 seconds of the snap, the 49ers rank 15th and the Patriots rank just 24th. Neither team is producing sacks unbelievably early in the down. Per Next Gen Stats, only one of San Francisco's 20 sacks has come under 3.0 seconds after the snap. Meanwhile, four of New England's 26 sacks have come that quickly.
The pass rush has gotten there when it needs to but in both instances, the pass rush has been aided by excellent pass coverage behind it.
Stopping the pass
What's been so impressive about the coverage units in both New England and San Francisco is there's been no weak link. Often even when a team can throw a superstar cornerback like Stephon Gilmore or Richard Sherman on one side of the field, opposing offenses will choose to just attack the other inferior defenders. That hasn't been a viable option against either team this season.
There have been 96 cornerbacks who have played at least 100 coverage snaps this season per Sports Info Solutions charting. The 49ers and Patriots have four each to hit that threshold. By Adjusted Yards allowed (yards weighted by touchdowns and interceptions) per coverage snap, the 49ers have three of the top nine players.

Sherman has been predictably good for that unit, but the development of the other three has been the biggest factor in how well this secondary has played. Overall, defensive coordinator Robert Saleh has done a great job putting together the defense, but an underrated hire this past offseason was Joe Woods as the defensive backs coach and passing game coordinator. Woods has coached in a number of places, but most notably he was the defensive backs coach with the Denver Broncos under Wade Phillips in 2015 and 2016 then took over as defensive coordinator when Phillips left in 2017 and 2018.
From a player resource perspective, the 49ers have gone all-in on the defensive line. They have first-round picks in DeForest Buckner, Arik Armstead, Solomon Thomas, and Nick Bosa. They traded a second-round pick and give a massive contract extension to Dee Ford this past offseason. But it's been the player development side in the secondary that has sparked the play of this defense.
Woods has helped immediately speed up the development in K'Waun Williams, Ahkello Whitherspoon, and Emmanuel Moseley. Williams is playing his best football in his fifth season, third with San Francisco. Witherspoon, a 2017 third-round pick, was one of the league's worst cornerbacks by coverage metrics last season across from Sherman. Moseley has seamlessly jumped into a starting role as a second-year undrafted player who played zero defensive snaps last season.
This group also doesn't even count Jimmie Ward, who missed the first three games of the season and has 71 coverage snaps on the year. He might be the most versatile piece of this defensive back puzzle. He's already bounced around from safety to the slot to the outside — his return coincided with an injury to Witherspoon — and he's allowed just 0.15 Adjusted Yards per coverage snap.
With all this going together on top of the pass rush, it's hard for opposing offenses to get anything going. Here's what the field looked like on Sherman's interception of Baker Mayfield in Week 5. Nick Bosa was one-on-one with a tight end and forced the pressure, but even before he got there, Mayfield had nowhere to go with the ball. This is the type of bind the secondary mixed with a good pass rush can put on an offense.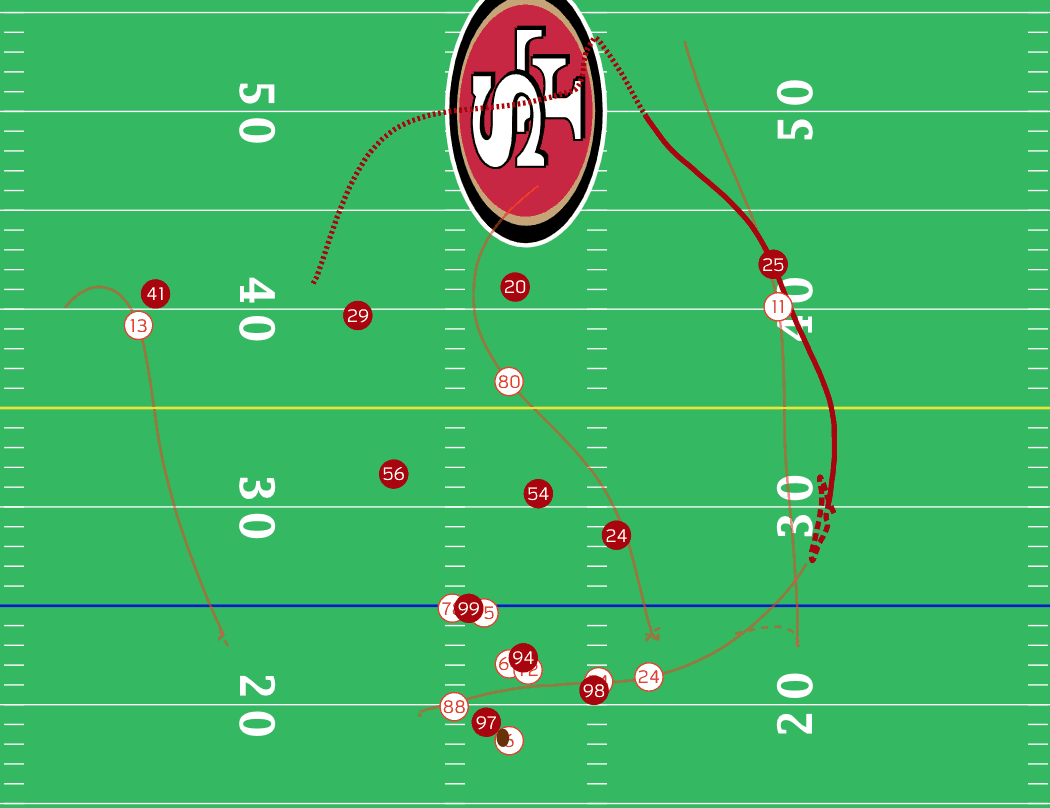 The Patriots have two of the top 14 corners in the qualified coverage group, including the top spot and the worst Patriots cornerback has been about average — the averages among qualified cornerbacks are 1.04 Adjusted Yards allowed and 0.14 targets per coverage snap.

Bill Belichick has been widely known for his process of covering dangerous opposing No. 1 receivers. In the past, he has put his top corner on the team's No. 2 and put the No. 2 corner of the No. 1 receiver with safety help over the top. But as Belichick has taken over as the de facto defensive coordinator, he hasn't gone with that strategy often, instead, he's allowed Gilmore to follow the opponent's top option.
That's given the Belichick an option he hasn't had since Darrelle Revis. Gilmore can lock up an opposing No. 1 and those extra coverage resources can be spent across the opposing offenses other options, which makes it even more unlikely passes those players will be successful.
Whether it's Sherman holding down one side of the field or Gilmore shadowing a No. 1, both of these secondaries get the boost of allowing one corner the ability to completely shut one thing down.
When all the corners are playing this well, as it the case for both of these defenses, opposing quarterbacks have to throw at someone and there's just no good option. All of these corners are performing better than what would be expected of players getting targeted as often as they do. The below chart highlights the group of qualified cornerbacks by Adjusted Yards allowed and targets per coverage snap. 49ers highlighted in red, Patriots in blue.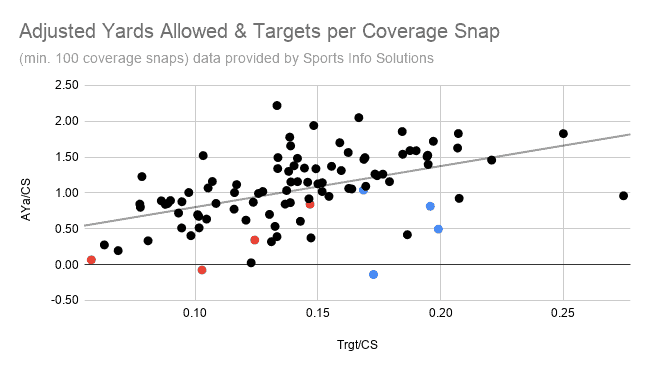 Coverage Linebackers
An underrated aspect for both of these pass coverage units is the play of the linebackers. Last week, we highlighted the play of Kyle Van Noy, who has been New England's most productive pass rusher, but has also dropped into coverage on a quarter of his pass snaps. However, New England's best coverage linebacker this year has been Jamie Collins, who returned to the Patriots after an up-and-down stint with the Cleveland Browns.
Collins leads Patriots linebackers with 111 coverage snaps and leads all linebackers with at least 100 coverage snaps (there are 57 of them) in Adjusted Yards allowed per coverage snap. His three interceptions certainly help and all three were deflected in some way, but Collins has been a major plus in coverage overall.
San Francisco's linebacking duo might be on another level. Many scoffed at the contract given to Kwon Alexander during the offseason, especially coming off a torn ACL, but he's been one of the best coverage linebackers in the league this season. He's second to Collins in Adjusted Yards allowed per coverage snap (the two are the only linebackers with negative AY/CS) with only one interception influencing that number. Alexander has also limited the number the passes thrown his way, with just 0.06 targets per coverage snap, sixth-best among linebackers.
The Niners' most impressive player, though, might be Fred Warner. Warner was a third-round pick last season as a slot-backer hybrid from BYU. He took over the middle linebacker role for the San Francisco defense midway through last season and has used his mix of instincts and athleticism to patrol the middle of the field. Per Football Outsiders, no team has a better DVOA defending the short middle of the field than the 49ers this season (the Patriots are second).
What makes Warner so key is his ability to diagnose route concepts then also have the ability to stick with them in coverage. He's consistently able to jump in passing lanes and limit options in an area many teams are completing a high number of passes.
He's also asked to do a lot pre-snap. As the MIKE, he has been in charge of setting up the defense and he often aligns along the line of scrimmage even though he, and the 49ers, rarely blitz. San Francisco has blitzed just 16.1% of the time, the second-lowest rate in the league. These types of alignments force him into situations where not a lot of other linebackers would succeed, such as dropping back from the line, staying in coverage against Chris Godwin, and knocking away the pass.
Continued Success
Both of these defenses have all three levels working in sync, tearing up the hearts of opposing offenses. In the pass rush, the 49ers have relied on the front four to get pressure while the Patriots have a myriad of ways to create pressure. So much of that, though, has been reliant on the coverage to hold. To this point, both teams have been beyond successful with that.
Relying on defense still isn't the best path to winning in the NFL (see: Bears, Chicago) mostly because it's much harder to sustain elite defense over an extended period of time. Luckily both teams are so far ahead of other defenses there is room to regress and still be a top defensive unit. Even better each team has made an effort to improve the offensive side of the ball — the Patriots currently rank 13th in offensive DVOA while the 49ers are 15th. New England traded for Mohamed Sanu and San Francisco traded for Emmanuel Sanders on Tuesday.
Still, these teams would not be undefeated and virtual locks for the playoffs if not for the dominant defensive effort they've shown thus far. So much of that has come from pass coverage that has helped the pass rush and shot down many opposing offenses along the way.