Strength of schedule matters.
And that's why I track strength of schedule at Sharp Football Stats using roughly 30 different metrics to slice and dice team schedules. In 2018, five of the teams with the ten-softest schedules based on opponent efficiency made the playoffs (Colts, Bears, Texans, Patriots, Cowboys). The only team among them that made the playoffs the previous year was New England. The Chiefs were the only team to make the playoffs with one of last year's ten-toughest slates.
The 2017 Texans finished 4-12 against the league's 12th-toughest schedule. In last year's preview, I projected Houston to face the NFL's softest slate based on both opponent efficiency and a Vegas-based schedule comparison I first introduced several years ago. I believed the Texans would bounce back thanks in large part to their easier road.
The 2018 Texans finished 11-5 and won the AFC South. They weren't the betting favorite to win the division, but they did. And as it turned out, the Texans were one of the easiest fades in the playoffs I've seen in some time. All of this revolved around schedule strength.
Before the 2018 season, I forecasted the Texans to face the easiest schedule of opponent passing offenses.
Sure enough, when the season ended, they did in fact draw the league's easiest pass-offense slate.
In fact, it was the easiest pass-offense schedule in the last four years.
Their list of quarterbacks faced included Brock Osweiler, Blaine Gabbert, Blake Bortles, Cody Kessler, Colt McCoy, Case Keenum, Nathan Peterman, Marcus Mariota, Dak Prescott, Eli Manning, Nick Foles, and three rookies (Josh Allen, Sam Darnold, Baker Mayfield).
We may be hard-pressed to ever again see a defense face a combination of as many below-average to downright backup-level quarterbacks as last year's Texans did.
Take a look at these quarterbacks and their 2018 season-long stats in success rate, YPA, and rating: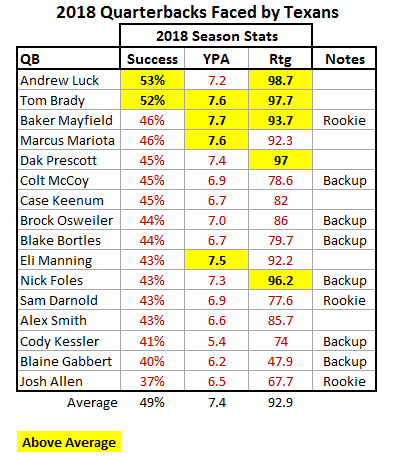 The only other two quarterbacks the Texans faced were Tom Brady and Andrew Luck. They went 1-3 against those quarterbacks, the lone win came on an overtime play call where Frank Reich's Colts risked going for it on fourth down in their own territory rather than play for the tie.
Your pass defense might be bad when you face a league-worst quarterback slate yet rank No. 18 in pass-defense efficiency. It might also be bad if it allows Nick Foles to set a franchise record in passing yards (497) and average 9.8 yards per attempt with four touchdowns. Your pass defense might be bad if it allows Marcus Mariota to go 22-of-23 for 303 yards (13.2 YPA) and a 148 passer rating. It might be an abject failure if the petrified remains of Eli Manning lights it up for 25-of-29 passing, 297 yards (10.2 YPA), and a season-best 69% Success Rate.
On account of accurately forecasting the strength of their 2018 schedule, I wasn't surprised the Texans made the playoffs. And I was even less surprised they went one and done in a two-touchdown loss to the Colts. Hosting their Wild Card game, the Texans trailed Indianapolis 21-0 at halftime. It was just the second time in the last ten years that a home playoff favorite was held scoreless in the first half. The last time a Wild Card team trailed at home by 21 points? Bill O'Brien's 2015 Texans, who were shellacked 30-0 by the Chiefs.
Unfortunately for this year's Texans, I project them to face the NFL's fifth-toughest slate of opposing passing offenses and the third-toughest overall schedule of offenses. Inside the division, the Jaguars upgraded from Bortles to Foles, and Tennessee has a new offensive coordinator. In addition to running it back against Luck (twice) and Brady, the 2019 Texans draw Patrick Mahomes, Philip Rivers, and Drew Brees, who quarterbacked last year's Nos. 1, 2, and 3 pass-efficiency offenses. Houston also draws Matt Ryan, Bruce Arians' Bucs, Cam Newton, and Derek Carr at the helm of a remade Raiders passing attack.
How does their projected 2019 schedule of opposing quarterbacks look, especially compared to that 2018 list?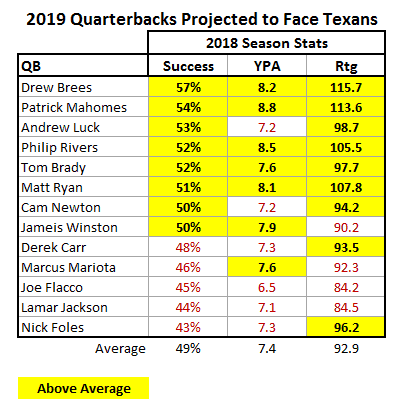 That jump in class won't be easy.  The 2019 Texans will face better and more experienced quarterbacks, which should have a direct correlation to their defensive metrics and points allowed.
But their 2019 schedule is not just tougher on quarterbacks faced.
Based on opponent win totals, the Texans move from the NFL's softest 2018 slate to this year's single toughest draw.
The 2018 Texans had an easy schedule and won. But their schedule-strength swing is the biggest in football heading into 2019.  The single easiest to the single toughest from 2018 to 2019.
And that will directly impact their outcomes.
How can the Texans compensate?
It starts and ends with Houston's play-calling, which has been a major problem.  O'Brien is far too conservative and inefficient a play-caller.  Let's examine a few of the suboptimal situations he puts his team into.
After a first-and-10 incompletion, the NFL average in 2018 was 61% pass on second-and-10. Yet the Texans were 47% run, the seventh-highest rate in the league. Those second-and-10 runs produced an abysmal 14% Success Rate and 3.8 yards per carry. Second-and-10 passes by the Texans produced a 50% Success Rate and 10.2 yards per attempt.
O'Brien has been doing this for years. The three-year league average is 59% pass on second-and-10 plays; O'Brien went a league-high 53% run on second-and-10 plays during that time. If you eliminate fourth-quarter plays, O'Brien jumps to 62% run on second and ten. The 2018 Cowboys led the league at 63% last year but averaged 6.3 yards per carry with a 47% Success Rate. The Texans averaged 3.9 YPC with just 20% success.
Another frustration with the Texans is their usage of the same running back immediately after an explosive run. League-wide over the last three years, when teams handoff to a different running back following a rush of ten or more yards, the next play averages 4.8 YPC with a 49% Success Rate. When teams handoff to the same running back who executed the original explosive play, their yards per carry fall to 4.1 and Success Rate to 43%.
When the same back gets the ball for the Texans following an explosive run, they average 2.6 YPC with a 24% Success Rate. But when they hand off to a new back, that back has averaged 6.2 YPC with a 50% Success Rate. Yet 59% of the time, O'Brien has left in the original back.
Frankly, Bill O'Brien's Texans are on the unintelligent end of the play-calling spectrum.
And time is running out for the Texans to compete for a championship in Deshaun Watson's rookie-contract window. 7-of-12 playoff teams last season had quarterbacks on rookie deals. It gives clubs a huge roster-building edge. Watson's cheap $3-4 million cap hit will expire after the 2020 season, and the Texans have done a terrible job of protecting their young passer. After being pressured on nearly 48% of dropbacks as a rookie in 2017 – most in the NFL among 42 qualified passers – Watson was again pressured on a league-high 45% of dropbacks last year.
O'Brien seems to think he knows how to "protect" Watson, which is by calling first-down runs and getting to third and manageable. O'Brien is wrong. First downs provide offenses with their easiest opportunities to pass the ball. So O'Brien is hurting Watson's ability to produce by running when defenses are geared up to stop the run.
O'Brien is also too predictable. Due to his league-high first-down run rate, O'Brien follows runs that gain 0-1 yards with passes on second and long at an extraordinary 80% clip. No team threw more second-and-long passes after run stuffs last season, and those predictable throws managed a 42% Success Rate. Unsuccessful second-and-long passes put Watson into too many third-and-long situations. On average, last year's Texans needed 7.8 yards to go on third downs in the first half, ranking 26th in the NFL.
For years prior to Watson, O'Brien's quarterback room was an ever-changing mess he pretended he could coach up. He collected bad quarterbacks, shipped them off, then welcomed them back in a circus-like atmosphere.
And now that he has an actual franchise quarterback, O'Brien doesn't know how to optimize his play-calling to get the most out of Houston's offense. In desperate need of improving Watson's protection, the Texans were leapfrogged by the forward-thinking Eagles for prized OT Andre Dillard in the draft. The Texans settled for Alabama State OT Tytus Howard instead, then doubled down with Northern Illinois G/T Max Scharping in the second round. But O'Brien needs to do his share from a play-calling standpoint, especially against a brutal schedule.