The Tua Tagovailoa discourse alone could power us through the NFL offseason. We've already filled the bingo card for prime offseason overreaction topics between Twitter clips, practice reports, and teammate quotes.
Tagovaolia is such an interesting (and polarizing) topic of discussion because we're all still searching for the answer to the most basic question — is he good at football?
We're entering Year 3 of Tagovailoa in Miami and we don't quite have a definitive answer. HIs -0.04 EPA per dropback through Year 2 puts him in a range around Trevor Siemian, Daniel Jones, and Jared Goff. That's obviously not great company, especially when his draftmates Joe Burrow (0.07) and Justin Herbert (0.14) have been to a Super Bowl and might be the 1B when ranking the league's quarterbacks, respectively.
If a quarterback is going to break out, we typically see some sign of it by Year 2. While Tagovailoa's sophomore season had a bump in efficiency, we didn't exactly get the signs of an impending top-tier quarterback.
With a new offense under head coach Mike McDaniel and an influx of speed (along with the cost of acquiring it), there are questions around the ceiling of a Tagovailoa-led offense.
Much of the concern and the current conversation stems from Tagovailoa's arm strength — or lack thereof. Only Daniel Jones (7.5%) threw deep on a lower rate of pass attempts than Tagovailoa last season. Over the past two years, Tagovailoa ranks 31st in the rate of deep throws among 37 qualified quarterbacks.
But not going deep often doesn't mean the quarterback can't do it. Last season, Tagovailoa completed half of his deep passes, tops among qualified quarterbacks, led the league in EPA per attempt on throws of 20 or more air yards (1.04), and was 15th in total EPA on those throws, per TruMedia.
Those numbers aren't sustainable should the rate of passes increase but they show at least a baseline of success that can be built upon should the offense open up.
Rarely were the deep passes wide-open gimmies. The throws that were made highlighted anticipation and accuracy to make them successful. Below is a deep throw to Jaylen Waddle in a Week 17 game against the Tennessee Titans.
The Dolphins also loved themselves some slot fades, which took advantage of Tagovailoa's strengths with anticipation and accuracy to push the ball down the field.
Mike McDaniel went on an extended answer at Thursday's OTA that went over why hitting a certain threshold is important for judging a quarterback's arm and how it will play.
Mike McDaniel with a thoughtful answer on most prevalent question about Tua Tagovailoa — can he throw the deep ball well enough to maximize Tyreek Hill/Jaylen Waddle?

A discussion on practical football difference between 55 and 85 yard arm strength. pic.twitter.com/JrPADa43iG

— Cameron Wolfe (@CameronWolfe) June 2, 2022
Part of that could certainly be a head coach covering for a quarterback who doesn't have the strongest arm, but the main point holds. Having an absolute rocket is a great tool to have and it has allowed players like Herbert, Josh Allen, and Patrick Mahomes to have a wider margin for error while developing. But it's not necessary to have a cannon to win deep.
Joe Burrow also doesn't have the strongest arm and was a terrible deep passer as a rookie. But with the addition of Ja'Marr Chase and better anticipation and plus processing, Burrow became one of the more effective deep passers in the league last season — his 0.73 EPA per attempt on deep passes ranked second.
Miami, for better or worse, used Tagovailoa's accuracy to serve the passing offense in a different way. As frustrating and taxing as the 2021 Dolphins offense was to watch, it worked* (*we can use "worked" liberally here since it should have been much worse) because the quarterback was able to put the ball where it needed to go.
Per Sports Info Solutions, Tagovailoa ranked eighth in on-target rate among 42 quarterbacks with at least 100 pass attempts in 2021. With so many passes thrown quickly and near the line of scrimmage, Tagovailoa didn't have any margin for error with these throws. They needed to be pinpoint or they would fall incomplete. 19.3% of Tagovailoa's pass attempts were into a tight window of one or fewer yards of separation, per NFL Next Gen Stats, the highest rate in the league.
Those tight window throws are going to go away in a McDaniel offense that has been all about creating space. That, now, is going to be where Tagovailoa's next step can come from. Will the timing, anticipation, and accuracy translate to a more open offense all over the field?
There's also a part of the conversation that the Dolphins won't necessarily need Tagovailoa to be a great or high volume deep thrower since McDaniel just came from coordinating a very successful offense with a quarterback who couldn't throw deep and barely threw outside the numbers.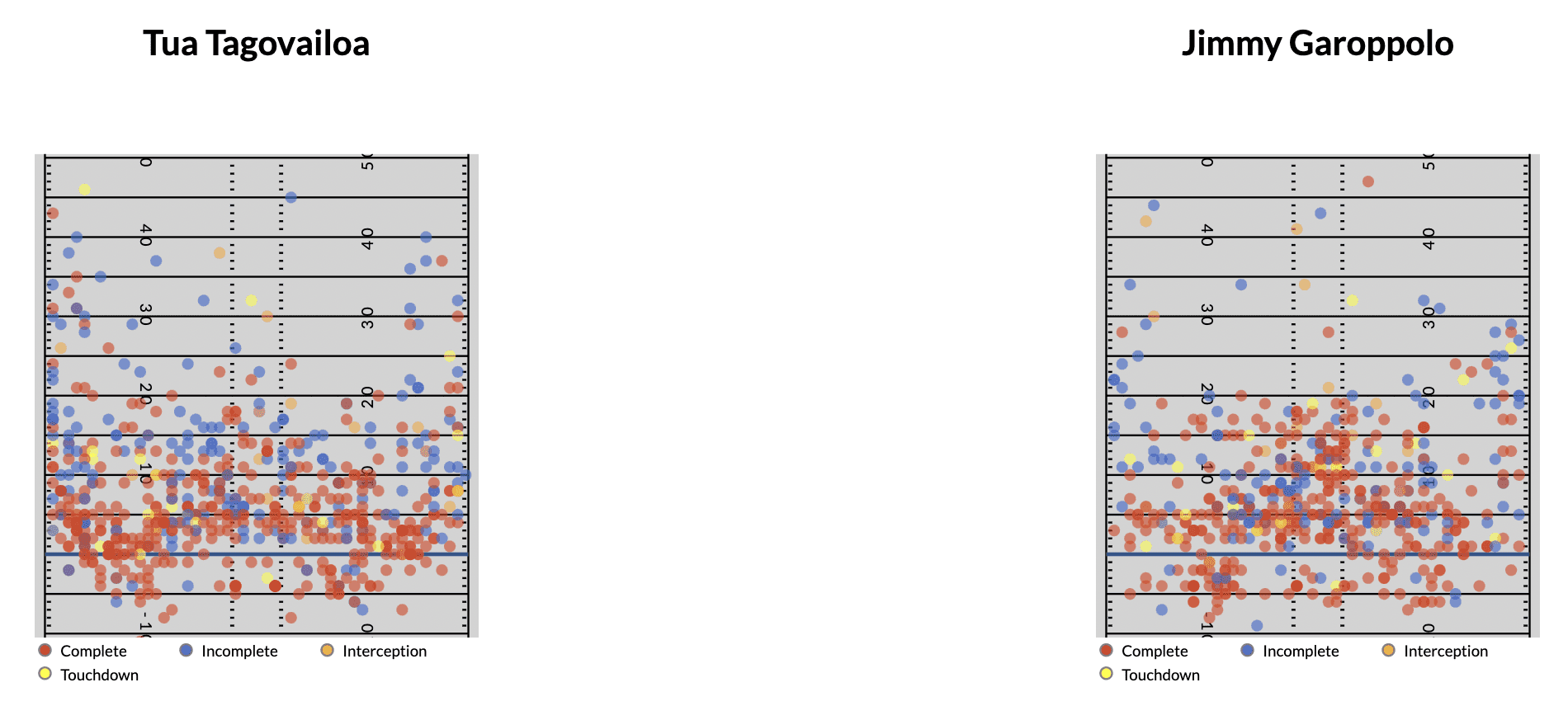 Tagovailoa and Jimmy Garoppolo haven't been significantly different in many peripheral statistics, though the biggest difference is the advantage Garoppolo had in EPA and yards per attempt. That efficiency boost can be attributed to the offensive structure that creates more space and allows receivers to do more after the catch.
Tua Tagovailoa vs Jimmy Garopppolo, 2020-21
data provided by TruMedia
| Player | EPA/DB | Dropbacks | Comp% | aDOT | YPA | Att/Behind LOS% | Short% | Intermediate% | Deep% |
| --- | --- | --- | --- | --- | --- | --- | --- | --- | --- |
| Tua Tagovailoa | -0.04 | 750 | 66.2% | 7.23 | 6.59 | 19.6% | 52.9% | 18.1% | 9.0% |
| Jimmy Garoppolo | 0.11 | 628 | 68.0% | 7.19 | 8.44 | 20.7% | 50.9% | 20.1% | 8.3% |
There's also a pretty significant difference in the effectiveness when the quarterbacks have thrown deep. Last season, Garoppolo was 30th in EPA per attempt on passes of 20 or more air yards and was one of three qualified quarterbacks to have negative EPA on those throws. Yet, Garoppolo still finished the season seventh overall in EPA per dropback.
Tagovailoa will be afforded some of those easy buttons, which will accentuate what he's already proven he can do well in an offense. There's also a possibility that he can add a little more with the effectiveness he's shown when throwing deep — but the point stands that he doesn't have to be the league's best statistical deep passer to have success.
Now, will the Dolphins be disappointed if Tagovailoa, a former fifth overall pick, maxes out as a slightly better Jimmy Garoppolo? That's certainly a question that will need to be answered as a decision about a second contract and the cost of it gets closer.
Tagovailoa might never become a top-tier quarterback — how close he gets to that will likely depend on his pre- and post-snap processing more than his arm strength — but we also haven't seen a quarterback that consistently derails a passing offense.
If you're going to judge Tagovailoa's success against Justin Herbert, then yea, it's not going to look great. If you're going to judge Tagovailoa on if he can manage to not derail open offense with a stacked group of playmakers, maybe you're setting the bar a bit low, but it feels like that's where the current offseason discourse has placed him.
The reality is Tagovailoa will probably finish the 2022 season somewhere between those two levels of play and while that might not be the most exciting option, it could be enough to make the Dolphins a little more exciting than they were before.