We tend to know what a quarterback is — or we have a good glimpse of what he could be — by the end of Year 2. That, historically, is when quarterbacks make the biggest leap. In the second season, we get an idea of what the likely career arc could be. The 2021 quarterback class had five players get significant playing time in their rookie seasons and another who will take over as the unquestioned starter in 2022.
Given some of the environments the quarterbacks were put in, there wasn't a ton of rookie success. Here, we'll take a look at what these quarterbacks did in 2021 and what they could need to get that important Year 2 leap in the coming season. Before we fully dive in, here's a quick snapshot of where completions happened for the five quarterbacks who were on the field most often.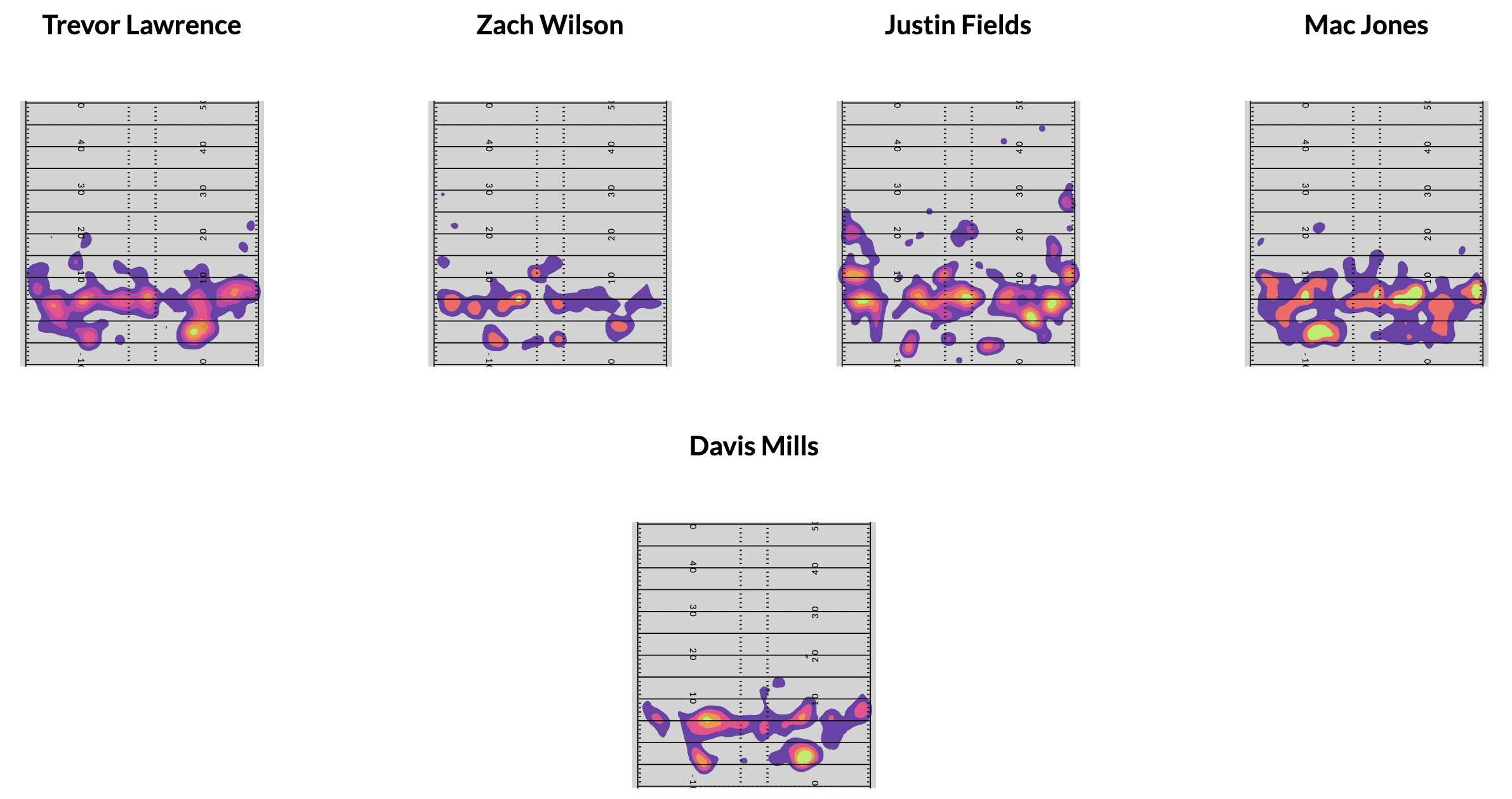 All stats below are from TruMedia unless otherwise noted.
Trevor Lawrence, Jacksonville Jaguars
Key to Year 2 leap: A real NFL offense
Few things went well for Trevor Lawrence in his rookie season. The coaching staff was a mess and the talent around him wasn't much better. That led to a fairly disappointing season from the first overall pick. Among 31 qualified quarterbacks in 2021, Lawrence ended the season 28th in EPA per dropback and 31st in yards per attempt. Of those 31 quarterbacks, only Lawrence had negative EPA per dropback (-0.02) on plays from a clean pocket. 
Lawrence wasn't blameless but he also had no margin for error. There were a ton of times when Lawrence did everything correctly in his process but the play was a disaster. Then there were times when the play was a disaster and Lawrence made something out of nothing, like this touchdown pass against the Indianapolis Colts in the season finale.
Even when things crumbled around him, Lawrence had enough flashes to set up optimism for the future. There were games like Week 4 against the Miami Dolphins when Lawrence was under pressure on 44% of his dropbacks but still was able to hang in the pocket and fire some strikes down the field.
Lawrence wasn't the most accurate quarterback, but was in so many adverse situations, his passes typically needed to be forced. Per Sports Info Solutions, Lawrence ranked 24th among quarterbacks in both on-target rate (74.4%) and catchable rate (83.8%). However, his rates were nearly the same as Tom Brady's (74.5%/83.7%) who had a fairly decent season with similar average depths of target.
Of course, Brady had better receivers on the other side of those passes and better things happened when they were completed. Brady led the league in explosive plays of 20+ yards with 75. Lawrence was 17th with 43. 
While we do like to see rookies progress throughout the season, ending the year on a high note does not automatically signal production that will lead into the following year. But in this case, there were some fairly significant changes at the end of the year. Lawrence had two of his best games of the season in the four games after Urban Meyer was fired. 
Those two games (Week 16 against the Jets and Week 18 against the Colts) highlight what Lawrence could bring to an offense. Against the Jets, Lawrence was able to push the ball down the field and had plays with receivers properly spaced out and not on top of each other like they were far too often throughout the season. Give Lawrence time and space, and he'll make good decisions.
The Colts game showed the other side of the coin — a quarterback who will be patient and take what the defense gives him. Lawrence only had a 5.78-yard aDOT in the regular season finale with 72% of his passes between 1-10 air yards, but he averaged a season-high 0.25 EPA per dropback.
With Doug Pederson, Lawrence should get some more consistency in the structure. During his rookie season, Lawrence was one of the best RPO quarterbacks, averaging 6.9 yards per attempt, which ranked fourth among 19 quarterbacks with 20 or more such attempts per Sports Info Solutions (Lawrence averaged just 6.05 yards per attempt overall).
The Jaguars aren't going to look like the 2021 Dolphins suddenly, but more structure in the offense will help. 
Zach Wilson, New York Jets
Key to Year 2 leap: Trusting the structure
There might not have been a bigger gap between the schematic structure and execution than what happened with the Jets and Zach Wilson. Wilson was the second overall pick because of his arm strength and his ability to play out of structure. He then made sure to showcase those two things even when they weren't necessary.
Offensive coordinator Mike LaFleur brought over the Shanahan-style system and Wilson's traits were supposed to raise the ceiling of what that offense could provide. The offense has, for a lack of a better descriptor, some easy buttons for quarterbacks. The problem was Wilson wasn't able to take advantage of some of the basics, which made his highlight plays less impactful.
A ton of his struggles also occurred while trying to make things happen under pressure. When under pressure, Wilson had the sixth-highest aDOT among quarterbacks but also the lowest completion percentage and yards per attempt.
Wilson also invited pressure by trying to extend plays on his own. He had the fourth-highest rate of dropbacks that lasted three or more seconds but only Ben Roethlisberger had lower EPA per dropback on plays of that length. The other part of the problem was that Wilson was also second-to-last in EPA per dropback on plays of three seconds or under.
All of that plays out into the disconnect between how Wilson tried to manage the position and what was available inside the structure of the offense. Just take a look at the 2021 offense under Wilson and compare it to how the offense functioned in the games without him:
New York Jets Offense, 2021
| Player | EPA/DB | At/Behind LoS | Short% (1-10) | Intermediate% (11-19) | Deep% (20+) | DB < 2.5sec | DB > 3sec |
| --- | --- | --- | --- | --- | --- | --- | --- |
| Zach Wilson | -0.22 | 20.3% | 50.8% | 17.7% | 11.2% | 42.7% | 41.3% |
| Other QB | 0.05 | 19.2% | 53% | 20.5% | 7.3% | 56.2% | 27.7% |
Per Next Gen Stats, Wilson had the worst Completion Percentage Over Expectation in the league at -10.3%. There were plays that could have been made, but were either bailed from early or Wilson tried to take the home run swing.
In Weeks 16 and 17, Wilson showed different ways he could control the offense. Week 16 against the Jaguars was a bit of a weird one because Wilson only averaged a 4.59-yard aDOT and 4.61 yards per attempt, but there were no mistakes as he delivered the ball quickly and worked the middle of the field for 0.25 EPA per dropback.
The Week 17 game against the Tampa Bay Buccaneers showed a near-deal version of what Wilson could be in this scheme. He still got the ball out quickly (a season-high 60.6% of his dropbacks were 2.5 seconds or less) and he was able to push the ball down the field on schedule. The Jets relied heavily on screens and throws behind the line (27.3%) but Wilson also had 24.2% of his passes go to the intermediate area of 11-19 air yards. 73.7% of his completions went for a first down or touchdown and he averaged 0.26 EPA per dropback.
However, Wilson went back to his more problematic play against the Buffalo Bills in the regular season finale. Only 30% of Wilson's dropbacks were 2.5 seconds or under while 60% were three seconds or more. 
Trey Lance, San Francisco 49ers
Key to Year 2 leap: Reps
Lance only had 87 dropbacks as a rookie, but even in that small sample, Lance showed the upside he could bring to the Kyle Shanahan system, especially over Jimmy Garoppolo, even if the results weren't always consistent. Despite completing just 57.7% of his passes, compared to Garoppolo's 68.3%, Lance eclipsed Garoppolo in EPA per dropback — 0.13 to 0.12.
It was also apparent how different the offense would look with Lance at quarterback. 65.3% of Garoppolo's pass attempts beyond the line of scrimmage came within the numbers last season. That figure was just 43.9% for Lance. The league average was 46%. The depth of target was also fairly different (Lance at 9.27 and Garoppolo at 7.5) as Lance pushed the ball down the field more often.
Jimmy Garoppolo vs. Trey Lance, 2021
| Player | EPA/DB | Comp% | aDOT | YPA | At/Behind LoS | Short% (1-10) | Intermediate% (11-19) | Deep% (20+) |
| --- | --- | --- | --- | --- | --- | --- | --- | --- |
| Jimmy Garoppolo | 0.12 | 68.3% | 7.5 | 8.64 | 19.0% | 52.2% | 20.4% | 8.4% |
| Trey Lance | 0.13 | 57.7% | 9.27 | 8.49 | 19.7% | 38.0% | 23.9% | 18.3% |
Some of those deep throws will likely be reined in since an 18.3% rate would have been just behind Russell Wilson for the league lead (18.5%) over the full season while the next highest was 15.6%. Lance's intermediate rate would have also led the league, but that's not quite as far away from Garoppolo's rate. That also meshes with the strengths of Brandon Aiyuk, who was heavily involved in the intermediate game last season and has been getting rave reviews in training camp this year.
Some of Lance's efficiency was boosted by a 7% touchdown rate, but it was clear what Lance's arm and athleticism could add to the offense.
Just take what Lance was able to create on this fourth-and-1 boot against the Seattle Seahawks in Week 4. The defensive end stayed on the boot, but Lance was able to jump out of the way and create a throwing lane to Deebo Samuel.
Even though there were some ups and downs with Lance at quarterback in 2021, it should be viewed as a positive sign that both the efficiency, both from YPA and EPA, were near Garoppolo while having a 10th-percentile completion percentage compared to other quarterbacks in 2021.
Lance's mobility allowed him to create but he wasn't a particularly effective runner during his rookie season. Just 21.1% of his rushing attempts gained a first down (league average for quarterbacks was 34.8% and only 31.3% of his third down rushes picked up a first down (54.8% quarterback average). The running game as a whole struggled with Lance on the field in 2021, but a good chunk of the poor efficiency came from a few failed fourth down attempts.
That, too, should improve in 2021. The 49ers had Lance in pistol on 14.5% of plays last season as a way to combine shotgun and under center concepts (Garoppolo was never in pistol). The 49ers had better efficiency on the ground from pistol (0.06 EPA per rush) and that could be a way to mesh all strengths together. 
The hope would be with a full offseason to prepare, Lance will be more comfortable with some of the shorter schemed throws that would help with more down-to-down consistency and allow some of the explosive plays to be more impactful.
Justin Fields, Chicago Bears
Key to Year 2 leap: Any help
If you don't know the strengths Justin Fields has as a quarterback, well thanks for reading, Matt Nagy. Each rookie quarterback was handed some type of adversity in 2021 but arguably none had the offense and coaching staff actively working against them more than Fields in Chicago. Sure, Lawrence had incompetence and/or laziness in Jacksonville, but it felt like the Bears went out of their way to avoid playing to Fields's strengths.
Of 31 qualified quarterbacks, Fields ranked 29th in EPA per dropback, 30th in completion percentage, and 20th in yards per attempt. That yards per attempt figure was higher because Fields was constantly pushing the ball down the field — his 15.6% deep rate was behind only Russell Wilson among qualified quarterbacks. No quarterback threw deep more often on early downs than Fields at 16.8%, with Wilson next at 15.1%.
The positive spin is that good things happened when Fields completed passes. 50.9% of his completions gained 10 or more yards, which was the highest rate in the league. Of course, the other side of that is there weren't many completed passes.
But while the struggles of other quarterbacks came partly from passing up easier options, Fields didn't have many easier options to pass up. The Nagy offense tried to use some quick game, but that was rarely well spaced out and wasn't a highlight of Fields's game, even in college.
There is some chicken and egg here because Fields wants to go deep and that's where he's at his best but only two quarterbacks had a lower expected completion percentage than Fields last season, per Next Gen Stats.
With Luke Getsy now in as offensive coordinator under new head coach Matt Eberflus and a wide-zone system set to take over, those easy buttons could come from getting Fields on the move on bootlegs.
Fields only had 19 designed boots last season, per SIS (28th among quarterbacks) but on those plays, he completed 73.7% of his passes while he still had a 10.1-yard aDOT. Among quarterbacks with at least 15 designed boots, no one had a higher percentage of plays that produced positive EPA than Fields (63.6%). It's not as if those boots led to wide open throws. Fields made a few against the 49ers that showed how he can turn his body, throw off platform, and make some wild plays.
That game against San Francisco highlighted what having Fields on the move could do for the rest of the offense. It helped settle him into a better rhythm and his work from the pocket was improved. A little more movement can also help slow down a pass rush that was rarely dissuaded from pinning their ears back and getting after the quarterback.
Some other quarterbacks in this group need to show the ability to produce explosive plays but Fields is in the opposite bucket. He's already proven he can have success in that way, but the other stuff needs to come more consistently. The supporting cast isn't great, though it might not be much worse than what Fields worked with last season (though injuries to Byron Pringle and N'Keal Harry are already pushing that).
If this offensive system can marry the wide-zone concepts with Fields's downfield ability, this could be an offense that exceeds expectations.
Mac Jones, New England Patriots
Key to Year 2 leap: Finding explosive plays
Jones was, by all accounts, the most productive rookie quarterback but as the 15th pick in the draft going to the Patriots, he was also in the best position of the rookies who got significant playing time. That might not be the case for Year 2, but we'll get to that.
The strengths of Jones that allowed him to come in and immediately make an impact could also be what limits his ceiling in the future. Jones is an accurate quarterback who uses plus processing both before and after the snap to make up for a lack of top arm strength.
That led Jones to complete 67.6% of his passes, which ranked eighth, but he ranked 20th in the rate of completions that gained 10 or more yards and 26th in the rate of completions that picked up a first down or touchdown.
Jones could find himself on the Tannehill-Cousins scale of quarterbacks who can kill inside structure but might not be able to create as much outside of it. For this type of skill set to really take off, a quarterback would have to show a Burrow-like combination of accuracy and processing. Jones has shown the ability to process quickly and has the short-area accuracy but he was 21st in on-target percentage and 28th in catchable percentage on throws more than 10 yards past the line of scrimmage, per SIS.
Jones was one of three quarterbacks, along with Cousins and Tannehill, to spend over 50% of his dropbacks under center.
Many explosive plays were generated with early down play-action. Jones had 23 completions of 20 or more yards off early down play-action, which tied for the league lead (with Taylor Heinicke and Jimmy Garoppolo) and made up 44.2% of Jones's overall completions of 20 or more yards.
One area that could improve is in empty. Jones had the lowest rate of snaps in empty among quarterbacks (7.4%) but also had the second-worst EPA per dropback from it. The Bengals used empty for Burrow to get the ball out quickly and use his accuracy/processing combination to pick defenses apart. Jones might have rushed to get the ball out too quickly from empty last season. 72.7% of his empty dropbacks were in 2.5 seconds or less while he was easily the least pressured quarterback with no one else in the backfield (11.4%) with Tom Brady the next-lowest at 17.6%. 
That also played into how Jones handled the blitz, as he was the second-most blitzed quarterback in the league behind Lamar Jackson. Jones was able to get the ball out quickly, but not always effectively in the same way top quarterbacks deterred defenses from blitzing. When there was nowhere to go, Jones's relative lack of mobility caused an 8.5% sack rate.
The Patriots, reportedly, want to implement some Shanahan-McVay wide-zone elements into the offense for 2022. Matt Patricia and Joe Judge might not be the greatest vessels for implementing that type of offense, but some of that style could work to Jones's advantage. Jones only averaged 3.9 yards per attempt on designed boots as a rookie, so getting him outside the pocket might not be a strength, but in general, he's been able to work well off play-action.
Getting more areas where Jones can take advantage of his ability to process in the pocket should be high on the Patriots' priorities.
Davis Mills, Houston Texans
Key to Year 2 leap: Controlled aggression
Mills runs into some of the same problems as Jones but to more extremes. He was second among the rookies in EPA per dropback but that was only -0.11. There is a line between "surprisingly good for a third-round rookie" and "actually good."
In Houston, Mills was a quarterback who took advantage of his short-area accuracy. He was 15th in completion percentage but only 44.9% of his completions picked up a first down or touchdown, the lowest rate in the league (Ben Roethlisberger was the next-lowest at 48.2%). 38.8% of Mills's completions went for 10 or more yards, which ranked 28th. There were a lot of empty calories in those completions.
Mills was also on the early Derek Carr plan, playing like passes more than 10 yards past the line of scrimmage weren't allowed. 74.7% of Mills's passes came within 10 yards of the line of scrimmage. That's where Mills has felt comfortable playing, 70% of his passes in his final college season were 10 or fewer air yards.
It's hard to structure and sustain an offense with that type of constraint. This was also more on Mills than it was the Houston offense. There were times a deeper option was passed up to hit a shorter, safer option. The troubling part is even with those shorter throws, Mills wasn't completely staying away from putting the ball in danger. He threw 10 interceptions, an already higher than average 2.5% interception rate, but Football Outsiders charted him with 16 adjusted interceptions (accounting for drops and deflections), which would be a 4.1% rate.
Mills was surprisingly aggressive off of play-action, though he only used it on 20.3% of the time, which ranked 27th among quarterbacks. On non-play-action passes, Mills had a 6.25-yard aDOT and 7.6% of his passes traveled 20 or more air yards. On play-action, Mills had an 11.35-yard aDOT and 21.3% of his passes traveled 20 or more air yards.
The aggression there had mixed results. Mills only went 5-of-17 on those deep shots for -0.10 EPA per dropback. He was 12-of-24 for 0.91 EPA per dropback on deep shots without play-action. Mills also had a higher sack rate and interception rate on play-action dropbacks.
This could be a spot where new offensive coordinator Pep Hamilton helps. Hamilton was the quarterbacks coach for the Texans last season, but he'll take full control of the offense for 2022. When Hamilton was last an NFL offensive coordinator, he worked a pass-heavy, play-action offense out of a ton of 12 personnel with Andrew Luck and the Colts.
An offense that combines Mills's short area ability with smarter and schemed open deeper throws could be a big benefit for the second-year quarterback.