additional resources from Curtis Hirsch were used for this post
---
Although the new guidelines reduce the chance of star players missing playoff games, the chance does exist that a player could miss a playoff game due to COVID-19 does exist.
With the help of Tucker Bagley's comprehensive season-long list of players that have missed time on the NFL COVID-19 list, it is possible to determine which players are not at risk of missing time up until the playoffs conclude.
The new NFL protocols include a 90-day test holiday for any individual that has had a positive test. Any player with a positive test after Nov 15, 2021, is no longer at risk of missing a playoff game because of COVID-19 as the season's final game is played on February 13, 2022.
The charts below give a great visual of which groups can still be affected by the cluster spread of the extremely transmissible Omicron variant. With the new guidelines in place, it is likely that players will be added to the COVID-19 list on Monday or Tuesday to ensure the highest chance of availability for the week, however, as seen in the last couple of weeks some players have not been at peak performance levels after contracting the virus.
The charts help identify which teams have had the most recent positive tests, therefore, are less likely to have COVID-19 be a factor in the playoffs.
Cincinnati Bengals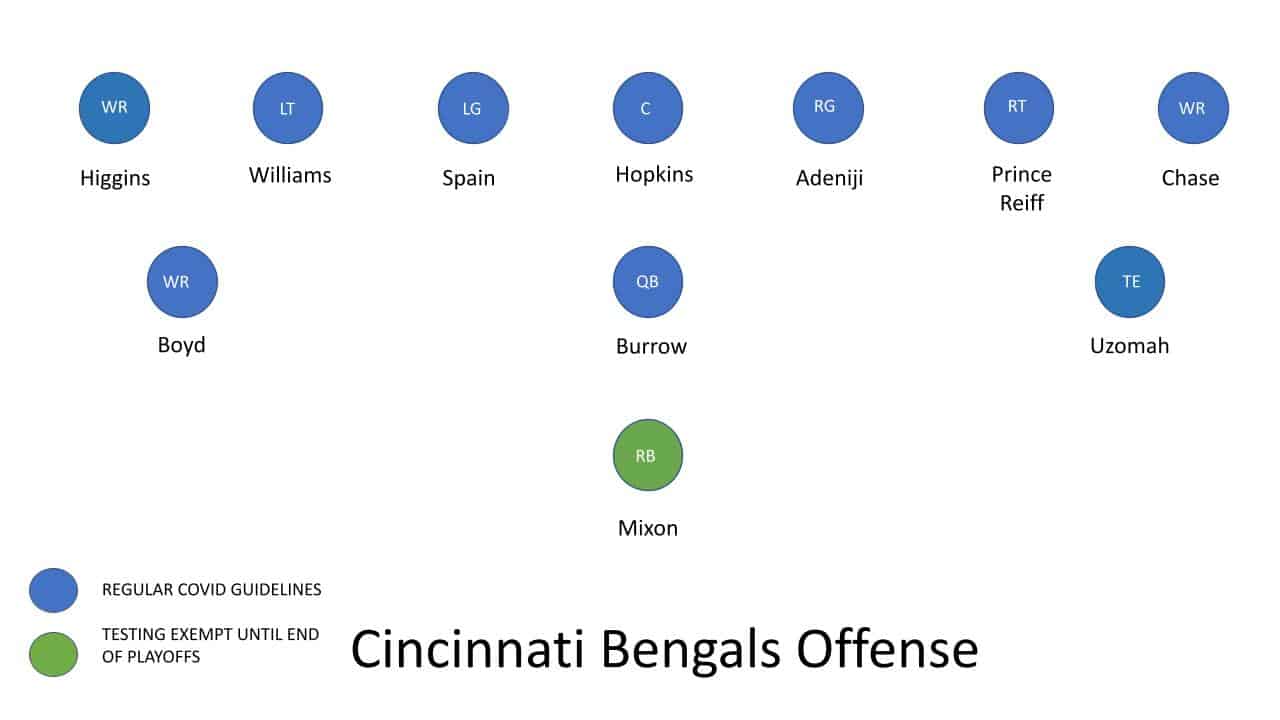 Cincinnati Bengals Players on the COVID-19 List
| Player | Position | Positive Test? | Date Added | Date Removed |
| --- | --- | --- | --- | --- |
| | LB | Yes | 1/20/22 | (-) |
| | DT | Yes | 1/6/22 | 1/10/22 |
| | DT | Yes | 1/5/22 | 1/10/22 |
| | RB | Yes | 1/5/22 | 1/10/22 |
| | DB | Yes | 1/4/22 | 1/10/22 |
| | LB | Yes | 1/4/22 | 1/20/22 |
| | DE | Yes | 1/4/22 | 1/10/22 |
| | C | Yes | 1/4/22 | 1/10/22 |
| | G | Yes | 1/4/22 | 1/10/22 |
| | WR | Yes | 12/31/21 | 1/5/22 |
| | DB | Yes | 12/31/21 | 1/5/22 |
| | LB | Yes | 12/29/21 | 1/1/22 |
| | WR | Yes | 12/28/21 | 1/3/22 |
| | QB | Yes | 12/27/21 | 1/1/22 |
| | DB | Yes | 12/27/21 | 1/3/22 |
| | DE | Yes | 12/25/21 | 12/30/21 |
| | DT | Yes | 12/25/21 | 12/30/21 |
| | WR | Yes | 12/24/21 | 12/29/21 |
| | CB | Yes | 12/16/21 | 12/25/21 |
| | LB | Yes | 12/13/21 | 12/21/21 |
| | TE | Yes | 11/15/21 | 11/25/21 |
| | CB | Yes | 11/10/21 | 11/12/21 |
| | LB | Yes | 11/9/21 | 11/18/21 |
| | G | Yes | 10/11/21 | 10/15/21 |
| Samaje Perine | RB | Yes | 10/11/21 | 10/21/21 |

Kansas City Chiefs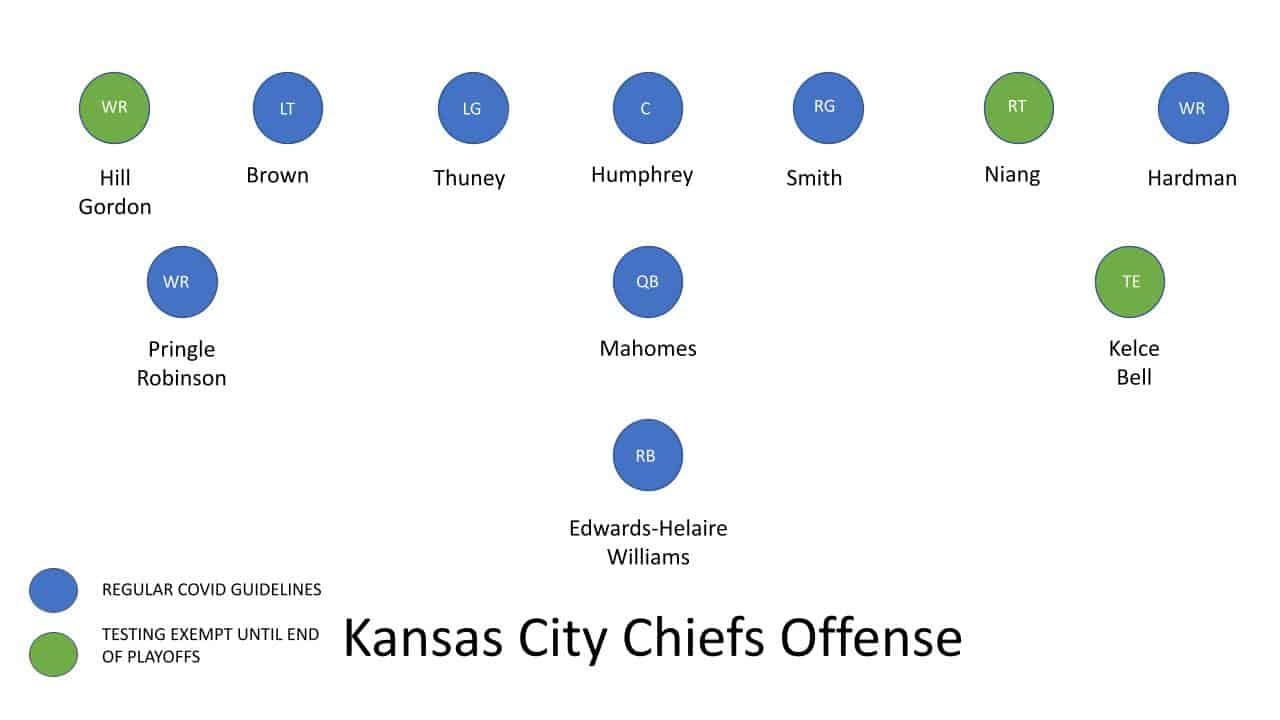 Kansas City Chiefs Players on the COVID-19 List
| Player | Position | Positive Test? | Date Added | Date Removed |
| --- | --- | --- | --- | --- |
| | TE | Yes | 1/12/22 | (-) |
| | DB | Yes | 1/5/22 | (-) |
| | P | Yes | 12/24/21 | 12/29/21 |
| | T | Yes | 12/22/21 | 1/3/22 |
| | TE | Yes | 12/21/21 | 12/24/21 |
| | LB | Yes | 12/21/21 | 12/25/21 |
| | DB | Yes | 12/21/21 | 12/29/21 |
| | WR | Yes | 12/21/21 | 12/25/21 |
| | T | Yes | 12/21/21 | 12/27/21 |
| | T | Yes | 12/21/21 | 12/25/21 |
| | DB | Yes | 12/21/21 | 12/29/21 |
| | TE | Yes | 12/20/21 | 12/29/21 |
| | K | Yes | 12/20/21 | 12/29/21 |
| | CB | Yes | 12/20/21 | 12/23/21 |
| | WR | Yes | 12/17/21 | 12/27/21 |
| | LB | Yes | 12/15/21 | 12/22/21 |
| | DT | Yes | 12/14/21 | 12/23/21 |
| | WR | Yes | 12/13/21 | 12/22/21 |
| | TE | Undisclosed | 12/10/21 | 12/20/21 |
| | WR | Undisclosed | 11/18/21 | 11/29/21 |
| | S | Yes | 9/1/21 | 9/11/21 |

Los Angeles Rams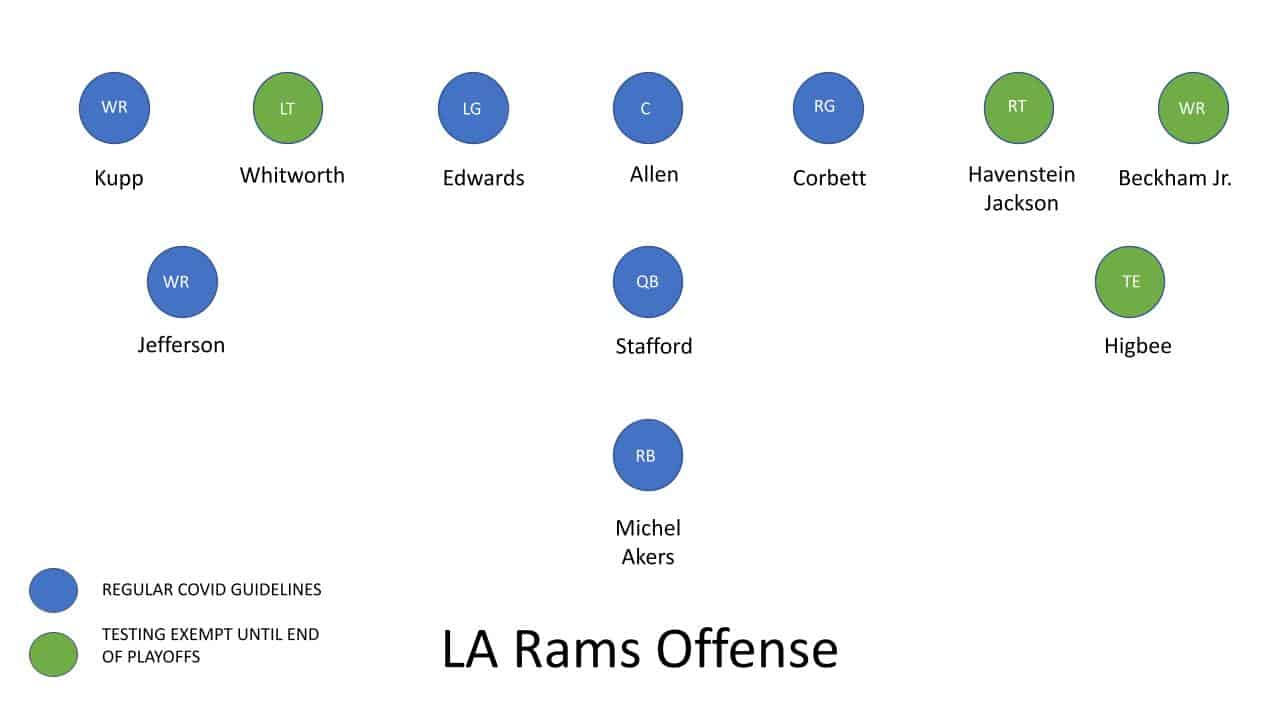 Los Angeles Rams Players on the COVID-19 List
| Player | Position | Positive Test? | Date Added | Date Removed |
| --- | --- | --- | --- | --- |
| | RB | Yes | 12/29/21 | 1/3/22 |
| | T | Yes | 12/25/21 | 12/30/21 |
| | OL | Yes | 12/18/21 | 12/28/21 |
| | DB | Yes | 12/18/21 | 12/20/21 |
| | OL | Yes | 12/17/21 | 12/22/21 |
| | DB | Yes | 12/17/21 | 12/19/21 |
| | LB | Yes | 12/17/21 | 12/28/21 |
| | TE | Yes | 12/17/21 | 12/24/21 |
| | T | Yes | 12/16/21 | 12/20/21 |
| | DB | Yes | 12/16/21 | 12/23/21 |
| | G | Yes | 12/16/21 | 12/20/21 |
| | LB | Yes | 12/16/21 | 12/23/21 |
| | LB | Yes | 12/16/21 | 12/21/21 |
| | LB | Yes | 12/16/21 | 12/22/21 |
| | DB | Yes | 12/16/21 | 12/19/21 |
| | LB | Yes | 12/16/21 | 12/20/21 |
| | LB | Yes | 12/16/21 | 12/21/21 |
| | DB | Yes | 12/15/21 | 12/24/21 |
| | LB | Yes | 12/15/21 | 12/18/21 |
| | TE | Yes | 12/15/21 | 12/23/21 |
| | DB | Yes | 12/15/21 | 12/22/21 |
| | TE | Yes | 12/15/21 | 12/22/21 |
| | WR | Yes | 12/14/21 | 12/18/21 |
| | DB | Yes | 12/14/21 | 12/22/21 |
| | TE | Yes | 12/14/21 | 12/18/21 |
| | DB | Yes | 12/14/21 | 12/23/21 |
| | T | Yes | 12/14/21 | 12/18/21 |
| | DT | Yes | 12/14/21 | 12/22/21 |
| | DE | Yes | 12/14/21 | 12/22/21 |
| | TE | Yes | 12/13/21 | 12/14/21 |
| | CB | Yes | 12/13/21 | 12/19/21 |
| | T | Yes | 12/13/21 | 12/22/21 |
| | DB | Yes | 12/13/21 | 12/18/21 |
| | RB | Yes | 12/11/21 | 12/18/21 |
| | LB | Undisclosed | 9/2/21 | 9/21/21 |
| | G | Undisclosed | 8/31/21 | 9/10/21 |
| | P | Undisclosed | 8/21/21 | 9/2/21 |

San Francisco 49ers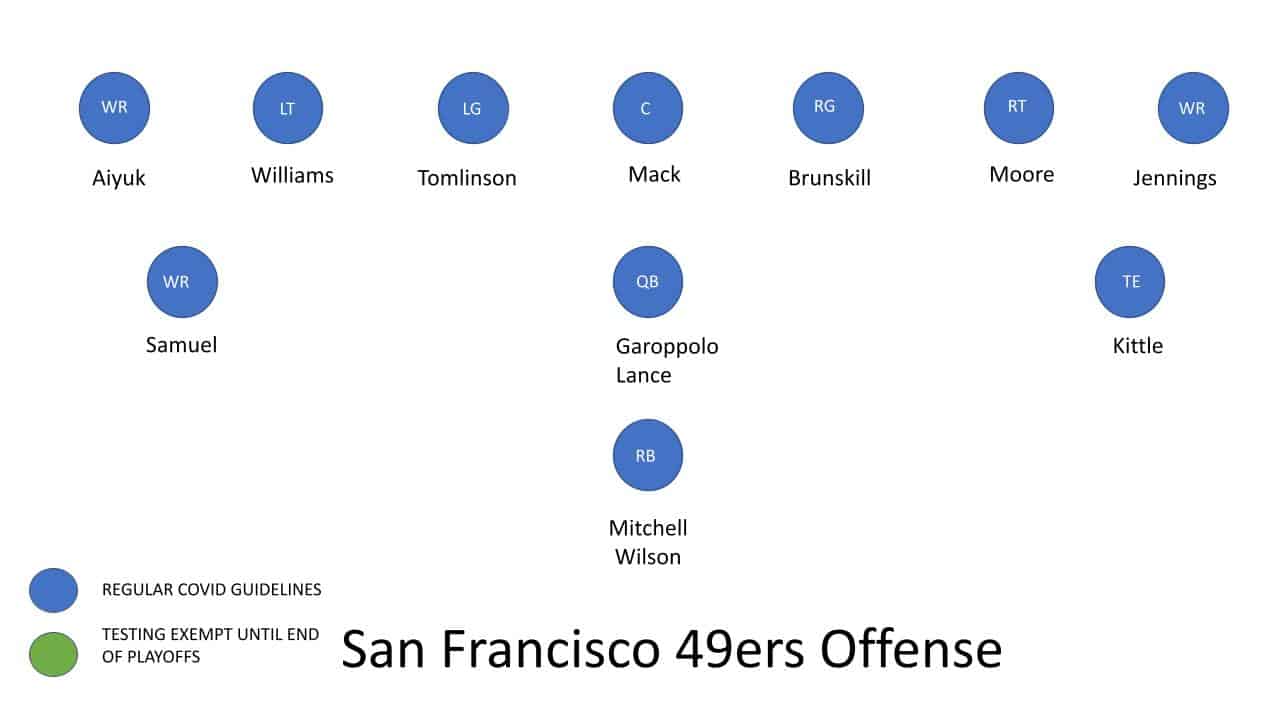 San Francisco 49ers Players on the COVID-19 List
| Player | Position | Positive Test? | Date Added | Date Removed |
| --- | --- | --- | --- | --- |
| | DB | Yes | 1/11/22 | (-) |
| | RB | Yes | 1/11/22 | (-) |
| | QB | Yes | 1/10/22 | (-) |
| | DB | Yes | 1/6/22 | 1/11/22 |
| | DB | Yes | 1/5/22 | 1/7/22 |
| | DB | Yes | 1/4/22 | 1/8/22 |
| | DB | Yes | 1/4/22 | 1/8/22 |
| | RB | Yes | 1/3/22 | 1/18/22 |
| | DB | Yes | 1/3/22 | 1/8/22 |
| | P | Yes | 12/27/21 | 1/1/22 |
| | S | Undisclosed | 7/28/21 | 8/7/21 |
| | WR | Undisclosed | 7/28/21 | 8/6/21 |
| | CB | Undisclosed | 7/28/21 | 8/6/21 |