This article is an excerpt from Warren Sharp's column in his new book, "2020 Football Preview' — which is now available for download, with early-bird pricing until midnight, July 13th.
If you've already purchased the book, simply login to the site and download the 350-page PDF via your Dashboard.
We've Come A Long Way, But Not Far Enough
Lots of memories come to mind when thinking of how far we've come in our collective thought process about efficiency in the NFL. One that I'll never forget was after the 2013 Super Bowl when Russell Wilson, in his second season, won the Super Bowl. After that game, some well-known media voices suggested the NFL was about to copycat the Seahawks and invest in strong defensive players and a punishing ground game. That was only six Super Bowls ago.
At the time, I absolutely hated that take and wrote about it on Sharp Football Analysis. With the league's new rules to protect quarterbacks and receivers over the middle, I knew passing was the future of the league, not rushing. I also knew the massive edge that teams with quarterbacks on their rookie deals had over opponents whose quarterbacks were not on their rookie deals.
Over the last six years, those that once believed running the ball was the "wave of the future" surely have come around to realize how much more efficient passing the football is than running the football.
But we've evolved our thinking in so many other areas as well. We've learned so much about the benefits of early down success, early leads (unless you have Patrick Mahomes) and the importance of ball possession and doing what it takes to maintain said possession by not punting.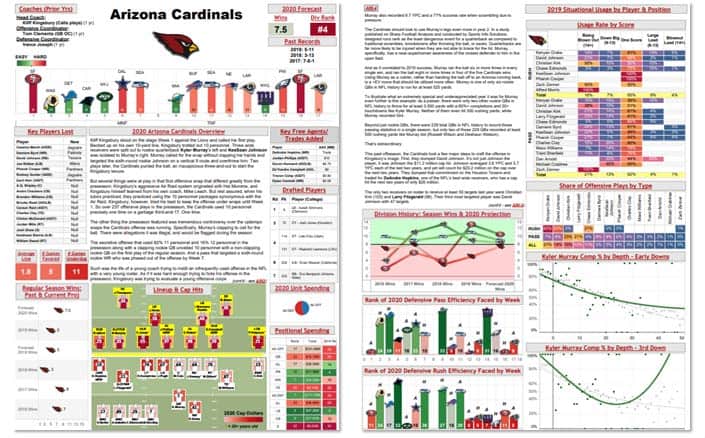 But the NFL, in general, is still not close to being solved. Not like baseball or basketball. We haven't seen a universal buy-in from most teams. We haven't seen wholesale changes in philosophy from top to bottom.  There still is a long way to go. The examples are littered across the recent landscape:
We know to win, you either need a cheap, rookie-deal quarterback playing solid or a veteran quarterback playing at an elite level… and yet we still have teams like the Jaguars drafting a running back fourth overall when Patrick Mahomes and Deshaun Watson are on the board and their QB room consisted of Blake Bortles and Chad Henne. You must find a QB, even if it means drafting one in the top-five even after you did the same thing three years prior.
That leads into the importance of scouting. We know to win, it's not just coaching. You need to have solid players as well… and yet how often are players on a team's own roster, players they see practice every single day for years, not evaluated properly? And if teams aren't able to properly evaluate players on their own roster that they see daily, do we really think they'll be able to evaluate players on other team's rosters?
And yet time and time again, we see teams overspend in free agency on players with high sticker prices that don't translate well to their own roster. Not only do these players eat up valuable cap space for the couple of years they are rostered, but they often result in high amounts of dead cap when they are inevitably cut. This money could be better invested into hiring better coaches, more analytics resources or superior sports science advances.
We know running backs aren't nearly as valuable as they once were thanks to the current rules construct… and yet we saw a team like the Rams give Todd Gurley a four-year, $57.5M extension. There have been just four running backs since 2012 to receive veteran contracts that averaged over $10M per year. All four were cut or traded before the end of the deal, including:  Todd Gurley (cut after year two), David Johnson (cut after year two), Adrian Peterson (cut after year two), and Marshawn Lynch (traded after year one).
We know that the efficiency a particular running back brings to the table is not so significantly larger than another running back that he should be paid 10 to 15 times more per year. And yet even recently, clubs are still making this costly team building mistake, which not only impacts the team during the years of those high cap hits but also with dead cap after he is cut.
We know that the rules favor offense, and in particular, passing offense. And we know that one of the few things that gives a defense an upper hand is when the offense is predictable… and yet we still see massive predictability from teams with quarterbacks that absolutely can't afford to give the defense an upper hand.
The team chapters discuss multiple cases of this predictability, but two examples stand out. When Bengals tight end Tyler Eifert was on the field, the Bengals were 81% pass, including 90% pass (296 pass plays on 330 snaps) if tight end CJ Uzomah was off the field. The Steelers rotated running backs once James Connor went down. When Jaylen Samuels was on the field, the Steelers went 75% pass. When Benny Snell was on the field, the Steelers went 78% run, including 92% run (67 runs on 73 snaps) if wide receiver Johnny Holton was also on the field. There is no excuse for any offense to be that predictable, yet in 2019, some were.
We know that there are ways to improve passing efficiency, such as the use of play-action. The numbers over many seasons show the unequivocal improvement it delivers… and yet some teams tremendously underutilize it. We also know that play-action does not need to be set up with the run.
We know that first quarter play-action is actually more productive (based on EPA/play) than second or third quarter play-action… and yet league-wide last season, more play-action passes were thrown in the second and third quarters of games than in the first quarter. The highest rate of play-action came in the third quarter of games.
There are countless other examples of either specific teams or the league in general still failing to fully incorporate analytics into decision making to optimize football. There are unfortunately so many examples of the absolute lowest-hanging fruit that could benefit teams but goes overlooked. Let alone more nuanced, schematic edges which would lead to a faster path to victory.
I see it on a weekly basis when I'm studying teams as a paid consultant. I see it on a weekly basis when I'm handicapping games. Sometimes, coaches are aware of the information but make a calculated decision to try something different. But other times, it's because these teams likely aren't as invested in analytics as they should be. And the patience we all should have with teams that aggressively choose to be less analytically savvy should be wearing thin.
There is no excuse in 2020. Teams must ensure they have the best and smartest data at their fingertips and evaluate said data to make educated decisions related to game planning and strategizing.
But most of all, I see it on a season-to-season basis when I spend months every offseason writing this book that you're about to dig into. This year was no different… to an extent. What makes this year's book different is the fact I decided to dive deeper than most years. I dug deeper and personally shared more on each team than in prior editions of this book. I enlisted Rich Hribar, resident Sharp Football fantasy expert, to add more insight into the fantasy analysis, and Dan Pizzuta, our fearless editor, to tackle a section specific to the defensive side of the ball for every team.
This year's book has an abundance of new graphics, including completion percentage by depth vs NFL average. I also spent weeks developing a new heat map technology which is spread throughout each team chapter and which we're excited to share as part of the premium packages we offer at Sharp Football Analysis.
We published a page per team dedicated to first half metrics, motion metrics (pre-snap and play-action), efficiencies and tendencies against various box counts, pressure rates and player tracking data.
All told, this 2020 Football Preview is the most robust book we've ever brought to market.
After months of work researching and writing this book, I hope you enjoy it and takeaway something new from every chapter. I hope you're better prepared for the 2020 season, whether you're a passionate fan, an avid fantasy player or a sports bettor. There is something here for everyone. And we at Sharp Football Analysis are always so thankful of you spreading the word each year this book is released.
As usual, I can't wait to hear your feedback and to retweet your comments about the book on Twitter. Hit me up (@SharpFootball) and let me know how you think this year's book turned out, your favorite part of the book or the most interesting thing you learned.
Above all, be safe this summer! And I hope to see you on board soon with a fantasy, betting or all-access package at the best price we'll offer all year so you can play along with us in the fall as we enjoy the 2020 NFL season!
Although we still have a long way to go to optimize football, I'm expecting the 2020 season will be a step in the right direction!
---
Purchase Warren Sharp's new book, "2020 Football Preview,' with early-bird pricing until midnight, July 13th.
This book shares insights into the players, coaches, teams, and philosophies with one goal in mind: to get you prepared for the 2020 season by delivering the smartest information in the fastest, most direct way possible for optimal reviewing and retention.