Looking for Warren Sharp's NEW 2022 book? It's now available for purchase.
---
At over 400 pages, this book is filled with all of the things this book franchise has delivered last 6 NFL seasons:
dedicated chapters for all 32 NFL teams,

fantasy football player predictions,

Vegas odds with forecasted wins and lines,

strategic advice for coaches,

and play-call analysis and team tendencies.
Just like last year, the 2021 book if packed with advanced stats and visuals such as EPA, Completion Percentage Over Expectation, and 2500+ heat maps, plus new additions:

Reasons to bet over/under win totals & analysis of futures betting market
Deep dive into impact of every team's rookie draft class
Ranking of every positional unit on every team with analysis
» You can pre-order the book today.
In preparation for the release, we're also offering a free preview chapter featuring the Dallas Cowboys, so you can see firsthand what the book offers.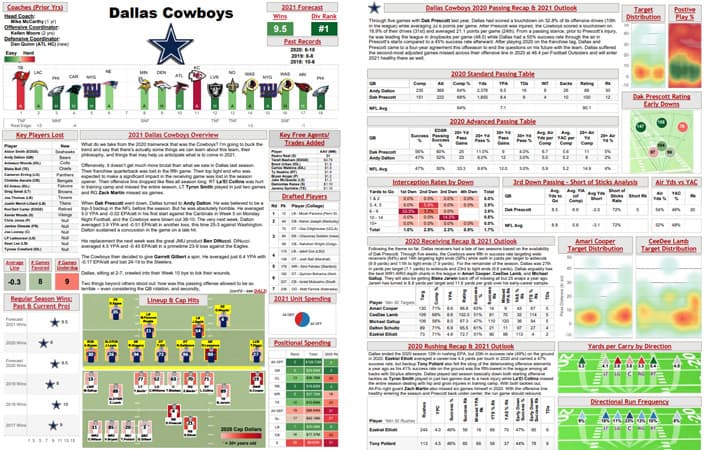 The free chapter details an in-depth look at what went into Dallas' season between bad quarterback play, poor defense, and a number of questionable decisions. An excerpt:
After Andy Dalton returned from his concussion, the offense improved and the team won four of its last seven games. But the offense was far from optimized.

For example, Dalton's splits from shotgun were significantly worse than from under center, yet they still used roughly 80% shotgun snaps. The team was still far too predictable with play calls based on alignment (70% run from under center, 80% pass from shotgun). Even early downs in the first three quarters (removing predictable pass situations), the Cowboys were 79% pass from shotgun (NFL avg = 66% pass) and 68% run from under center (NFL avg = 63% run). Dalton was more efficient when passing from under center and sacked far less often. 

Dalton was far more efficient on early down passes when using play-action, but the team rarely used it. From his Week 10 return onward:

With play-action: 22% usage, 9.0 YPA, 64% success, +0.22 EPA/att
Without play-action: 78% usage, 7.0 YPA, 52% success, +0.04 EPA/att

And keep in mind, the NFL average play-action usage on early downs last year was 33%. The Cowboys' 22% usage ranked third-lowest in the NFL, despite the massive spike in efficiency it delivered.

The bottom line: after Prescott's injury it was a tough situation for Dalton as well as the offensive line… but it was not a situation that was made any easier by preparation, planning or adjustments.
What are you waiting for?
Find out why pro bettors, linemakers and pro-DFS players view this NFL season preview as indispensable. It's a must have if you want to bet on the 2021 Pro Football season.