Earlier this month, Rob Gronkowski won the WWE 24/7 Championship at WrestleMania, a title he still holds. Just 16 days later…
Trade, pending physical: Patriots are trading TE Rob Gronkowski and a seventh-round pick to the Buccaneers for a fourth-round pick, source tells ESPN.

— Adam Schefter (@AdamSchefter) April 21, 2020
After already signing Tom Brady earlier this offseason, the Bucs went out and added his football soulmate in Gronkowski. The last time we saw Gronk on the field was 2018. In that season, Gronkowski dealt with a lingering ankle injury that forced him to miss three games. He had limited mobility and his play suffered from it, averaging just 3.6 receptions for 52.5 receiving yards per game. It was the fewest amount of yardage per game he had in a season by 15.0 yards per game in any other season outside of his rookie year. He also caught just three touchdowns on 47 receptions (4.2%) after catching a touchdown on 16.5% of his career receptions prior. 
Despite that down production to his own standards, Gronkowski still averaged 14.5 yards per reception, which ranked fifth among all tight ends with more than 25 receptions in 2018. He also had an overall positive success rate over the league average despite struggling in some specific areas of the field.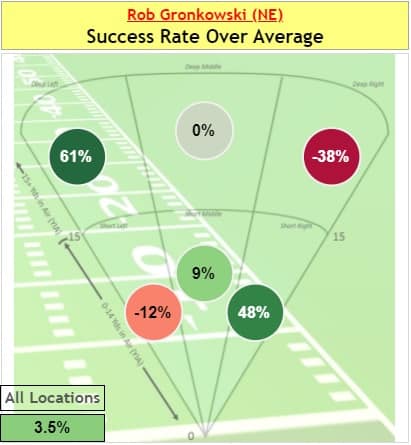 Gronk also still averaged 10.1 PPR points per game in 2018, which was good for TE11 on the season per game. He will turn 31-years-old this May. There's reason to believe a year off could have been good for his body, but that's an unknown for a player who hasn't appeared in 16 games since the 2011 season. Tight end is a low bar to clear for fantasy relevancy, but Gronk will also share the field with two target-rich wideouts who are playing in the heart of their playing careers in Mike Evans and Chris Godwin.
The last time we saw him play, his main competition for targets was a satellite back and a 32-year-old slot wideout. Gronk came out a little higher in projections than O.J. Howard would have, but Gronk only checked in as a lower-end TE1 option when laying things out in early rankings due to Evans and Godwin being better targets, and the unknown health and projection of Gronkowski missing time in another season.
For Brady, he's reunited with the best target he's had over the second half of his career. Since 2010 through last season, here's how Brady has performed with Gronkowski on and off the field.
Tom Brady Per Game Output 2010-2019
| Category | W/Gronk | Without |
| --- | --- | --- |
| Games | 112 | 44 |
| PaAtt/Gm | 36.5 | 38.3 |
| Cmp/Gm | 24.1 | 22.9 |
| PaYd/Gm | 289.2 | 257.7 |
| Y/A | 8 | 6.8 |
| PaTD/Gm | 2.2 | 1.7 |
Of course, that sample covers the prime of both of their careers. If we only scale things down to 2018, things tighten up for Brady's output regardless if Gronk was playing or not. 
Tom Brady Per Game in 2018 
| Category | W/Gronk | Without |
| --- | --- | --- |
| Games | 13 | 3 |
| PaAtt/Gm | 35.2 | 37.3 |
| Cmp/Gm | 23.6 | 22.7 |
| PaYd/Gm | 271.5 | 275 |
| Y/A | 7.6 | 7.4 |
| PaTD/Gm | 1.9 | 1.3 |
In the end, it's still hard not to view this as another positive for Brady this offseason. He gets another player in Gronkowski that he has confidence in that still has a high ceiling in his range of outcomes, despite a lower floor than he had in the past. This also all but ensures that the early rumors that Tampa Bay was looking to move O.J. Howard, who is in the final season of his rookie contract, could come true. But if the team doesn't get the right compensation, Tampa Bay used 12 personnel on 22% of their pass plays in 2019, which ranked as the ninth-highest in the league.