After looking at quarterbacks with the best opening season schedules for 2020, we're using the strength of schedule tool available at Sharp Football Stats to take a look at a few of the passers on the other end of the spectrum that draw a tougher slate out of the box this season. 
NFL Projected Pass Efficiency Schedule Weeks 1-4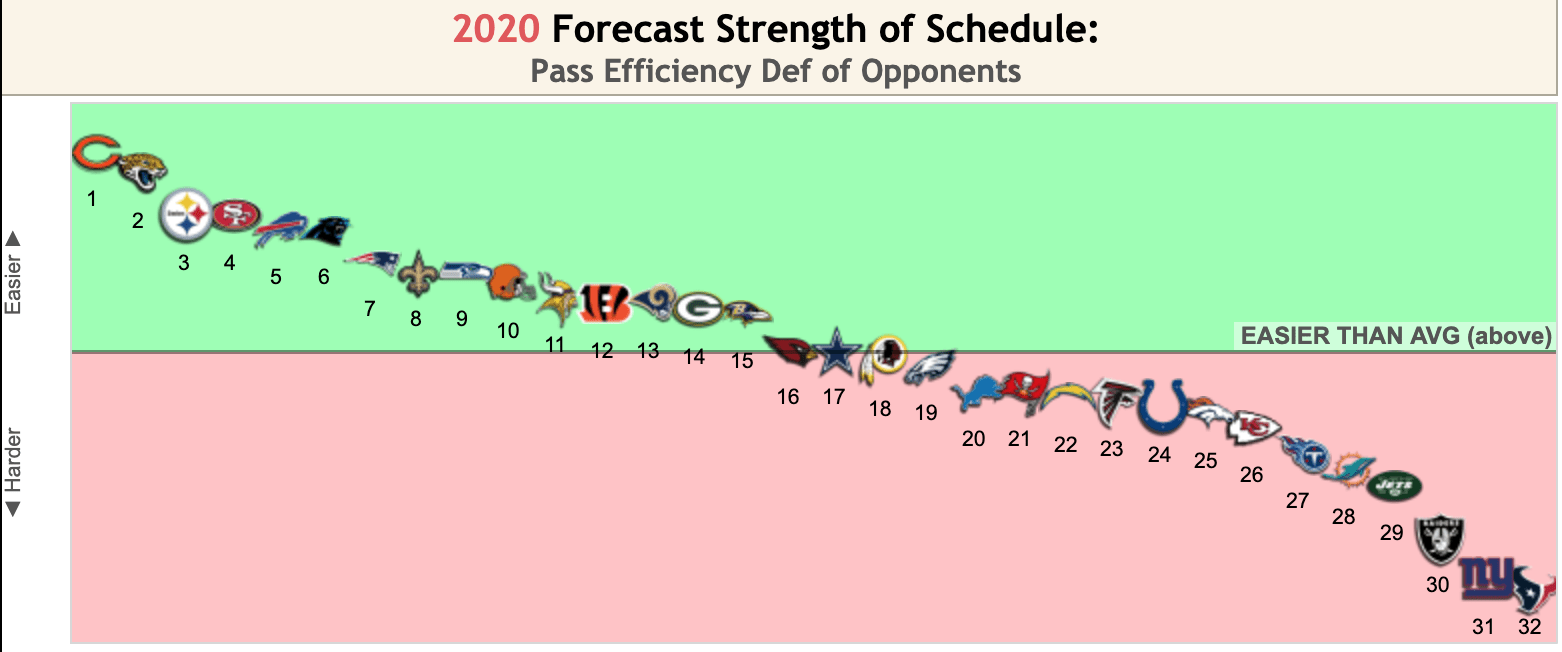 Let's take a look at a few individual quarterbacks and their early-season matchups:
RYAN TANNEHILL, TENNESSEE TITANS
WK1: @ DEN
WK2: vs JAC
WK3: @ MIN
WK4: vs PIT
WK5 vs BUF
Tannehill posted gaudy fantasy numbers after taking over for the Titans full time in Week 7 a year ago. He was the QB3 in overall fantasy scoring Weeks 7-16 and pivotal to many winning postseason runs for fantasy gamers. Even if his career breakout holds up in 2020, we still should anticipate some natural regression in his outlier yards per pass attempt (9.6 Y/A) and touchdown rate (7.7%) and repeating his success on the intermediate levels will be tough to keep steady. 
A natural path for some regression to the mean for Tannehill is through a tough opening gauntlet of games. Last season, Tannehill faced our seventh-easiest passing efficiency schedule Weeks 7-17 a year ago and the second easiest passing schedule over his final six games of 2019. This season, he draws our sixth-hardest schedule here Weeks 1-4 and our fifth-hardest outlook extending things out to Week 5. Over that opening stretch, he draws just one passing defense (Jacksonville) in the back half of the league while getting three top-10 defenses over that span.
DESHAUN WATSON, HOUSTON TEXANS
WK1: @ KC
WK2: vs BAL
WK3: @ PIT
WK4: v MIN
There are a lot of moving parts for Watson and the Houston offense this season after trading away a true alpha wide receiver (and one who has never missed a game due to injury) in DeAndre Hopkins, and then acquiring Brandin Cooks, David Johnson, and Randall Cobb. With all of Cooks, Will Fuller and Kenny Stills still at his disposal, Watson and the Texans can continue to swerve into the game plan they adopted a year ago, which was to take deep shots or layups. Even Johnson led all running backs in depth of target a year ago out of the backfield to add to the downfield weaponry.
Opponent-wise, Watson draws our worst projected opening month of the season. There's definite shootout potential Week 1 in Kansas City. The three times Watson has faced the Chiefs, the games have featured 76, 55 and 82 combined points. After that, he then faces a rogues gallery of stingy pass defenses and even had the lowest-scoring game of his career (3.9 points) versus Baltimore a year ago.
As a true dual-threat fantasy option, we are not running away from Watson as he has held a typically high fantasy floor. But he has averaged fewer fantasy points (21.3 per game) against top-10 pass defenses for his career as opposed to otherwise (28.2 points). With the adjustment to not having Hopkins around and the opening slate of defenses, we may not see many ceiling moments from Watson to start off the 2020 season. 
DANIEL JONES, NEW YORK GIANTS
WK1: vs PIT
WK2: @ CHI
WK3: vs SF
WK4: @ LAR
Jones is an intriguing fantasy option because he had already displayed week-winning upside as a rookie. Over his 12 starts as a rookie, Jones turned in four weeks as the QB1 or QB2 in weekly scoring. He did so without the Giants having all of Saquon Barkley, Evan Engram, Sterling Shepard, Golden Tate, and Darius Slayton all active together for any of his starts.
But Jones struggled to find consistency as a rookie, failing to hit 15.0 fantasy points in any of his other eight starts. All of his spike weeks also came in tremendously soft matchups to target upside against the Buccaneers, Lions, Jets, and Washington. He projects to have the opposite type of layout here to open the 2020 seasons versus four top-10 teams in passing efficiency allowed a year ago. Facing three top-10 opponents in this area a year ago, Jones posted 10.5, 14.7, and 8.2 fantasy points those weeks.
What is potentially worse for Jones is that all four of those opponents can get after the passer, with the Steelers (first), Bears (eighth), 49ers (second), and Rams (fourth) all ranking eighth or higher in pressure rate a year ago. Jones was under pressure on 41.7% of his dropbacks as a rookie, which was only above Sam Darnold (42.1%). Under pressure, Jones averaged 5.9 yards per pass attempt (17th). With the opening outlook looking rough, Jones has shifted to an in-season pickup when his schedule clears up moreover initially being a late-round upside target for immediate upside.
SAM DARNOLD, NEW YORK JETS
WK1: @ BUF
WK2: vs SF
WK3: @ IND
WK4: vs DEN
Last season was nearly a throw-away season for Darnold, but there were some positives. He was able to take a half-step forward last year, improving his completion rate (61.9%), touchdown rate (4.3%), and decreasing his interception rate (2.9%) in year two. Although those rate stats still fall in the below-average portion of NFL passers — as well as his 6.9 yards per pass attempt — Darnold was able to still improve despite being diagnosed with early-season mononucleosis that forced him to miss three games, a questionable at best supporting cast of playmakers and arguably the league's worst offensive line. 
Entering his third season still as one of the youngest quarterbacks in the league, the lights are still on for Darnold, but his supporting cast can still be questioned while he gets an ugly draw of tough opponents to start 2020. He opens on the road versus the Bills. In three career starts versus Buffalo, Darnold has been the QB26, QB23, and QB27 in weekly scoring. Afterward, he then gets the 49ers with another top half defense looming in Denver in Week 4.
Extending things out through the opening half of the season, the Jets have our second-toughest passing efficiency schedule through Week 9, with added games versus Buffalo, Kansas City, and New England defenses. Adding a tough slate of opponents is another hurdle for Darnold to overcome in hopes of a third-year fantasy breakout. 
Potential Week 1 Stream Needs
Looking at quarterbacks not mentioned above that are currently being selected as top-12 fantasy options that draw an unfavorable opening week of the season…
Matthew Stafford, DET vs CHI: Stafford was quietly the QB4 in points per game in eight starts last year on the strength of a career-high 8.6 yards per pass attempt. But he also drew our fifth-easiest passing schedule over that span, facing bottom-half passing defenses in five of his eight starts. He opens on the road in Chicago, who have been sixth and first in point differential allowed versus opponent average the past two seasons versus passers. Stafford himself has been the QB156, QB17, and QB31 over his past three meetings with Chicago. 
Aaron Rodgers, GB @ MIN: Rodgers is coming off his worst fantasy season to date, dipping to QB14 in points per game this past season with just six games higher than QB19 in weekly scoring. The Minnesota defense has had a lot of turnover on the back end this offseason, but Mike Zimmer defenses have given Rodgers trouble since the coach joined the Vikings. Rodgers has been a top-12 weekly scorer in just four of 10 full games versus the Vikings since 2014 with QB17 or lower finishes in each of his past five full games played versus Minnesota.
Kyler Murray, ARI @ SF: This one is a tough draw on paper, but one that we should not run away from based on what Murray was able to produce in this matchup twice a year ago. Despite only passing for 6.9 yards per pass attempt in two games versus the 49ers, Murray was still the QB6 overall in weekly scoring in each of the divisional matchups, scoring 23.0 and 26.7 fantasy points with the added influence of 101 rushing yards and a score on the ground combined in those games.