With the NFL schedule release last week, we finally have a full picture of the fantasy layout for the pending 2020 season. When using strength of schedule for fantasy purposes, we never want to overextend ourselves and look too far down the line. The NFL is a fluid game with a lot of variance, so attempting to plan for Weeks 14-16 in the fantasy playoffs is much tougher to do. A lot of teams will look much differently at the close of the season than the open. 
That said, we can use that opening outlook to our advantage in planning on coming out of the blocks with our best foot forward. The two positions where I particularly look for a schedule advantage and believe actually carry a matchup influence are at the quarterback and team DST positions. I am not weighing schedules and opponents heavily in for the running back and pass catchers, but I am always entering a draft with the mindset to wait as long as possible on the quarterback position. 
With the tightly linear scoring of the position on a per-game basis, the position has become replaceable from a top-down view. Very few starting quarterbacks are worth the full 16-week squeeze in a given season. 
I absolutely will take a high-end passer that falls to the right cost. But if you are also someone who likes to wait as long as possible on selecting their fantasy quarterback then you know that sometimes when flying into the sun of late-round quarterback that you may end up taking a passer built around a great opening schedule over a full season expectation of starting. Sometimes this even leads to a full season starter like Lamar Jackson a year ago.
Using the strength of schedule tool available at Sharp Football Stats, there are myriad of data points and options to adjust for. Taking that tool and looking at the passing efficiency schedules over the opening month of the season, we can highlight some early passers with favorable opening outlooks from a matchup perspective that are not going to cost us a ton of draft capital.
NFL Projected Pass Efficiency Schedule Weeks 1-4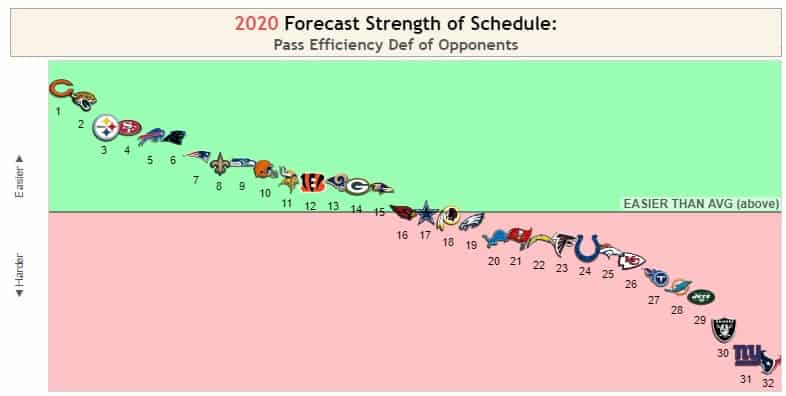 Josh Allen, Buffalo Bills
WK1: vs NYJ
WK2: @ MIA
WK3: vs LAR
WK4: @ LV
Allen is the first quarterback with an average draft position outside the top-six passers you can keep tabs on potentially sliding that draws a solid opening outlook. He already comes with a built-in floor due to his legs, but also took advantage of his soft spots a year ago. In 2019, Allen had nine games against defenses in the bottom half of the league in passing efficiency. In those games, he averaged 21.7 fantasy points per game and was the average QB8 in weekly scoring those weeks. In his six games against top-half defenses, he averaged 15.5 points per game and was the average QB17 weekly.
In 2020, Allen gets a bottom-half pass defense in three of his first four games. He also gets an early-season Miami matchup, a team he has destroyed through two seasons. In four career starts against the Dolphins, Allen has been the QB2 (28.7 points), QB1 (40.5), QB7 (21.3), and QB1 (33.8) in weekly scoring. 
Ben Roethlisberger, Pittsburgh Steelers
WK1: @ NYG
WK2: vs DEN
WK3: vs HOU
WK4: @ TEN
We only got to see Big Ben for six quarters of football in 2019 and his absence was certainly felt. His backups Mason Rudolph and Devlin Hodges were absolute disasters last year. Pittsburgh went from 313 passing yards per game in 2018 down to 186.3 passing yards per game in 2019, the largest single-season decline of passing yardage per game in league history.
 Roethlisberger will be 38-years-old this season and is offers limited rushing upside, but the Steelers have capable playmakers offensively and he gets a solid draw to open the season, facing just one pass defense that was higher than 21st a year in passing efficiency allowed in Denver. 
Jimmy Garoppolo, San Francisco 49ers
WK1: vs ARI
WK2: @ NYJ
WK3: @ NYG
WK4: vs PHI
Garoppolo has a soft opening slate of opponents in the first month. I anticipate the Eagles to be much improved versus the pass this season, but even accounting for that, the opening three weeks of the season are against defenses that project to be bottom rung against the pass while the 49ers also play the Dolphins in Week 5.
Garoppolo opens the season at home against the Cardinals, who he lit up for 28.8 and 29.7 fantasy points in two meetings a year ago, throwing for 741 yards and eight touchdowns in those games. The 49ers project to be heavy favorites in a lot of these opening games, so positive game script could be a potential thorn in generating passing volume, but passing efficiency should flow. 
Gardner Minshew, Jacksonville Jaguars
WK1: vs IND
WK2: @ TEN
WK3: vs MIA
WK4: @ CIN
The Jaguars have reinforced Minshew's status as their starting quarterback at every turn this offseason. First by trading Nick Foles and then not spending high capital on a draft pick at the position. Post-draft, the Jaguars also never got involved in adding Andy Dalton after he was released by the Bengals, despite the obvious tie-ins Dalton has with offensive coordinator Jay Gruden. As of now, the only veteran left to threaten Minshew would be Cam Newton. 
Post-draft, we labeled Minshew a winner and highlighted just how strong of a fantasy floor he held a year ago. Minshew made 12 starts last season and finished in the top half of weekly scoring in 10 of those 12 weeks. Nine of those starts came against defenses in the bottom half of the league in passing efficiency allowed. In those games, Minshew averaged 17.6 fantasy points per game and was the average QB13 in weekly scoring. This season, the Jaguars do not face a defense that was in the top half of the league in passing efficiency a year ago until Week 10. Minshew is more of a target in 2QB formats, but I would bump him up as a potential value for his cost across the board. 
Chicago Bears QB
WK1: @ DET
WK2: vs NYG
WK3: @ ATL
WK4: vs IND
No team draws a more favorable opening slate of pass defenses to open the season than the Bears. The problem is that we do not yet know for certain who their starting quarterback will be. Despite strong signals that Nick Foles has an edge in the competition and becoming the betting favorite to win the job, the Bears still may have some incentive to see if Mitchell Trubisky can right the ship.
As much of a punching bag Trubisky has become, he actually has been a really strong fantasy option against poor defenses. In 17 career games versus pass defenses that rank 20th or lower, Trubisky has averaged 23.3 fantasy points per game and 8.5 yards per pass attempt as opposed to 14.2 fantasy points and 5.7 yards per attempt otherwise.
Even a year ago, those marks were 21.9 points per game in five games versus those lower-end pass defenses and 7.9 Y/A versus 14.3 points per game and 5.3 Y/A outside of those weeks. Trubisky even had three top-eight scoring weeks last year versus the Lions and Giants in his three games versus those teams a year ago, who are the opening two opponents for the Bears this season.
Foles would carry 2QB streaming appeal if he won the job, but Trubisky's rushing ability and already displayed fantasy upside versus lower-end defenses should be what we are rooting for to open the season in Chicago. 
Week 1 Stream Team
Looking at some other late round options that run into potentially favorable Week 1 outlooks…
Philip Rivers, IND @ JAC: The Jaguars defense was a faucet for fantasy production to close last season and lost even more talent this offseason. Jacksonville allowed 9.1 yards per pass attempt over their final five games in 2019, including Rivers's highest-scoring fantasy game of the season (24.6 points).
Teddy Bridgewater, CAR vs LVR: Highly accurate, surrounded by players who excel in yards after the catch, and attached to a progressive passing coordinator in Joe Brady and coupled with a horrendous defense, Bridgewater has all the fantasy ingredients in place to have sleeper appeal. Getting a home start against a defense that was 29th in point differential allowed to fantasy passers versus their average output to open is another positive. 
Derek Carr, LVR @ CAR: In that same game across from Bridgewater, the Panthers project to have a defense we will frequently be targeting in 2020. Five of the six top-12 scoring weeks Carr had in 2019 came against pass defenses ranked 20th or lower in passing efficiency allowed and has a cupboard restocked with young playmakers on offense.
Tyrod Taylor, LAC @ CIN: The Bengals have retooled their defense (one that ranked 30th in passing efficiency allowed in 2019)  a bit this offseason, but this still projects to be a solid spot for Taylor. Taylor is at his best for fantasy when he has positive game script, something the Chargers could have here with their defense going against a rookie passer making his first career NFL start. Taylor was a top-12 fantasy scorer in 24 of his 46 starts over the 2015-2018 seasons.