With the 2020 NFL schedule release the next upcoming event for the league, we are going to take a look back at how the schedules played out and impacted the fantasy landscape a year ago.
Strength of schedule based on a team's win-loss record from the previous season has had next to no correlation in rolling over to the next season. But from a fantasy stance, we can take a look back at the previous season to see if how the schedule played out impacted last season at all for players in hopes to find further clarity for those players who exceeded expectations on the season and for those who let us down. 
For the record, when it comes to defensive matchup analysis, I do believe a large portion of team defensive statistics are essentially statistics from the opposing offensive performance firsthand. Even with that thumbtacked in a front corner of my mind, I also do believe there are good defenses in the NFL and that they can impact games.
But when it comes down to how I incorporate defensive matchups into analysis and weekly decisions, I am more apt to shade towards a statistically poor defense elevating a mid-to-lower offense or player in a matchup versus a great defense erasing a great offense. 
As an example of the latter, Lamar Jackson had seven games this past season in which he failed to match his season scoring average established prior to that game. Four of those games came against San Francisco, Buffalo, Pittsburgh, and Kansas City, all top-ranked teams in limited quarterback scoring a year ago. Over those seven games, Jackson still averaged 21.9 fantasy points per game and was the average QB9 in final scoring those weeks. Sure, he had a dip in his output in those games, but was still a strong asset.
On the other end of that equation, someone like Daniel Jones had just three games in which he bested his prior season average in starts and those games came against Detroit, Washington, and the Jets. 
My methodology is basic when looking at the results for the individual passers. I am simply taking the average fantasy points allowed by opposing defenses to quarterbacks prior to the game in which they faced that passer and then measuring it against that weekly performance. For the individual passers, we are only looking at their starts.  So a player like Daniel Jones does not get docked for entering Week 1 and playing a final possession that is five snaps on his year to date totals as he would strictly from a games-played perspective. 
Without a baseline for points scored in Week 1 outside of the prior season statistics, those games both went into the player and team points averages allowed, but we are focusing on the subsequent games played Weeks 2-17 once we started applying 2019 output to the sample. Taking a look at all quarterbacks that started six or more games a year ago, let's roll into some notes.
2019 Fantasy Strength of Schedule and QB Performance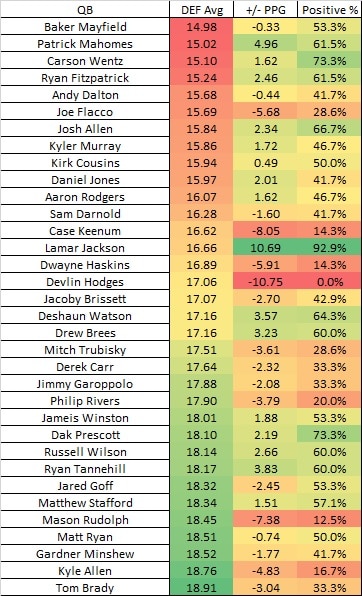 *DEF Avg. = Average Fantasy Points allowed per game prior to facing the QB
*+/- PPG = On average how the QB scored per week vs. that prior DEF Avg.
*Positive % = Percentage of starts in which the QB outscored the prior DEF Avg.
Since this is a strength of schedule outlook, I sorted the table above by the average fantasy points allowed by a quarterback's opponent prior to that game. 
Baker Mayfield

and the Cleveland offense were a major disappointment in 2019. He faced the league's hardest schedule and was just a little under average in those games. That is one point I want to make clear from the jump. I am not out to use a schedule as a crutch as to explain why a player did not perform well and Mayfield is a strong example. Yes, he faced the hardest schedule, but he also did not play well to compound matters. Mayfield made eight starts against top-12 defenses in points allowed versus opponent average (we are getting there) and averaged 12.0 fantasy points per game in those starts. 

Patrick Mahomes

ranked right behind Mayfield in facing tough opponents, but showed how a good quarterback can rise. Mahomes trailed only Lamar Jackson in fantasy points scored per game over what his opponent was allowing prior and was sixth among all quarterbacks in percentage of starts that outproduced those totals.

Speaking of Lamar Jackson, he averaged a staggering +10.7 fantasy points per game over that defensive average allowed prior to playing him. He had just one game all season in which he failed to outproduce that average, coming in Week 5 versus Pittsburgh. 

Here is more support for

Carson Wentz

this offseason when analyzing what he worked through in 2019. On top of a depleted group of pass catchers for the crux of the season, Wentz also faced the third-hardest average schedule. Despite both schedule and supporting cast working against him, Wentz matched

Dak Prescott

for second place behind Jackson in the rate of games in which he outproduced his defensive opponent. He was just right above that baseline, coming in 14th in average points scored differential, but Wentz was a better fantasy option than given credit for with schedule and cast context applied.

On the other of things, the Steelers quarterback situation was an absolute travesty in 2019 after losing

Ben Roethlisberger

in Week 2.

Devlin Hodges

(six) and

Mason Rudolph

(eight) combined to start 14 games while both came in at No. 32 and No. 34 out of our 34-player sample in average points scored versus opponent average allowed prior. Between the two passers, they registered just one game in which they outscored that average, coming from Rudolph in Week 3. 

While Mayfield faced the hardest average schedule, the same was not true for

Tom Brady

. Brady had the lightest Week 2-17 schedule of opponent average allowed prior and ranked 26th in average point differential (-3.0) in those games. Brady had just five games in which he outscored the DEF Average and just two of those five games came after Week 6 of the season. The debate of how Brady was impacted by his surrounding offense in New England and

how much the upgrade going to Tamp Bay will be

versus Father Time remaining undefeated will be answered this upcoming season.

Another aging passer that had a rough season in 2019 was

Philip Rivers.

And he does not have the surrounding talent excuse played for Brady. Rivers had the 12th easiest schedule above, but ranked 28th in scoring average per game versus opponent and 29th in rate of games in which he bested that opponent average. Joining the Colts,

Rivers has an edge over

Jacoby Brissett

in passing accuracy metrics

, but Brissett was actually the more bettable fantasy option between the two a year ago based on performance versus opponent. 
As mentioned, I am a believer that a lot of defensive metrics are offensively influenced, so wrapping things up we want to take a look at how defensive schedules played out and how those defenses performed versus their slate of opponents. Taking things to a team defense level, here is how 2019 shook out on that front.
2019 Defensive Fantasy Strength of Schedule and QB Performance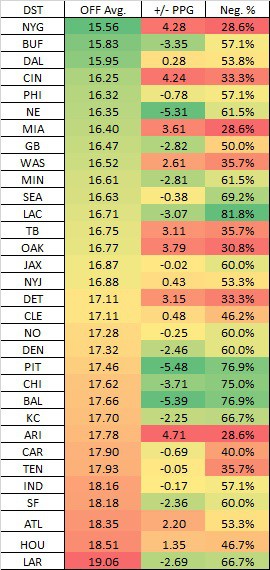 *OFF Avg. = Average team QB Fantasy Points scored per game prior to facing the DEF
*+/- PPG = On average how the QB scored per week vs. that prior OFF Avg.
*Negative % = Percentage of starts in which the QB failed to reach their season average prior to that point
No team had a lighter schedule than the Giants in terms of what their opponents were averaging per game prior to facing them. Despite that, they were 24th in points allowed per game and 31st in point differential allowed per average coming in. In other words, they were a bad defense that elevated a lot of quarterback play. Subpar seasonal scorers such Tom Brady, Mitchell Trubisky, Sam Darnold, and Dwayne Haskins all outproduced their year-to-date totals versus the Giants. They were also tied for last in rate of games in which they held their opponent below their prior average output. 

On the other end, the Rams faced the league's highest-scoring average schedule entering their games and still came out 15th in points per game allowed (16.4) those weeks and ninth in scoring differential (-2.69). The Rams had eight games on their schedule with passers averaging 18 or more fantasy points per game prior to their matchup and only allowed two (Jackson and Russell Wilson) games in which that quarterback bested his prior output.

No team allowed more points per game prior to their opponent average up until that week than the Cardinals. In a cruel fantasy twist of fate, the only passer that the Cardinals did well against was Russell Wilson, who scored -13.1 and -10.3 fantasy points off of his prior average in the two meetings with Arizona last season. 

Here you can also see where some teams benefited from lighter schedules, but were still by all accounts good defenses in limiting quarterback points adjusted for opponent. Defenses such as Buffalo, New England, Green Bay, Minnesota, and the Chargers were all in the bottom-12 of schedule difficulty, but all were also top-10 in points per game allowed differential to those quarterbacks. 

Even a better foot forward, defense such as San Francisco, Kansas City, Baltimore, Chicago, Pittsburgh, and Denver were in the top-13 of schedule difficulty and all were in the top-12 in point differential allowed. Those teams faced and neutralized more effective passers than the former group.