Week 13 delivered what was promised. We got a number of great matchups, so let's just dive right in.
All stats listed are provided by TruMedia unless noted otherwise.
1. The Bengals Are A Better Team And A Bigger Threat
When the Cincinnati Bengals beat the Kansas City Chiefs in the AFC Championship Game last season, everything had to go right. Cincinnati had to pull all of the correct levers to completely shut down Kansas City in the second half to get the win. The Bengals didn't do anything to that level in Week 13 but they didn't need to. In the 27-24 win, Cincinnati showed an ability to sustain a high level of play throughout the game.
Joe Burrow now has the same EPA per play as he finished with last season (0.15) but the way in which he's gotten there — and has continued to improve — has both raised the ceiling and the floor for this offense.
Against the Chiefs, Burrow averaged 0.44 EPA per play, which has third among quarterbacks in Week 13. The production was a continuation of the switch the Bengals have made throughout the season. Burrow completed 80.6% of his passes and eight different Bengals had a reception. He was able to spread the ball around and not have to overly rely on big plays from the wide receivers on the outside.
The first possession of the game highlighted exactly what the Bengals could do. They went down the field for 11 plays and 75 yards in 6:11 for a touchdown. All but one of those plays came out of shotgun. Samaje Perine had three carries for 15 yards. None of the pass attempts went to Ja'Marr Chase or Tee Higgins. Burrow capped off the drive with a designed QB draw for a four-yard touchdown.
Cincinnati continued to find answers to things that had given them problems in the past. Through Week 12, Burrow had seen Quarters coverage on 13.7% of his dropbacks. In two of the previous three weeks, he had seen it over 20% of the time. It was another way for a defense to put a two-high coverage look over the top of the Bengals' offense. On those plays, Burrow averaged -0.02 EPA per play with a 6.35 average depth of target and 5.81 yards per attempt. 
The Chiefs played Quarters on a third of their snaps in this game. Against that coverage, Burrow went 8-for-9 for 90 yards with one scramble and averaged 0.45 EPA per play with a 7.89-yard aDOT and 10 yards per attempt. Again, none of those passes went to Chase or Higgins.
But when those two were needed, they still came up big and helped set up Cincinnati's next touchdown. In Chase's return to action, he had seven catches for 97 yards with a 25% target share.
Early in the second quarter, Chase's chemistry with Burrow was on full display. On a Burrow scramble drill, Chase came back to his quarterback to open up for an athletic catch down the sideline.
It was only a seven-yard completion on a second-and-15 but it made third down more manageable inside the red zone. That third down turned into a slant to Higgins that the receiver powered through into the end zone.
Cincinnati's go-ahead touchdown drive at the start of the fourth quarter also showed the ways this Bengals offense has changed. The first three completions on the drive were checkdowns to Perine, who had 49 receiving yards in the game to go along with 106 on the ground. Higgins and Chase each had one target — Higgins was overthrown in double coverage in the end zone and Chase caught a slant for eight yards on a second-and-13.
The touchdown was set up by using Chase to mess with the pre-snap look. The Bengals came out on a first-and-goal from the 8-yard line with Chase in the backfield, Higgins isolated to the left, and a bunch consisting of Tyler Boyd (83), Michael Wilcox (84), and Chris Evans (25) to the right. To add to the confusion from that alignment, the Bengals quick-snapped as soon as they rushed up to the line. Cincinnati got four defenders to cover Boyd and Wilcox with a man each on Higgins and Chase, which left a wide-open lane for Evans to cross the field into the end zone.
Defensively, the Bengals didn't have some magic formula to stop Patrick Mahomes like they did in the second half of the AFC Championship Game. Cincinnati did use a few Drop-8 looks as they rushed three on 16% of plays, which equaled just five dropbacks. Those plays were effective but they weren't a major part of the game plan. Mahomes went 1-of-4 with a sack on those plays and averaged -0.73 EPA per play.
The Bengals' strategy was also hit-or-miss because they went hard blitzing Mahomes on third down (44.4%). Mahomes was blitzed six times, all on third down with one on fourth. He completed three passes but those were a five-yard gain on fourth-and-4 and explosive gains of 42 and 29 yards in the third quarter. Overall, Mahomes averaged 1.11 EPA per play and 12.67 yards per attempt against the blitz.
What the Bengals did the best, though, was muddy up some looks for the Chiefs' offense and force Mahomes to sit back and make a play. Generally that doesn't go well for defenses, but Cincinnati kept things covered well. On extended plays that took over four seconds, Mahomes went 1-of-6 for just 2.0 yards per attempt. That's well off his normal production on those extended plays.
Patrick Mahomes on Plays Of 4+ Seconds, 2022
data per TruMedia
| Weeks | Dropbacks | EPA/Play | Comp/Att | aDOT | YPA |
| --- | --- | --- | --- | --- | --- |
| 1-12 | 92 | 0.25 | 25/61 | 10.36 | 6.82 |
| 13 | 8 | -0.47 | 1/6 | 17.00 | 2.00 |
Some of that did come on those Drop-8 snaps but there were other plays with just solid defense all around. When Mahomes was able to get the ball out quickly, the Chiefs had success. Mahomes was 10-of-11 for 0.76 EPA per play on throws under 2.5 seconds. 
Yet, through all of the ups and downs, the Chiefs still averaged 0.22 EPA per play (third-highest of the week and higher than the Bengals) and had the lead going into the fourth quarter. It cannot be overstated how big of a swing the Travis Kelce fumble was at the start of the quarter. Per ESPN's win probability, the Chiefs dropped from 70.3% win probability to 62.6% with the fumble. By the time the Chiefs got the ball back after the Evans touchdown, the Bengals had a 58% chance to win.
Another Chiefs blunder came on that following drive when Kansas City faced a fourth-and-7 from the Cincinnati 37-yard line. On third down, the Bengals got home with the three-man rush and sacked Mahomes for a four-yard loss.
Facing the fourth down, the Chiefs decided to attempt a 55-yard field goal that would have tied the game with just under 3:30 remaining. Even with the tie, the Chiefs would have needed to stop the Bengals from getting into field goal range for the win. There are some differences in the win probability models. ESPN's had it as a toss-up (+0.5% to kick) while Ben Baldwin's model had a medium recommendation (+2.7%) to go for it.
Given Kansas City's offense and the struggles the Chiefs had slowing down the Bengals, it's hard to believe letting Mahomes try to pick up the first wasn't the better option.
Both of these teams should still walk away optimistic for the future. Since Week 6, the game the Bengals really turned things around, these are the top two offenses in EPA per play. This game had a playoff atmosphere and we could easily get this rematch in the postseason.
2. The 49ers Disrupted The Dolphins
Everything you could theoretically do on defense to slow down the Miami offense, the San Francisco 49ers were able to pull off in a 33-17 win.  The 49ers disrupted everything the Dolphins wanted to do and it led to the worst output, by far, from Tua Tagovailoa this season (-0.32 EPA pler play).
The 49ers started out by playing aggressively with their corners. Per Next Gen Stats, San Francisco played press on 30% of detached routes in the first half. With an offense built on timing, slowing the receivers off the line of scrimmage messed with the expected spacing on Tagovailoa's dropbacks. That also had the added element of making the quarterback wait just a bit longer in the pocket, which gave more opportunities for a defensive line that had a massive talent advantage over an injury-depleted offensive line. This was a force multiplier strategy from DeMeco Ryans and the San Francisco defense.
Tagovailoa was only pressured on 27.3% of his dropbacks, but those pressure really mattered. After being one of two quarterbacks with positive EPA under pressure through Week 12, Tua averaged -1.55 EPA per play under pressure, going 3-for-7 with an interception and three sacks.
Nick Bosa was a problem in this game and he was one the Dolphins tried to figure out. Bosa had a sack early in the second quarter and by that time Miami was throwing multiple bodies at him in pass protection. The 49ers used that against them later in the quarter.
On a second-and-8, Miami used a fullback from a split back set, a tight end, and a pulling guard to protect against Bosa off the edge. The protection held up but Tagovailoa sailed a pass high. On third down, the 49ers used Bosa on a stunt and got him a clear path up the middle for a sack to force a three-and-out.
With so much of the timing and spacing thrown off, Tua tried to rush his throws which eliminated his biggest strength — his accuracy. Under pressure, 28.6% of Tagovailoa's pass attempts were considered inaccurate per PFF. More concerning, 23.1% of his pass attempts without pressure were labeled inaccurate. Through Week 12, just 8.5% of Tagovailoa's attempts were inaccurate.
Many of Tua's misses were high as he struggled to find the windows that are typically open for this offense. On Miami's second drive of the game and its first third down, they had a third-and-6 from their own 28-yard line. Tagovailoa attempted to hit Trent Sherfield on a post but Fred Warner was in a spot linebackers don't typically occupy. Warner tipped the pass and the Dolphins were forced to punt.
This became a theme throughout the day. Tua didn't have a lot of success over the middle of the field and that led to rushed and inaccurate passes elsewhere. Tagovailoa doesn't often throw between the hashes within 10 yards of the line of scrimmage but that area was completely erased by the 49ers and it impacted his sweet spot between the hashes over 11 yards past the line of scrimmage.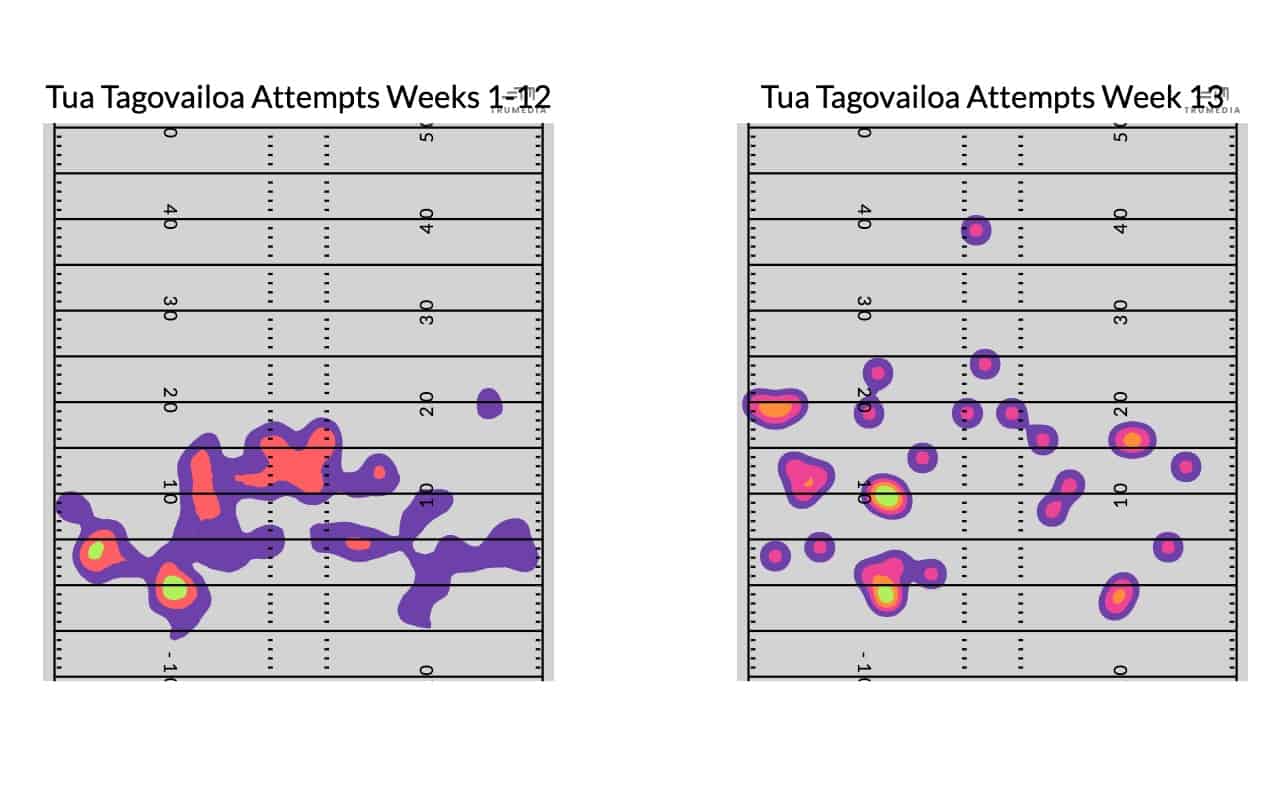 There were still opportunities and the Dolphins took advantage of some but this wasn't a complete failure from the offense. Tagovailoa still had the third-highest expected completion percentage on the day, per Next Gen Stats. This was just a bad game against a defense perfectly suited to challenge what the quarterback does well.
On offense, the 49ers had to make a quick switch after Jimmy Garpppolo broke his foot on San Francisco's first drive of the game. Garoppolo was replaced by Brock Purdy, the final pick of the 2022 NFL Draft. Purdy flashed as a freshman and was excellent as a sophomore at Iowa State but two uneven seasons after tanked his draft stock but he was put in a position to succeed in the Shanahan system.
Purdy averaged 0.02 EPA per play, which ranked 14th among quarterbacks in Week 13. He wasn't asked to do anything spectacular but he did have a few impressive throws, including a 19-yard dart to George Kittle with pressure in his face to extend a two-minute drive at the end of the first half.
Both of Purdy's touchdown passes were well-designed plays near the goal line set to take advantage of running backs (Kyle Juszczyk and Christian McCaffrey) on the edge. McCaffrey led the team with eight catches and 80 receiving yards, though 33 of those came on a fun schemed-up vertical shot from Garoppolo on the opening drive.
It's likely we'll see a bit more of this offense revolve around McCaffrey and what he can do, especially in the passing game. It's worth noting with Purdy in the game, the 49ers still passed 56% of the time (though 48% on early downs) with the lead. Purdy had 40 dropbacks which Garoppolo only eclipsed twice in 2022. Purdy will be able to handle some of the responsibilities and the easy buttons given to the quarterback in this system but it's unclear how close that can get to matching Garoppolo's production. For all of Garoppolo's faults, he's been playing his best this season and is sixth in EPA per play.
Purdy did kill in the quick game. On 22 passes under 2.5 seconds, Purdy went 16-of-22 for 0.29 EPA per play (sixth).
The 49ers have a team that could contend for a title but the pressure is now on a deep offensive supporting cast, a defense, and this coaching staff to get even more out of this roster.
3. Jalen Hurts Plays Quarterback Quite Well
The matchup between the Eagles and Titans was fascinating because Philadelphia just came off a game with nearly 400 rushing yards against Green Bay and Tennessee is a defense that invites the run with the second-highest rate of light boxes but is so good at defending it.
The Eagles took a look at that strength-versus-strength matchup and decided to ignore it almost completely. In the first half of this game, Philadelphia threw the ball 77% of the time and averaged 0.37 EPA per play, which led all teams in the first half. At halftime, the Eagles led 21-10 and they went 50-50 run-pass in the second half.
Jalen Hurts was trusted to throw all over the Titans and he did not disappoint. Hurts averaged 0.45 EPA per play, second-best among quarterbacks in Week 13, and completed 74.4% of his passes. Hurts has shown the ability to both anticipate and create on his own. Against the Titans, Hurts had a 9.62-yard aDOT and unleashed a few deep rockets. All three of his touchdown passes were at least 20 air yards, including this throw into a non-existent window to A.J. Brown in the end zone.
Hurts has been the league's best quarterback at throwing into the end zone. Hurts is now 9-of-16 on pass attempts that travel into the end zone and he's done so with a 14.31 aDOT. Many quarterbacks try to throw into the end zone from a distance (Hurts's aDOT on those throws ranks seventh and the average is 12 yards) but he's the best at hitting them. He averages 10.13 yards per attempt on throws into the end zone. The next highest quarterback is at 6.48 and the average is 3.59. His 1.27 EPA per play also leads all quarterbacks.
Part of that is how the Eagles don't often throw in the low red zone — they have a 25% pass rate there, which is the lowest in the league. But Hurts's ability also plays a part in that and he had a designed run for a touchdown in this game as well. 
That's arguably the most fun thing about the Philadelphia offense right now. It's a unit that can pick and choose how it wants to be the opponent. The Eagles can run all over bad defenses or they can send Brown out to throw opposing cornerbacks to the ground on double moves. It all works.
Brown also had a standout revenge game with 10 receptions, 119 yards, and two touchdowns. The Brown trade still feels like the one mistake from the significant movement we saw this offseason and it's probably due to Tennessee not correctly reading what was about to happen to the wide receiver market.
4. The Lions Are Fun, But It Might Be Too Late
The Lions destroyed the Jaguars 40-14. Their playoff odds, per FiveThirtyEight, went from 8% to 8%. Detroit now ranks eighth in EPA per play on offense but still sports a negative point differential and is 25th in yards per play differential (-0.40).
This current version of the Lions could make an opening-round playoff game exciting but the close losses and poor defense at the start of the year created what appears to be too big of a hole to climb out of.
But let's get to what the Lions did to the Jaguars. Detroit has found the perfect mix for Jared Goff between easy short throws and open deep shots. Goff only had a 6.0-yard aDOT in this game but went 6-of-9 on throws for 11 or more air yards. The total result was Goff leading the week in EPA per play at 0.54. He's now eighth among quarterbacks on the season.
The Lions have such a fun offensive scheme that has mixed a diverse run game with some great passing concepts that Goff has been able to take advantage of. It also helps that Amon-Ra St. Brown has emerged as a legitimate star. St. Brown had 12 receptions for 114 yards and two touchdowns with a 30.9% target share on the day. Four catches and 54 of those yards came on third down for a 57% target share.
St. Brown has been incredible on third downs this season. He's third in third down target hare (30.9%) and ninth in first downs per target (60%). He's the only player with at least 75 routes run on third down in the top 10 for both of those categories.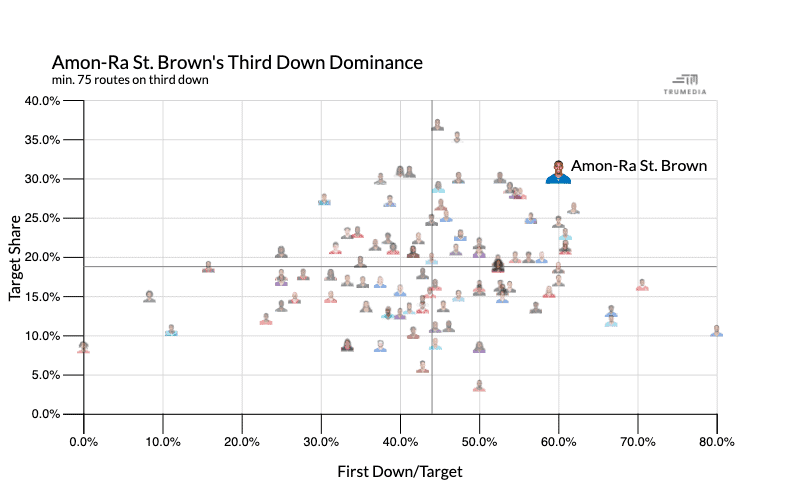 Detroit might be one of the most fun teams in the league but everything they do now might be for 2023. We'll eventually get more Jameson Williams and there is a projected top-five draft pick on the way from the Los Angeles Rams. The Lions are showing the foundation that was promised but it's just a little too late for that to come with the payoff in 2022.
5. The Vikings Manned Up Against Mike White
The Vikings and Jets played a weird game. That was probably inevitable given the teams and quarterbacks involved. There was one switch Minnesota flipped in the game that did help. The Vikings have been one of the heaviest zone teams through the season. Defensive coordinator Ed Donantell is a Vic Fangio disciple. No team runs more Cover-6 than the Vikings and that was still the case in Week 13.
But against the Jets, the Vikings ran the highest rate of man coverage they have used all season (27.7%). They have only hit 20% once this season. That mostly came from playing Cover-1 on 21% of snaps against the Jets.
It worked. Despite the Jets having individually talented receivers, the man coverage took away some of the gaps and space the Jets have been able to manipulate. Mike White went 7-of-15 with an interception and averaged -0.27 EPA per play against the Vikings' man coverage. White was just fine against zone (0.02 EPA per play) but it didn't make up for the poor play against man. (Kirk Cousins did exactly that with -0.50 EPA per play against man and 0.28 EPA per play against zone — he was also quite bad in the game).
This was a fun way for the Vikings to mix up some coverage tendencies and it also illuminated the struggles the Jets could have on offense for the rest of the season if everything isn't schemed open. The Jets play the Bills (15th-most man coverage), Lions (fourth, and Jaguars (14th) over the next three weeks.
6. And NEW Point Differential Leader
Thanks to a 33-point fourth quarter, the Dallas Cowboys now have the highest point differential in the NFL at 127.
Point Differential Leaders Through Week 13
| Team | Point Diff. | Record | Current Playoff Seed |
| --- | --- | --- | --- |
| Dallas Cowboys | 127 | 9-3 | 5 |
| Buffalo Bills | 124 | 9-3 | 1 |
| Philadelphia Eagles | 112 | 11-1 | 1 |
| San Francisco 49ers | 92 | 8-4 | 3 |
| Kansas City Chiefs | 80 | 9-3 | 2 |
Dallas's fourth quarter was the first team a team scored at least 30 in the fourth since the 2013 Denver Broncos in a Week 8 game against Washington. Even that came in some different circumstances as the Peyton Manning-led Broncos went into the fourth quarter trailing 21-14 before pulling out a 45-21 victory.
The Cowboys had a 21-19 lead heading into the final quarter of what turned into a 54-19 win over the Indianapolis Colts.
Dak Prescott only averaged 5.7 yards per attempt and had a 40.1 QBR but the Cowboys were on cruise control even when the game was close on the scoreboard. Dallas actually did some good things in the passing game as CeeDee Lamb continues to fully break out as a top wide receiver.
Safety Malik Hooker got some lucky bounces with a tipped pass that led to a pick-six and a fumble recovery for a touchdown but it was a fitting game for him against his former team. Hooker, who was on our second-team midseason All-Pro team, has always been good when healthy but health was always a concern. He's played 73% of the Cowboys' defensive snaps this season and has been a big reason why Dallas can live in some of the single-high coverages they run.
7. Justin Fields Is Still Getting Better
Justin Fields had his best day as a passer in Chicago's 28-19 loss to Green Bay. Fields went 20-of-25 for 10.16 yards per attempt. On just passing plays when the ball was thrown, Fields was ninth among quarterbacks in EPA per play even with two interceptions.
The Bears averaged a week-high 8.18 yards per play against the Packers while the offense was 10th in EPA per play. This continues to give hope for what the Bears can be as the pieces on the roster improve. This defense is still bare bones at full strength and without Darnell Mooney, Fields is throwing to Equanimeous St. Brown, Cole Kmet, Chase Claypool, and N'Keal Harry. 
8. Chart of the day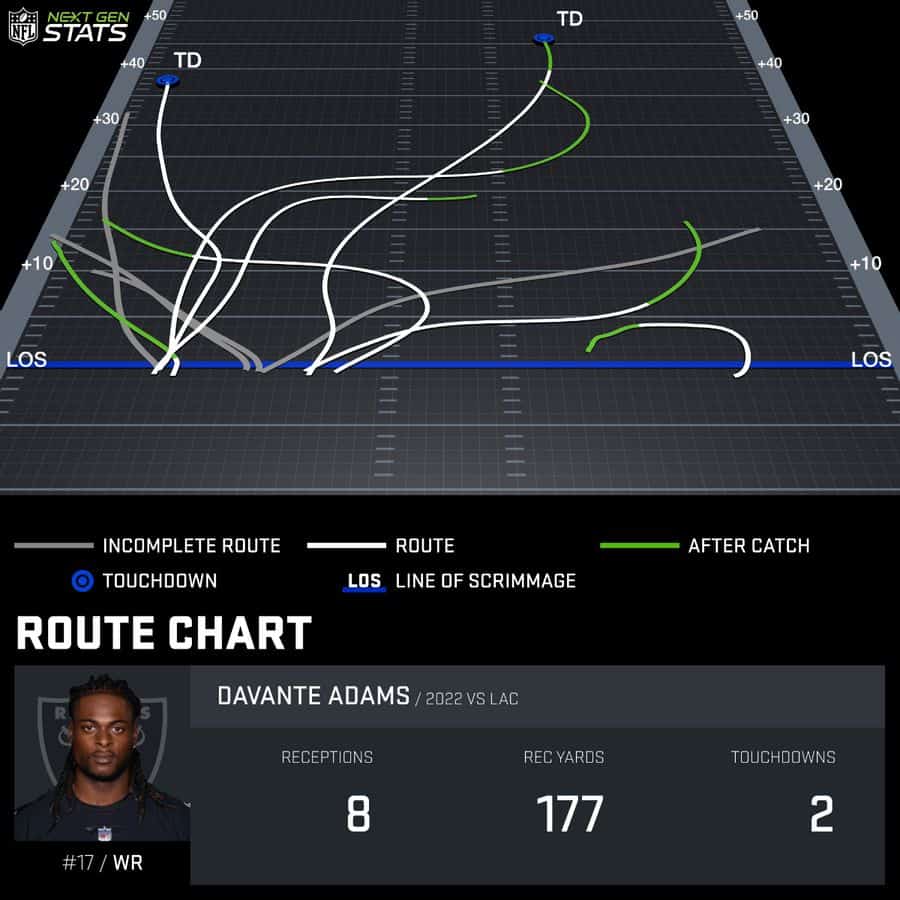 Davante Adams had 177 yards and two touchdowns against the Los Angeles Chargers. He's had at least 100 receiving yards in four of his past five games. In Week 8, Adams was held to three yards on five targets against the New Orleans Saints. Since that game, Adams has 664 receiving yards. Justin Jefferson is the next-best receiver in that span with 525.
9. Play of the day 
Tyler Huntley came in for an injured Lamar Jackson and played well given the circumstances. It's hard for another quarterback to do much in an offense that's built around Jackson's ability to make something happen from nothing.
Huntley averaged a respectable 0.06 EPA per play (11th) on the day but he really came through in the fourth quarter. He went 10-for-10 on pass attempts (with the caveat of a 1.8-yard aDOT) and averaged 0.37 EPA per play. He came up big on three designed runs in the quarter and two on the final drive — a fourth-and-2 and the two-yard run for the game-winning touchdown.
10. A tie in NYG-WAS Delays the payoff
The Giants and Commanders wasted all of our time with a 20-20 tie. All they did was delay their pseudo-win-and-in game until Week 15 when these two teams meet again. Washington has a bye next week when the Giants play the Eagles.
Assuming (probably safely) the Giants lose next week, they will enter Week 15 with a 39% chance to make the playoffs (not including other results around the league). Washington would come in with a 70% chance. But all of that would change with the result of the head-to-head matchup.
A Giants win against Washington would put the Giants' odds would go up to 82% while Washington's falls to 29%. A Washington win would give the Commanders an 88% chance at the playoffs as the Giants would fall to 18%.
Another tie would put the Commanders at 61% and Giants at 31%.