It's early, but Week 3 gave us the most exciting day of the 2019 NFL season. We had one of the more fun games we'll see between the Kansas City Chiefs and Baltimore Ravens. We had a number of one-score games. We also had nail-biting debut of a rookie quarterback, which is where we have to start.
1. Daniel Jones was the exact opposite of Eli Manning
When Daniel Jones was drafted by the New York Giants, one (of the many) jokes was how much he resembled Eli Manning. From the look to the mannerisms, it appeared the Giants were just planning to replace their quarterback with the exact same model, just a newer version.
The Giants offense in a 32-31 win against the Tampa Bay Buccaneers looked nothing like what the team rolled out during the first two weeks of the season. It's not just about the threat of a quarterback run, which Jones and the Giants used to their advantage for a zone-read keeper and the game-winning scramble up the middle — both for touchdowns.
Instead, it was the way the offense functioned overall. During the first two weeks of the season, the Giants were relatively successful on first and second down but completely fell apart of third down. On Sunday against the Buccaneers, the Giants struggled mightily on early downs, but used success on third down to bail themselves out and keep drives alive. Here's what those Giants offensive performances looked like by Expected Points Added.
| Week | Early Down Pass EPA/Play | Early Down Rush EPA/Play | Late Downs EPA/Play |
| --- | --- | --- | --- |
| 1 | 0.24 | 0.63 | -0.50 |
| 2 | 0.07 | 0.23 | -0.68 |
| 3 | -0.08 | -0.16 | 0.79 |
*data per nflscrapR via Baldwin Boxscore
Basically the Giants went from one unsustainable way of playing offense to a different unsustainable way of playing offense. Third down troubles weren't going to stay at the rate they came over the first two weeks in the season, but the Giants can't rely on the third down magic they saw against Tampa and will have to get better on first and second down with Jones in the coming weeks.
Overall, the Giants offense functioned more fluidly and a lot of that came from Pat Shurmur calling better plays and highlighting the strengths of the skill position players. Evan Engram still had a frustratingly low 4.5 aDOT on the day, per Next Gen Stats (the second-lowest among qualified WR/TE for the week) but his 75-yard catch and run touchdown came on Y-Cross, which got the tight end into space down the field with room to run.
That's an incredibly effective route for tight ends and not something the Giants have used Engram on in the past.
There was even a swing pass to Saquon Barkley that was wide open for a likely touchdown but missed in the second quarter. It was off, but that gave Barkley a schemed target beyond the line of scrimmage instead of using the running back as a fallback option behind the line. For the Giants offense, that's a huge change.
Of course, Jones and the Giants will have to go on without Barkley for at least the next few weeks after he ended the game in a boot and on crutches.
Everything wasn't perfect in the game though. Going forward, Jones is going to have to work on his pocket presence. He maneuvered around some pressure but was hit 11 times and fumbled twice. The Giants also won't get as many gifts on the other side of the field like Bruce Arians making the mistake of kicking a field goal up three late in the game (which forces the opposing offense to be aggressive and drive for a touchdown to win instead of settling for a field goal to tie) or the galaxy brain decision to take a delay of game to make the potential game-winning field goal attempt longer to help his kicker.
Bruce Arians explaining why Bucs took a delay penalty to go from the 9-yard line to the 14, setting up what was a Matt Gay miss wide from 34 yards: "I just took it on purpose. Yeah, he's better back, that field goal is easier 5 yards back."

— Greg Auman (@gregauman) September 23, 2019
Still, there was a lot to like about what Jones and the Giants did in the rookie's first start. His running ability potentially raises his floor even if the passing doesn't go well. But in Tampa, Jones showed some intermediate accuracy that was questionable in college. It was about as good of a start as the Giants could have hoped. 
2. Other new QBs were a mixed bag
Not everything was as rosy for the other quarterbacks around the league who started in Week 3 as either a short- or long-term replacement at quarterback. Let's run through them:
Mason Rudolph (49ers 24, Steelers 20)
14/27, 174 yards, 2 TD, 1 INT, 7.7 QBR
Pittsburgh had supreme confidence in Rudolph's ability entering the game. The Steelers traded their upcoming first-round pick for Minkah Fitzpatrick, which suggests they don't believe that pick is going to be high. Then some stories came out on Sunday morning about how the Steelers had a first-round grade on Rudolph, who they drafted in the third round in 2018.
Rudolph didn't look like a first-round talent against the 49ers. In his first start, Rudolph had the poor combination of not throwing too far down the field (6.5 aDOT per Next Gen Stats) but still throwing into tight coverage often (a league-leading 33.3%). He was wildly inaccurate, missing a mixture high, low, and wide. His third-quarter interception could generously be described as a poor decision.
There is a lot that needs to be improved for the Steelers to not look foolish for putting this much faith in Rudolph and trading away a potential top-5 pick.
Kyle Allen (Panthers 38, Cardinals 20)
19/26, 261 yards, 4 TD, 0 INT, 90.4 QBR
For the second time in two seasons, Allen filled in more than admirably in a spot start for an injured Cam Newton. Allen got fairly good protection and was able to spread the ball around with at least five Panthers picking up at least 35 receiving yards.
Three of Allen's three touchdown passes came in the red zone and two involved him avoiding pressure and buying time to find an open receiver. Overall, the game plan for the Panthers was well executed. Allen didn't have to force passes (7.7% tight window throw percentage) and still got the ball downfield. Early down success was a key through the air with 62% success rate per nflscrapR.
Allen might not be an upgrade over a healthy Newton, but he's certainly a better option than a not 100% Newton and the Panthers had few problems moving the ball on offense with Allen under center.
Teddy Bridgewater (Saints 33, Seahawks 27)
19/27, 177 yards, 2 TD, 0 INT, 62.0 QBR
In his first meaningful start since 2015, Bridgewater was fine. He did enough to keep the offense moving and mostly relied on the Saints' playmakers to make plays. His first passing touchdown was a catch and run from Alvin Kamara on a screen caught behind the line of scrimmage that officially went for 29 yards. His second touchdown was a one-yard screen to Michael Thomas at the goal line on a 4th-and-1.
Bridgewater's role quickly became to manage the game and he did nothing to get in the way of that goal. His average pass traveled just 3.3 yards past the line of scrimmage per Next Gen Stats, lowest of the week, and his average completion was just 1.8 yards beyond the line. That's fine when the Saints jump out to an early lead thanks to special teams and defensive scores, but the Saints will have to open up the offense for a chance to compete going forward — especially with the Dallas Cowboys coming in for a Sunday Night Football matchup next week. 
Luke Falk (Patriots 30, Jets 14)
12/22, 98 yards, 0 TD, 1 INT, 7.7 QBR
Poor Luke Falk. Everyone else on this list was supposed to be the backup quarterback. Falk was only called up to the active roster last week when Sam Darnold came up with mono and was made the starter after Trevor Semien broke his ankle early in the first game without Darnold.
Falk then had to have his first start on the road and against the New England Patriots. He also wasn't helped by his head coach, who came out with the game plan version of a punt. That Falk only threw one interception on a day when Braxton Berrios was his most targeted receiver is a feat itself. Unfortunately, that doesn't get bonus points and the rest of the game was a disgusting display of "offense."
3. Baltimore made every move they could to win
Credit John Harbaugh and anyone involved with giving him information for in-game decisions. The Ravens knew they were a road underdog to one of the best teams in the league with an explosive offense. The Ravens knew playing it safe wasn't going to get the job done. That caused Harbaugh to make a number of calls that helped increase Baltimore's win probability. Not all of them worked, but the game would have been more out of hand had those decisions not been made.
The first was an easy call on a 4th and 3 from the Kansas City 9-yard line on Baltimore's first drive. The call is incredibly obvious given Baltimore's underdog status and the opposing offense. The Ravens converted the play — on a Lamar Jackson scramble, a possibility that makes going for it more enticing — and scored a touchdown on the following play.
Baltimore also had a few 2-point conversion attempts that raised some eyebrows. Both were sound decisions. One came after Baltimore's first touchdown when there was a penalty on the extra point. That moved the ball to the 1-yard line for a 2-point try and every team should take that chance. The second was a little more controversial but still had logic behind it. Baltimore scored a touchdown to make the score 30-19, an 11-point deficit.
The numbers suggest to go for it there, especially in the second half. The logic is similar to going for it after scoring to go down by eight points with a field goal added. Going for it ups win probability with a successful conversion (down 9, a touchdown and field goal wins) while the potential of the original tie is still high (a team will have to go for 2 again, but with around a 50/50 chance of conversion for a 2-point try, a team has better odds for converting at least one of the two tries). 
Harbaugh, a former special teams coordinator, then unleashed a dropkick on a kickoff. Teams aren't allowed to punt a kickoff, but the dropkick is legal. With 2:01 left on the clock and one timeout, the Ravens skied the kickoff, which forced the Chiefs to call for a fair catch and take no time off the clock on the return. Baltimore essentially stole an extra timeout by preserving the two-minute warning until after Kansas City's first offensive play.
The Chiefs still iced the game on that drive and won, but the Ravens tried to give themselves every edge to get back into a game they were unlikely to win from the beginning. It's a process that should be applauded and mimicked even if it did not have the desired result.
4. Stay or Go: The 3-0's
Seven teams remain undefeated after three weeks of the 2019 regular season (eight if you count the Lions, but we won't and we'll get to them later). The New England Patriots, Buffalo Bills, Kansas City Chiefs, Dallas Cowboys, Green Bay Packers, Los Angeles Rams, and San Francisco 49ers are 3-0. That's a great start to the season, but doesn't completely guarantee success for the rest of the year.
About 74% of teams that start 3-0 make the playoffs, meaning one or two of that group will still miss out on the postseason despite the strong start. There are three candidates that appear to be the weakest. Green Bay still has issues on offense, but as we mentioned earlier in the season, the defense might be good enough to allow the offense time to click. The San Francisco 49ers are in a tough division with another 3-0 team and have limped into sloppy victories against the Tampa Bay Buccaneers and Pittsburgh Steelers. The Buffalo Bills have a great defense, but the offense might be too inconsistent to contend for a full season. Buffalo should have run away with a win against the Bengals on Sunday, but a poor overall performance from Josh Allen (minus-0.14 EPA per play and 35.1 QBR) never allowed the Bills to pull away.
The 49ers get a bye in Week 4, but the Packers and Bills will be tested. Green Bay goes to Philadelphia for a Thursday Night Football matchup and the Buffalo will host New England.
5. The Lions want to give away games and eventually will
As mentioned above, the Detroit Lions are one of the league's unbeaten teams (2-0-1), but no team has tried harder than Detroit not to be. Despite the undefeated record, the Lions only have a point differential of plus-6, fewer than the 1-2 Carolina Panthers and 1-2 Tennessee Titans.
All of Detroit's games have finished close, even though they shouldn't have. The Lions blew a 24-6 lead in Week 1 against the Cardinals and luckily came away with a tie. Detroit took a late lead against the Los Angeles Chargers in Week 2 but allowed a long potential go-ahead drive before an interception clinched the game with just over a minute left. Then there was the 27-24 win against the Philadelphia Eagles in Week 3 when the Lions had two separate 10-point leads but couldn't put the game away.
So much of this comes from conservative play-calling without the execution to back it up. Detroit had 44 plays on first and second down in the game and split those evenly between run and pass. The problem is the passes were significantly more efficient. Per the Baldwin box score, Detroit had 0.28 EPA per play, a 45% success rate, and 36% first down rate through the air on those plays. On the ground, the Lions had minus-0.21 EPA per play with an 18% success rate and just a 9% first down rate.
It should be noted on Detroit's lone scoring drive of the second half, the Lions threw on six of their eight plays.
Detroit's commitment to the run, especially when it's not working, has allowed opponents to creep back into games and will cost the Lions a lead for good at some point if that trend continues. 
6. Deshaun Watson is unstoppable
For all that's gone comically wrong with the Houston roster, the Texans still have Deshaun Watson and that's pretty good. Now in his third season, Watson has proven he can make up for poor blocking and poor coaching. His improvisational ability can get him into trouble, but can also lead to some special plays.
Watson was the Houston offense in a 27-20 win over the Los Angeles Chargers. He was worth 0.58 EPA per play with a 56% success rate, per nflscrapR, while the Texans' best rusher was worth minus-0.22 with a 25% success rate.
On Houston's final touchdown, Watson avoided pressure from the interior and the edge, started to scramble, which drew in two Chargers defenders, and found Jordan Akins with an open field for a 53-yard score.
The Texans aren't a dominant 2-1 team — they have a point differential of just plus-6 — but with Watson at quarterback they have the ability to steal wins.
7. Joe Flacco is who we thought he was
John Elway and the Denver Broncos have struggled to find a quarterback since Peyton Manning retired. The quarterback carousel has included Paxton Lynch, Brock Osweiler, Trevor Semien, and Case Keenum. The latest dart throw came in a trade for Joe Flacco, who lost his starting job last season to Lamar Jackson.
Flacco got little competition in the offseason and even less after Drew Lock was put on injured reserve in the preseason. Through three regular season games, the Broncos have scored 46 points, better than only the Jets, Bears (pending Monday night), and the Dolphins. Flacco himself has done little to stand out. The Broncos thought the big arm would lead to more downfield passes, but Flacco hasn't been that quarterback in years and he currently has the fourth-lowest aDOT among qualified quarterbacks, per Next Gen Stats.
Against the Packers on Sunday, Flacco had the second-lowest aDOT among quarterbacks and took six sacks on top of his inability to push the ball down the field.
The Flacco pitstop would be one thing for the Broncos if they had a clear transition plan in place, but that's not the case. Lock will be on IR and it's unclear how serious a candidate he is as a quarterback of the future option. Denver also potentially locked itself into another year of Flacco with a contract restructure earlier in the month.
That move got buried under some other league news, but the Broncos cleared $13.6 million in cap room this year by converting $17 million of Flacco's salary into a signing bonus. That put $13.6 million in potential dead money on Denver's 2020 cap when there was previously none on Flacco's deal. The Broncos would still clear $10 million in cap space if they move on from the quarterback after 2019, but they added a significant amount of future dead money for a poor short-term answer at the position.
8. Play of the Day
No team is better than the Chiefs at scheming up big plays. On this 83-yard touchdown pass from Patrick Mahomes to Mecole Hardman, Kansas City came out with a trips look to the left side. Sammy Watkins motioned from the middle to the inside pre-snap. Both Hardman and Demarcus Robinson ran straight down the field. Watkins's moton and curl route drew the attention of Earl Thomas, who tried to jump the route. That left Hardman wide open for an easy score.
9. Chart of the Day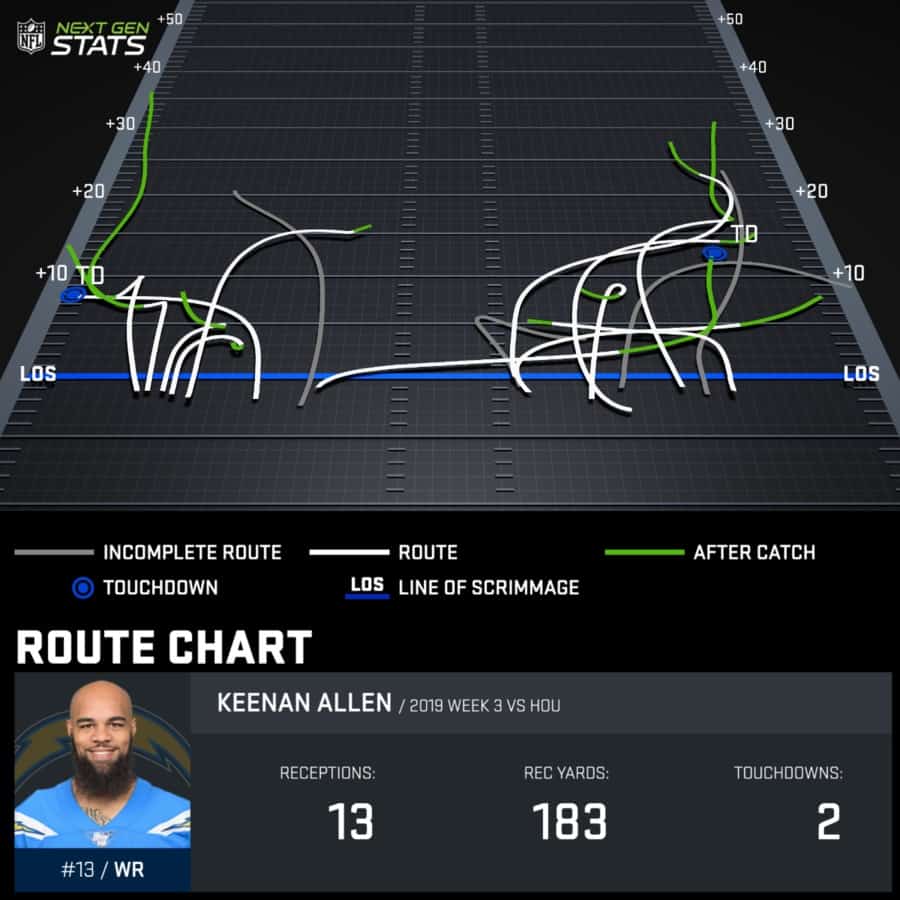 We don't talk enough about how good Keenan Allen is. When we do, it's mostly talking about how we don't talk about how good Keenan Allen is and then we still don't actually talk about it. But here's the thing — Keenan Allen is really good, you guys.
With Hunter Henry out and Mike Williams not completely 100%, Allen is the Chargers have to rely on Allen in the passing game and he has not disappointed. Against the Texans, Allen caught 13 of 17 targets for 183 yards and two touchdowns. He was worth more than an expected point (1.05) per target.
He's currently accounting for nearly 46% of LA's air yards, the fourth-highest rate in the league among receivers. The difference between him and those in front of him are how often and how deep passes have been thrown. Allen has 42 targets on the season and the players in front of him all have fewer than 20 and come from low-passing offenses — Adam Thielen (48.3%, 16 targets) and Robby Anderson (47.8%, 18 targets). (Terry McLaurin's ranking — 51.2% on 16 targets — is pending Monday Night Football).
Allen has the ability to line up all over the field and win from whatever spot he's put in. He's a receiver who has mastered the nuances of the position and it makes him a consistent danger to create separation despite below average straight-line speed.
On Allen's first touchdown, cornerback Jonathan Joseph never had a chance.
10. Another weird historical Miami note
Last week, we talked about Miami's point differential and where it ranks all-time. The Dolphins have now expanded their futility and own the worst point differential (-117) through three weeks since the NFL merger. Only six other teams have been at minus-80 or worse and just two hit the 90-point threshold. If the Dolphins had tied in Week 3, they still would have put up the third-worst three-week point differential since the merger.
The strange thing about the teams in the same category as the Dolphins through two weeks was how the seasons played out. All of the teams won at least five games. Well, add another to the group. The two other teams with a minus-90 point differential or worse include the 1972 Saints mentioned last week and the 2001 Washington Redksins (both minus-96). That Washington team started 0-5, but finished the season 8-8.
Again, it doesn't seem like the Dolphins will be a team to follow that trend. Miami has allowed 133 points and the next worst team (Giants) is only at 94 points allowed. This doesn't look like something that's going to turn around anytime soon, despite some of Josh Rosen's best efforts.