Week 2 brought a ton of surprises. We had some crazy comebacks and a few potential breakout performances. Still, some of the best teams and players have yet to play with two Monday night games. Let's get through the wildness from Sunday.
All stats listed are provided by TruMedia unless noted otherwise.
1. Tua! Lamar! Dolphins! Ravens!
Somewhere in the middle of a Ravens blowout over the Dolphins, an early Game of the Year candidate broke out. The Ravens went into halftime with a 28-7 lead and took a 35-14 lead into the fourth quarter. Then with a 28-point fourth quarter, the Dolphins came back for a 42-38 victory.
In the fourth quarter, Tua Tagovailoa went 13-of-17 for 199 yards with four touchdowns for 1.04 EPA per dropback. Overall in the game, Tagovailoa averaged 0.46 EPA per dropback. The third-highest of the week, and a 90 QBR (think of QBR as a win probability metric — a team with the equivalent of Tagovailoa's performance would be expected to win 90% of the time).
This was a game where all the levers were pulled and executed at the correct times. We thought this type of offense could work in ideal situations but playing from behind might have been a concern.
In Week 1, the Dolphins did a ton of damage off of play-action. Tagovailoa still used play-action on 36% of his dropbacks, but on non-play-action passes, he averaged a week-high 0.76 EPA per dropback going 23-of-36 with an 8.56-yard average depth of target.
Points were scored due to some busted coverages from the Ravens but the Dolphins were able to be in the position to take advantage of those busted coverages. It's a low bar, but there were barely any routes to bust coverages on in the 2021 offense.
Last season, Tagovailoa had the highest rate of throws into tight coverage (defined by Next Gen Stats as a defender within one yard of the target) at 19.3%. This year, that's down to 8.4% over the first two weeks including just 6% in Week 2.
So much of this offense is about using speed to create space and mismatches with Jaylen Waddle and Tyreek Hill, who were first and second in receiving yards for Week 2.
Early in the second quarter, the Dolphins had a second-and-13 on their own 3-yard line. Miami came out in an empty set from 21 personnel. The trips side on the right had Raheem Mostert, Waddle, and fullback Alec Ingold from inside out. On the other side, tight end Durham Smythe motioned to the outside. At the start of the play that lined up both Hill and Waddle against linebackers in the slot.
With the motion, the deep safety, Marcus Williams, moved slightly over across the hash mark to Hill's side, which eventually created an opening to hit Waddle between the linebacker and safety. Waddle took the pass for a 59-yard gain.
On Hill's 48-yard touchdown on a third-and-10 in the fourth quarter, the Dolphins came out in 12 personnel with Waddle between the two tight ends on the trips side to the left and Hill on the right. The Dolphins caught the Ravens on a blitz, but even then Baltimore still had a four-on-three advantage in the secondary. But at the snap, Kyle Hamilton got a little wide in the middle of the field and couldn't catch up with the vertical from Hill, who got behind Marcus Peters.
Obviously, the blown coverage is what kept Hill that open but if there's a plus for this type of play translating to the future, Waddle was also wide-open in the middle of the field on a crosser behind Patrick Queen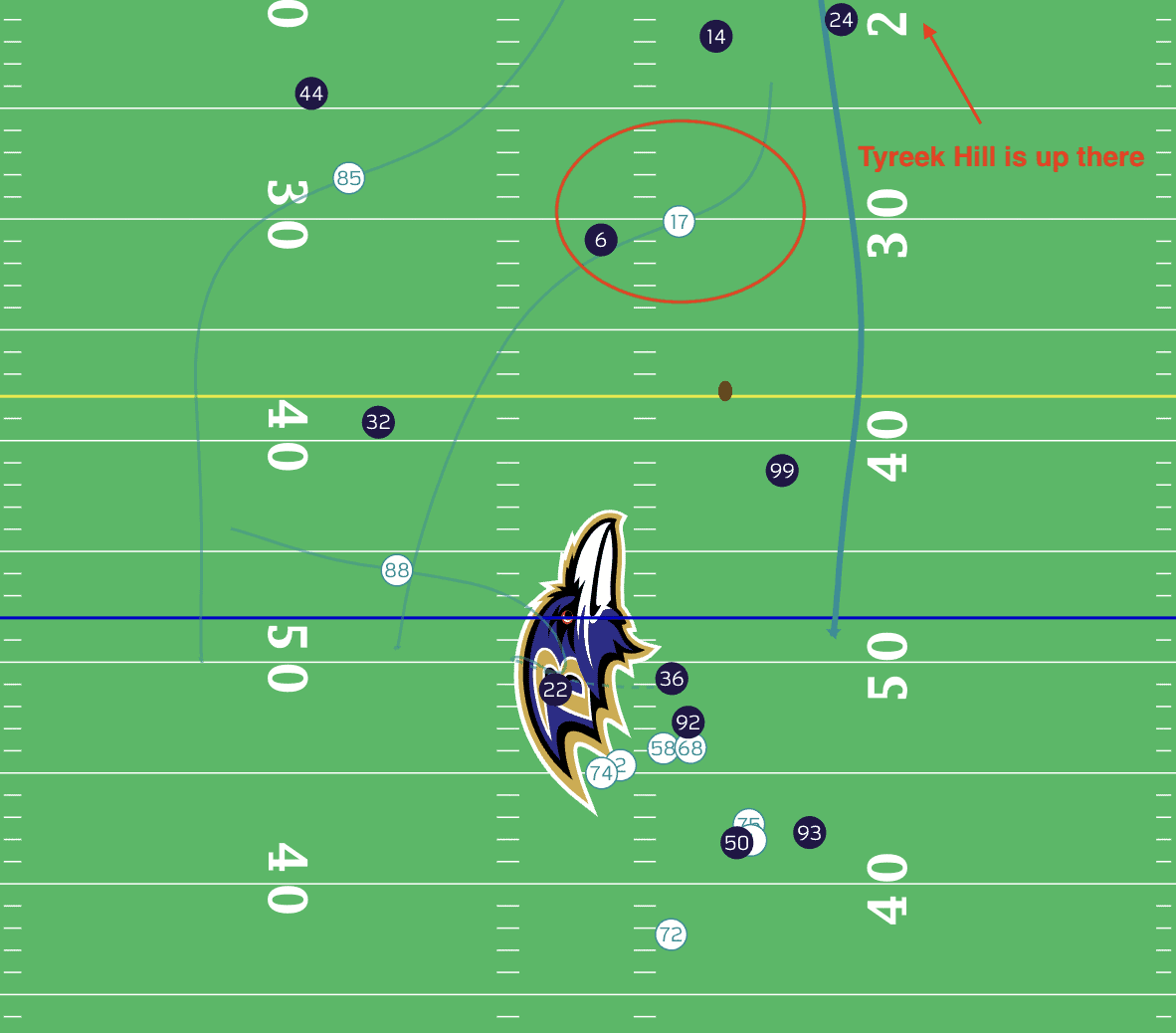 Despite being in 12 personnel, the Ravens still countered with dime yet had Waddle running against Queen. Watch the dots again, Hamilton is caught between the Hill route and the threat of Waddle on the crosser. That's a win-win that creates the coverage bust.
Hill's 60-yard touchdown took advantage of Hamilton and Williams both playing the same spot while Hill had a one-on-one against Jayln Armour-Davis. 
The Dolphins have continued to use their personnel to create different looks and mismatches all over the field. Miami used 21 personnel on 42% of plays in this game. They used it to spread out like the empty formation above, but they also dominated with it in the run game. After the Dolphins couldn't run in Week 1, they averaged 0.39 EPA per attempt on runs out of 21 personnel.
Tagovailoa is going to be good enough to make those open throws and the offensive structure has been such so far that it's rarely been at a disadvantage. That's the exciting part for the Dolphins going forward.
Miami's comeback overshadowed an incredible effort from Lamar Jackson. Jackson averaged a week-high 0.69 EPA per dropback and 10.97 yards per attempt. Jackson was again in air-it-out mode and had a 10.83-yard aDOT in the game. It wasn't just deep shots, though. Jackson went to the intermediate level of the field (11-19 air yards) and completed 5-of-7 passes.
Last year, this was a matchup where the Dolphins overloaded the Ravens with blitzes and Baltimore had no answers. That wasn't the case this year. Jackson was still blitzed on 51.6% of his dropbacks in the game but against five or more pass rushers, Jackson went 12-of-14 for 14.7 yards per attempt and 1.12 EPA per dropback. 
On those blitzes, Jackson was pressured just 18% of the time. Baltimore did an excellent job throwing quickly and had more answers in pass protection. 
The Ravens have some things to clean up on defense. When everything is working, it looks cool as hell, like it did in Week 1. But Week 2 highlighted when the communication is a bit off while there are a ton of responsibilities put on individual defenders, there can be some massive busts.
Maybe the offense will be good enough to lift the team throughout the season, but this was an early offensive performance that should have led to an easy Ravens win.
2. Trevor Lawrence Looked Good
This was the Trevor Lawrence game we've been waiting for. It wasn't even overly impressive with individual throws from the quarterback but this was perhaps the first game in Lawrence's career where he looked settled and in complete control of the offense.
In Jacksonville's 24-0 win over Indianapolis, Lawrence averaged 0.56 EPA per dropback, the second-highest of the week, with a 95.3 QBR.
What stood out was the timing and rhythm of the offense, especially early in the game. 63% of Lawrence's dropbacks finished within 2.5 seconds of the snap. Lawrence had one of the highest average time to throw figures as a rookie and his highest percentage of quick throws in 2021 was 57%
On throws of 2.5 seconds or less in the game, Lawrence went 18-of-19 and while his aDOT was only 3.05, he averaged 8.42 yards per attempt.
Even without the quick game, Lawrence was just more poised in the pocket and trusted the offense — again, something he was never able to do as a rookie. With eight minutes left in the first quarter, the Jaguars went for a fourth-and-3 near midfield. Jacksonville came out in empty. Nothing was open when Lawrence hit the back of his drop but he hung in the pocket and waited for a late window to open on a Zay Jones crossing route, which picked up the first,
The Jaguars went empty on 20% of Lawrence's dropbacks in Week 2 after doing so on just 8% in Week 1.
Later in the quarter, the Jaguars had a third-and-4 from the Colts' 10-yard line. Jacksonville was in a 3×1 look but motioned Christian Kirk into the backfield before the snap. Kirk then ran an angle route out of the backfield. As a crosser from Evan Engram helped clear out the middle of the field, Kirk had an open path to the end zone.
Jacksonville has gotten good work out of Kirk through the first two games. Among 71 receivers with at least 40 routes, Kirk is eighth in yards per route run. He's been getting most of his work in the short game (66.7% of targets from 1-10 air yards) while he has lined up in the slot 70% of the time.
Kirk has also been the beneficiary of being the top target in a better offensive system. His second touchdown late in the third quarter took advantage of his speed coming across the formation with misdirection the other way.
If this offense can continue to evolve as Lawrence gets more comfortable, this could be a unit that wins some games in 2022. Add on an opportunistic defense that has already caused a few turnovers and found a pass rush groove against an overwhelmed Indianapolis offensive line and there could be some fun games in Jacksonville's future.

3. Back To The Old Plan With The 49ers
Early in San Francisco's 27-7 win over Seattle, Trey Lance suffered an ankle injury that was later announced as season-ending. With Lance out, Jimmy Garoppolo retook control of the 49ers' offense. He reworked his deal for this reason — should Lance go down, Garoppolo would slide in as someone who has already effectively led this offense in the past.
Lance was brought in to bring more upside to the offense, especially in the deep passing game, and maybe that got to Garoppolo a bit because we saw some different throws when he came into the game. 53% of Garoppolo's pass attempts were outside the numbers in Week 2. He didn't come close to that figure in 2021. His highest was in his worst game, 40.9% when he averaged -0.38 EPA per dropback in Week 7.  
He threw more than half his passes outside the numbers just once in 2020 (58.3%) in a game he only threw 16 attempts in 31-13 Week 2 blowout of the Jets.
Those throws were hit-or-miss (4of-9) but he tried to push the ball with a week-high 15.78-yard aDOT outside the numbers.
Garoppolo has mostly stayed away from those types of throws because they're not something consistently in his tool kit. He was 1-of-3 on throws of 20 or more air yards outside the numbers in this game and even with the completion being a touchdown, he averaged -0.22 EPA per dropback.
There could be a scenario where a few more of those shots are sprinkled in while the Niners return to the middle-of-the-field-heavy offense they've used, which could bring some more big play potential, but for the most part, we know what a Garoppolo-led team will look like.
Seeing Garoppolo back under center might not be the most exciting option, though it does raise the floor, the defense could bring all the excitement around San Francisco.
All of a sudden this is a team that has playmakers at every level of the defense. The stars were always in the front seven but the secondary was a question. That's not really the case anymore, especially with the emergence of 2021 fifth-round safety Talanoa Hufanga.
Hufanga has been everywhere on the defense for the 49ers. Through two games he has 14 tackles, three tackles for loss, three passes defensed, and an interception. He also picked up a pressure on one of his two pass rush snaps in Week 2.
What's most impressive is he's just been in the right place consistently over the first two weeks of the season. He created an interception for Tashaun Gipson by just hanging with Tyler Lockett in coverage. 
We know what the offense will be now and so the ceiling of the 49ers team comes down to how good this defense can be. Through two weeks, San Francisco is third in defensive EPA per play so that's not a bad start.
4. Save Us, Kyler Murray. You're Our Only Hope
There are fundamental problems with the Arizona Cardinals offense but when Kyler Murray has to make a play, he makes plays. Through three quarters, Murray averaged -0.14 EPA per dropback. In the fourth quarter, he averaged 0.22 EPA per dropback.
As the offense struggled early, it was slow and static. In the first half, the Cardinals had the slowest offense in Week 2, averaging nearly the entire play clock (37 seconds) per play.
It's not as if the Cardinals were using that time to use motion and create confusion at the snap. In Week 1, Arizona motioned on just 25% of offensive snaps which was 27th in the league. That comes after the Cardinals were 31st at 31% in 2021, per Sports Info Solutions. There wasn't much more movement in Week 2.
Part of the reason teams like the Cardinals don't use as much motion is that they use speed to their advantage. Using no huddle and getting plays off quickly can put the defense at a disadvantage. But if Arizona isn't using pace and then still staying static in formation, there's nothing to throw a defense off. 
With everything so slow, the Cardinals also didn't have anything working down the field. Murray's aDOT during the game was only 4.98 yards and 26.5% of his throws came behind the line of scrimmage.
But as the Cardinals mounted a comeback in a 29-23 overtime win, Murray used his legs as Arizona's best offensive weapon. Murray didn't really scramble in the game until late and they came out of necessity.
On his wild two-point conversion scramble, the Cardinals tried to run mesh at the goal line but there was no room for the crossers to create space and Murray ran around until some space was created for himself.
kyler's infinite scramble pic.twitter.com/y7rZF8n2wD

— Seth Walder (@SethWalder) September 18, 2022
The other two came on late fourth down attempts. At this point, all defenses should know a fourth-and-short for the Cardinals is going to come with some movement from the quarterback. But Murray is still so electric, he's able to make a play with his feet anyway. On a fourth-and-1 with two and a half minutes left in regulation, Murray still found a lane to his right to pick up the first down on a run.
Then on the final fourth-and-3, the Raiders chose to use man coverage and once Greg Dortch (83) broke inside, there was a wide-open lane for Murray to score the tying touchdown.
With a quarterback this talented, the Cardinals should be better than this. But the offense is still stale and it hasn't compensated for not having its top receiver. The win was fun and exciting but the structure of the offense is part of why the comeback was necessary.
5. The Tampa Bay Defense Is Coming Through
With injuries across the offense, the Tampa Bay Buccaneers' defense stepped up in a 20-10 win over the New Orleans Saints. Most of this unit was kept intact during the offseason and through two weeks, the Buccaneers lead the league in defensive EPA per dropback.
Tampa Bay didn't have a lot to worry about against Jameis Winston, a quarterback who has several fractures in his back as was reported before the game. Winston was wild and back to his high-variance play, though the upside wasn't quite there in this one.
Winston wanted to sling it with nine attempts of 20 or more air yards in the game. He had more interceptions on those throws (two) than completions (one).
The Buccaneers were also able to bait the quarterback into throws while creating pressure. Tampa Bay has only blitzed on 24.7% of opponent dropbacks this season, which ranks 13th. Last year, the Buccaneers were the heaviest blitzing team at 38.7%. The Bucs still got to Winston when they sent extra rushers — four of Winston's six sacks came against the blitz — but Tampa Bay has been able to move pieces around to create pressure without the extra rusher.
On a second-and-15 midway through the fourth quarter, the Buccaneers had a four-man front but on the defensive right side, they had defensive tackle Rakeem Nunez-Roches (56) well outside the offensive tackle with edge rusher Joe Tryon-Shoyinka inside of him. Tryon-Shoyinka ran a stunt around Vita Vea but Nunez-Roches was able to push the tackle back into Winston.
The quarterback tried to throw a deep pass and never saw Jamel Dean just sitting in the ball's path. (Also shout out to Logan Ryan who came flying in from across the field and might have made the interception if Dean wasn't there.)
6. The Lions offense is doing some cool things
The Lions are fun. They might not be consistently good just yet, but they are fun — especially on offense. Detroit, pending the Monday Night Football games, ranks sixth in offensive yards per play and EPA per play.
Every piece of the offense you would hope would click is clicking. Amon-Ra St. Brown is playing like a legitimate superstar at receiver. St. Brown has just been a constant in the offense. He's currently 10th among receivers in yards per route run while 62.5% of his targets have come between 1-10 air yards. His short-area separation and body control have been special.
On his touchdown in the fourth quarter, he set up Kendall Fuller perfectly to create space in the corner of the end zone.
One of the most interesting things about the Lions' passing offense is that they've nearly eliminated throws behind the line of scrimmage. Just 9.9% of Jared Goff's passes have been at or behind the line. Last year, that rate was 22.5%. As a team, the Lions have only run eight combined screen routes (seven for receivers, one running back).
Those passes aren't just becoming short passes, either. Goff's rate of throws between 1-10 air yards has remained about the same (56.3% in 2022 compared to 54.3% in 2021). Instead, the inefficient passes behind the line have turned into intermediate and deep throws. 21.1% of Goff's pass attempts have been to the intermediate area of the field. Those can still be inconsistent, but the upside of the hits is much higher than the shorter throws. With the overall success rate of the offense higher, they can take some more chances without derailing drives. 
Part of that success is that Detroit has been physical, even with offensive line injuries. Through two weeks, no team has averaged more yards per contact per rushing attempt than the Lions and it's not particularly close.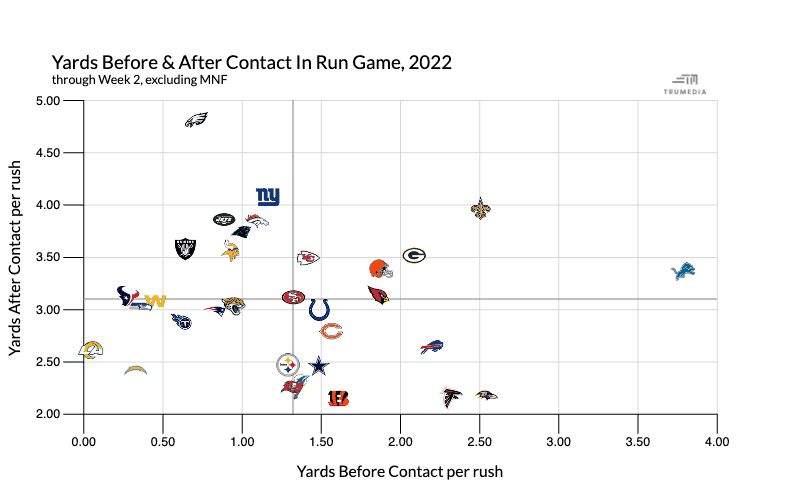 7. What's Going On With The Broncos?
Something is off with the Broncos. They squeaked out a 16-9 win over the Texans but nothing was smooth. The offense hasn't clicked and the overall communication has left the team helpless on occasion.
Nathaniel Hackett is a new head coach who is also calling plays and it just doesn't look like he's been able to be a step ahead for when fourth down decisions need to be made. That was apparent at the end of the Week 1 game and it continued in Week 2. There were whole sequences that were baffling.
Please watch this entire sequence. Nate Hackett has officially lost it. Denver went from 3rd and inches, a TE rush attempt, a long FG attempt, and then a punt. Lord pic.twitter.com/3Eugrn7sHG

— Billy M (@BillyM_91) September 18, 2022
That doesn't even take into account that the field goal team was taken off the field for what would have been a shorter attempt than the kick at the end of the game against the Seahawks.
Communication for typical play calls has also been slow. Russell Wilson's Seattle offense always had a slow pace but there isn't much benefit of the doubt given how the production has been in the first two games. In the fourth quarter, the home Denver fans were screaming out and counting down the time remaining on the play clock like they were anticipating the next entrant for the Royal Rumble. This was happening when the Broncos were on offense.
There is a ton of talent on this team, so these issues should be worked out. But it has not been a smooth transition to start the season and the longer these problems persist, the more they'll stand out.
8. Chart of the day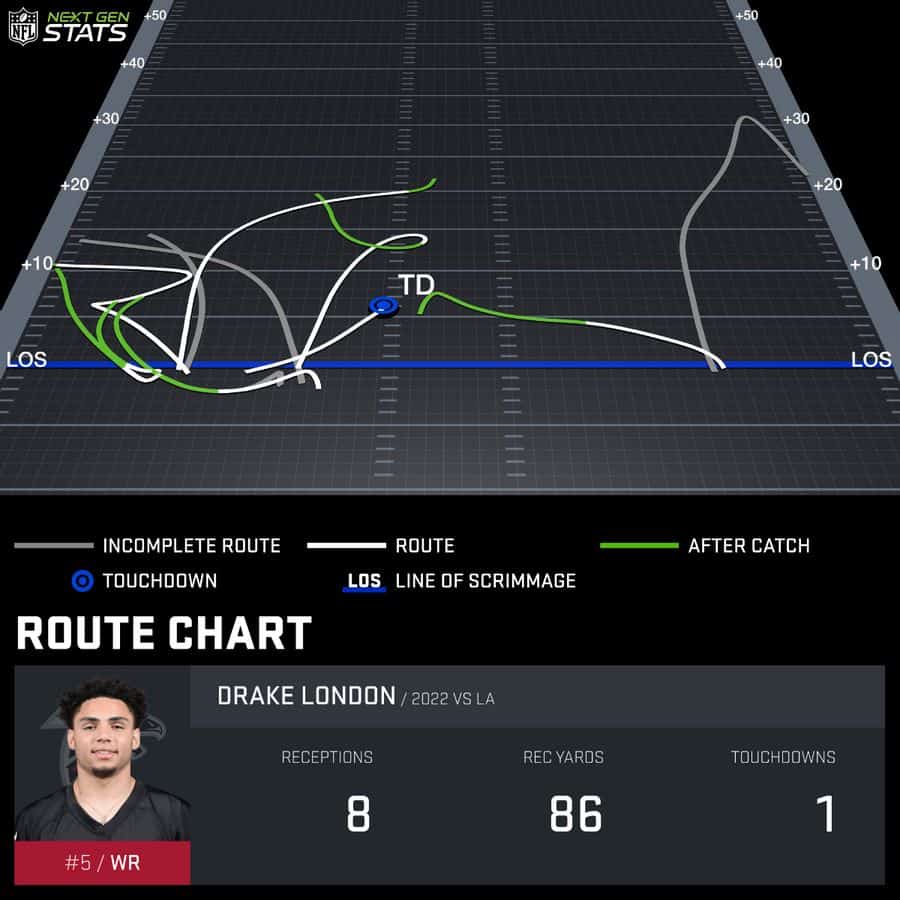 The Falcons are slowly starting to figure things out. One of those things is how to use rookie receiver Drake London. London is seeing a third of Atlanta's targets and ranks seventh among all receivers in yards per route run. He had 3.07 yards per route run with 12 targets against the Rams. His touchdown came underneath a Kyle Pitts route with those two lined up next to each other just outside of the end zone.
The next step is for the Falcons to remember how to use Pitts and this could be an entertaining passing offense with those two weapons.
9. Play of the day
The Jets came back against the Browns for a 31-30 win with the game-winning touchdown this Joe Flacco throw to Garrett Wilson. Wilson, the 10th overall pick in the 2022 NFL Draft, looked like a star on the rise in this game. The move he put on cornerback Martin Emerson for his first touchdown was even more impressive.
10. The Bengals Have a Cover-2 Problem
This isn't anything new, it's not revelatory, and it's something we saw coming but the Bengals haven't had an answer for Cover-2. After the Pittsburgh Steelers sat in Cover-2 and forced some bad passes from Joe Burrow in Week 1, the Cowboys used Cover-2 on 36% of their defensive snaps after just 9.7% in Week 1.
On 21 dropbacks Burrow went 12-of-15 with a 3.87-yard aDOT. We expected the Bengals would get the ball out quickly and short in those situations. But Burrow also took five sacks against Cover-2 in this game.
The Bengals are too talented to be completely derailed by two deep safeties. This is a team that lived on explosive plays against single-high coverage. The problem is this offense doesn't have a backup plan. Despite a lower aDOT, the Bengals haven't been able to create after the catch and that figure has dropped from 2021.
Bengals aDOT vs Yards After the Catch, 2021-2022
data per TruMedia
| Year | aDOT | YAC/R |
| --- | --- | --- |
| 2021 | 8.08 | 6.3 |
| 2022 | 6.25 | 5/26 |
Cincinnati's run game has also struggled, leaving out the option to run teams out of two-high looks. The Bengals rank 22nd in EPA per rush and 23rd in rushing success rate.
This offense just keeps trying to do the same things that worked in 2021 even though everyone knew the offense would be played differently. Even Burrow started to rebel, apparently telling the coaching staff to not run any more empty sets, even though Burrow went 6-for-6 with 11 yards per attempt from empty against Dallas. 
Cover-2 isn't some exotic new-age defense. The Bengals should be better than this and if they can't make some adjustments, there should be some questions about the structure in place. An 0-2 start is rough and with Miami and Baltimore next on the schedule, it could get worse.