The 2020 NFL Draft starts on Thursday, April 23. As a lead up to the draft, we'll be giving a team-by-team breakdown for positional needs. For each team, we'll give an overview of each team's current depth chart and how big of a need each position in the upcoming draft. Find all teams and the rest of our draft content in our NFL Draft Hub.
Be sure to follow our new Twitter account @SharpFBAnalysis for additional content like this, plus in-season NFL analytics, betting insights, fantasy football analysis, and game picks & props.
Arizona Cardinals 2020 Draft Picks Overview
Round 1 (8)
Round 3 (72)
Round 4 (111)
Round 4 (114)
Round 4 (131)
Round 6 (202)
Round 7 (222)
Arizona Cardinals Offense
by Rich Hribar
2019 Arizona Cardinals Offensive Ranks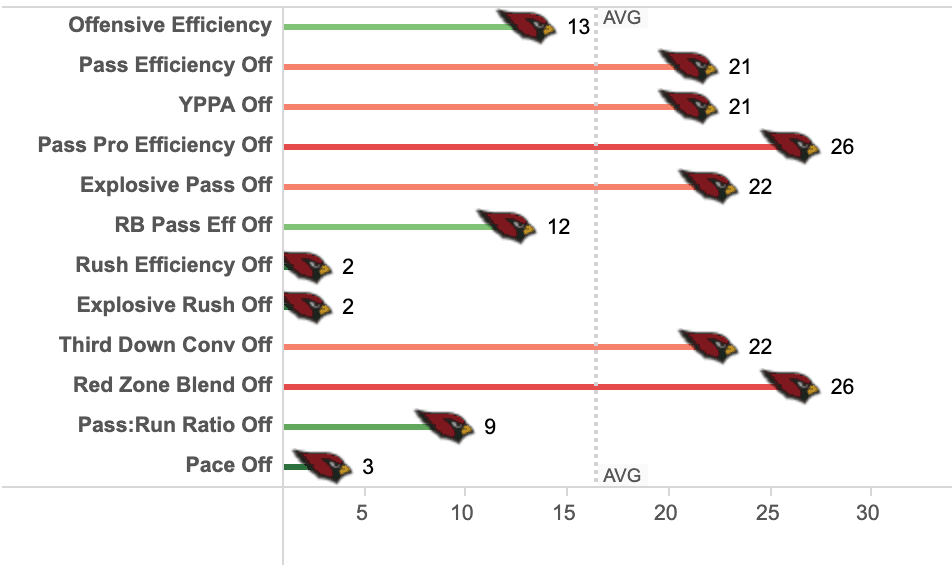 *denotes new addition
Quarterback
Kyler Murray
Brett Hundley
Drew Anderson
Chris Streveler
The Cardinals used the first overall selection in last year's draft on Kyler Murray. He completed 64.4% of his passes and despite lower rate stats in touchdown rate (3.7%) and yards per attempt (6.9), the top selection didn't disappoint. Murray also added 544 rushing yards and four touchdowns via his legs. Backup Brett Hundley is under contract for just this season, but the Cardinals are set at quarterback.
Running back
Kenyan Drake
Chase Edmonds
D.J. Foster
The Cardinals placed the transition tag on Kenyan Drake this offseason, keeping the 26-year-old in Arizona for the 2020 season. Drake averaged 18.9 touches for 101.8 yards per game over his eight games after joining Arizona. Drake still doesn't carry commitment from the team beyond this season, but the team has expressed early interest in an extension.
Chase Edmonds is in the third year of his rookie contract and a solid No. 2 option. He flashed for 5.7 yards per touch in his second season prior to suffering a hamstring injury that limited him over the back half of the season. The Cardinals should be in play to add to their stable of backs.
Wide receiver
DeAndre Hopkins*
Christian Kirk
Larry Fitzgerald
Andy Isabella
KeeSean Johnson
Hakeem Butler
Trent Sherfield
Johnnie Dixon
AJ Richardson
The Cardinals made a big move this offseason in trading for DeAndre Hopkins. Turning 28-years-old in June, Hopkins has three years left on his current contract, but the two sides are expected to come to a new agreement. Behind Hopkins, Christian Kirk is in the third year of his rookie contract, giving the team to top options with multiple years remaining. Larry Fitzgerald will turn 37 years old this August, but is coming back for one more year.
Last season, Arizona used three draft picks on Isabella (62), Butler (103), and Johnson (174). Butler missed the entire season with a broken hand while Isabella and Johnson struggled out of the blocks, combining for 30-376-2 during the 2019 season. The Cardinals used four wideouts on a league-high 33% of their pass plays in 2019, while the next highest team was the Jaguars at 10%. With the Air Raid scheme, Arizona could always keep throwing logs on the fire when it comes to adding receivers, but the addition of Hopkins suppresses the need to do so with their first pick. 
Tight End
Maxx Williams
Dan Arnold
Darrell Daniels
Maxx Williams only caught 15-of-19 targets for 202 yards and a touchdown, but rejuvenated his career by being a de facto offensive lineman in the scheme. Williams played 488 snaps, but ran a pass route on just 35.6% of those snaps. He graded out with the highest run-blocking grade at the tight end position per Pro Football Focus. Williams is on the roster cheaply through the 2021 season.
The team added Dan Arnold for the final three games of 2019, with Arnold catching a touchdown in two of those weeks. Arnold is signed for this season. Arizona could add a pass-catcher to this group, but since they don't lean on the position heavily in the passing department and Williams is such a strong blocker, the position is not a deep need.
Offensive Line
LT: D.J. Humphries/Joshua Miles
LG: Justin Pugh/ Sam Jones
C: Mason Cole/ Lamont Gaillard
RG: J.R. Sweezy/Max Garcia
RT: Marcus Gilbert/Justin Murray/Brett Toth
The Cardinals scheme generated a lot of explosive runs, but this offensive line was a major problem in pass protection. Arizona ranked 26th in pass pro efficiency, and 26th in adjusted sack rate (8.4%). The team re-signed D.J. Humphries to a three-year deal this offseason while bringing back 32-year-old Marcus Gilbert a one-year contract.
Left guard Justin Pugh played a high level in the pass game, ranking tied for third in pass blocking efficiency among all guards per Pro Football Focus. He remains under contract through the 2022 season. Right guard was a different story, however, with J.R. Sweezy ranking 50th among graded guards at the site. Sweezy is only under contract for this season while center Mason Cole is in the third year of his rookie contract.
Arizona could pursue an offensive tackle right at the top of this draft and should be expected to add tackle and guard depth in totality. 
Arizona Cardinals Defense
by Dan Pizzuta
2019 Arizona Cardinals Defensive Ranks
interior defensive line
Corey Peters
Jordan Phillips*
Zach Allen
Jonathan Bullard
Michael Dogbe
There's not really much here. Jordan Phillips was a free agent signing and brings some upside as an interior pass rusher (though a 9.5-sack breakout 2019 came with an insanely high unsustainable sack rate). Behind him are a solid veteran run defender in Corey Peters and a lot of untapped potential for depth. Jonathan Bullar never found a fit as an end/tackle tweener with the Bears and Zach Allen might be a younger, slightly improved version. Michael Dogbe is an athletic freak but did not see the field often as a rookie seventh-rounder. There's certainly a need here, but not a "draft Derrick Brown eighth overall" type need.
EDGE
Chandler Jones
Devon Kennard*
Kylie Fitts
Keishawn Bierria
Vontarrius Dora
Chandler Jones remains one of the league's most underrated players. No matter the scheme or the talent around him, Jones ends up as one of the most disruptive edge rushers year after year. But Jones will be 30 for the 2020 season and his current contract only runs through 2021.
The Cardinals signed Devon Kennard to a three-year deal after he was let go by the Lions. Kennard has been a player who has been able to generate pressure while jumping between edge and off-ball roles on the Detroit defense. There's little of note behind those two, but they rely elsewhere for a pass rush as one of the most blitz-heavy teams in the league.
Off-ball Linebacker
De'Vondre Campbell*
Haason Reddick
Jordan Hicks
Tanner Vallejo
The signing of Campbell, even to a one-year deal, was puzzling, given the Cardinals could use some help in coverage at the position and Campbell has struggled there in his career with the Falcons. Jordan Hicks was a solid run defender and a good blitzer last season. Arizona has still struggled to find the right role for Haason Reddick through his first three years in the NFL. He led the Cardinals in pressure rate but he rushed the passer on just 26% of his pass snaps last season. 
Cornerback
Patrick Peterson
Byron Murphy
Robert Alford
Jalen Davis
Andre Chachere
After trade rumors proved fruitless throughout last season, Patrick Peterson will enter 2020 on the final year of his current deal. He showed some rust after he returned from a suspension but started to turn around his play toward the end. The same could be said for rookie Byron Murphy who played better as the season went along. Though both finished below average in Adjusted Yards allowed per coverage snap for the season. Arizona could use an upgrade at No. 3 corner potentially more pending the future of Peterson on the roster.
Safety
Budda Baker
Jalen Thompson
Deionte Thompson
Chris Banjo
Charles Washington
Budda Baker is one of the best defensive players in the league and does a little bit of everything for the Cardinals. The problem is he can't do everything. Jalen Thompson was a good find as a deep safety in the second round, but the Cardinals still ranked 25th in DVOA on deep passes against them. A third safety who could free up both Baker and Thompson could be a huge help for the defense.