The 2020 NFL Draft starts on Thursday, April 23. As a lead up to the draft, we'll be giving a team-by-team breakdown for positional needs. For each team, we'll give an overview of each team's current depth chart and how big of a need each position in the upcoming draft. Find all teams and the rest of our draft content in our NFL Draft Hub.
Be sure to follow our new Twitter account @SharpFBAnalysis for additional content like this, plus in-season NFL analytics, betting insights, fantasy football analysis, and game picks & props.
Baltimore Ravens 2020 Draft Picks Overview
Round 1 (28)
Round 2 (55)
Round 2 (60)
Round 3 (92)
Round 3 (106)
Round 4 (129)
Round 4 (143)
Round 5 (170)
Round 7 (225)
Baltimore Ravens Offense
by Rich Hribar
2019 Baltimore Ravens Offensive Ranks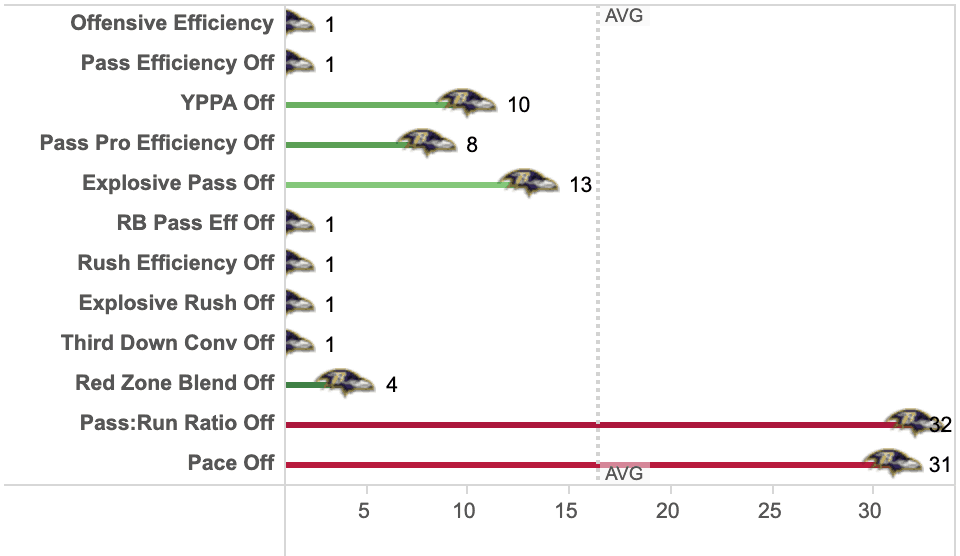 *denotes new addition
Quarterback
Lamar Jackson
Robert Griffin
Trace McSorley
The Ravens went all-in with building their offense around Lamar Jackson and in his first full season as a starting quarterback, won the league's MVP Award. With full control of Jackson for the foreseeable future, the Ravens are set at quarterback with two mobile options behind him.
Running back
Mark Ingram
Gus Edwards
Justice Hill
Last year, Baltimore led the league in yards from scrimmage differential (107.0 per game) on the strength of out-rushing their opponents by 112.6 yards per game. Their 3,296 rushing yards on the season were the most overall by an NFL team in a single season and their 206.0 rushing yards per game were the most by a team in a season since 1976. Jackson played a large role in contributing to those totals and the scheme itself, but this is a run-first offense.
Mark Ingram had 1,265 yards from scrimmage and 15 touchdowns in his first season in Baltimore, but he will also turn 31-years-old this December. 
Last year's fourth-round pick, Justice Hill (113th overall), handled just 66 touches as a rookie (4.5 yards per touch) and was far less effective in the run game (3.9 YPC) than backup Gus Edwards (5.3 YPC). Edwards has now averaged over 5.0 YPC in each of his first two seasons. It would be ideal if you could combine both Hill's receiving add Edwards's rushing into one player. Edwards signed his one-year exclusive right contract, keeping him with the team for this season.
Given Ingram's age, the expiring contract for Edwards and the unknown potential of Hill paired with this offensive scheme, the Ravens should look to add another option to the mix over the course of this draft. 
Wide receiver
Marquise Brown
Miles Boykin
Willie Snead
Chris Moore
Jaleel Scott
Sean Modster
Antoine Wesley
De'Anthony Thomas
No team used their wide receivers less frequently a year ago then the Ravens. Baltimore wideouts combined for 7.3 catches on 11.4 targets per game, both league lows. That said, last year's first-round pick Marquise Brown (25th overall), did flash. Brown caught 46-of-71 targets for 584 yards and seven scores in 14 games as a rookie while having a screw in his foot. Jackson was 9-of-18 for 334 yards (18.6 Y/A) with four touchdowns targeting Brown 20-plus yards downfield and 18-of-50 for 495 yards (9.9 Y/A) to everyone else. 
Last year's third-round pick Miles Boykin (93rd overall) didn't find as much success. He played 38% of the team snaps, catching 13-of-22 targets for 198 yards, but did average 15.2 yards per grab. 
Those two are safe, but the remaining members of this receiving unit all are expendable and could no longer be with the team going into the 2021 season.
Tight End
Mark Andrews
Nick Boyle
Charles Scarff
The Ravens have a stud in Mark Andrews (64-852-10) in his third season on his rookie contract and Nick Boyle under contract through the 2021 season. After the trade of Hayden Hurst, however, their depth is thinned out. For a team that used two or more tight ends on 34% of their offensive snaps, don't be surprised to see the Ravens add another tight end to the roster behind Andrews and Boyle. 
Offensive Line
LT: Ronnie Stanley/Will Holden
LG: Bradley Bozeman
C: Matt Skura/Patrick Mekari
RG: Ben Powers/R.J. Prince
RT: Orlando Brown/Andrew Smith/Randin Crecelius
Given the Ravens' offensive scheme, they better have a good offensive line and that was the case in 2019. Baltimore ranked second in ESPN's pass block win rate, eighth in our pass pro efficiency metric and third in adjusted line yards created (4.73) per Football Outsiders. 
The team has two young offensive tackles in Orland Brown and Ronnie Stanley. Stanley enters 2020 playing on the fifth-year option as he and the team work on a long term deal while Brown will be on the third year of his rookie contract. 
The interior of the line is a mixed bag. Center Matt Skura is under contract for just 2020 while the team lost perennial All-Pro guard Mashal Yanda this offseason to retirement. The Ravens were planning ahead for Yanda's departure as the team took Ben Powers in the fourth round (123rd overall) a year ago, with the rookie playing 30 total snaps. Also on his rookie contract, Bradley Bozeman was the only Baltimore offensive lineman last season with a negative overall grade per Pro Football Focus. The Ravens should add another interior lineman next week to the roster.
Baltimore Ravens Defense
by Dan Pizzuta
2019 Baltimore Ravens Defensive Ranks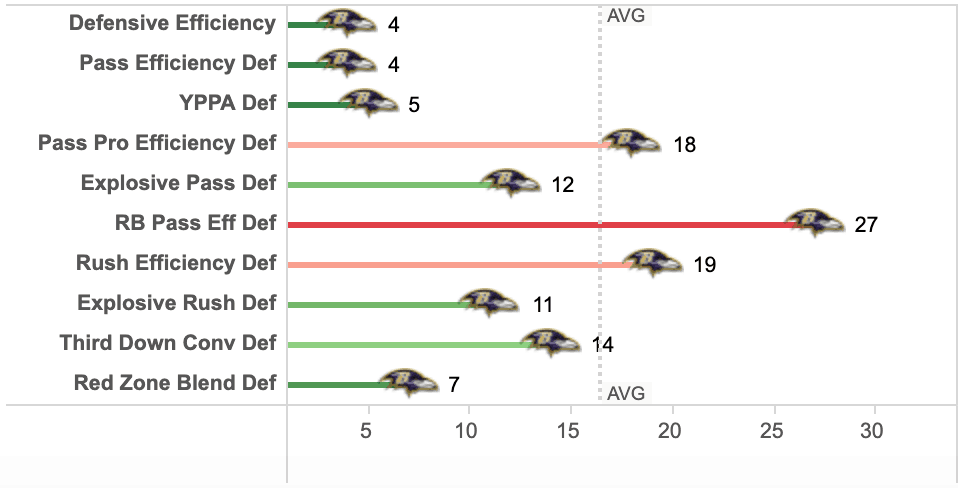 interior defensive line
Calais Campbell*
Derek Wolfe*
Brandon Williams
Daylon Mack
Justin Ellis
Patrick Ricard
Jihad Ward
Somehow (the working of Eric DeCosta) the Ravens turned a good defensive line group from 2019 into a better one on paper for 2020. Baltimore traded a fifth-round pick or Calais Campbell, who is still very much Calais Campbell, even at age-34. He's still a force on the interior or the edge. Derek Wolfe has pass rush ability from the inside and came on just a one-year/$3 million deal in free agency. The loss of Michael Pierce hurts a little in run defense, but Brandon Williams can fill in that void just fine. 
EDGE
Matt Judon
Jaylon Ferguson
Tyus Bowser
Micheal Onuoha
Matt Judon was kept on the franchise tag, which is a rare big expense for the Ravens at edge. There are few teams who create more pressure through blitzing than Baltimore. No team rushed five or more than the Ravens' 45% last season, per SIS. Still, there's little depth behind Judon outside of 2019 third-round pick Jaylon Ferguson. The Ravens could use added depth on Day 2 or 3.
Off-ball Linebacker
LJ Fort
Chris Board
Otaro Alaka
The Ravens don't rely on their edge rushers and rely even less on off-ball linebackers. The Ravens played 43% of their defensive snaps in Dime+ personnel last season, which only features one linebacker. LJ Fort was solid in that role and should continue there going forward. Baltimore could upgrade here and make their nickel package stronger or they could just as easily ignore the position and continue to rely on the stellar secondary.
Cornerback
Marlon Humphrey
Marcus Peters
Jimmy Smith
Tavon Young
Anthony Averett
Iman Marshall
The Ravens love good cornerbacks and they have a ton. The Marcus Peters trade was one of the best moves of the 2019 season and he rewarded the Ravens with stellar play. Marlon Humphrey is also one of the league's better corners, which gives the Ravens one of the best outside duos in the league. Tavon Young had broken through as a plus-nickel corner but injuries took away his 2017 and 2019 seasons. Jimmy Smith is a former first-round pick who is now a rotational piece who can play all over the secondary. There's no immediate need here but the Ravens have no problem adding to a stacked group of players.
Safety
Earl Thomas
Chuck Clark
Anthony Levine
DeShon Elliott
Jordan Richards
Tony Jefferson was allowed to leave in free agency but the Ravens still have a deep safety rotation. Earl Thomas might be the best single-high safety of all time and he also added dangerous blitzer to his resume in 2019. Chuck Clark and Anthony Levine have filled in as safety/linebacker hybrids in dime packages and Clark just signed a three-year extension. He was also a devastating blizter last season.