The 2020 NFL Draft starts on Thursday, April 23. As a lead up to the draft, we'll be giving a team-by-team breakdown for positional needs. For each team, we'll give an overview of each team's current depth chart and how big of a need each position in the upcoming draft. Find all teams and the rest of our draft content in our NFL Draft Hub.
Be sure to follow our new Twitter account @SharpFBAnalysis for additional content like this, plus in-season NFL analytics, betting insights, fantasy football analysis, and game picks & props.
Carolina Panthers 2020 Draft Picks Overview
Round 1 (7)
Round 2 (38)
Round 3 (69)
Round 4 (113)
Round 5 (148)
Round 5 (152)
Round 6 (184)
Round 7 (221)
Carolina Panthers Offense
by Rich Hribar
2019 Carolina Panthers Offensive Ranks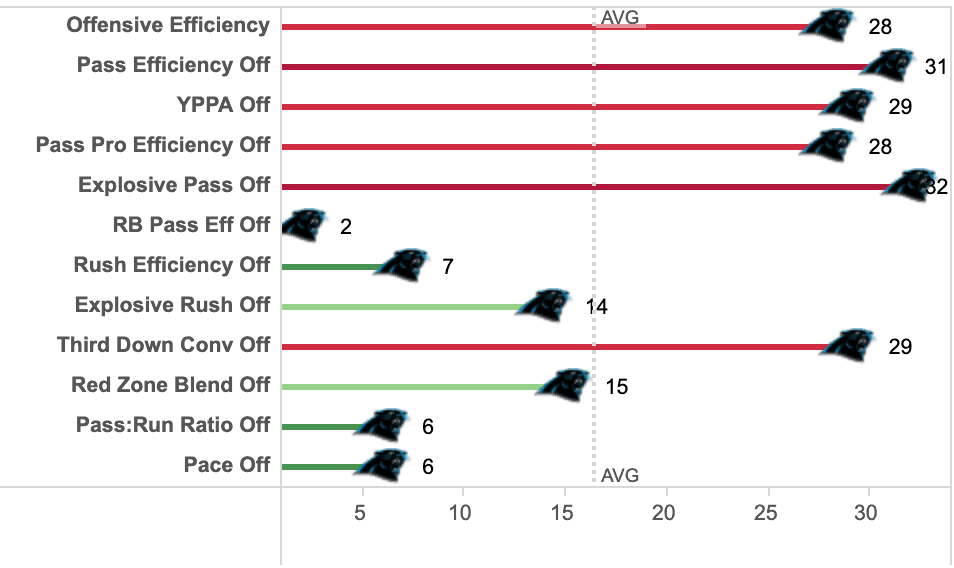 *denotes new addition
Quarterback
Teddy Bridgewater*
P.J. Walker*
Will Grier
Carolina moved on from their face of the franchise in Cam Newton this offseason. In his place, the Panthers added Teddy Bridgewater to helm the offense. The team also went out and added P.J. Walker. Walker had his initial run in the NFL on the Colts roster, but the favorite to be the MVP of the XFL prior to the season being canceled. Walker also roots tying back to Matt Rhule, who he played for in college at Temple.
Carolina used a third-round pick (100th overall) on Will Grier a year ago. While the long-term quarterback for this franchise may still
Running back
Christian McCaffrey
Reggie Bonnafon
Jordan Scarlett
Mike Davis
Marcus Murphy
Carolina made McCaffrey the new face of the franchise, extending him with a new four-year contract extension that made him the highest-paid running back in the league. No player did more heavy lifting for his offense than McCaffrey a year ago. Playing 93% of the snaps, McCaffrey accounted for a league-high 52.5% of his team touches and 40.2% of the Carolina offensive yards from scrimmage. 2019 rookie backups in Bonnafon and Scarlett only had 26 total touches. If Carolina does add a back via the draft, it would be with very late capital.
Wide receiver
D.J. Moore
Robby Anderson*
Curtis Samuel
Seth Roberts*
Pharoh Cooper*
Brandon Zylstra
DeAndrew White
Ishmael Hyman*
Damion Jeanpiere
Keith Kirkwood*
2018 first-round pick D.J. Moore broke out for 87 catches, 1,175 yards, and four touchdowns in 2019, making a significant jump in his second season. The team went out and added Robby Anderson (who also went to Temple) on a two-year deal with a potential immediate out after 2020. Curtis Samuel enters the final year of his rookie contract to round out their top three assets at the position. Adding a gaggle of veteran depth this offseason, Carolina could still very well continue to add to the position with Samuel's contract expiring and the lack of true long term commitment to Anderson, but they aren't forced to do so with one of their earlier draft picks. 
Tight End
Ian Thomas
Chris Manhertz
Temarrick Hemingway
Ian Thomas is finally out from the shadow of Greg Olsen with the veteran leaving via free agency. In nine games without Greg Olsen over his two seasons in the league, Thomas has caught 35-of-55 targets for 348 yards and three touchdowns on 16.6% of the team targets. Both Manhertz and Hemingway have expiring contracts after 2020 with Hemingway being a restricted free agent.
Offensive Line
LT: Russell Okung*/Greg Little/Tyler Marz
LG: John Miller*
C: Matt Paradis/Tyler Larsen/Chris Reed
RG: Dennis Daley
RT: Taylor Moton
The Carolina offensive line was a big issue in 2019, ranking 30th in ESPN's Pass Blocking Win Rate, 29th in adjusted sack rate allowed (8.6%), and ranked 29th in team pass blocking efficiency per Pro Football Focus. 
The team traded Trai Turner for left tackle Russell Okung a year after the Panthers traded up to draft left tackle Greg Little in the second round of the 2019 NFL draft. Little played in only four games after suffering two concussions and an ankle injury. Okung is only under contract for the 2020 season. 
The lone strong asset on the line is right tackle Taylor Moton, who also happens to be in the final year of his contract. The team added veteran guard John Miller on a one-year deal, who has started 28 games over the past two seasons for the Bills and Bengals. Carolina should make maximum effort in retaining Moton long term and have Little still waiting under Okung, but interior line play should be an area of pursuit through the draft.
Carolina Panthers Defense
by Dan Pizzuta
2019 Carolina Panthers Defensive Ranks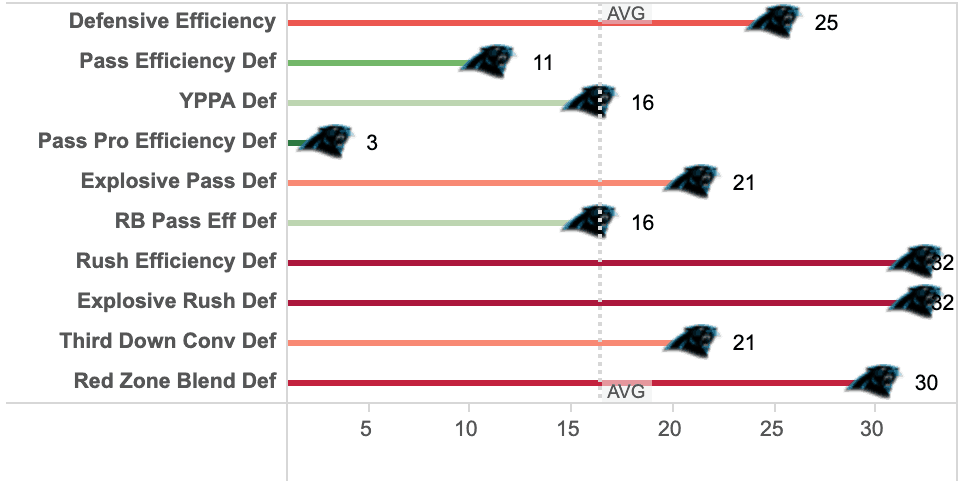 interior defensive line
Kawann Short
Woodrow Hamilton
Zach Kerr*
Chris Smith*
Carolina had a deep rotation of interior defenders over the past few seasons and are down to just one. At least they kept the good one. Still, Kawann Short just turned 31 years old in February. Behind Short are journeymen and Madden CPU created players to fill gaps in Franchise Mode.
EDGE
Brian Burns
Stephen Weatherly*
Marquis Haynes
Efe Obada
Sione Teuhema
Christian Miller
Brian Burns was great in his rookie season and proved he should have been drafted higher than 16th. After a frustrating split in playing time last season, the Panthers have no choice but to make him the No. 1 edge rusher. Stephen Weatherly is a rotational player who will be forced to start with the lack of depth at the position. After a great All Or Nothing moment for Efe Obada following the 2018 season, he played 27% of the defensive snaps in 2019 with little impact.
Off-ball Linebacker
Shaq Thompson
Tahir Whitehead*
Andre Smith
Jermaine Carter Jr.
Jordan Kunaszyk
Shaq Thompson remains an ideal modern linebacker and he'll take a bigger role with the retirement of Luke Kuechly. Former Temple Owl Tahir Whitehead was brought in as a free agent and while he's in line to be a starter, he has struggled to cover in previous NFL stops. There's little quality behind them, which makes for an ideal Isaiah Simmons landing spot, should he fall to No. 7 in the draft.
Cornerback
Donte Jackson
Corn Elder
Cole Luke
Dominique Hatfield
Even if James Bradberry didn't leave in free agency, this would be a position group dying for another quality corner. Among 92 cornerbacks with at least 300 coverage snaps played last season, Donte Jackson ranked 72nd in Adjusted Yards allowed per coverage snap, which factors in touchdowns and interceptions. The rest of Carolina's cornerbacks played a combined 27 defensive snaps last season. 
Safety
Tre Boston
Juston Burris*
TJ Green
Quin Blanding
Natrell Jamerson
You have to feel for Tre Boston. He's been one of the league's best single-high deep safeties in the league over the past few seasons but was never able to cash in on more than a one-year deal in free agency. Then he finally signs a three-year deal this offseason and this is the defense he gets stuck on. Juston Burris played well in limited time in the second half of the season with the Browns last year but like Carolina's other positions, there's no quality behind the starters.