The 2020 NFL Draft starts on Thursday, April 23. As a lead up to the draft, we'll be giving a team-by-team breakdown for positional needs. For each team, we'll give an overview of each team's current depth chart and how big of a need each position in the upcoming draft. Find all teams and the rest of our draft content in our NFL Draft Hub.
Be sure to follow our new Twitter account @SharpFBAnalysis for additional content like this, plus in-season NFL analytics, betting insights, fantasy football analysis, and game picks & props.
Indianapolis Colts 2020 Draft Picks Overview
Round 2 (34)
Round 2 (44)
Round 3 (75)
Round 4 (122)
Round 5 (160)
Round 6 (193)
Round 6 (197)
Indianapolis Colts Offense
by Rich Hribar
2019 Indianapolis Colts Offensive Ranks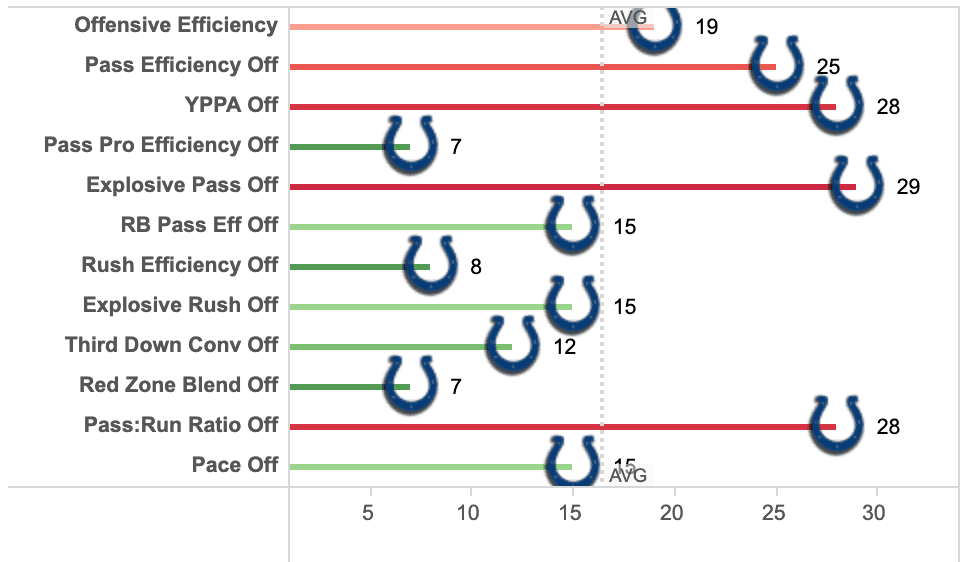 *denotes new addition
Quarterback
Philip Rivers*
Jacoby Brissett
Chad Kelly
The Colts added Philip Rivers this offseason via free agency. Rivers will turn 39 years old this December and only was signed for the 2020 season. Backup Jacoby Brissett is also an unrestricted free agent after 2020 while Chad Kelly is an exclusive rights free agent. The Colts kicked the can on addressing their long term future at quarterback this offseason and by trading their first-round pick, will not be major players in attacking the top of the position.
Running back
Marlon Mack
Nyheim Hines
Jordan Wilkins
Darius Jackson
Bruce Anderson
Marlon Mack has had 1,011 and 1,173 yards from scrimmage in each of the past two seasons, but has also missed multiple games in each of his first three seasons. He enters 2020 on the final season of his rookie contract. Behind him, the Colts have a pair of 2018 draft picks in Nyheim Hines and Jordan Wilkins. Hines has been a non-factor in the run game (3.7 YPC) and has yet to live up to being a true asset in the passing game, averaging just 7.0 yards per catch through two years in the league.
The Colts should look to add a combo back that can provide early-down and future insurance for Mack's injury history and expiring contract that also comes with pass-catching ability to threaten and improve on Hines. 
Wide receiver
T.Y. Hilton
Parris Campbell
Zach Pascal
Artavis Scott
Daurice Fountain
Steve Ishmael
Rodney Adams
Chad Williams
Malik Henry
Ashton Dulin
This was a problem for the Colts all of 2019. Indianapolis wideouts combined for 9.6 receptions (27th) and 120.1 receiving yards per game (28th). Lead wideout T.Y. Hilton will be 31 years old this upcoming season and is in the final season of his contract. Last season's second-round pick (59th overall) Parris Campbell only appeared in seven games as a rookie. Zach Pascal had a positive second season in the league, catching 41-of-72 targets for 607 yards (14.8 Y/R) and will be a restricted free agent. Adding offensive weapons is both an immediate and long term need for the Colts' offense.  
Tight End
Jack Doyle
Mo Alie-Cox
Xavier Grimble
Matt Lengel
Billy Brown
Ian Bunting
This is not a great set of options for how the team has deployed their tight ends. The Colts used 12 personnel on 26% of their passing plays in 2019, which ranked fifth in the league. Jack Doyle will be 30 years old and has averaged just 9.0 yards per reception through seven NFL seasons. The last time this organization had to feature him in the passing game, they struggled heavily while he turned 108 targets into 690 yards receiving. Doyle is signed through the 2022 season, but this is his final season with a significant dead cap number.
Behind him, Mo Alie-Cox hasn't gotten much of an opportunity, on just 21% and 33% of the team snaps over the past two seasons. He will be a restricted free agent at the end of the season. The Colts have a number of tight ends currently rostered, but they need to add a true pass-catching threat to the group. 
Offensive Line
LT: Anthony Castonzo/Chaz Green/Travis Vornkahl
LG: Quenton Nelson/Jake Eldrenkamp/Credrick Lang
C: Ryan Kelly
RG: Mark Glowinski/Javon Patterson
RT: Braden Smith/Le'Raven Clark/Andrew Donnal/Brandon Hitner
The Colts' offensive line is still a team strength, ranking seventh in passing pro metrics, third in ESPN's Pass Block Win Rate and seventh in adjusted sack rate. The addition of Rivers should make them look even better as Brissett ranked 23rd in the league in average time per pass release among passers while Rivers ranked fourth. All of their starting linemen are signed through the 2021 season except for center Ryan Kelly, who is playing on the fifth-year option this upcoming season. 
Indianapolis Colts Defense
by Dan Pizzuta
2019 Indianapolis Colts Defensive Ranks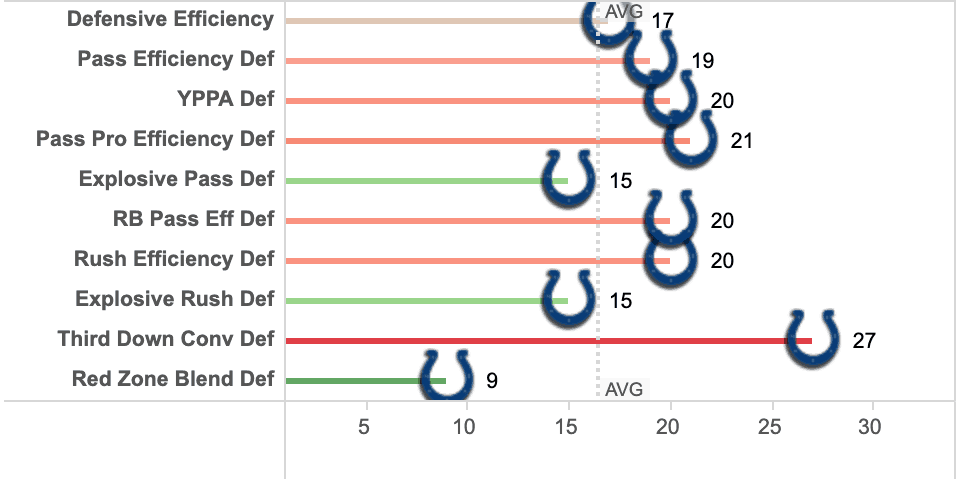 interior defensive line
DeForest Buckner*
Denico Autry
Grover Stewart
Sheldon Day*
Tyquan Lewis
Iseoluwapo Jegede
Indianapolis made a splash at quarterback but the biggest move — parting with a first-round pick plus a massive contract extension — came with the addition of DeForest Buckner. Buckner immediately upgrades the interior with a dangerous disruptor next to Denico Autry, who was already eighth among defensive tackles in ESPN's Pass Rush Win Rate last season.
There isn't much depth to speak of behind them, but Buckner-Autry is one hell of a 1-2 punch that will likely see the field for most of Indianapolis's defensive snaps. As long as both aren't off the field at the same time, the line will be ok.
EDGE
Kemoko Turay
Justin Houston
Ben Banogu
Al-Quadin Muhammad
Kemoko Turay had a promising rookie season in 2018 but made it through just four games in 2019 and finished the year on injured reserve. Justin Houston was a welcome positive presence on the edge for Indianapolis, but it was rookie Ben Banogu who finished with the highest pressure rate on the team last season, per SIS. Banogu had limited snaps but improved as the season went on and should be in line for a bigger role in 2020.
Al-Quadin Muhammed also ran a higher pressure rate than Houston as a rotational edge. While Banogu could break out and Turay could return to health, there's clearly room here for another edge somewhere in the middle rounds of the draft.
Off-ball Linebacker
Darius Leonard
Anthony Walker
Bobby Okereke
EJ Speed
Skai Moore
Matthew Adams
Gerri Green
Zaire Franklin
The Colts are still benefitting from their third-round steal of Darius Leonard two seasons ago. He makes the middle of the defense work with both tackling and coverage ability. Bobby Okereke might be a third-round steal in his own right. The 2019 rookie was a plus in coverage and should emerge with a bigger role in 2020.
Indianapolis played 34% of their snaps in base last season, which was the third-highest rate in the league per SIS. The other starting linebacker is Anthony Walker, also a good coverage linebacker. It's a good starting trio with decent depth behind them.
Cornerback
Rock Ya-Sin
Xavier Rhodes*
TJ Carrie*
Marvell Tell
Kenny Moore
Quincy Wilson
Picasso Nelson Jr.
Lafayette Pitts*
Jackson Porter
As a second-round pick, Rock Ya-Sin was one of the league's better rookie corners last season. He was about average in Adjusted Yards allowed per coverage snap. For a position that usually takes a year or two to full develop, that's a good sign. Marvell Tell was also an impressive rookie who had some really positive flashes with a couple of rookie mistakes. He could work his way into more playing time in 2020. 
Kenny Moore should also be an above average starter — he finished between Byron Jones and Marcus Peters in Adjusted Yards allowed per coverage snap last season. There are a number of corners on the depth chart, but the quality is the question. The biggest is Xavier Rhodes, who was routinely torched last season with the Vikings.
Safety
Malik Hooker
Khari Willis
George Odum
Rolan Milligan
Malik Hooker played 13 games last season and showed the extended promise he had flashed in previous injury-shortened seasons. Hooker can be one of the most dynamic deep safeties if healthy and the hope is that can continue in the final year of his rookie deal (fifth-year option pending). Khari Willis was also great last season. The problem is there is little behind the Hooker-Willis duo, though Marvell Tell could pitch in some at safety if needed, though that wouldn't be suggested if he continues to play well at corner.