The 2020 NFL Draft starts on Thursday, April 23. As a lead up to the draft, we'll be giving a team-by-team breakdown for positional needs. For each team, we'll give an overview of each team's current depth chart and how big of a need each position in the upcoming draft. Find all teams and the rest of our draft content in our NFL Draft Hub.
Be sure to follow our new Twitter account @SharpFBAnalysis for additional content like this, plus in-season NFL analytics, betting insights, fantasy football analysis, and game picks & props.
New Orleans Saints 2020 Draft Picks Overview
Round 1 (24)
Round 3 (88)
Round 4 (130)
Round 5 (169)
Round 6 (203)
New Orleans Saints Offense
by Rich Hribar
2019 New Orleans Saints Ranks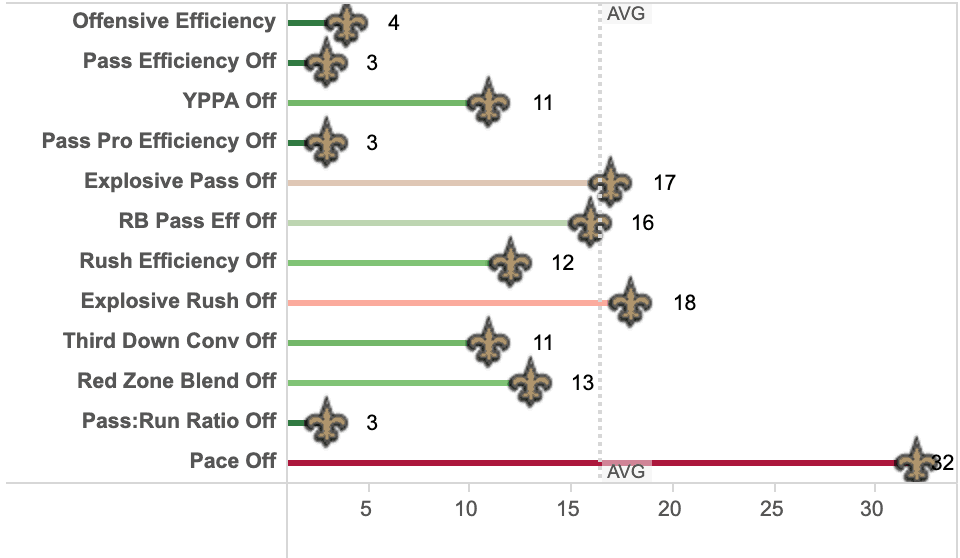 *denotes new addition
Quarterback
Drew Brees
Taysom Hill
Drew Brees will return to keep the Saints' Super Bowl window this season after inking a two-year deal this offseason. Brees turned 41-years-old in January. Although the Saints have recalibrated their offense in recent seasons, Brees is still performing at a high level. His passing yardage has been below 300 yards per game in each of the past three seasons after seven straight seasons of hitting 300 yards per game, but Brees has completed at least 70% of his passes in each of his past four seasons while leading the league in that category in each of the past three seasons. Coming off a career-high 7.1% touchdown rate in 2019, Brees is still a high-caliber passer. 
Behind Brees, the Saints slapped a first-round tender on restricted free agent Taysom Hill this offseason to reinforce their talk about how they view him as a true potential quarterback first outside of being solely a Swiss Army Knife. Hill will 30-years-old at the start of the season with 13 career pass attempt and the true backup this season, but also an unrestricted free agent after this upcoming season. 
Running back
Alvin Kamara
Latavius Murray
Dwayne Washington
Ricky Ortiz
Taquan Mizzell
Alvin Kamara has started his career off with at least 1,300 yards from scrimmage and 80 receptions in each of his first three NFL seasons. The back battled through a midseason ankle injury that sapped some of his elusiveness as he averaged a career-low 5.3 yards per touch last season. Kamara enters 2020 on the final year of his rookie contract.
The team has control of backup Latavius Murray through the 2022 season. The Saints could look to add another back on day three for depth, but with limited overall draft picks and the top of their depth chart in order at the position, they don't have to force the issue. 
Wide receiver
Michael Thomas
Emmanuel Sanders
Tre'Quan Smith
Deonte Harris
Tim White
Lil'Jordan Humphrey
Krishawn Hogan
Maurice Harris
Emmanuel Butler
Tommylee Lewis
Michael Thomas signed a five-year contract with the team prior to last season and he backed up that deal by carrying the Saints' passing game on his shoulders. In 2019, Thomas set the all-time record for receptions in a season (149) for 1,725 yards. He led all players in share of a team targets (31.8%) and receiving yards per team passing attempt (2.97). He even totaled a ridiculous 66.3% share of the New Orleans wide receiver targets.
The team got him some help with the addition of Emmanuel Sanders, who will be 33-years-old at the start of the season. Behind them, the depth is highly questionable. Tre'Quan Smith is entering his third season with 46 receptions through two years. His roster spot is safe, as well is return ace Deonte Harris. But from a pass-catching stance, New Orleans still has a need for depth and insurance behind the age of Sanders.
Tight End
Jared Cook
Josh Hill
Garrett Griffin
Jason Vander Laan
Cole Wick
Jared Cook posted a 43-705-9 line of 65 targets over 14 games in his first season with New Orleans after signing a two-year deal with the team last offseason. Cook averaged a career-high 10.8 yards per target. He turned 33-years-old earlier this month as he enters the second year of that deal.
Josh Hill has been a staff favorite, being with the team since the 2013 season. He still is signed through the 2021 season. The Saints will have a future hole here at the position with Cooks being at age 33 and in the final year of his contract, but New Orleans doesn't have to press the issue on addressing the position in draft for the upcoming season.
Offensive Line
LT: Terron Armstead/Will Clapp
LG: Andrus Peat/Derrick Kelly
C: Erick McCoy/Nick Easton
RG: Larry Warford/Cameron Tom
RT: Ryan Ramczyk/Ethan Greenidge
The Saints are bringing back all five of their starters on the offensive line this season. By giving Andrus Peat a five-year extension this offseason, their entire left side to center are all signed at a minimum through the 2021 season.
The right side, however, has both Larry Warford and Ryan Ramczyk playing in the final season of their contracts. Ramczyk especially will be due a huge payday, who has finished no lower than fourth in player grades at Pro Football Focus in each of his first three seasons and allowed just two sacks all of 2019. With that pending contract coming for Ramczyk, the team should look to add Warford's replacement on a rookie contract. 
New Orleans Saints Defense
by Dan Pizzuta
2019 New Orleans Saints Defensive Ranks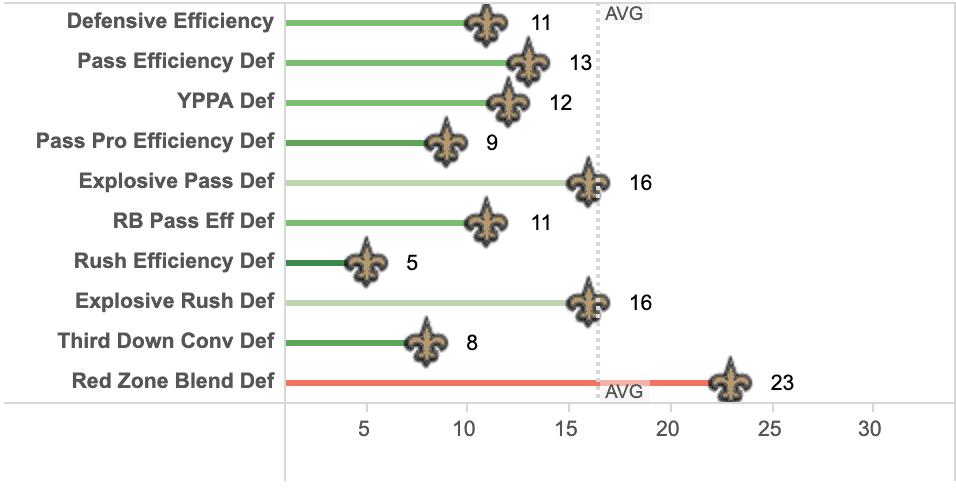 interior defensive line
Sheldon Rankins
David Onyemata
Malcom Brown
Mario Edwards Jr.
Shy Tuttle
Taylor Stallworth
Jalen Dalton
This is a solid interior group. Sheldon Rankins has been a good presence in the interior and there's a decent amount of depth behind him. Mario Edwards had an impressive pressure rate as a rotational tackle last season and while he's maybe the fourth-most important player here, he could get some more time because of the pass rush. Onyemata and Brown are solid run defenders who don't offer much against the pass. 
EDGE
Cameron Jordan
Marcus Davenport
Trey Hendrickson
Carl Granderson
Mitchell Loewen
Noah Spence
Cameron Jordan remains one of the league's most underrated pass rushers though he'll turn 31 years old in July. Jordan is getting rotated out a bit more, but is still on the field often. He played 82.6% of the Saints defensive snaps last season which is still a high number but he went from 2012-2017 playing at least 90% in each of those seasons. Behind him, Marcus Davenport has emerged as a plus pass rusher a few seasons after the Saints traded up for him in the first round. Trey Hendrickson also flashed as an athletic third-round pick from 2017 who got on the field for 38% of the defensive snaps last season. As a team, the Saints led the league in pressure rate last season per SIS.
Off-ball Linebacker
Demario Davis
Alex Anzalone
Kiko Alonso
Craig Robertson
Kaden Elliss
Andrew Dowell
Demario Davis is one of the best all-around linebackers in the league. Alex Anzalone was a solid tackler in 2018 before his injury-shortened 2019. Even Kiko Alonso showed better ability last season than he had in previous stops. The Saints barely spend time in base (just 16% of plays in 2019, the fourth-lowest rate in the league per SIS) so only two linebackers will see the field on most plays. There could be an upgrade over the Anzalone-Alonso duo should the Saints feel like they can afford that luxury with most other needs met.
Cornerback
Marshon Lattimore
Janoris Jenkins
Patrick Robinson
PJ Williams
Justin Hardee
Deatrick Nichols*
New Orleans's corner group is pretty stacked, especially with the return of Janoris Jenkins, who was great after he was signed midseason. Marshon Lattimore struggled a bit early in the season but improved as the season went along. Patrick Robinson is back to man the slot. Those are three above-average starters the Saints can rotate, which also helps with their deep safety group. New Orleans could add a little more youth into this group if they wanted and could potentially do that for added depth in the draft.
Safety
Malcolm Jenkins*
Marcus Williams
Chauncey Gardner-Johnson
DJ Swearinger
Saquon Hampton
JT Gray
Chris Johnson
The Saints had a deep rotation at safety and then thought, "what if we also bring Malcolm Jenkins back?" Jenkins, Marcus Williams, and Chauncey Gardner-Johnson make for a trio of safeties who can play deep, in the box, or slot corner and be good all around the field.