The 2020 NFL Draft starts on Thursday, April 23. As a lead up to the draft, we'll be giving a team-by-team breakdown for positional needs. For each team, we'll give an overview of each team's current depth chart and how big of a need each position in the upcoming draft. Find all teams and the rest of our draft content in our NFL Draft Hub.
Be sure to follow our new Twitter account @SharpFBAnalysis for additional content like this, plus in-season NFL analytics, betting insights, fantasy football analysis, and game picks & props.
New York Giants 2020 Draft Picks Overview
Round 1 (4)
Round 2 (36)
Round 3 (99)
Round 4 (110)
Round 5 (150)
Round 6 (183)
Round 7 (218)
Round 7 (238)
Round 7 (247)
Round 7 (255)
New York Giants Offense
by Rich Hribar
2019 New York Giants Offensive Ranks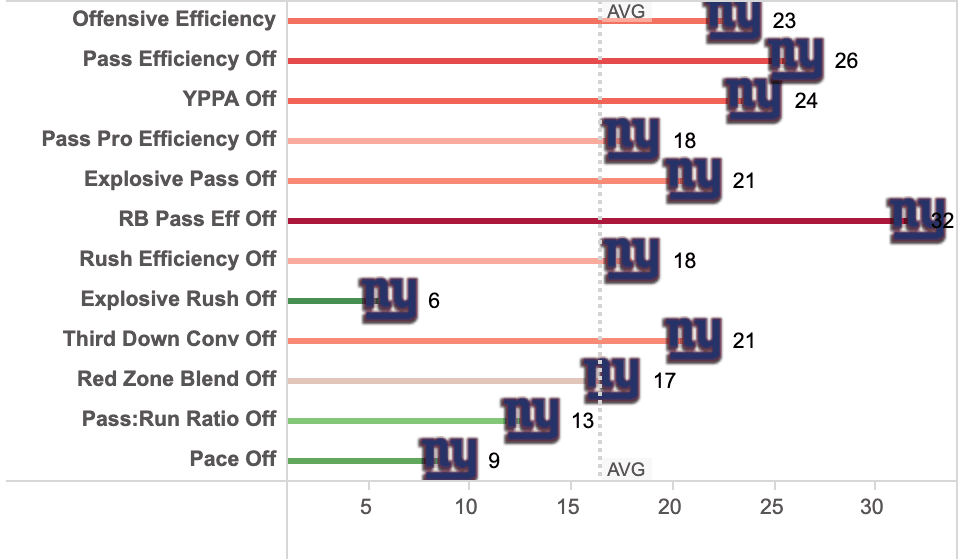 *denotes new addition
Quarterback
Daniel Jones
Colt McCoy
Alex Tanney
The Giants just used the sixth overall selection in last year's draft on Daniel Jones, so the immediate direction of the franchise is tied to him. The team went and added Colt McCoy as a backup after Eli Manning's retirement and still have everyone's favorite trick shot quarterback in Alex Tanney on the roster. The Giants won't be players for a quarterback unless it's with a late-round option.
Running back
Saquon Barkley
Dion Lewis*
Wayne Gallman
Jonathan Hilliman
Saquon Barkley is in the third year of his rookie contract while the team went out and signed a veteran backup in Dion Lewis to a one-year deal. Wayne Gallman has an expiring contract behind both of them. The Giants also shouldn't be looking at a running back outside of later-round depth. 
Wide receiver
Sterling Shepard
Darius Slayton
Golden Tate
Cody Core
Corey Coleman
David Sills
Reggie White Jr.
Amba Etta-Tawo
Alex Bachman
The Giants had their top three wide receivers on the field together for just six games last season, but the injuries and suspensions from Sterling Shepard and Golden Tate allowed for fifth-round pick (171st overall) Darius Slayton to get an opportunity. The rookie caught 48-of-84 targets for 740 yards and a team-leading eight touchdowns.
Shepard has played just two full seasons over four years. He is signed through the 2023 season with the next two seasons being locked into high cap hits with significant dead money. Golden Tate turns 32-years-old this August and is signed on through the 2022 season. The Giants do have a potential out from his contract after the season.
Given Tate's age and Shepard's injury history paired, the Giants should add a wideout, but with the top of their depth chart in order, that player will likely come with a day three selection. 
Tight End
Evan Engram
Kaden Smith
Levine Toilolo*
Eric Tomlinson*
Garrett Dickerson
C.J. Conrad
Evan Engram enters 2020 in the final season of his rookie contract. The 2017 first-round pick averaged a career-high 5.5 receptions per game in 2019, but also missed eight games, running his three year total up to 14 games absent.
Kaden Smith was a sixth-ound pick of the 49ers last year who was released prior to the season. The Giants grabbed him and got solid fill-in production from the rookie with Engram out. Smith caught 31-of-42 targets for 268 yards and three scores. He averaged just 8.6 yards per catch, but is solid backup option.
With the retirement of Rhett Ellison, the Giants are taking two bites at the apple in replacing his run blocking by adding journeymen in Toilolo and Tomlinson. Engram's injury history and expiring contract may make this a team need as early as next season, but the team is unlikely to force the issue during this upcoming draft barring a late-round dart. 
Offensive Line
LT: Nate Solder/Chad Slade/Nate Wozniak
LG: Will Hernandez
C: Spencer Pulley
RG: Kevin Zeitler
RT: Cameron Fleming*/Nick Gates/Eric Smith
The Giants' front was middling to below average a year ago depending what you want to look at. They ranked 18th in our pass pro efficiency metric, but 12th in ESPN's Pass Block Win Rate. They were 17th in adjusted sack rate (7.1%), but that gap in sack rate to win rate can be explained by having a rookie passer. Daniel Jones took a sack on 7.6% of his dropbacks compared to just 3.3% for Eli Manning, Manning only played in four games, but Jones was 23rd in the league in average time per pass attempt (2.85 seconds). 
The team has invested in high-priced veterans the past two years in Solder and Zeitler with mixed results. Solder ranked 53-of-56 qualifiers in pass blocking efficiency in 2019 per Pro Football Focus. Solder enters 2020 32-years-old and signed through 2021, but with a potential out year after this season. Zeitler took a step back from his 2018 production in 2019, but still ranked fifth in run blocking grade among guards and 19th in pass protection at Pro Football Focus. 
2018 second-round pick Will Hernandez has started all 32 games over his first two seasons. Center Spencer Pulley is signed through 2021 while Cameron Fleming was brought on for just this upcoming season. The Giants should be looking at an offensive tackle to start on the right side year one and take over for Solder as early as next season.
New York Giants Defense
by Dan Pizzuta
2019 New York Giants Defensive Ranks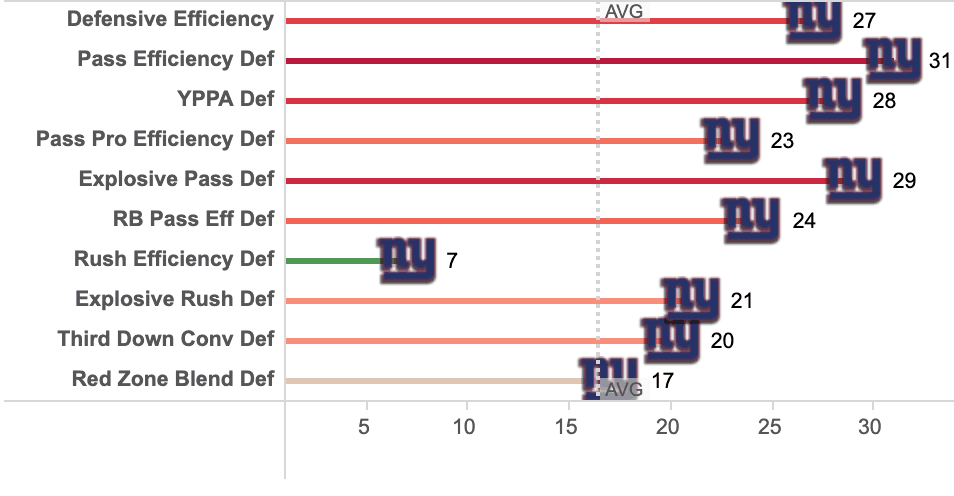 interior defensive line
Leonard Williams
Dexter Lawrence
Dalvin Tomlinson
B.J. Hill
RJ McIntosh
Chris Slayton
Austin Johnson*
Kevin Wilkins*
The Giants doubled down on the bizarre Leonard Williams trade by giving him the franchise tag this offseason. He'll count for $16.1 million on the 2020 cap for being pretty good. The depth for the Giants' interior line was good before the Williams trade. They had just used a first-round pick on Dexter Lawrence and Dalvin Tomlinson had shown some pass rush production to add on to his run-stopping. Tomlinson is on the last year of his rookie deal. The Williams trade derailed the progression of 2018 third-round pick B.J. Hill, who was impressive as a starter during his rookie season. There's either no need for more depth here or a need for Derrick Brown at fourth overall with no in-between. 
EDGE
Kyler Fackrell*
Oshane Ximines
Lorenzo Carter
Devante Downs
Chris Peace
On a recent conference call, general manager Dave Gettleman said he believes the Giants can create their pass rush with scheme and, boy, are they going to have to with this group. The Giants were 17th in ESPN's Pass Rush Win Rate last season an 23rd in team pressure rate per SIS and they allowed their best pass rusher, Markus Golden, to leave in free agency.
Free agent addition Kyler Fackrell is somewhere between his 10.5-sack 2018 season and 1.0-sack 2019. Oshane Ximines showed some flashes as a third-round rookie but 2018 third-round pick Lorenzo Carter hasn't been able to find a groove as a pass rusher. This might be one of the weakest edge rush groups in the league but the Giants won't have a shot at Chase Young and the edge depth in this class drops quickly after.
Off-ball Linebacker
Blake Martinez*
Ryan Connelly
David Mayo
Josiah Tauefa
Blake Martinez was a tackle machine in Green Bay, whose responsibilities were to make clean up tackles. Ryan Connelly played well above expectations for a fifth-round rookie before a torn ACL cost him the remainder of the 2019 season just four weeks in. There's little depth here and that can be filled by Isaiah Simmons or, if he's not selected/if he's viewed more like an overhang safety, there's some depth to the off-ball class in the middle rounds.
Cornerback
James Bradberry*
DeAndre Baker
Sam Beal
Grant Haley
Corey Ballentine
Derrick Baity
The Giants have used a lot of resources at cornerback over the past two seasons and it's still not a great group. The addition of James Bradberry, who played well covering No. 1 corners in the NFC South, will give the Giants a top corner and will allow DeAndre Baker to cover No. 2's after he struggled his rookie season. 2018 Supplemental Draft pick Sam Beal was actually the Giants' best corner last year.
Beal could be in for more time in the slot, where the Giants had no answers in 2019. Grant Haley fell out of favor and no corner with 100 or more coverage snaps allowed more Adjusted Yards (factoring in touchdowns and interceptions) or was targeted more often than Corey Ballentine.
Safety
Julian Love
Jabrill Peppers
Sean Chandler
Nate Ebner*
Mark McLaurin
Dravon Askew-Henry*
Julian Love played a bit of a slot/safety hybrid last season but with Antonie Bethea gone, Love assumes the starting role at free safety. Jabrill Peppers was fine as the box safety but missed the final five games of the season with a back injury. Sean Chandler only got on the field for 3.3% of the defensive snaps after playing 12.3% as an undrafted rookie in 2018. The rest of the Giants' depth at safety consists of special teams contributors.